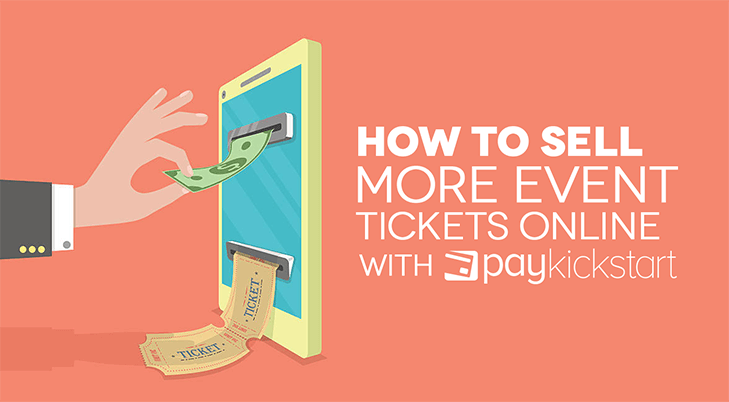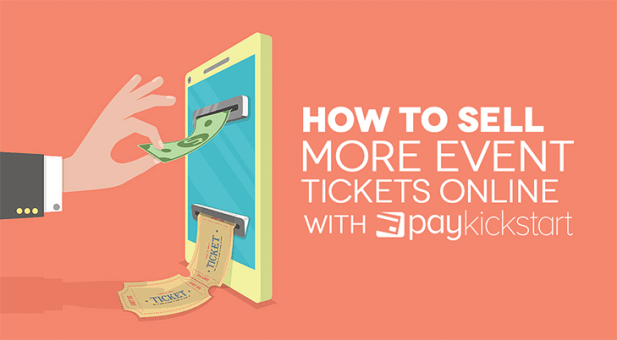 Unless you're an A-List band or similar celebrity, event marketing can be quite challenging. Many people simply don't want to change their routines and even if they're interested in your event, they may not want to get off the couch. This makes selling event tickets online a bit tricky, but in this article we'll offer some tips for increasing sales.
You can sell more tickets with PayKickstart!
Event marketing can also be very expensive. Ticketmaster, Eventbrite, and other ticket selling platforms can very expensive. Between marketing and paying ticket selling fees, you may find yourself struggling just to break even, let alone turn a profit.
Fortunately, you can cut fees by cutting out the middlemen. Instead of using a ticket processing company, you can integrate a shopping cart like PayKickstart directly into your website and then sell tickets directly to attendees. Let's go over the three most common options for selling tickets with PayKickstart.
Use the Zapier Integration
While PayKickstart is a fully featured online shopping cart, it also allows you to integrate outside services, such as Zapier. Once you've integrated Zapier with PayKickstart, you can then use it to integrate a variety of apps and services, including ticket services, like Eventbrite.
Zapier makes integration easy.
Eventbrite's professional plan costs 3.5 percent plus $1.59 per ticket. This is much lower than TicketMaster's fees. There are other ticket services as well that do not charge fees, such as Ticket Tailor.
Use APIs to Add Ticket Functionality
Zapier allows you to integrate APIs into PayKickstart. You can also integrate many APIs directly with PayKickstart. And some of these APIs can be used to add ticket selling and management functionality. You can learn more about using APIs and PayKickstart here.
Use Auto Generated License Keys
Another option is to use PayKickstart's auto generated license key features. While this is most commonly used for software and similar services, you could also use these keys as tickets. You could even integrate the license key into a QR code, which the customer could then use as a ticket. They'd be able to print the QR code or could display it on their phone.

How to Increase Ticket Sales With PayKickstart
Okay, so now you have a good idea of how you can sell tickets through PayKickstart. (If you have any questions, feel free to reach out to our team.) So how can you actually increase ticket sales? Let's dig in.

Firstly, by using PayKickstart, you can cut costs versus Ticketmaster and many other ticket platforms. Lower prices and fees will automatically make your tickets more attractive to customers.

Second, PayKickstart offers one of the best online shopping carts in the world. Our cart is simple, and customers can often check out in a matter of seconds. This again will make your tickets more attractive. However, there are also some specific tools and strategies you can use to increase ticket sales.
Use Order Bumps to Sell More Tickets
One feature that ticket sellers will find particularly useful is our order bump feature. With this feature, customers will be able to buy additional tickets or upgrade to VIP or better seats right through their shopping cart!
Add additional items with a simple click!
Let's say you're hosting a concert and are planning to have an after-party. You could offer after-party tickets as an order bump, giving fans an opportunity to meet the band. Since your customers are already purchasing tickets, they're likely interested in the band. So with order bumps, you're pitching to an already qualified customer.
We've found that our clients have been able to increase average customer lifetime value by 30 percent using order bumps.
Use One-Click Upsells to Sell More Tickets
Our one-click upsell feature could also help you increase ticket sales. Like order bumps, one-click upsells help you monetize your shopping cart and pitch customers. With this feature, you will try to sell additional, related products.
Once one-click upsells are enabled, customers can make additional purchases with the click of a button. Let's say you own a pub that frequently hosts bands. Once you enable one click upsells, and a customer buys a ticket to your band, you can upsell them on drinks!
Use Cart Recovery to Lower Abandonment
Shopping cart abandonment is a huge issue for ecommerce. Average abandonment rates approach 70 percent. In many cases, they can reach 80 percent or more. And when it comes to events, abandonment can be especially problematic.
Committing to attend an event is a pretty big deal for most customers. They have to set aside time from their day, travel to the venue, and could find themselves in a high-pressure social environment. Or, they could simply skip the event and stay home.
Likewise, many people go to events with friends and family. This means roping people in, lining up calendars, and getting everyone their tickets. This too can be a pain. As a result, a lot of potential attendees may want to attend, they might even put tickets in their cart, but they may not end up checking out.
Following up with customers who abandoned a shopping cart can help increase sales.
By using our cart recovery tool, you can email customers and remind them about their would-be order. This might be enough to nudge them and get them to commit to a purchase.
Other Useful Features for Selling Tickets
The above features will arguably be the most useful when it comes to selling tickets. However, they aren't the only features PayKickstart offers. We offer many other tools, such as data reporting, autofill forms, and affiliate marketing management.
Affiliate marketing has proven to be one of the most reliable marketing methods in the world. So why not see if you can rope in some affiliates to sell tickets to your events? Meanwhile, by using data you might discover key insights into customer behavior. And auto-forms make it easier for customers to check out.
PayKickstart is a feature-rich shopping cart. When our customers succeed, we succeed. As such, we've built many tools into our platform to help our customers maximize success.
Take-Away: You Can Start Selling More Tickets Today
There's no secret formula to automatically moving loads of tickets. However, by using PayKickstart and its many conversion tools and other features, you may be able to increase ticket sales. And as your events grow more popular, you'll start to enjoy organic growth.