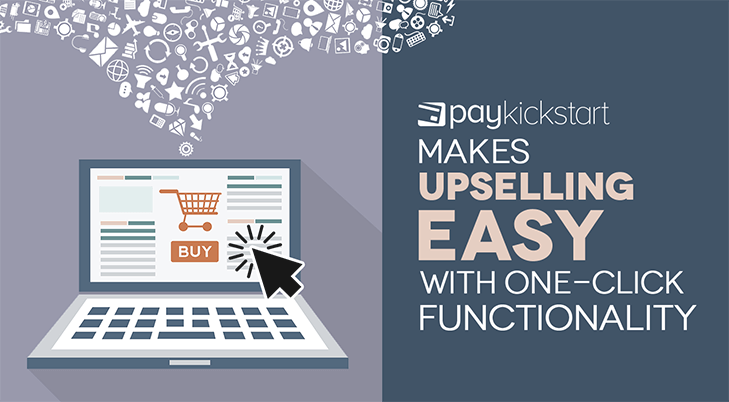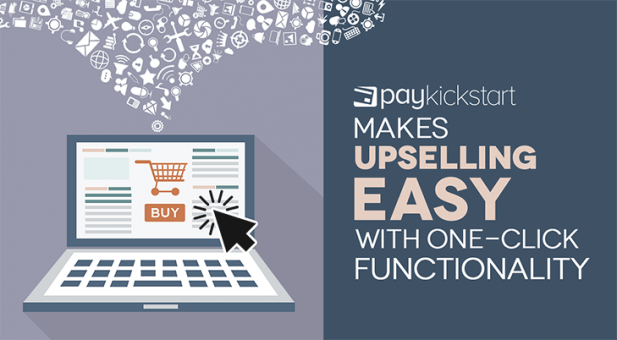 What if you could double your revenues with just a few clicks of a button. This might sound too good to be true but with one-click upsells, it's possible. We've done split tests with some of our customers and found that by using one-click upsells our clients were able to more than double their revenues, on average.

We can't guarantee that you'll double your revenues by using one-click upsells. However, over a three month period our one-click upsell feature generated nearly $3.8 million dollars in extra sales. So we're very confident that you can substantially increase your revenues simply through upselling.

Let's take a deeper look at how upselling works.

Upselling Explained
Upselling is one of the oldest tricks in the commerce book. The idea is simple, once a customer makes a purchase or goes to check out, you try to sell them something additional.

Usually, the upsold product is related to the initial purchase and so the customer has plenty of motivation to pull the trigger. They're already interested in the initial product or service because it meets a want or solves a need. So you already know the customer is qualified and interested. When you pitch the upsell, they're quite likely to pull the trigger.

Let's say you sell someone a television. Then they go to check out and make payment. As they do so, you offer them a two-year extended warranty for $29.99. The customer is clearly interested in the television, they selected it and are ready to purchase. It's natural then for them to want to protect their purchase with the warranty.
Many businesses depend on upsells to generate profits. Often, the profit margin for the initial sale is quite narrow but the profit margin for the upsell can be substantially greater. Take Best Buy for example. It's estimated that they make more than half of their profits from their warranties.

If you're not upselling customers, you're leaving profits and sales on the table. Meanwhile, you can bet that your best competitors are upselling. This means they'll generate higher sales and revenues. Over the long run, this could give them a huge competitive advantage.

On the other hand, by upselling, you can make yourself more competitive.

So What's A "One-Click" Upsell Anyways?
A one-click upsell is exactly what it sounds like. Customers are able to make an additional purchase with just one extra click. They don't have to reput in their credit card information, they don't have to go through the check out process again. They just click a button to add another item or service to their purchase.

This item could be just about anything. Extended warranties, accessories, protective cases, whatever. The more useful the product is and the more closely it's related to the initial purchase, the greater the likelihood that they'll make the additional purchase.

The beauty with PayKickstart's one-click upsell feature is that we make it crazy easy for customers to make additional purchases. Some shopping carts make customers jump through hoops to make additional purchases. We've found that the easier we make it for customers to make additional purchases, the more likely they'll actually do so.

PayKickstart Helped a Weight Loss Company More Than Double Their Revenues
When we're talking about doubling your revenues, we're not talking theoretically. We've seen the results. One of our clients sells weight loss and health products. Before they used PayKickstart's one-click upsells they were generating $97,380 dollars in front end revenues and an Average Customer Value of $14.85.

Then they enabled PayKickstart's upsell feature and started offering customers more goods right in their shopping cart. Their revenues jumped to $213,389 dollars with upsells increasing the Average Customer Value to $32.55.

In another case, we set up an A/B test for one of our clients. In one sales funnel, we enabled the one-click upsell. In the other sales funnel, if the customer wanted to make an additional purchase, they'd have to go through the entire checkout process again.

The results? With one-click upselling enabled, the client generated $500,615 in revenue. In the other funnel, they generated just $379,555.

How Hard Is It To Use One-Click Upsells?
That depends on your shopping cart. With some, it can be quite the hassle. With PayKickstart, enabling one-click upsells requires only a few clicks.

Simply log into the PayKickstart dashboard. Then click on the "Campaigns" on the left side. On the next page, click on the blue pencil button, then "enable" one click upsells and select the products you want to pitch.

The whole process takes about half a minute. That's right, within just 30 seconds, you may be able to double your revenues. And one-click upsells are included in our professional and premium packages, so you don't have to pay any extra.

Some other shopping carts offer upselling features. However, many shopping carts charge transaction fees. Every time a customer makes a purchase, you might be required to fork over 2.9 percent or more of the transaction value. So if you upsell your clients, you'll have to pay more in fees.

Not with PayKickstart. We simply charge a competitive flat monthly rate. We know our customers are working hard to generate sales and have no intention of taking a cut.

Start Upselling Today With PayKickstart
With PayKickstart, your shopping cart can become an essential part of your sales funnel, generating additional purchases and increasing average transaction values. With many shopping carts, the shopping cart is the end of the sales funnel and there's no opportunity to generate additional sales. With PayKickstart, upselling is easy.

PayKickstart also makes it easy to A/B test different products to upsell, so you can test and refine your strategies. We know ecommerce is data driven and have built many A/B testing and data tools right into our shopping cart. This allows our clients to be more effective and competitive.

If you're not upselling, you're missing out on a huge opportunity. You could substantially increase your sales with one click upsells. And with PayKickstart, upselling is easy.