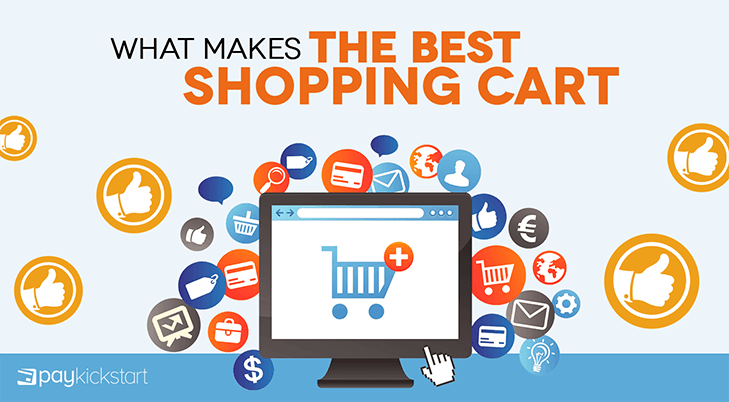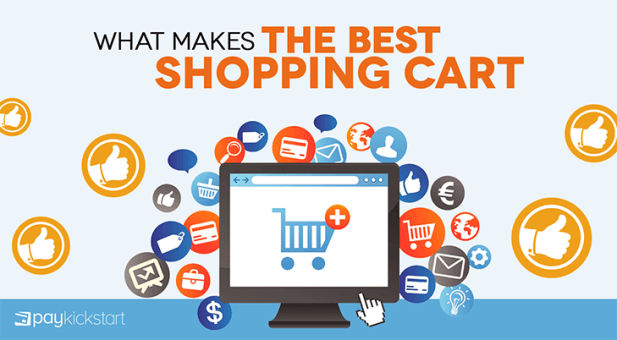 In the real world, it seems like it's a rule that every shopping cart has a squeaky wheel. With online shopping carts you don't have to worry about those wheels squeaking. However, other problems can still emerge and if they negatively affect the customer's experience, you could end up losing sales.

For many industries, shopping cart abandonment rates can weigh in between 60 to 80 percent. While the shopping cart itself isn't always to blame, a poor cart can certainly increase abandonment rates.

Every online store needs to have a secure, world-class shopping cart. Many things go into making a great shopping cart. Let's look at some of the features and functionalities your cart should have.

Simple, Fast Navigation

Your shopping cart should be stupid simple to use. Yes, stupid simple. Grandma should face no challenges using it. When it comes time for the customer to make payment, everything should be on a single fast, simple-to-use page.

The customer should be able to quickly input their payment details. And the forms shouldn't argue with them. If someone puts in their credit card number with dashes, say: 4539-8157-4653-7029, the form should accept it. Likewise, if someone leaves the dashes out, the form should still accept it too.

The customer should also be able to quickly review details, including prices, shipping addresses, and quantities being ordered.

Have All the Right Elements
Certain elements boost conversions. We've found that pages with testimonials, security badges, payment options, a guarantee policy, and product descriptions reduce the bounce rate from 80 percent to 60 percent. So your sales cart should have all of these elements proudly displayed.

Make Sure Your Cart Has Images

Your shopping cart should also display images. A simple list of products isn't enough anymore. Images can increase conversions. If a customer is waffling on a potential purchase, simply seeing the desired product again might be enough to spur them to make a purchase.

Modification Should be Easy

Want to annoy your customers? Make it difficult for them to change quantities. Customers may accidentally click the purchase button too aggressively, adding more items than intended to their cart. Or they might want to add items but don't feel like navigating back to the sales page.

Likewise, there might be a typo in the shipping address. Every time customers are required to plug in data, there's an opportunity for them to make a mistake. Make sure they can easily fix mistakes on their own end.
You Need to Accept Multiple Payment Methods

Some people like to use Paypal. Many want to keep it simple with their credit card. As a vendor, you want to secure as many sales as possible. And that means accepting as many payment forms as reasonably possible.

You will lose sales if you don't accept multiple types of payment. Some people don't want to expose their credit card data online. Others haven't signed up for Paypal and other alternative payment methods.

Be Mobile Friendly

Roughly half of all web traffic is now coming from mobile devices. While many customers still prefer to complete their purchase on a laptop or desktop, more purchases are being made with phones as well.

In this day and age, it's unacceptable to have a shopping cart that's not mobile friendly. The cart should be as easy to use on mobile as it is on a desktop.

Be Blazing Fast

When it comes to the Internet, seconds count. Over half of users will click away from a website if it takes more than 3 seconds to load. We've seen similar habits when users are using shopping carts. If the cart isn't loading fast enough, they'll take their business elsewhere.

This means the code behind your shopping cart should be clean and light-weight. Likewise, your shopping cart should be hosted on world-class servers, like those offered by Amazon Web Services (AWS).

Security is a Must

It's dangerous to store consumer data directly in your shopping cart. Often, it's better to let 3rd parties, such as Paypal, host and secure the data. These companies specialize in protecting sensitive data and go to great lengths to make sure it's secure.

And, of course, the actual transactions should be encrypted end-to-end. Services like Strip use AES-256 encryption and other measures to make sure that data is heavily encrypted. You need to make sure your shopping cart supports encrypted transactions.
credit: www.bluecoat.com/
Upselling Should Be Easy
Upselling works. Many of our clients have been able to substantially grow their revenues through upselling. The right shopping cart makes upselling easy by pushing offers within the cart itself. Users won't have to leave the page to add more items to their list. Recurring payments can also provide a substantial boost to your revenues.

Enable Engaging Customers
One effective tool we've discovered for increasing sales and conversions is sending out email reminders. A customer may have simply forgotten to complete a purchase. By sending them a quick reminder, you can draw their attention back to the product or service. This may be enough to close the sale.

Easy Analytics

Finally, your shopping cart should provide you with analytics. Online sales is heavily dependent on data. If customers are abandoning your shopping cart, or a product is suddenly selling fast, data may help explain why.

The best web companies are now data empowered. And a great shopping cart will make it easy for you to obtain and use data.

Conclusion: A World-Class Shopping Cart is a Strategic Asset
The World Wide Web is intensely competitive. You can be all but certain that your top competitors are using a high-quality, effective shopping cart that satisfies most, if not all, of the above points.

Meanwhile, if you're using a substandard shopping cart, you could find yourself falling behind the competition. You'll struggle with low conversion rates and customer's leaving your website for competitors. On the other hand, with a top-notch shopping cart, you may be able to gain a leg up on the competition.