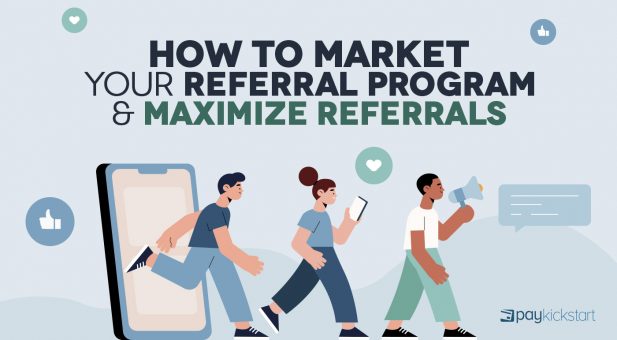 What is the number one way to increase the number of customers for your business, you wonder?
Over 82% of small business owners or entrepreneurs will tell you it is through referrals. But even with the success of referrals, only 29% of your customers will refer people to your products or services.
Unless you get more people to know about your referral program and its benefits, its success remains in limbo.
Let's take a look at how you can market your referral program and maximize referrals.
Create a social media campaign
Social media marketing is the easiest way to promote your referral program and in several ways. You can create a post about your referral and share it with your existing customer base.
Alternatively, you use paid ads or promoted tweets and target customers outside your existing network. The advantage of social media marketing is the ability to target an audience based on interest, location, and device, thus making your campaign more targeted for maximum results.
The available share buttons also enable your audience to share the program with their followers to reach a wider audience. Other ways can include mentioning your referral program in your social media bios or making changes to your background image with one that tells customers of your referral program.
Create explainer videos
The benefits of videos are so immense.
For starters, they generate a good ROI compared to other forms of marketing. Add to the fact that users today spend more time watching videos, making them the best avenue to promote your referral program.
There are two ways to promote your referral program via video. One way is to create a new video detailing your referral program.
Another way is to add a line of text at the start or end of your marketing videos, reminding your customers of your referral program. Remember to inform your customers of the benefits they stand to gain and how they can join the referral program.
Create a landing page
Landing pages are also ideal places to promote your referral program, considering that they are highly converting. Unlike other promotional strategies where you embed the content on your main landing page, create a separate landing page for your referral program.
On this page, use both text and video to explain to your audience how your referral program works. Here is an example of a referral landing page from GetResponse.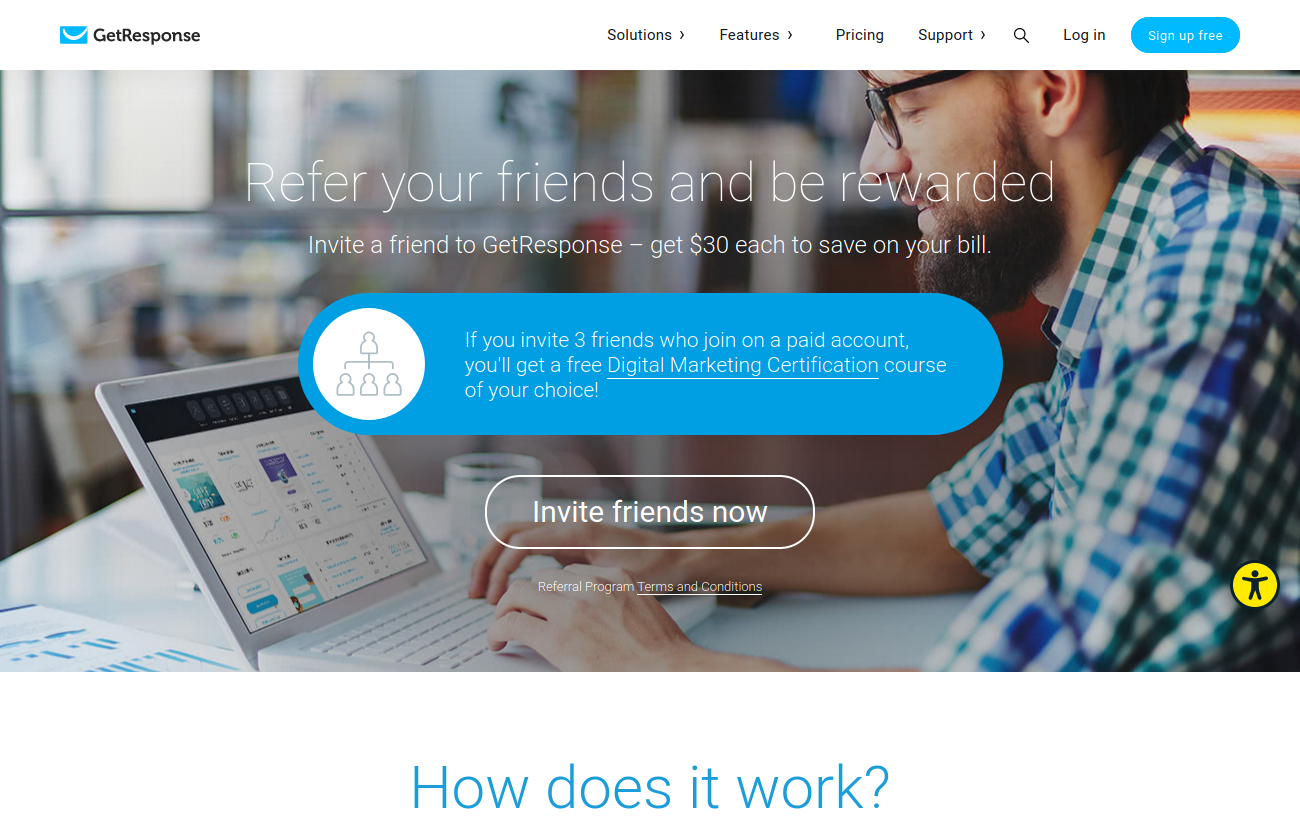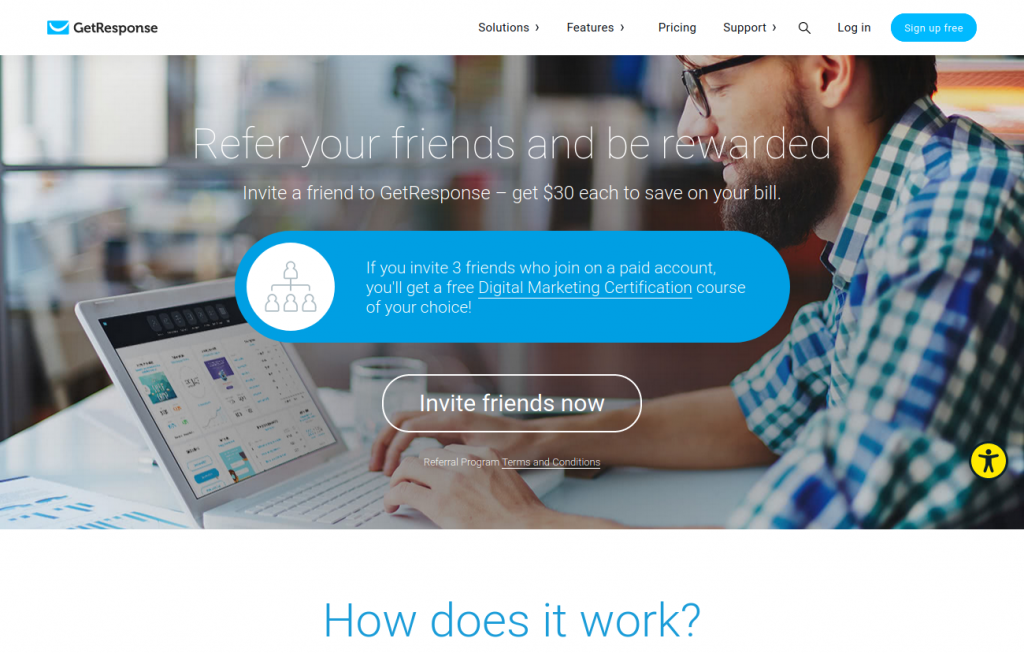 As you can see, they have included steps on how their referral program works, plus an FAQ section that answers common questions asked about their referral program.
Launch an email marketing campaign
87% of marketers use email marketing to bring in new businesses.
That makes email another great avenue to promote your referral program because it is direct and personal and allows you to engage with your audience right in their inboxes.
There are several ways to promote your referral program via email. Using templates, you can craft a new email, customize it to suit your customer's need with all the details about your referral program.
You may also promote your referral program immediately when a customer purchases your product. When you send in purchase emails, remember to include a reminder to your customers in your thank you messages and confirmation email about your referral program.
Promote through blog posts
Most often, marketers use a lead magnet on popular blog posts to attract high-caliber customers.
Apart from offering your customers an ebook or whitepaper, you can also use this opportunity to share with your customers about your referral program. All you do is add your referral call-to-action in the middle or above or below the fold to grab the viewer's attention.
Alternatively, you can encourage guest bloggers to mention your referral program on other popular blogs.
Such initiatives help improve brand awareness, generate social proof, and ultimately increase the success of your referral program.
Promote through text messages
Today, businesses have a plethora of apps they can use to advertise and engage with their subscribers on mobile. That makes messaging apps like Messenger and Telegram a great platform to promote your referral program.
Text messages are advantageous because they don't get buried among other messages and content like in inbox and social media feeds.
Second, most people have their mobile phones within their reach. That makes it easier for them to see your messages immediately after it lands on their phones.
Third, messaging apps allow easy communication and instant reply from customers. However, take care not to send too many promotional emails; otherwise, users will unsubscribe from your promotional messages.
Ensure also to provide users with a disclaimer and offer a way out so that those not interested in the referral messages can unsubscribe.
Retargeting and referral program pop-ups
You may also promote your referral program using other marketing campaigns like retargeting and remarketing. With the use of retargeting pixels or intelligent ads, you make your existing customer know of your referral program, ensuring the message continues to ring in their mind.
Alternatively, you may use pop-ups. Depending on where they appear on your website, you can use email, scroll, or exit intent pop-up. The advantage of pop-ups is they are attention-grabbing, promoting a visitor to take action.
Add it to your customer accounts
If you have a product or service where users must log in or create an account, you can add a button or tab on your navigation reminding users to recommend your products and services.
Whether they are existing customers or referred customers, remind them of their referral code and ask them to share the referral link and unlock additional benefits, which may include an upsell or cross-sell.
Display your referral program on your customer pages and home pages
In most websites, customer pages and home pages are the places where website visitors spend most of their time learning about your product. With that knowledge, you can use such info to display your referral program on these pages to increase its visibility.
When customers frequently see your referral program, they may opt to subscribe to it.
Other places you can use to promote your referral program include checkout pages, contact pages, about us pages.
Remember to include a referral code and share button so that your program reaches as many people as possible.
Collaborate with influencers
Influencers, brand ambassadors, and advocates are also very useful for your referral program
The advantage with influencers and brand ambassadors is that they already have a willing and engaged audience. Hence, increasing the chances of your message reaching a wider and more engaged audience. Besides, it is also a great way to convince modern customers that seek social proof when making a purchase decision.
Promote in your webinar and virtual events
If you are running webinars and virtual events, use this opportunity to tell new and remind existing customers about your referral program. Simply tell the speaker to mention the referral program during breaks or at the close of the event.
The moderator or speaker can use automated programs built into the virtual event's software to switch between slides or templates and show viewers what your referral program entails. Such actions can easily encourage customers to promote your business ideas, increasing the chance of your program being successful.
The takeaway
Referral programs are a great avenue to promote your business and increase ROI as it is mutually beneficial. But even with the benefits that referrers get, it does not mean they have knowledge of it or how to tell their friends, family members, and associates about your business.
It would be best if you made your referrers know about your referral program. Whether it is through paid social media campaigns, email, in-app messages, or videos, promoting your referral program increases its chances of success and also helps build relationships with your customers.
Adela Belin is a content marketer and blogger at Writers Per Hour. She is passionate about sharing stories with the hope to make a difference in people's lives and contribute to their personal and professional growth.