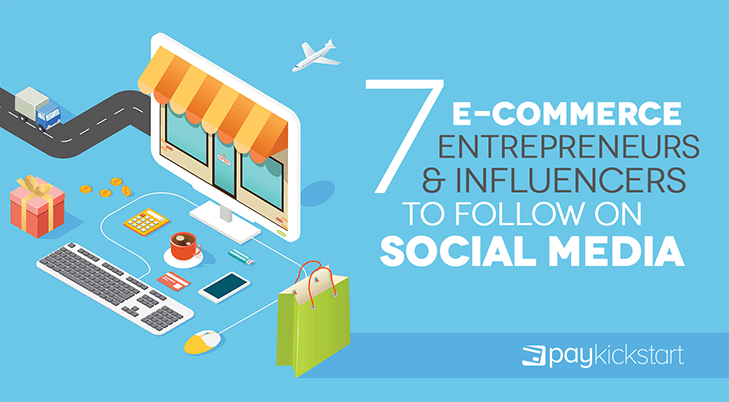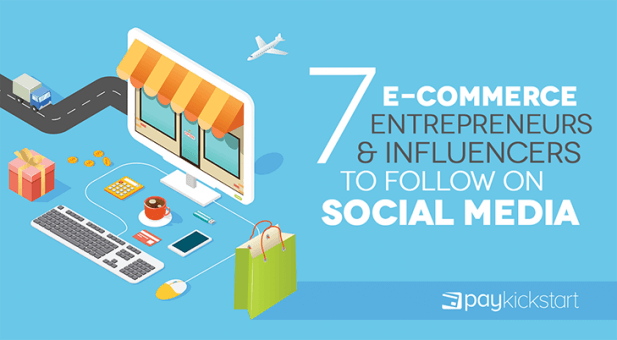 Want to be an ecommerce entrepreneur? Or are you already one but looking for a bit of extra inspiration and motivation? If you're in the ecommerce industry, you owe it to yourself to follow some of the top ecommerce entrepreneurs on social media.

Most big name ecommerce entrepreneurs are sharp, insightful, and have loads of experience. Many of them are also great at marketing themselves, their skills, and their companies. This often means effectively using social media to build huge audiences.

By following top ecommerce entrepreneurs on social media, you'll not only gain their insights, but you can also observe how they operate. This way, you may be able to emulate their success.

Anyways, let's take a look at some must-follow entrepreneurs.

Reignite Your Passion With Kim Garst
Kim Garst started her career as a stay at home mom looking to make a buck off of social media. She described herself as a mompreneur and it took her five years to earn her first $60 dollar check.

Now, if you check out Garst's Facebook page, you'll see she has nearly 400,000 followers. On Twitter, Garst has 600,000 plus followers. So why are so many people tuning in?

As her Facebook page says, "I'm here to help entrepreneurs take the hustle out of their business and put the joy back into their passion." Many in ecommerce can attest, the industry can be a grind.

Amy Porterfield: From Corporate Girl to Entrepreneur
By her own admission, Amy Porterfield was once a corporate "yes girl." These days, she's a successful online entrepreneur offering a variety of paid training courses and is earning seven figures a year. She's definitely worth following.

Like Podcasts? If that's the case, then Porterfield should be on your list. Porterfield's podcasts are among the most popular ecommerce podcasts out there. Not only does she provider a ton of insights, but she's a pure joy to listen to.

Convince & Convert With Jay Baer
Jay Baer has founded five different multi-million dollar companies and is an inductee in Word of Mouth Marketing Hall of Fame. These days, Baer focuses on mentoring and is also an active venture capitalist, with many of his investments tied to ecommerce and related fields.

Baer remains on top of the latest trends and happenings. If you're looking to brush up on social media, for example, check out "9 Key Discoveries in 2019 Social Media Research."

You can follow Baer on Twitter as well at https://twitter.com/JayBaer.

How do you reach a generation that wants its media à la carte and on-the-go? Tips here: https://t.co/aLUShgv40n pic.twitter.com/zJdh3yLtT6

— Jay Baer (@jaybaer) March 20, 2019
Let Linda Bustos Illustrate Ecommerce
Linda Bustos helped guide GetElastic into one of the most successful ecommerce news sites on the web. GetElastic bills itself as "The Web's most subscribed Ecommerce Blog," and Bustos is a huge part of why they can make that claim.

Bustos has moved on from GetElastic, but she's still very active on Twitter. Bustos also offers an online "book blog", Ecommerce Illustrated, that covers a wide range of topics.

We follow Bustos because she's a shopping cart expert. She has published articles covering shopping carts across her own personal blogs, Twitter, and the various websites she's written for. If you're looking for ways to improve your shopping cart, you can start with "A/B Testing Cart Pages to Reduce Cart Abandonment".

Get Productive With Tim Ferriss
Tim Ferriss, the author of the popular book "the 4-Hour Work Week", is a successful ecommerce entrepreneur in his own right. His first company, BrainQUICKEN, sold supplements online and ended up being quite successful. Later, Ferriss would boost his career as an author with ecommerce strategies.

These days, Ferriss is a productivity and entrepreneurship thought leader. When it comes to ecommerce, motivation and productivity are essential. By following Ferriss on social media and tuning into his podcast, however, you might be able to keep your eye on the prize.

Check Out Pioneer Tony Hsieh
Many ecommerce thought leaders have a soft spot for Tony Hsieh. Not only was Hsieh one of the early ecommerce pioneers, he was also one of the first to provide proper customer services. Hsieh founded Zappos.com, an online shoe retailer that has long been well-regarded for its great customer service.

Hsieh is still at Zappos, which is now under Amazon. Hsieh occasionally posts to Instagram and oversees Zappos Twitter feed. You can also follow Hsieh's Medium account and see what he's highlighting.

Jack Dorsey: Tweet With the Best of Them
Interested in upping your Twitter game? There might not be a better person to follow and study than Jack Dorsey. After all, Dorsey was one of Twitter's co-founders. And he also set up Square, a popular payment method that PayKickstart and other ecommerce companies frequently use.

I love this technology and community. I've found it to be deeply principled, purpose-driven, edgy, and…really weird. Just like the early internet! I'm excited to get to learn more directly.

— jack (@jack) March 20, 2019
Unsurprisingly, Dorsey's Twitter account is one of the most active and most followed in the world. Dorsey frequently shares news and insights that are relevant to ecommerce companies. And understanding how he writes tweets and manages his account could provide insights for anyone looking to expand their presence on Twitter.

Want to Quit Your Job? Check Out Steve Chou
For a long time, Steve Chou and his wife lived life the same way most people do. They woke up, worked 9-5 jobs that they had no passion for, came home, watched TV, fell asleep. Rinse, repeat. When Mrs. Chou became pregnant, however, Steve was hit with a jolt of inspiration.

They needed to replace a $100,000 hole in their family finances. Steve turned to ecommerce and found a lot of success. Now, he is more than happy to share insights. If you're just jumping into ecommerce, mywifequitherjob.com is a great place to start. Their Facebook page is also very active and definitely worth following.

Conclusion: Follow The Entrepreneurs Most Relevant to You
So who should you follow? The above list offers a great starting point but there are many other entrepreneurs out there worth following. When looking for people to follow you should first ask yourself what your needs and weaknesses are.

Are your PPC campaigns underperforming? Follow some leading PPC experts on Twitter. Need motivation? Check out Tim Ferriss's blog. No matter what challenges you're facing, you'll probably find an already successful expert who's sharing insights on social media.

As you build up your own expertise, you can start to share information and insights as well. If you establish yourself as a thought leader, you may even find yourself on "who to follow" lists!