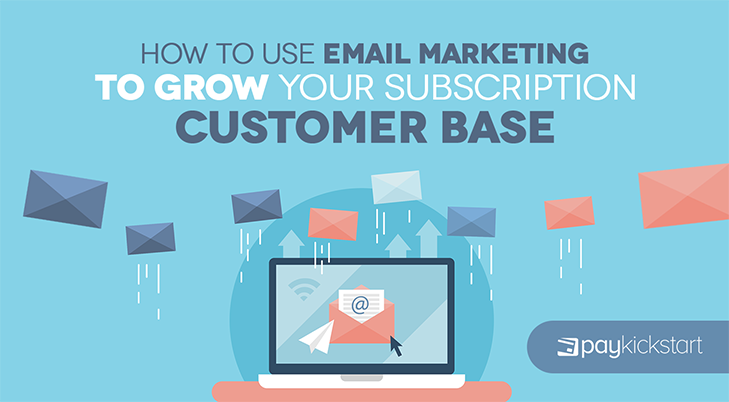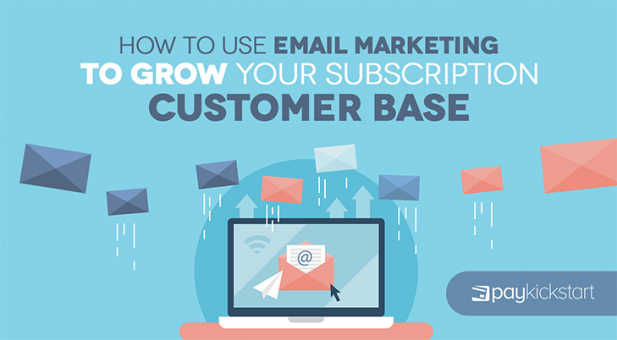 Email marketing is an integral part of any subscription business as it is the only way to keep contact with your customers.
While you are obviously already using emails to keep your customers updated on their subscription status, send payment reminders or failed payment notices, etc., you can definitely do more with this powerful channel.
Note: This guide is not about getting people to subscribe to your newsletter. I realize we are skipping a huge step here but there are lots of solid guides written on this.
Instead, we are focusing on leveraging email marketing to re-engage your existing customer base in order to grow your recurring revenue.
Use Paykickstart's Email Marketing Integration
PayKickstart offers its users a seamless integration with major email marketing platforms including AWeber, Constant Contact and ConvertKit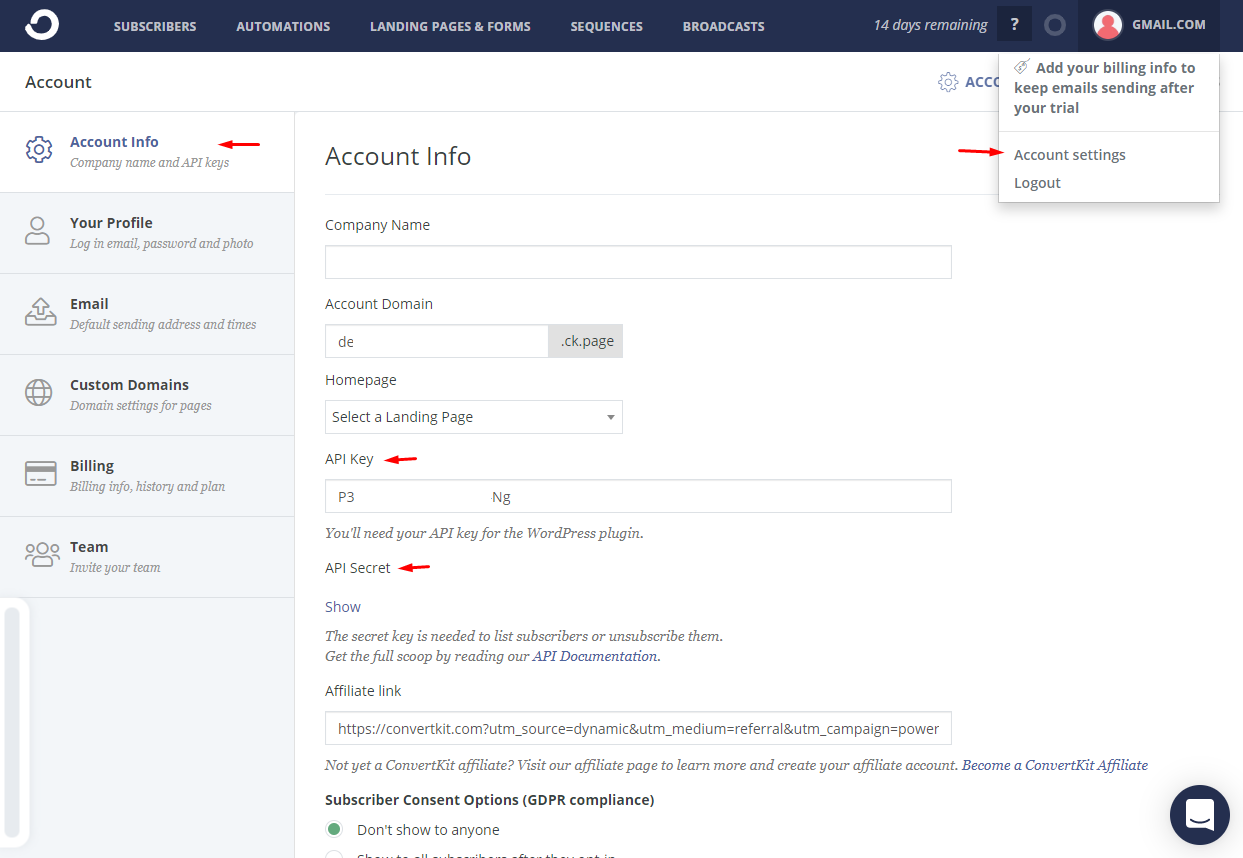 For segmentation and personalization purposes, make sure to select 'tags' you want to either add or remove based on the customer actions. This will help you to automate some of your email marketing triggers going forward.
Email Marketing Goals for a Subscription Business
Email marketing (as well as email marketing automation) can help on many stages of your subscription business's interaction with your customers, including:
Engage current customers (for word of mouth opportunities or upselling)
Turn free users into paid ones
Collect additional information about your customers
Revive lost or inactive accounts
Your email marketing strategy should include all of the above goals, yet don't try to force all of them into a single email. Taking a more granular approach – especially by using smart audience segmentation options – is a much more effective approach.
Engage Your Current Customers
As we know, existing customers are your biggest marketing asset as returning customers are both much likelier to buy and more willing to buy more.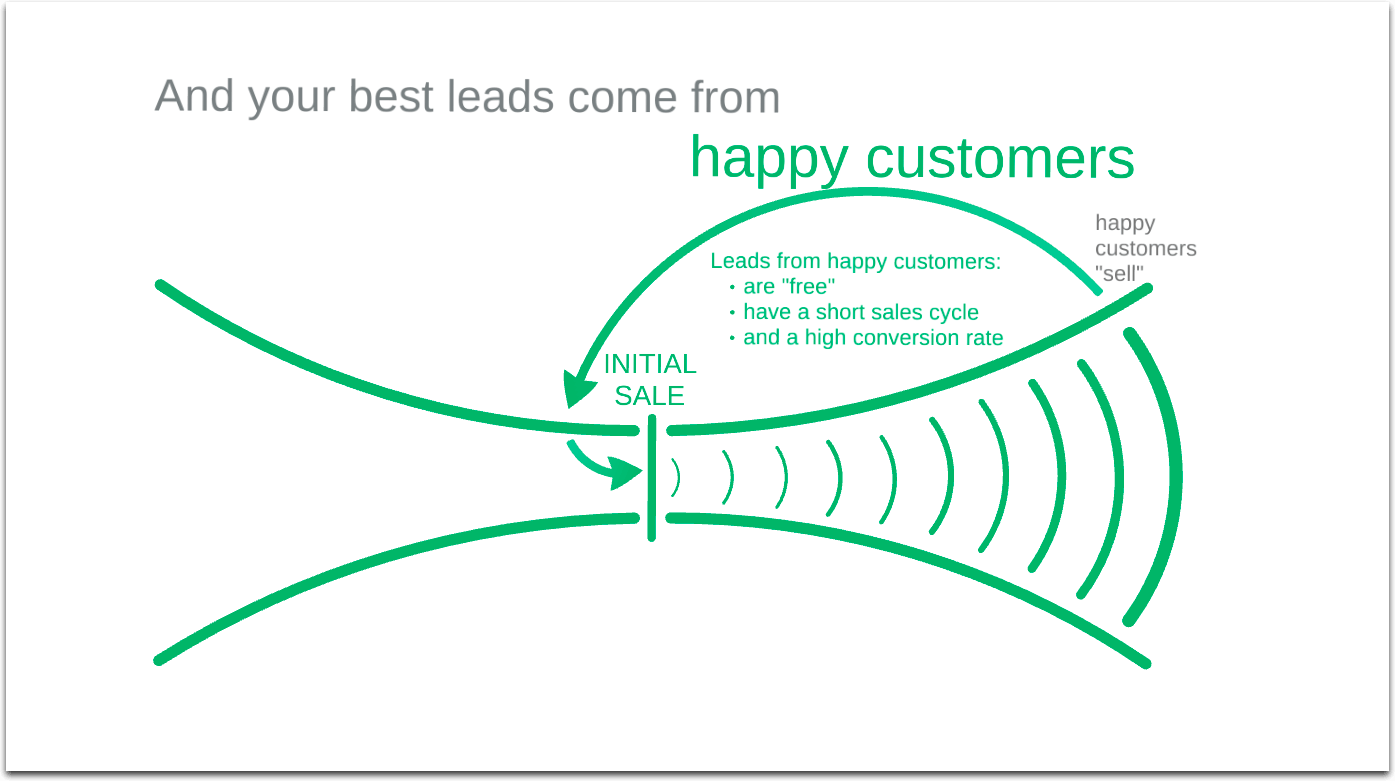 To gradually improve your conversions, you need to constantly work on maintaining your relationships with your existing customers, and email marketing is the most effective customer relationship management (CRM) powerhouse.
Engagement emails may come in many types and forms:
Celebrate user achievements (e.g. XX months of being a customer)
Send best wishes for the customer's birthday or any other holiday. Emailing a quick happy-birthday video can go a long way!
Share your company's milestones
Invite to public educational events (webinars, Twitter chats, etc.)
Put your customer support team into the spotlight and introduce your customers to human beings behind the customer support email
Invite your customers to share feedback or contribute feature requests, etc.
Colorlib offers a list of engagement email templates, so check those out.
Turn Free Users into Paid Ones
Naturally, you want your free or trial users to become your premium (paying) subscribers. Depending on the nature of your subscription business, there may be different ways to approach this, but it is always done through a timely email:
Give a free access to your premium level for a limited time
Offer a discounted access to your premium level
Get them refer their friends in exchange for a 30-day free access
Highlight the benefits of your premium account level
Create a sense of urgency offering a lifetime discounted price if your customer upgrades now: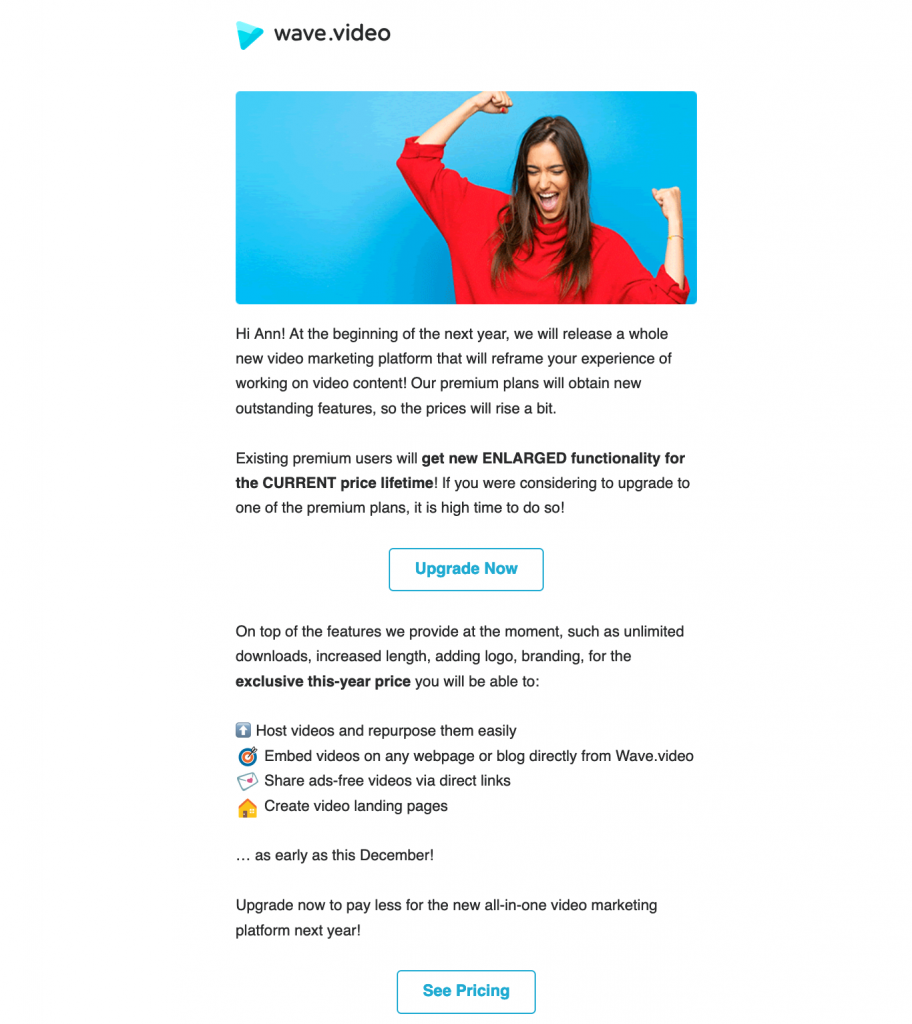 [Wave.video is inviting to upgrade to a premium account by offering a limited-time discount and highlighting the plan benefits]
Again, make sure you are segmenting your list well, as your message may be different depending on each user's activity:
Some subscribers will need to be re-engaged first
Active subscribers may be sold on this offer right away
Further reading: The Path from Visitor to Customer Using Funnel & Email Marketing Automation
Collect Additional Information about Your Customers
Utilizing your email list to hear back from your customers makes sense for many reasons:
When you are looking to develop a new product and need to evaluate its possible future demand
If you are working on a seasonal offer and need to know what kind of a deal your customers will appreciate most
When your content marketing team is developing a linkable content asset and need unique data to put into an infographic
Note: Don't forget to use the data to build more detailed customer personas.
On top of all, customer research email can be an effective engagement tactic when you want to revive inactive accounts, so this is always a good idea.
You can automate this type of emails by using PayKickstart's "Surveys" feature allowing to send personalized questionnaires to your customers based on their action:
Right after a completed purchase
After a processed refund
After a cancellation
After/During a Free Trial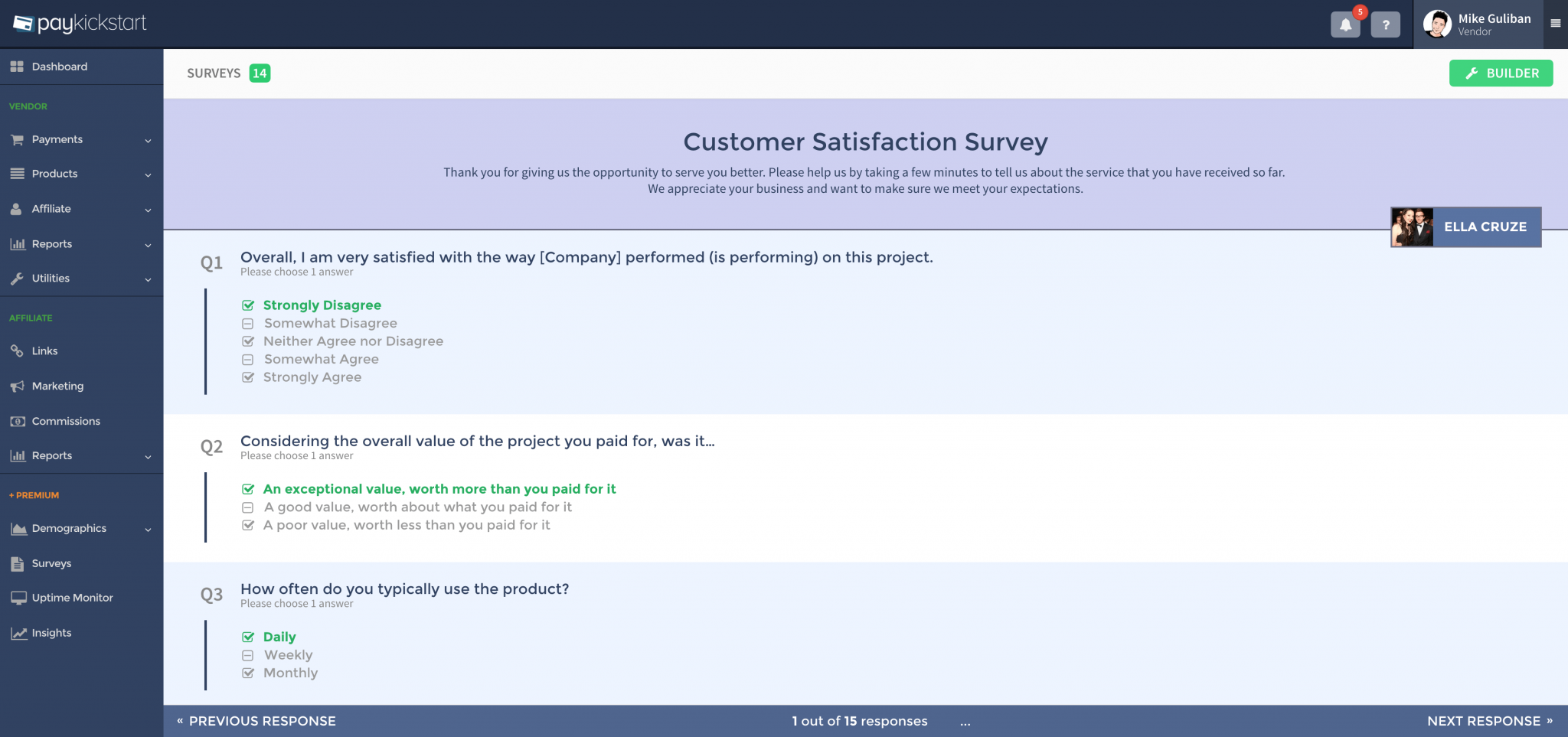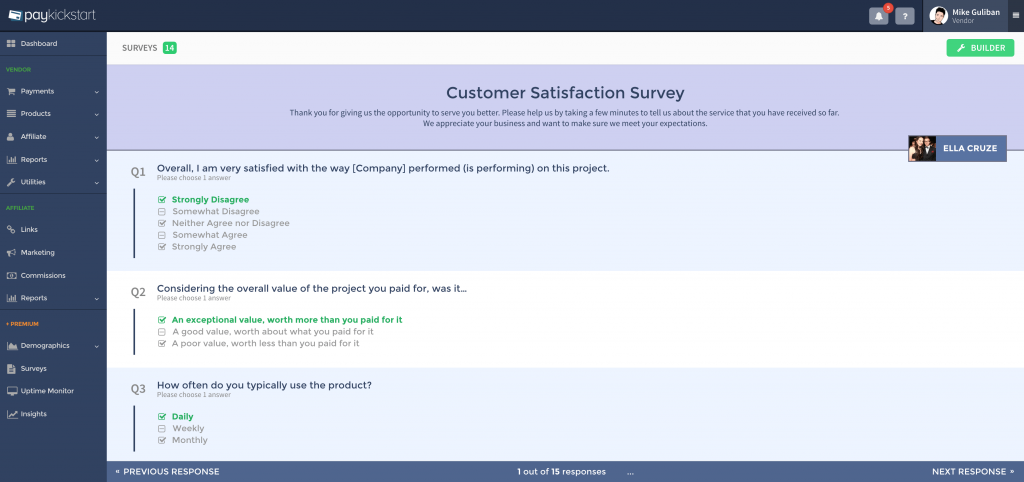 [Upgrade your PayKickstart account to
PREMIUM
to reap the benefits of the Automated Surveys feature!]
Revive Lost or Inactive Accounts
No matter how good your subscription service is, there will always be accounts which will gradually go inactive. Putting an on-going effort into reviving these subscribers is one of the most effective ways to increase your ROI.
The thing is, these subscribers already know your brand: All they need is to hear from you again to come back. And the best part is, you don't need any additional investment in driving them back to your site.
As a rule, reactivation email marketing campaigns have just one goal: Remind your most silent subscribers of your brand. Don't try to force additional calls-to-action into your email: All you need is those customers to come back.
Best reactivation email campaigns are minimal and require no effort (apart from possibly clicking a link to confirm their free subscription). The less time to read it requires, the better the results:
Conclusion
An effective email marketing strategy can reduce churn and increase your customer lifetime value, which is one of the most essential metrics of any successful subscription business.
Avoid getting too aggressive here: You don't want your currently active customers to click the "Unsubscribe" link because they see your emails too often. Segment your lists to focus on re-engaging inactive users and filter already paying customers out to spare them the trouble to read your marketing emails.
There's a fine balance to maintain here: You do want to keep your subscribers reminded of your brand but you also don't want to irritate already active paying customers.
Ann Smarty is the Brand Manager at Internet Marketing Ninjas, as well as co-founder of Viral Content Bee. Ann has been into Internet Marketing for over a decade, she is the former Editor-in-Chief of Search Engine Journal and contributor to prominent search and social blogs including Small Biz Trends and Mashable. Ann is also the frequent speaker at Pubcon and the host of a weekly Twitter chat #vcbuzz