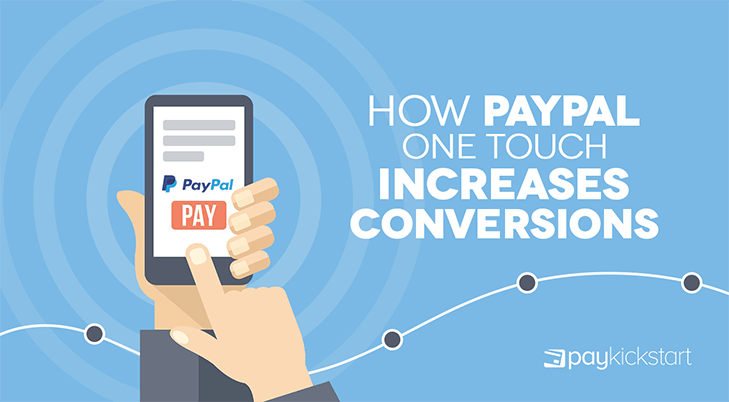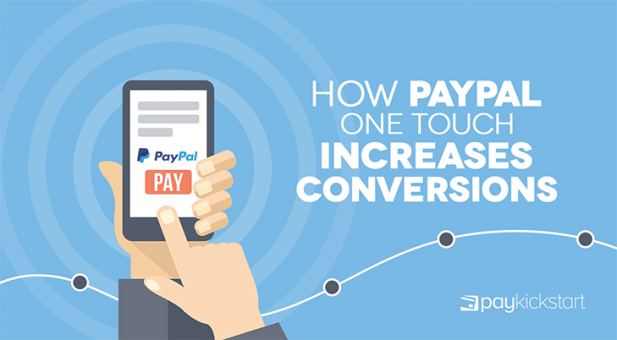 Paypal is one of the most popular payment solutions in the world, and is especially popular in the United States. These days, Americans actually keep more cash in their Paypal account than in their wallet. Nearly 60 percent of Americans had a Paypal account as of 2018, and 81 percent of Paypal's customers prefer using the service to other payment methods. With these kinds of numbers, every ecommerce store should offer Paypal as a payment method.
There are a few drawbacks to Paypal, however. Customers need to sign up for the service, and while fees are competitive, they aren't cheap. And for a long time, Paypal offered a rather subpar mobile experience. In fact, the service's mobile conversion rate was actually 14 percent lower compared to other payment methods!
Now, with Paypal OneTouch, the company is looking to increase conversion rates and to make Paypal a preferred payment method for mobile users. With consumers increasingly using mobile devices to make purchases, catering to mobile users is essential.
Let's take a look at Paypal OneTouch and how it's revolutionizing shopping and especially mobile ecommerce.
So What is Paypal One Touch Anyway?
PayPal One Touch allows customers to complete their purchases more quickly while also maintaining a high level of security. This means customers are protected while enjoying ever more convenience. Once a user logs into One Touch, they will stay logged in, so long as they are using the same device and browser.
Since many users secure their phone with biometric inputs, pin numbers, and passwords, this means their browser should be secured as well. Even if a phone is lost or stolen, criminals will have trouble accessing the operating system.
PayPal One Touch also limits some functionalities in order to increase security. For example, you can't withdraw or transfer money. You also can't access the settings menu. You can still make purchases, however, and doing so is both quick and easy.
When it comes to conversion rates, the more difficult it is to check out, the more likely customers are to abandon their cart. You want to make checkout as easy as possible and customers should be able to get through the purchasing process without any hassles. Fortunately, Paypal One Touch makes the checkout process much less of a headache.
Convenience Means More Conversions
PayPal One Touch has already been rolled out and millions of customers are now using it. That's great news for ecommerce sites, SaaS providers, and all the like. Making shopping more convenient almost always increases conversion rates. That's certainly been true for PayPal One Touch.
Remember how we said PayPal used to suffer from lower mobile conversion rates compared to other payment methods? One Touch has flipped that script. By making checkout easier, PayPal has become a preferred mobile payment method. These days, using One Touch is far easier than typing in credit card numbers and other information.
In total, when customers use PayPal as their payment method, they will complete their checkout nearly 90 percent of the time! This is 82 percent higher than other payment methods, meaning PayPal offers some of the best conversion rates possible. With Visa, for example, only about half of all customers ultimately completed their purchase.
Further, ecommerce sites that enabled PayPal Express enjoyed a site-wide 61 percent conversion rate. Whether on phones or desktop, Paypal is a preferred payment method. So no matter your audience and their usage behavior, supporting Paypal is smart.
Empower Customers With One Touch
Currently, over 5 million retailers enable One Touch. If you're not among those five million, you should get up to speed or you risk falling behind the competition. Fortunately, enabling PayPal One Touch is easy if you have PayKickstart. PayPal can easily be integrated with our shopping cart, and from there you can enable One Touch.
Further, PayKickstart's shopping cart is very mobile friendly. Just as PayPal was able to boost conversion rates by making their platform mobile-friendly, we can help increase conversion rates by offering an excellent mobile experience.
Be Mobile Friendly
One Touch was designed from the ground up to make mobile shopping easier. In the past, customers often used mobile phones during the research stage but would complete a purchase on their personal computer. However, an increasing number of purchases are being completed with mobile devices.
These days, roughly one-third of purchases are made on a mobile device. If you don't offer a great mobile experience, you could miss out on sales. Customers will abandon your site and instead fork over their cash to your competitors.
At PayKickstart, we offer a variety of tools that improve mobile experience. Not only is our shopping cart responsive and designed to work well on small screens, but autocomplete forms and other tools make the entire checkout process easier. Address autocomplete and prefilled checkout pages mean customers can avoid inputting tedious information as PayKickstart will do the work for them.
The More Payment Methods, The Better
Ultimately, you want to offer customers a wide variety of payment options. This way, they can select the payment method that best suits their needs. Let's say a customer tries to make a purchase with their credit card, but for whatever reason, the card is declined. If that's the only payment option you offer, that customer will likely abandon the purchase.
However, if the customer has another option, say PayPal, they can try that payment method. This way, they can complete their purchase. Everyone wins. The customer gets the desired product or service, you make a sale.
PayKickstart: the Best Mobile Shopping Cart
Whether you're talking about PayPal One Touch or our other mobile-friendly features, PayKickstart is an excellent mobile shopping cart. With more and more customers using their phones and more companies catering to mobile users, it's vital to offer a top-notch mobile shopping experience. We make that easy. Simply by using PayKickstart you are ensuring a fantastic mobile experience, at least as far as the shopping cart is concerned.