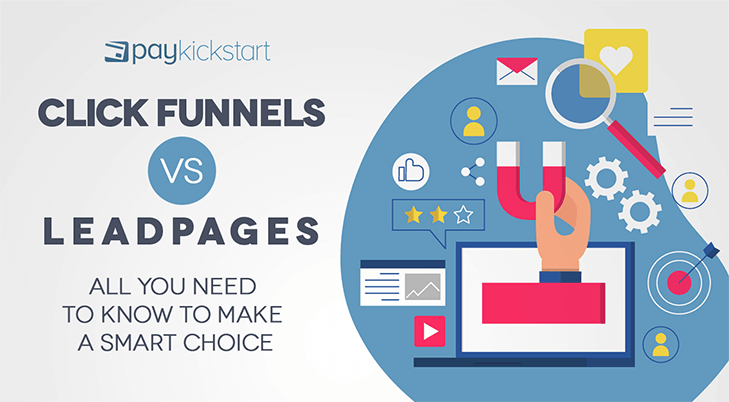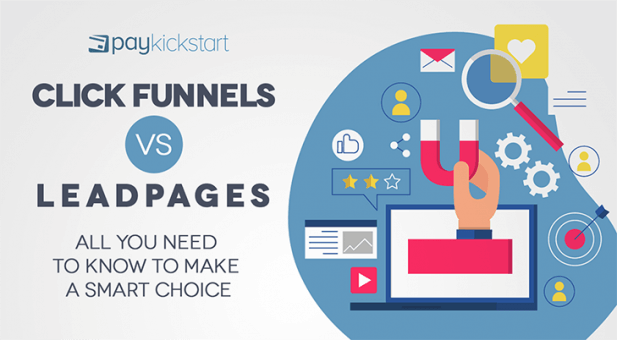 Click Funnels and Leadpages are two popular marketing software platforms used for a wide variety of use cases. Each platform has tons of features that make it attractive and something any marketer would want to use. The main challenge is which one to pick.
If you are a marketer or you own a small business, you know you need to sell. You also know you need some form of landing pages to convert your users. If you are looking at both Click Funnels and Leadpages, you may end up confused because somehow, they seem to have a lot in common.
Although this may seem so on the surface, beneath the surface, they are quite different.
So how do you pick between Click Funnels vs. Leadpages?
Landing Pages vs. Sales Funnels: What's the Difference?
In subsequent comparison sections, you'll see the words lead pages and sales funnels a lot. It's therefore important to define each.
What is a Landing Page?
A landing page is any page on your website a visitor accesses or views first when they come to your website from an external source such as a search engine. Your website homepage, services page, about page, product page, and any other page are examples of landing pages.
What is a Sales Funnel?


A sales funnel is a series of landing pages that lead a website visitor to complete a particular action. The pages, for example, may lead the person to sign up for a newsletter, make a purchase, or download a resource. Sales funnels typically require more work to build than landing pages.
With these two definitions in mind, let's look at the first way Click Funnels and Leadpages differ – in purpose.
Purpose
Click Funnels
Click Funnels is sales funnel software. The platform is designed and optimized to help you create, optimize, and deploy sales funnels for anything you want to sell. Click Funnels excels at this because it has ready-made sales funnel templates and sequences you can use.
If you need to create a series of pages (a sales funnel) to sell a book or course, you can easily do this with Click Funnels. Some of the inbuilt sales funnels you will find in Click Funnels include book funnel, product launch funnel, webinar funnel, fishbowl funnel, tripwire funnel, and network marketing funnel.
Leadpages
Leadpages is landing page software. Unlike Click Funnels, which helps you build a series of pages, Leadpages specializes in helping you build individual landing pages. For instance, if you have a book you are selling, you can use Leadpages to build a highly optimized landing page for the book.
Additionally, you can add features like analytics tracking, conversion metrics and others to your landing page. Of course, you can also link multiple pages together to create a sales funnel, but Leadpages does not make this easy.
Features
Click Funnels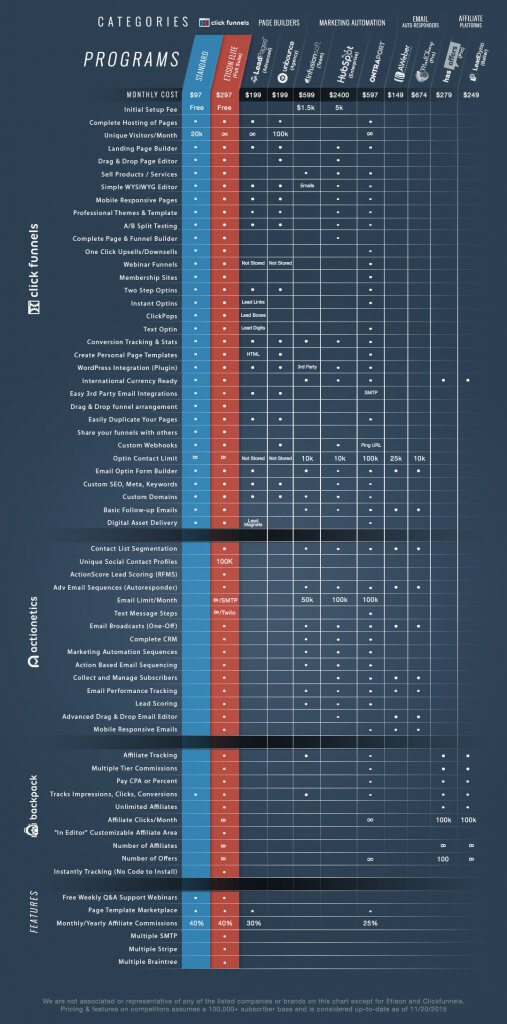 Click Funnels features focus on building funnels.
Some of its core features include:
Drag-and-drop funnel builder/ editor
Website hosting to host all your funnels
Mobile responsive themes and templates that you can use in your funnel pages
Email autoresponder
A/B split testing
Conversion tracking
Membership site support
Single and double opt-in
Custom domains
Shopping cart
Support for digital and physical goods
WordPress integration (through a plugin)
Drag-and-drop funnel arrangement
One-click upsells and down sells
GDPR compliance
Leadpages
Leadpages does one thing and does it extremely well – helps you build amazing landing pages.
Here are the features that support this capability:
Facebook pixel tracking
Drag-and-drop editor
Lead backup with CSV download
Lead routing
Online sales and payments
Exit-intent pop-ups
A/B split testing
Mobile responsive templates and themes
WordPress integration via a plugin
Automatic SSL encryption
GDPR compliance
Multiuser/ subaccount support
Integrations
Click Funnels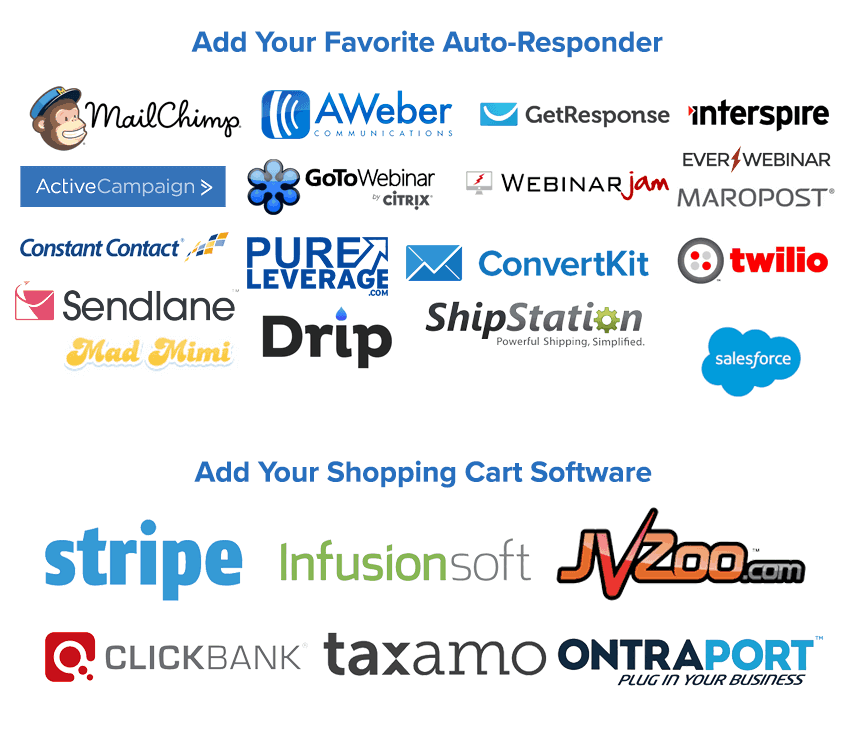 Click Funnels is fashioned as an all-in-one one-stop-shop sales funnel platform. As such, they have tried to include as many tools as possible, so you do not have to integrate with other tools. This is both a good thing and a bad thing.
It's good for those who want an all-inclusive marketing and payments solution but bad for those who want something that integrates with the tools they already use. In this sense, Click Funnels is rather limited.
However, it does support some integrations including:
MailChimp
AWeber
Drip
Ship Station
Stripe
Infusionsoft
Clickbank
Twilio
GoToWebinar
Among others.
Leadpages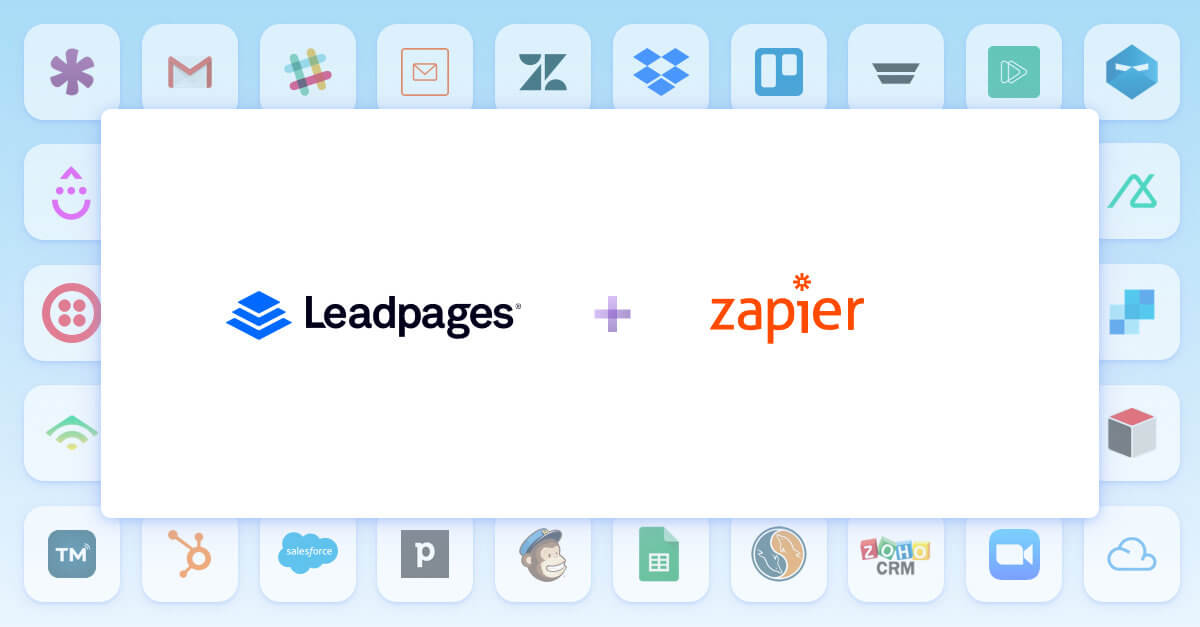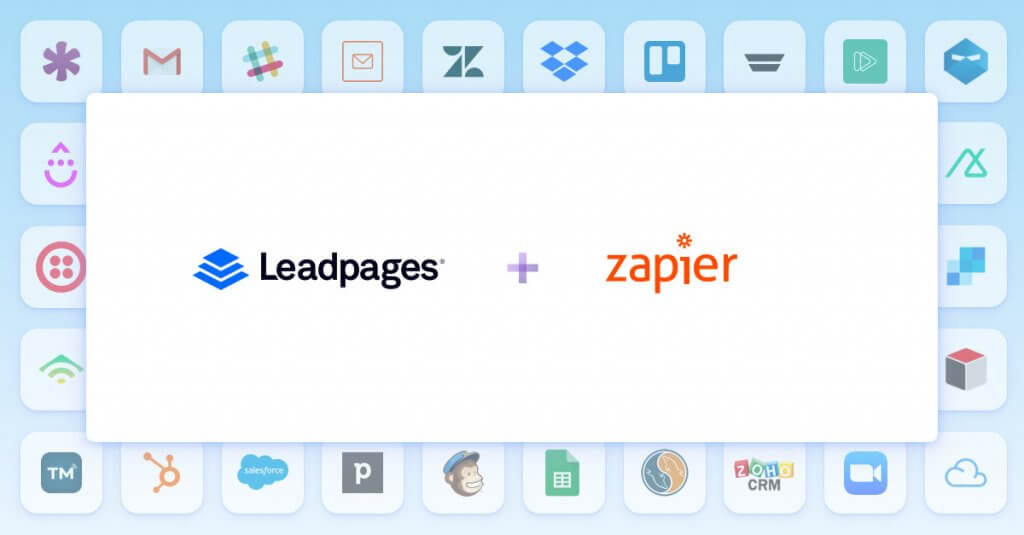 Leadpages, on the other hand, has over forty integrations available. Considering the platform is focused on helping you build highly-optimized landing pages with advanced features, this makes sense.
Whether you want to connect your marketing automation software or email management system, Leadpages has integrations to support all such connections.
Here is a brief list of Leadpages' integrations:
Google Analytics
Contactually
Infusionsoft
Salesforce
Zoho CRM
Bing Ads
Google Ads
Facebook Ads
Instagram Ads
Shopify
Constant Contact
Get Response
MailChimp
Live Chat
HubSpot
Zapier
Google Sheets
Slack
Survey Monkey
Twilio
PayPal
Stripe
Vimeo
YouTube
GoToWebinar
Wix
WordPress
Pricing
Click Funnels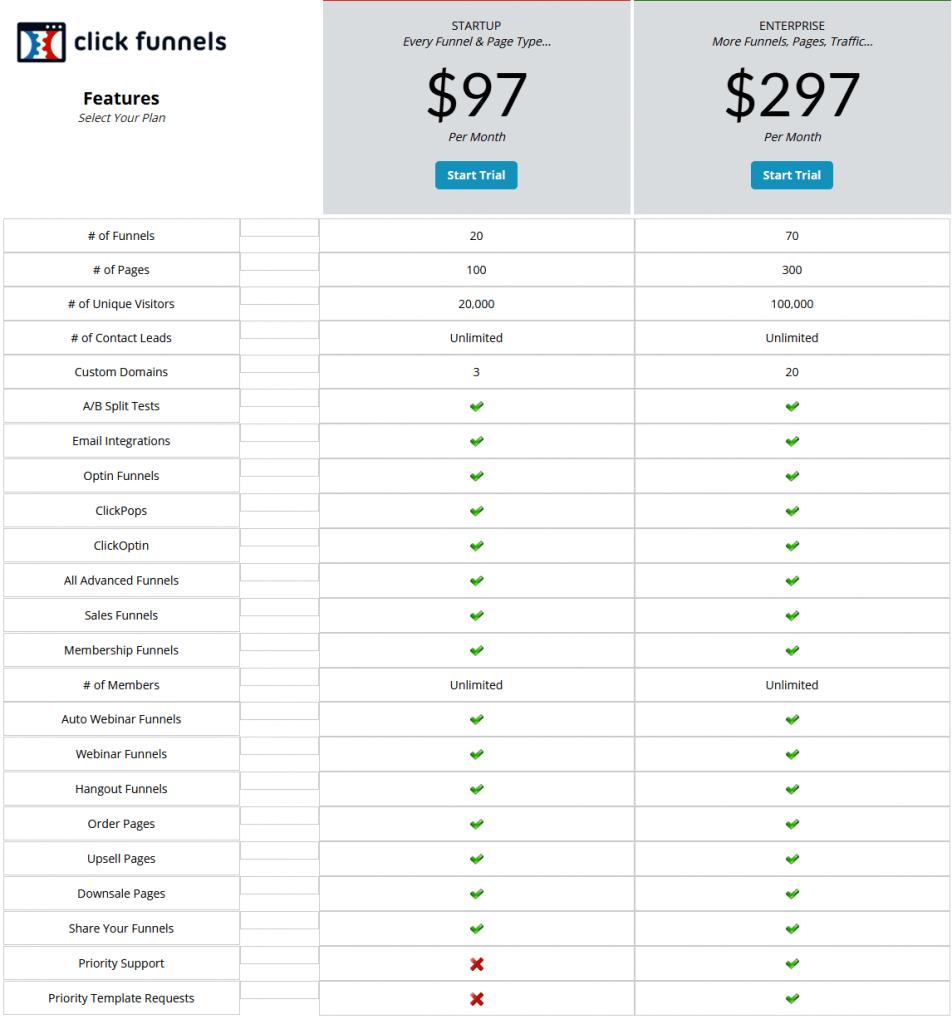 Click Funnels pricing comes in two options: the basic plan that starts at $97 per month and the advanced plan that starts at $297 per month.
The basic plan gives you all you need to get started with sales funnels including twenty funnels, one hundred pages, twenty thousand visitors per month, and integrations with email marketing software.
The advanced plan offers much more including unlimited unique visitors per month, advanced marketing automation features, complete CRM, affiliate tracking, and so much more.
Leadpages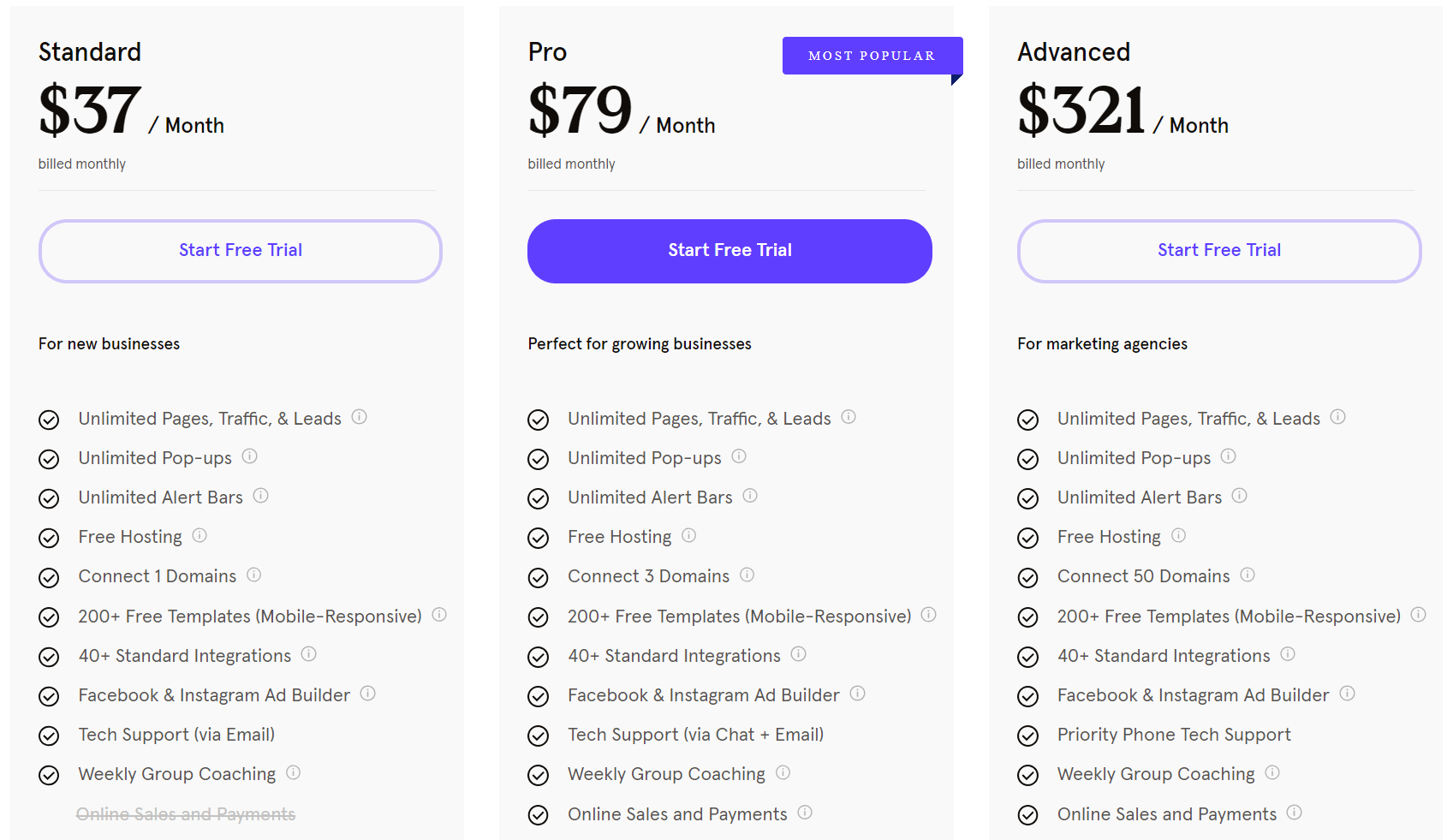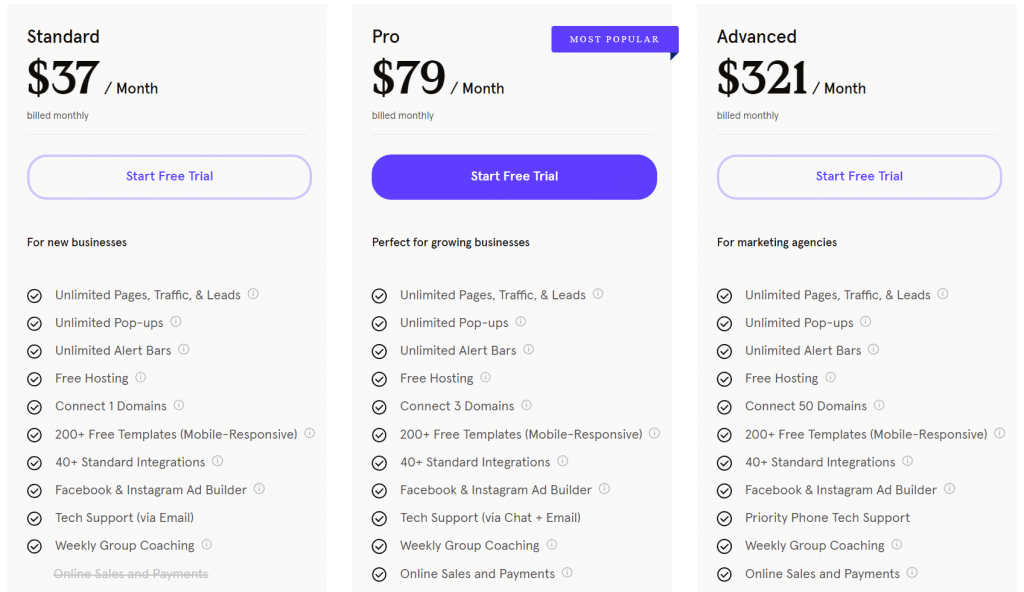 Leadpages has three pricing plans: Standard starting at $37 per month, Pro starting at $79 per month and Advanced, starting at $321 per month.
The Standard plan is ideal for those starting, while the Advanced plan is ideal for marketing agencies.
All plans come with basic landing page features including unlimited pages, traffic and leads, free hosting, all standard integrations, all available themes, Facebook and Instagram ad builder and at least one custom domain.
Click Funnels vs. Leadpages: Final Verdict
Click Funnels
Click Funnels is the best option if you want to build marketing and sales funnels. Period.
The name Click Funnels should tell you that was the intended purpose behind the platform. However, if you want more control and advanced features for each page within the funnel, you may not find all the options you need.
From a pricing perspective, Click Funnels makes sense if you have a very clear path to revenues using your funnels. Otherwise, the cost may become prohibitive especially if you are not making any sales.
Leadpages
Leadpages is for anyone interested in building highly-optimized landing pages. If you already have an established business with strong sales funnels, you can use Leadpages to add individual pages to your existing funnels.
Leadpages is also optimized to work with PPC advertising, with support for Google Analytics, Tag Manager, and Google Ads.
What you should keep in mind, however, is that Leadpages targets marketing professionals, who have the experience and skill to work with its advanced features.
That notwithstanding, you can still use it as a novice marketer by leveraging its basic features.
In Summary
At the heart of it, a comparison between Click Funnels and Leadpages is like comparing apples and oranges.
Although on the surface they appear similar, when you dig deeper, you discover they are each uniquely designed to accomplish very different tasks.
If you are wondering which one to pick, first ask yourself whether you want to build a funnel (a series of landing pages) or a landing page (a single optimized page).
Depending on your answer, pick the platform that will best help you accomplish your goal.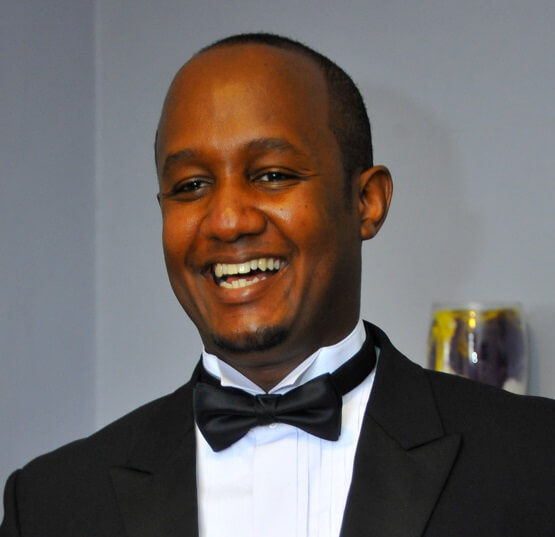 Dan Macharia is an experienced copywriter with over ten years of experience writing for both large and small companies all across the United States. When he is not writing, find him reading a book or outdoors playing lawn tennis, running or just walking and soaking in life.