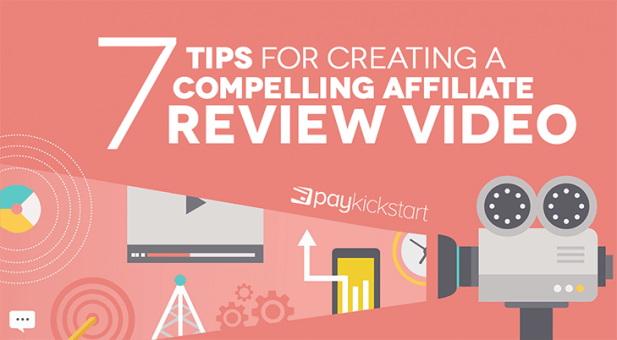 Many people break out in cold sweats and start shivering when they think about making videos. An affiliate review video is out of the question. Some of the thoughts that come up include:
How do I get the lighting right?
What about audio quality?
Which software should I use to edit the video afterward?
How much time will it take?
The list goes on. Affiliate marketing is a great way to build a side income or even a full-time income. Many people have caught on and are promoting products left and right.
How can you stand out from the crowd?
By creating an affiliate review video that gives a detailed yet unbiased overview of the product. If video marketing hasn't been your thing then this post is for you. You'll learn 7 tips to create an affiliate review video that gets the job done.
1. Choose all your equipment before creating an affiliate review video
It's never fun to realize you've forgotten something important after you've started working on a project. That's why the first thing to do is get the right equipment. When I say equipment, it includes software.
The equipment you choose depends on what kind of products will be featured in your review video. Software/digital products have slightly different needs than physical products. Whatever the case, there are a few pieces of equipment you'll need.
High-quality microphone
Camera (physical products)
Tripod
Webcam (digital products)
Lighting
If this is your first video, practice using the software and equipment before recording the final version. Here's a PayKickstart review video for reference:
2. Prepare notes before you record the affiliate review video
I won't go as far as telling you to create an entire script before recording. That may be more harmful than helpful because it won't come off as authentic (unless you've taken acting classes before).
I suggest you create notes that list out your talking points. What did you like about the product? What did you dislike about it? How easy was it to use? Did it perform its intended function properly? Is there anything special you'd like to point out? Do you recommend it for your viewers?
All these are questions your video should, at the very least, answer. It's a lot to remember and one or two talking points may be forgotten. Instead of trying to memorize it, write down the main things you want to touch on and keep it in a place that's out of the camera's field of vision but you can see and refer to while recording.
3. Always include your disclosure
The FTC is serious about the way products and services are promoted. They're not afraid to fine you if you "mislead" the consumer. It doesn't matter if you have 100 followers or 1 million followers. Breaking the law is breaking the law.
After Legacy Learning Systems Inc. was fined $250,000 for its advertising practices, every seasoned affiliate marketer is aware of just how serious the FTC is. Don't take this as a reason to avoid affiliate marketing. Rather, think of it as a way to protect you and your audience.
When in doubt, default to transparency.
Exactly how to implement affiliate disclaimers is beyond the scope of this post but here are some things to keep in mind.
If you were given the product by the company, be sure to mention that
If they're paying you for the review mention that as well
If your links will earn you a commission, be sure to say it
Here's more information about how to handle an affiliate disclaimer in your content.
4. Show your face
Unless you have legitimate reasons not to, it's a good idea to show your face a few times in your video.
A study which was published in the European Journal of Social Psychology found that people connected with and liked brands that used faces in advertising when compared to brands that didn't. This shows how powerful showing real humans can be.
You don't have to create a talking head video or take up too much screen time. Just show your face a few times so people can associate the content with a real human and not some corporate machine.
Show yourself at the beginning of your review when you're introducing the product and at the end when you're delivering your final verdict. You can also be a constant fixture in the corner of the video.
5. Choose a stance and stick with it
Many affiliate review videos fail to decide whether or not they'd recommend the product. The hesitation may stem from still wanting a commission but not being able to recommend the product in good faith.
It's OK not to like products and say so. You'll even be perceived as more authentic by your audience. When you're doing this, make sure you're not burning bridges with the company you're promoting.
Say if you don't like it, why you feel that way, and your suggestions for improvement. If you do like the product, let it be known. Whatever the case, decide on the message you want to convey and stick with it.
6. Include multiple CTA
Many affiliate review videos fail to add any CTA at all. They mention the product, talk about the features, and leave it at that hoping people will click their links.
It doesn't work like that. Tell people to click your links and don't say it only once. Mention your call to action at the beginning of your video, after you've talked about your favorite features, and when you deliver your final recommendation.
In total, you should have at least 3 separate CTAs.
7. Demo the product
An obvious point I should have left outright? I don't think so. I've watched a lot of affiliate review videos where they failed to show me the product in action.
For example, if it's a product review for a microphone, I'd like to hear how it sounds then hear a comparison to the normal computer mic. If it's something that's meant to move around, I want to see it in action. If it's software, I want you to go through it a bit so I can get a feel for the UI.
Show people how the product looks in action and you'll earn higher commissions.
Conclusion
The process of making an affiliate review video doesn't have to be complicated. To be successful, keep in mind what a review video is supposed to do – inform people about the pros and cons of a product and give your honest opinion.
This article has gone through 7 tips to make your affiliate review videos useful for both your visitors and yourself. The next time you're creating one, be sure to implement all the tips in this post to get maximum results.
Let me know about any affiliate review video tips that have worked for you in the comments and don't forget to share.
Daniel Ndukwu is a regular contributor to the PayKickstart blog. He has extensive experience with online businesses, conversion optimization, and subscription revenue models. When he's not writing insightful content, he works with other entrepreneurs to help them grow their bottom line.