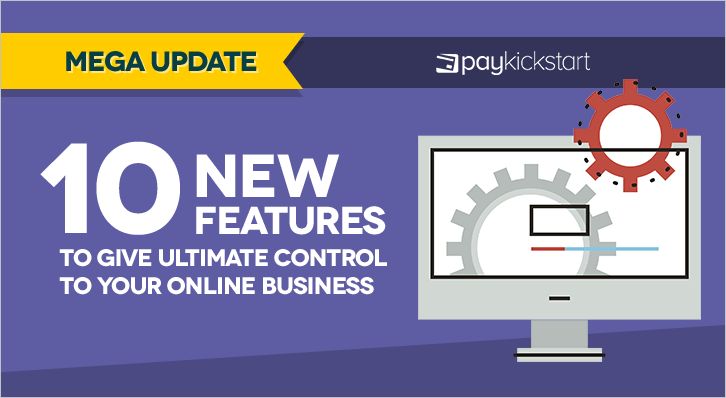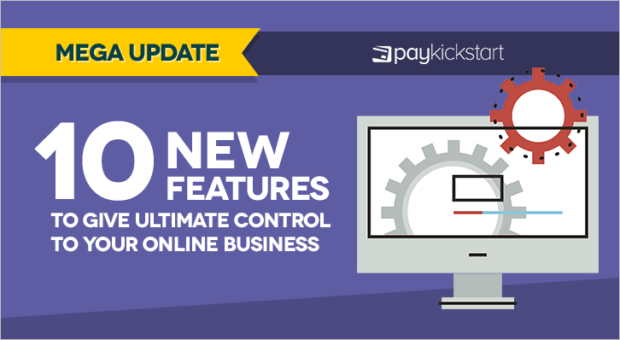 It's that time again!  Another MEGA feature update to tell you about.
We are super excited to announce a ton of new features that our PayKickstart members have been begging us to add.  Well, lets go ahead and share each of the new updates that are now available to ALL PayKickstart members.
Feature #1: JV contracts
It's here!  The big feature request ALL of our members have been asking for.
PayKickstart can now automatically split the revenue generated between partners.  This is great if you are working with someone on a product launch or business and you want to have the revenue sharing you agreed upon, automatically split.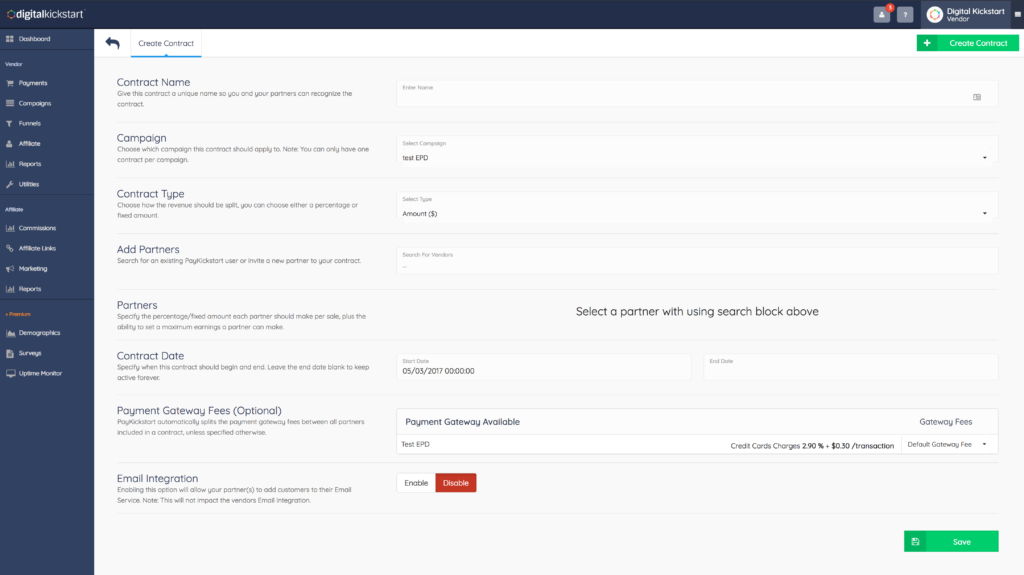 Knowledgebase Article:
http://support.paykickstart.com/knowledge-base/creating-partner-contracts/
Feature #2: Checkout page Translations (12)
PayKickstart can automatically translate any of the checkout pages, checkout popups or checkout embed forms in 12 languages.
Arabic
English
Chinese
French
German
Hindi
Italian
Japanese
Polish
Portuguese
Russian
Spanish
Just select the language you want and your checkout page/widgets will automatically be translated.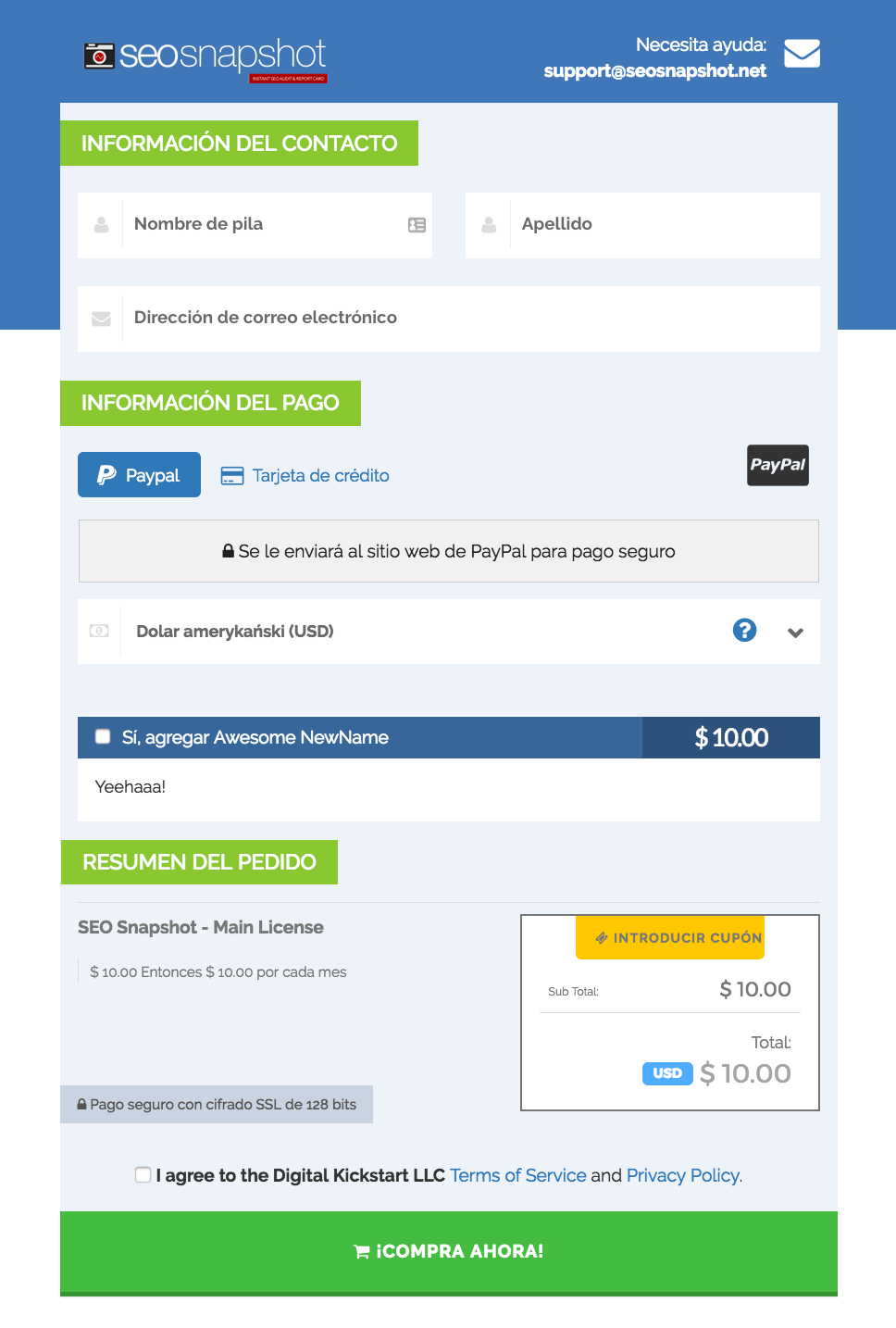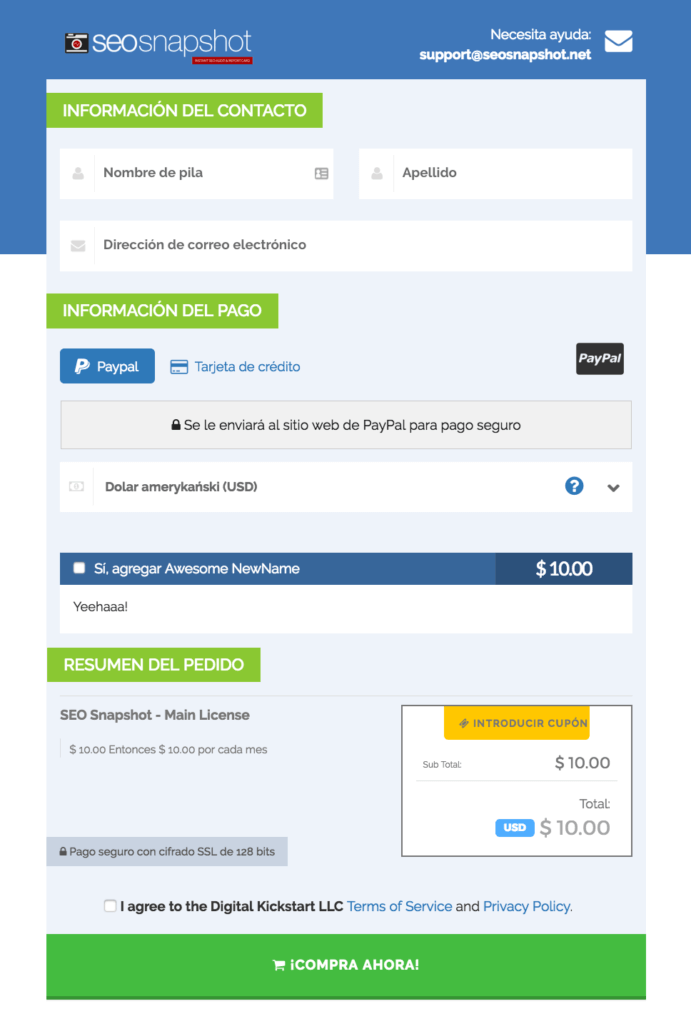 This is an exciting new feature as it opens PayKickstart to a global audience!
Knowledgebase Article:
https://support.paykickstart.com/knowledge-base/translate-checkout-pages-widgets/
Feature #3: Allow Customers to Update Billing Information
About 30% of recurring transactions fail for a number of different reasons – Credit Card Expired, Credit Card Number Changed, No Funds, Over Limit, Paypal Account Shutdown, etc…
This is why we have our subscription saver feature that automatically sends an email to your customer notifying them that their charge declined and to update their billing details.
However for various reasons (ie: new email address) they miss these emails OR they want to update their new payment method BEFORE it declines.  This is why we create the Update Billing feature which allows any vendor to Generate a private/unique Update Billing URL that they can send to the customer.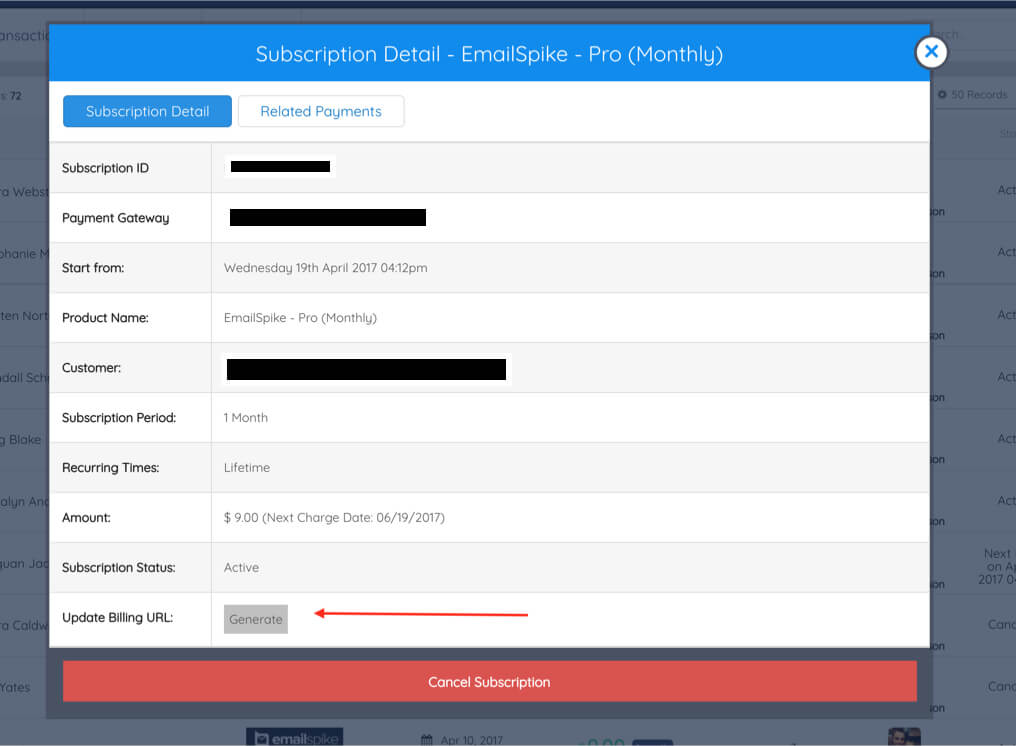 The customer will then be able to update their billing details.
Furthermore, a customer can not only update their credit card or Paypal details, but can switch from Credit Card to Paypal and vice versa.  This is HUGE for continuing to maximize your rebills and minimize failed transactions.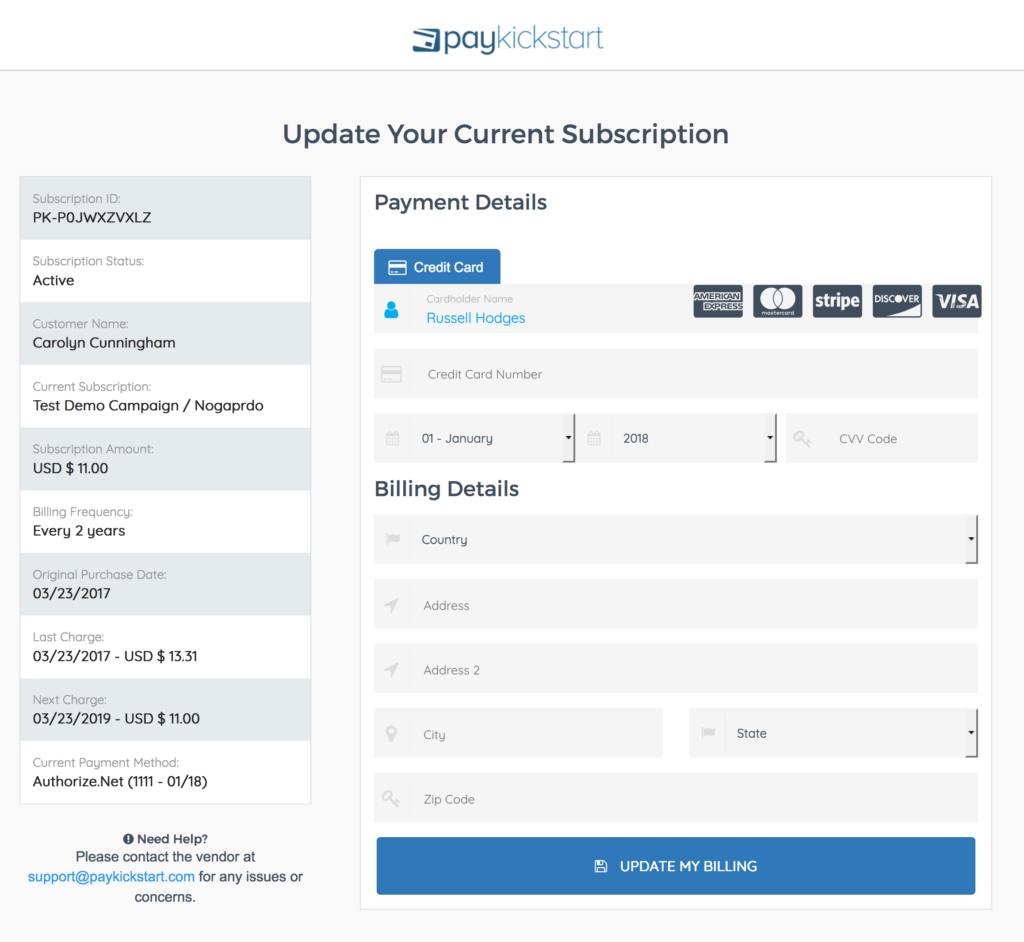 Knowledgebase Article:
https://support.paykickstart.com/knowledge-base/update-customer-paymentbilling-details/
Feature #4: Affiliate Link Tracking
As an affiliate, you may be sending all different types of traffic to an offer…Email, Blog, Paid, Social.  You want to know which type of traffic is converting to sales, right?
Affiliates can create unique tracking links and view the Clicks, Visitors, Sales, Conversion Rates, EPC, EPS and Commissions earned for each link.
Learn the 5 steps to Get Double Affiliate Support on Your Next Launch using lifetime commissions, instant commissions, and more.


Feature #5: Chargeback/Dispute Handling
We understand that part of running an online business, there are going to be the occasional disputes and chargebacks.  That is why we made it easy to update a transaction based on the dispute/chargeback status.
If the dispute/chargeback is won, it will say "Won", if lost, it will say "Lost" as well as pull back any of the commissions owed to an affiliate partner.
If you are using Stripe as your gateway, any disputes and chargebacks will be updated in PayKickstart automatically, without you having to do anything.
All other gateways are unfortunately a manual process, but still manageable in PayKickstart.  When a new dispute/chargeback comes in, you can update the transaction status – both visible to the vendor and affiliate.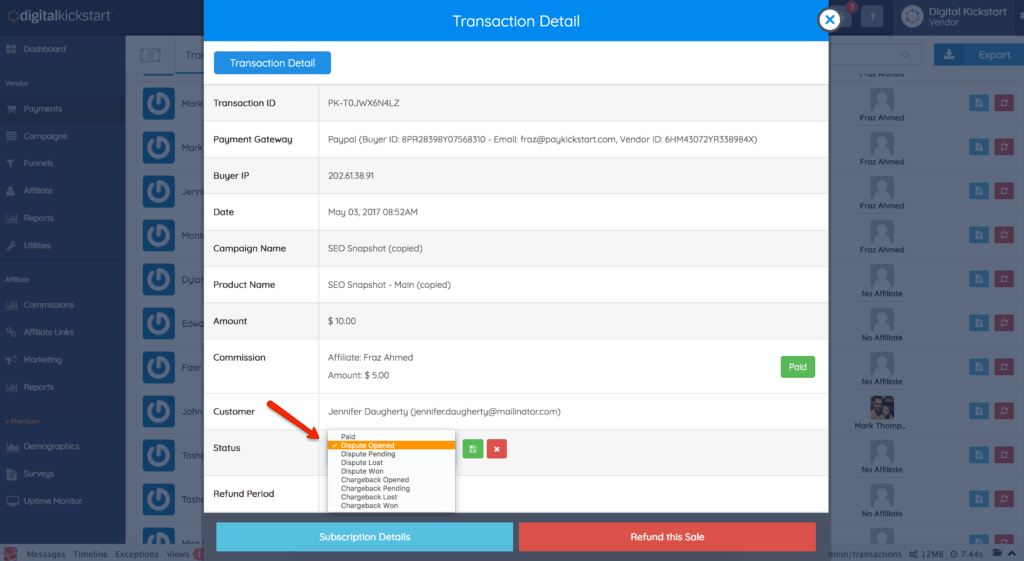 Knowledgebase Article:
https://support.paykickstart.com/knowledge-base/how-do-i-handle-disputes-and-chargebacks/
Feature #6: Funnel Builder Override Pricing Settings
Isn't it annoying when you have to create an entire new Campaign and Funnel just to create a small pricing variation on one or multiple products?  Yep! We agree.  Which is why we added some advanced override functionality to handle this.
For example, say you have your main offering at product.com for $197.00.
However you want to run a special 3-day promotion where you want the price to be $147.00 and utilize a different landing page.  Now you can go into that funnel, choose "Override Settings", enter the new Landing page URL and price.   With the new enhancement, the price can be one-time, subscription or split pay.
That will be applied to a funnel on a global level (affecting all affiliate partners).
And you can adjust the pricing options for all of your upsells as well.
Knowledgebase Article:
https://support.paykickstart.com/knowledge-base/funnel-override-settings/
Feature #7: Trigger Multiple Membership Integrations per Transaction
A few of our members started running into the issue of being able to create multiple membership accounts for one single transaction.
For example, they want to run a 2 for 1 promotion where a customer pays X dollars and they gain access to two products.
With our new enhancement, now you can register a customer for multiple memberships/plans for ONE transaction.
Product A: OptimizeMember Membership Product
Product B: Wishlist Membership Product
Customer receives both logins at the same time.  Easy!
Feature #8: Webinar Ignition Integration
It's now here!  Now the 1,000s of Webinar Ignition members who use WI to run and manage one-time and evergreen webinars can automatically register a customer for webinar immediately at the point of sale.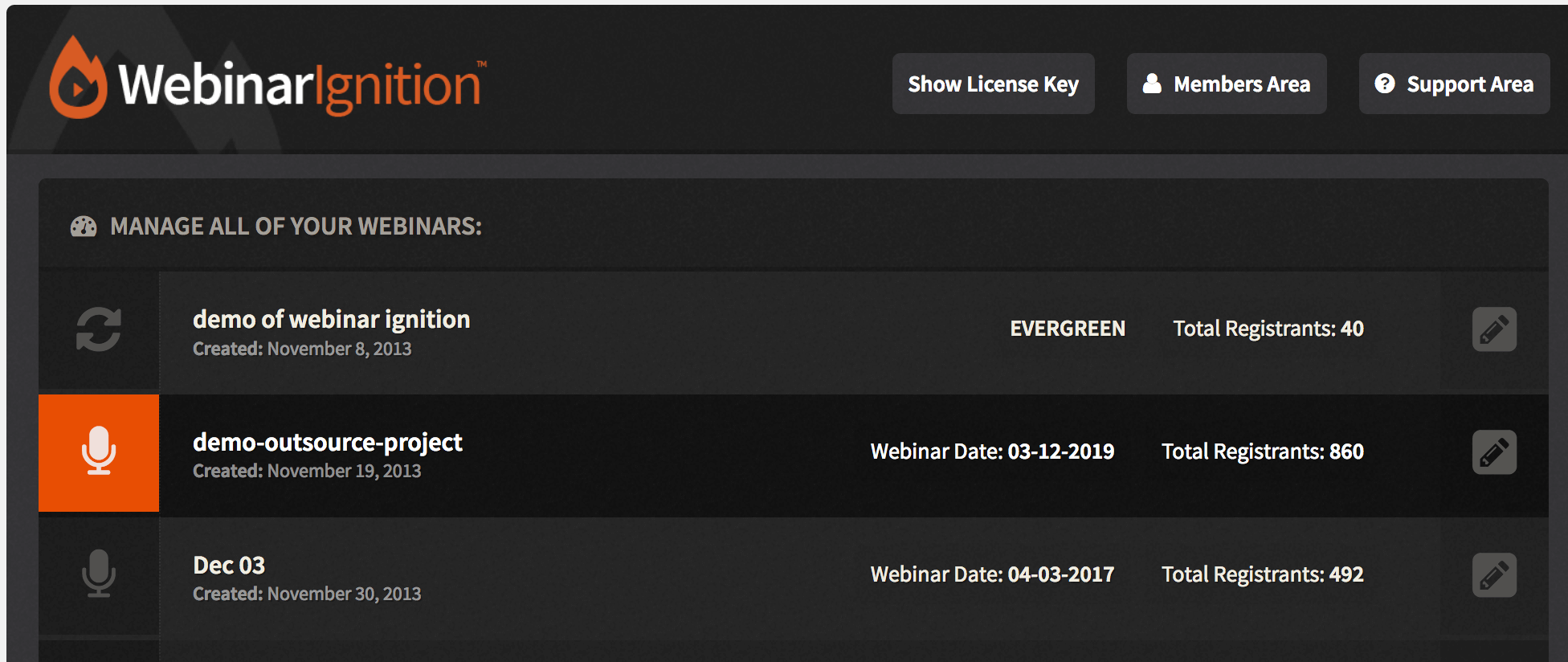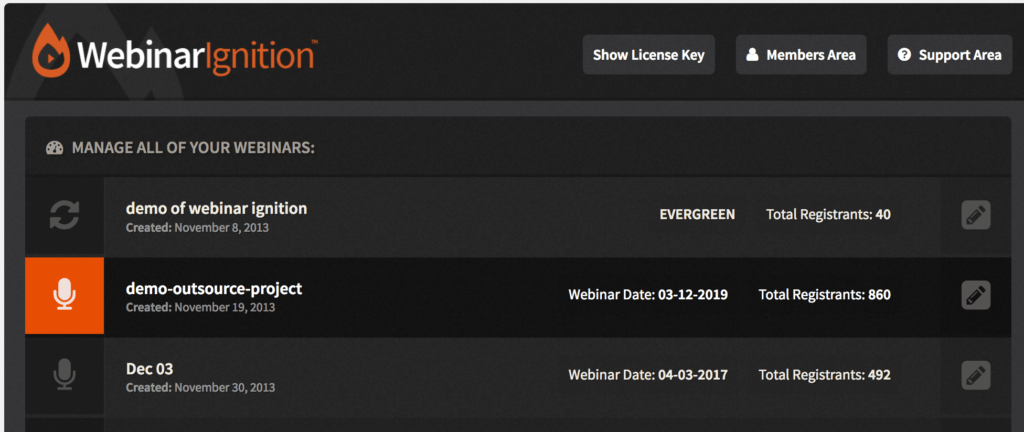 Knowledgebase Article:
https://support.paykickstart.com/knowledge-base/integrating-webinar-ignition/
Feature #9: Appending Coupon to Checkout Page URL
A super-cool, advanced feature we added to coupon codes is now you can automatically apply a coupon code to your checkout link, so the customer doesn't even need to enter in the coupon field.
For example:  https://app.paykickstart.com/checkout/798?cc=1offsk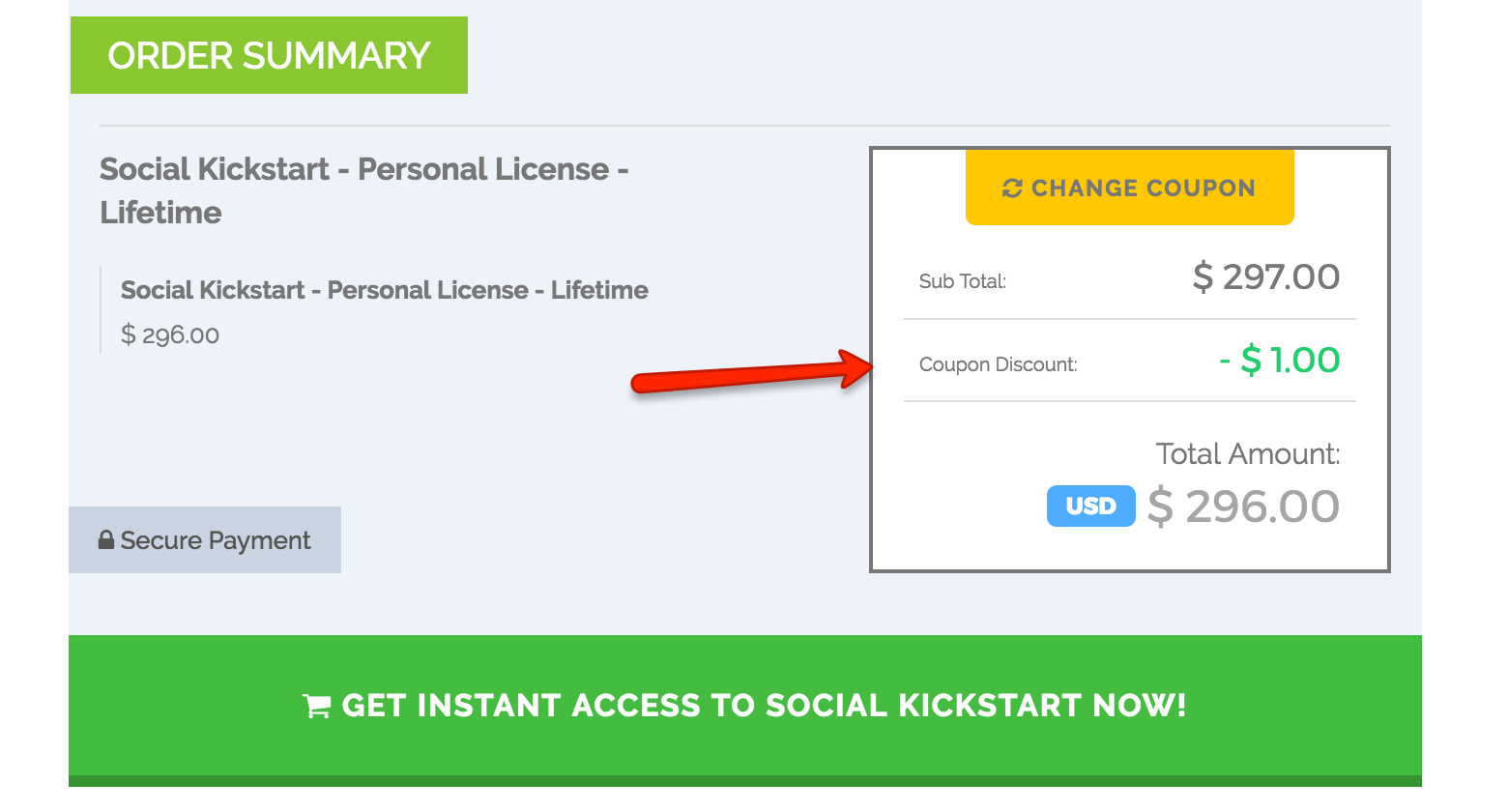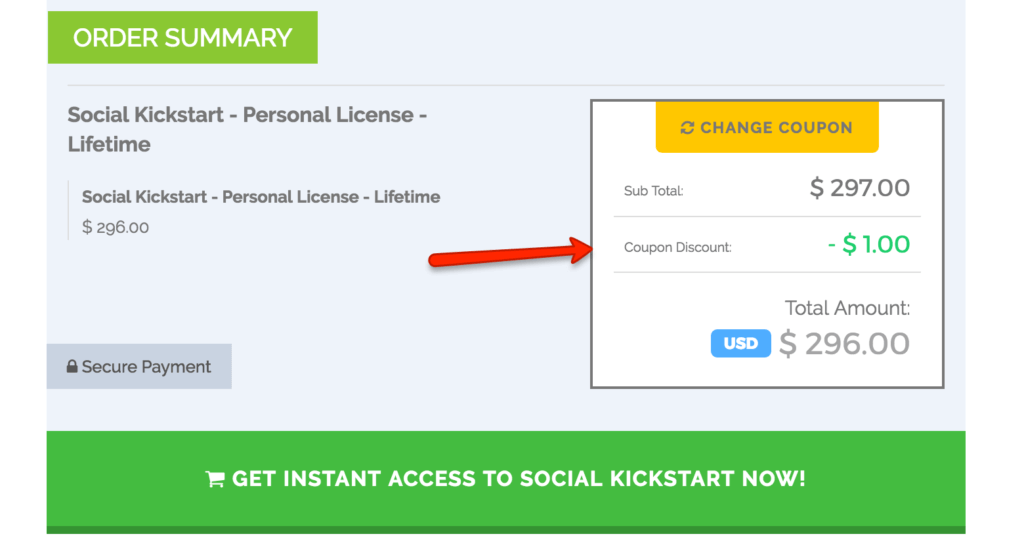 During our initial tests, we saw an 19% bump in sales just by auto-appending the coupon code to our checkout link as opposed to requiring the customer to manually apply it.  One less action the prospect needs to take to become a buyer, right!?
Knowledgebase Article:
https://support.paykickstart.com/knowledge-base/auto-apply-coupon-discount-adding-code-directly-checkout-url/
Feature #10: Analytics Integration:  Chart Mogul
Running a SaaS business?  Need more advanced metrics?  That's exactly what the Chart Mogul integration will provide.
While PayKickstart does provide you with important stats like Clicks, Conversion Rate, MRR, ATV, Churn Rate – we understand certain businesses need in-depth reporting, drilling down into more advance reports.
Now you can have all of your PayKickstart sales data automatically fed into your Chart Mogul account.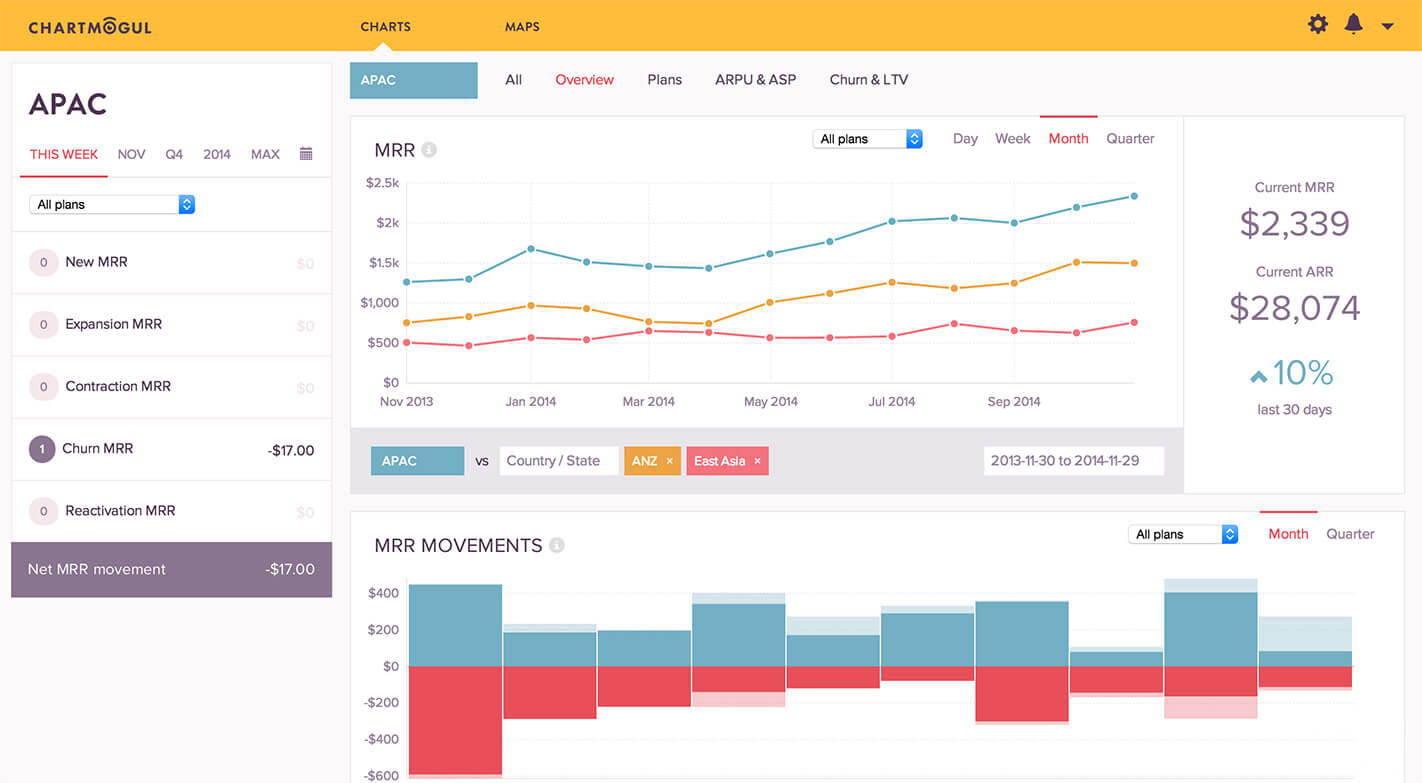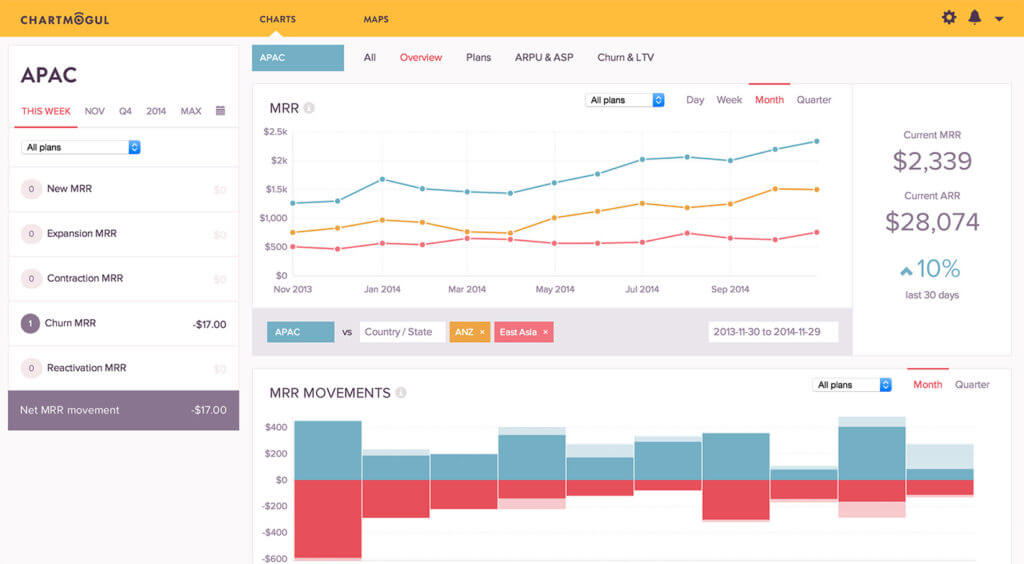 Knowledgebase Article:
https://support.paykickstart.com/knowledge-base/integrating-chart-mogul/
Bonus Feature: EasyPayDirect Integration
We are now happy to announce our partnership/integration with EasyPayDirect as a payment gateway.  EasyPayDirect specializes is processing high risk vendors and businesses processing over $20k per month in recurring revenue.  With their patent-pending load balancing functionality you can have 1 gateway and spread our transactions over multiple merchant accounts.
Learn more about EasyPayDirect.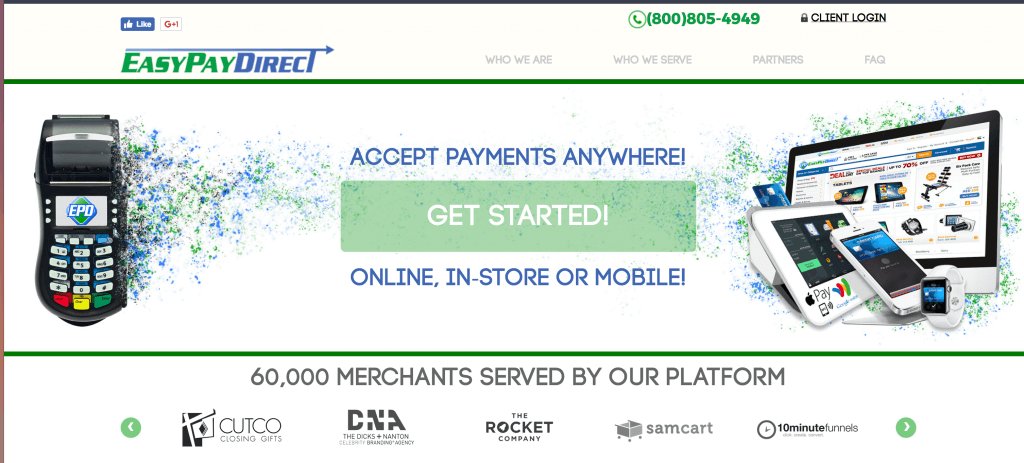 Knowledgebase Article:
https://support.paykickstart.com/knowledge-base/integrating-easypaydirect/
These are just a few of many ways that PayKickstart is here to help make you more money while saving you time and headache!
Want to see how PayKickstart stacks up against the competition?   See this Shopping Cart Comparison Chart.
If you're not using PayKickstart to sell your products and handle all of the revenue sharing automatically, what are you waiting for? It's free to get started today!
Are You Ready to Start Making More Money Online?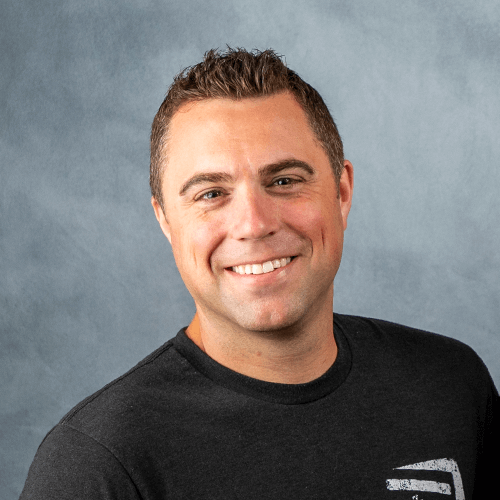 Mark Thompson is the co-founder of PayKickstart.com – a SaaS that is reinventing the modern-day shopping cart and affiliate management, helping thousands of businesses and Entrepreneurs sell more, maximize customer lifetime value and automate subscription commerce.
Mark has spent over a decade in the world of marketing and software, selling over $20+ million of his flagship training programs and software.