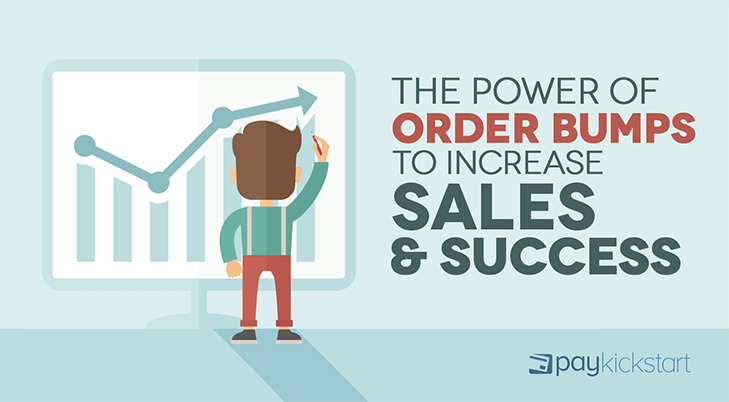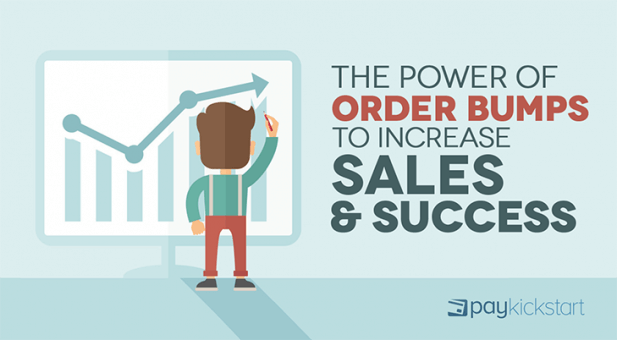 At PayKickstart, we recognize that a shopping cart can be more than just a shopping cart. Your cart can also be a powerful marketing tool that you can leverage to increase sales and ultimately profits.

In fact, we built an order bump feature right into our shopping cart that allows customers to add additional products to their initial order at check out. Our order bump feature is naturally integrated into our shopping cart, providing a seamless, user friendly experience.

With our bump order tool you can encourage customers to add more items to their order and as a result, you'll enjoy higher sales. We've found that our customers increase their Average Transaction Value by 30 percent, on average, by using this feature.

Think about what a 30 percent increase in sales could do for your business. The increased sales could allow you to expand your inventory, put more money into your PPC campaigns, or build up your staff.

In order to increase your sales, however, you need to bump the right items in your shopping cart. Let's take a look at what you should bump.

What Products or Services Should You Bump?
The key to effectively using order bumps is to include items that customers will want to add to their order without any extra selling needed. Customers should want to make the purchase because it makes sense with their current purchase.

Perhaps the most well-known example of an order bump is the classic "would you like fries with that" when you put in an order at McDonald's. If you head to McDonald's and order a burger, the cashier is almost certainly going to ask you if you want a "combo" or want to add fries to your order. And if you order a combo right out of the gate, they'll probably ask you if you want to upsize it.

Now put yourself in the customer's shoes. If you're placing a food order it's because you're hungry. So you're going to be tempted by the offer to add fries to your meal. Likewise, you're going to want a drink to wash it all down with. A $3 dollar burger sale quickly becomes a $6 dollar value meal sale.

Order bumps are not limited to fast food either. In fact, we've found that order bumps work in every industry. The trick is to pair additional products and services that complement one another.

A PayKickstart Order Bump Case Study
Let's look at an actual case study of order bumps in action. One of our customers, FunnelSpy, helps marketers reverse engineer their competitors' sales funnels. In other words, they can "spy" on the competitions' funnels, potentially uncovering sales strategies.

In our case study, FunnelSpy offered two license options on their sales landing page. Customers could select a $97 "personal license" that allows for their software to be installed and used by up to three people, and a $147 Outsource License that offers an additional 20 license keys.

When customers selected the "Personal Use" they were taken to a check out page. There, FunnelSpy bumped an upgrade to the Outsource License for just $47 extra. FunnelSpy bumped the Outsource License, offering customers another chance to select it.

Now, you might think that this bump wouldn't be very tempting. After all, customers already had the chance to select the outsource license and passed on it. However, when we compared the Earnings Per Click (EPC), we found that the average value of a click increased from $3.45 to $5.98 after the order bump was put into action. That's good for a 73.33 percent increase in average initial order value.

Your Shopping Cart is an Important Part of Your Sales Funnel
In the past, many shopping carts were simply checkout pages that allowed people to complete their purchases. Shopping carts were basically the end of the sales funnel for a given purchase. Now, however, using advanced features like order bumps, you can integrate your shopping cart into your funnel to increase sales.
PayKickstart has generated more than a million dollars in sales for our customers with order bumps. They are not intrusive and naturally blend into the shopping cart. While order bumps do encourage additional sales, they don't look like an ad. Instead, customers select the additional product or service simply because it makes sense.

Are Order Bumps Hard to Use?
Not if you have the right shopping cart. With Paykickstart, managing your shopping cart sales funnel is very easy. If you want to add an order bump, you can do so quickly and easily with our platform.

First, you have to log into the PayKickstart dashboard. Once there, select the "funnels" link on the left side of the menu. From there, you simply click on "edit funnel", the blue pencil button on the right side. This will take you to a funnel menu where you can see the flow of your shopping cart funnel. Next, you edit the product and select the "order bump" box.

As you can see above, you can also select other tools, such as a popup widget or form embed. In this case, however, you will select order bump and will add the additional product or service to be offered. Then, PayKickstart will automatically integrate the order bump into your sales cart.

Use Order Bumps, No Extra Payment Needed
When you select a professional or premium PayKickstart plan, you can use order bumps for free. PayKickstart charges a flat monthly or annual rate for our shopping cart solution. We do not charge transaction fees like many other shopping carts do. Many of our competitors, however, charge 2.9 percent or more for each transaction.

If you select a shopping cart that charges transaction fees, you may find yourself shelling out more in fees when you use order bumps. Say you use the order bump feature and generate an additional $10 dollars in sales, on average. This means you'll also be shelling over an additional 29 cents in transaction fees for each purchase (on average.)

In Conclusion: Make Sure You Upsell in Your Shopping Cart
Order bumps are a great way to increase sales. We also offer other upselling tools that you can use to increase sales right in your shopping cart. It's smart to test order bumps, popup widgets, and form embed features to see what generates the most sales.

Either way, by upselling customers with the PayKickstart shopping cart you may be able to increase both sales and profits. In the long run, this will lead to more success.