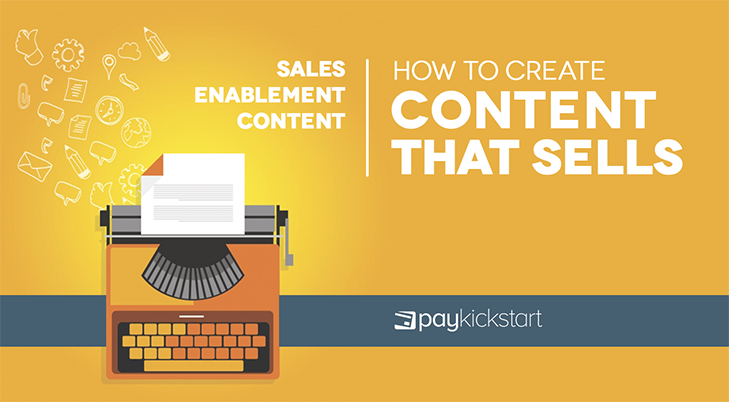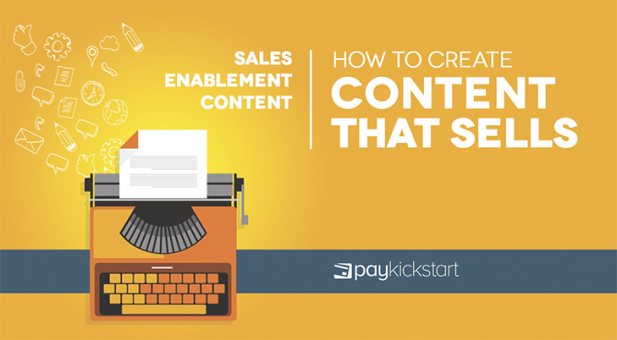 "Content is King" has long been a marketing buzz phrase, especially in the B2B industry.
However content is only King if it enables sales.
In most cases, there's a disconnect between those content creators and sales representatives who are trying to leverage it.
The resulting problem is two-fold:
Sales reps struggle to find relevant content they can use to engage with leads and close sales
On the other hand, content writers don't have direct feedback from customers and sales reps, so they are unable to create content addressing actual struggles and needs of their target audience.
Effective sales enablement through content requires a carefully considered approach and using the right tools.
Whether you are outsourcing your content creation or using a third-party sales person (or both – which is most often the case), you need to create a system when both the sides are talking to each other and implement each other's feedback.
Why sales enablement content is so important
In the B2B industry, content is the most important component of the buyers' journey which can directly influence purchasing decisions. No only is it driving traffic through social media and organic search, it also helps close sales.
More than half (62%) of B2B customers admit they can finalize their purchase selection criteria based solely on digital content.
In another study by Steve W Martin, 59% of B2B buyers said one of the reasons they chose their vendor was because the sales team provided more insight about the buyers' company and needs than competing providers did.
Furthermore, customers consume a huge amount of content on a daily basis: Nowadays, forty-seven percent of B2B buyers read 3 to 5 content pieces before engaging with a sales person.
Content should accompany – and inform – buyers through all stages of their purchase journey:
The buy phase (where you address a need they have),
The own phase (creating content that deepens relationships)
The advocate phase (fostering and promoting content that champions your brand).
The B2B buyer environment is more complex than ever. The deal cycles are extending and becoming more fragmented. Nowadays the purchase journey is exactly what it sounds – a journey, full of turns, challenges and obstacles.
The more tools consumers have to discover and research products online, the more time they spend on their journey to the final purchase: The average buyer journey is now twice as long as it was just six years ago.
Whether you are selling services or membership-based content assets, creating content enablement content should be your business priority.
How to create sales enablement content that closes sales
First things first: Collect your data
Prior to improving anything, you need to learn to understand your data. What has been working so far? Which content assets have been working particularly well in bringing in leads and sales? What does your content-driven sales funnel look like?
Tools like Finteza will help you answer most of these questions. Finteza offers web analytics reporting that doesn't require special training to create or figure out: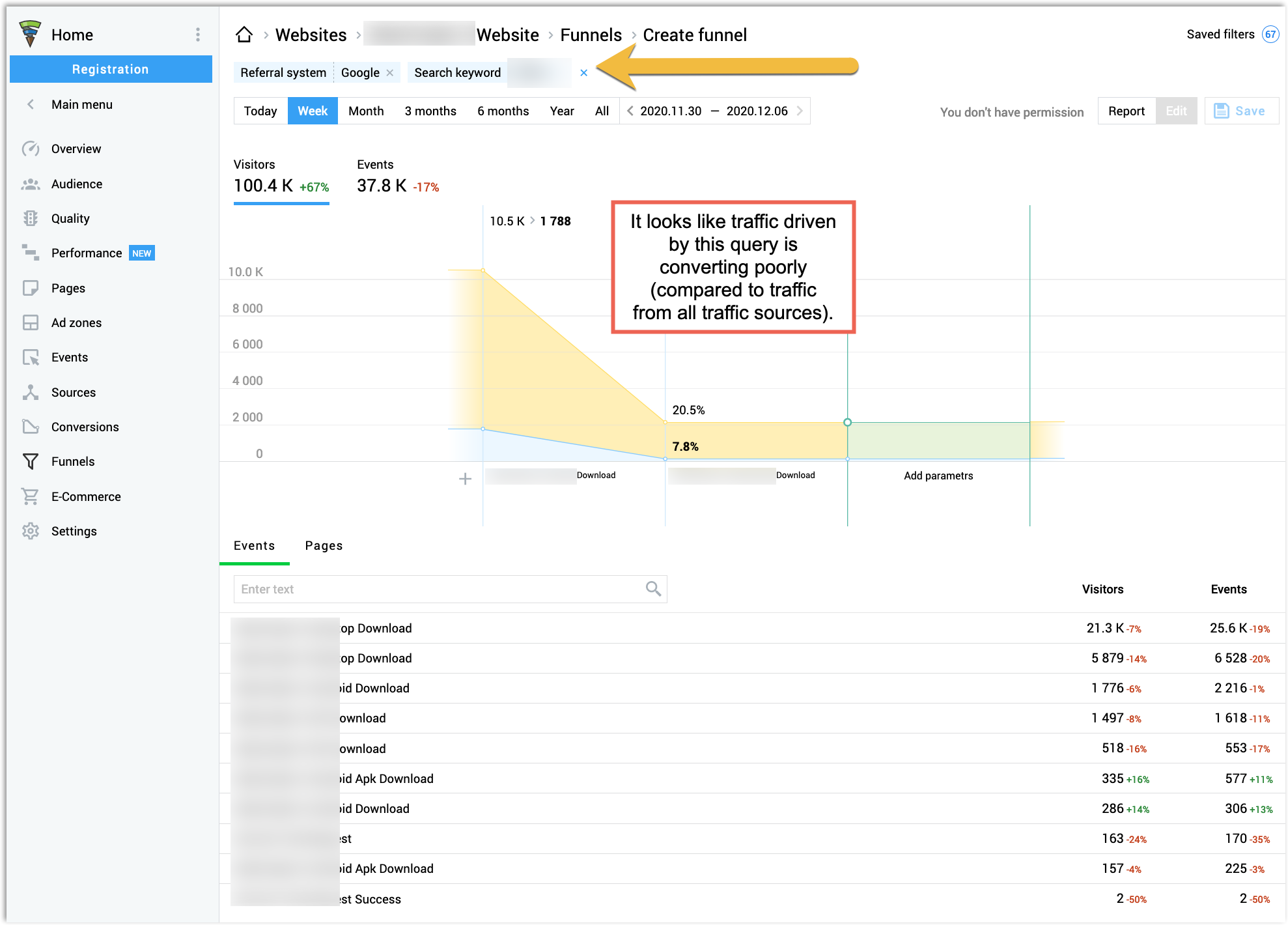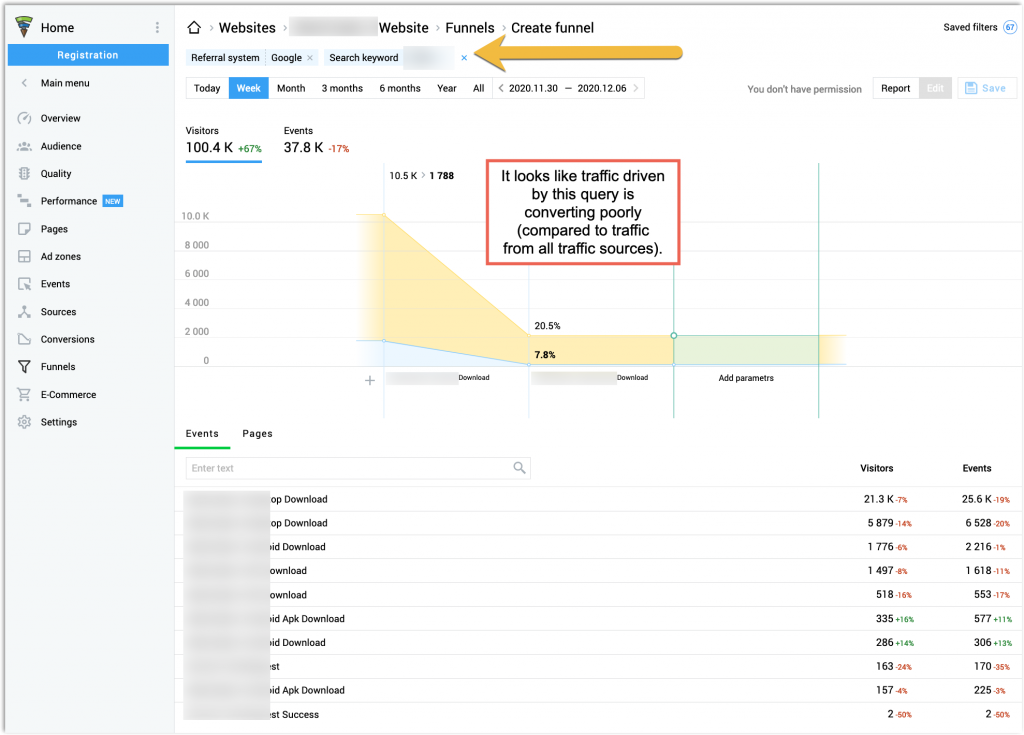 Here are more examples of dashboards you may want to set up for effective performance training.
Learn to leverage existing content
Sales teams tend to struggle with finding relevant content to enable sales to. As a result, they often spend as much as 40% of their time looking for and adapting sales content.
You can solve this problem by turning your sales enablement content into lead generation magnets. This way you will be able to achieve two goals:
You will be able to use your lead magnets to attract more leads for your sales leads to reach out to
You will be able to consolidate multiple sales content assets into a few long-form ones. This is easier to maintain and keep updated.
This content marketing model combines customer-facing and sales-rep-facing content assets into one solid content piece that serves both goals.
With effective content assets serving as both your site's lead magnets and your team's sales enablement content, both your leads and your sales teams will be better informed and more qualified.
You can give lead magnets away through your "Thank-you" page tying those leads close to your brand. PayKickstart new sleek "Thank you" page offers you a nice place to link to your lead magnet download: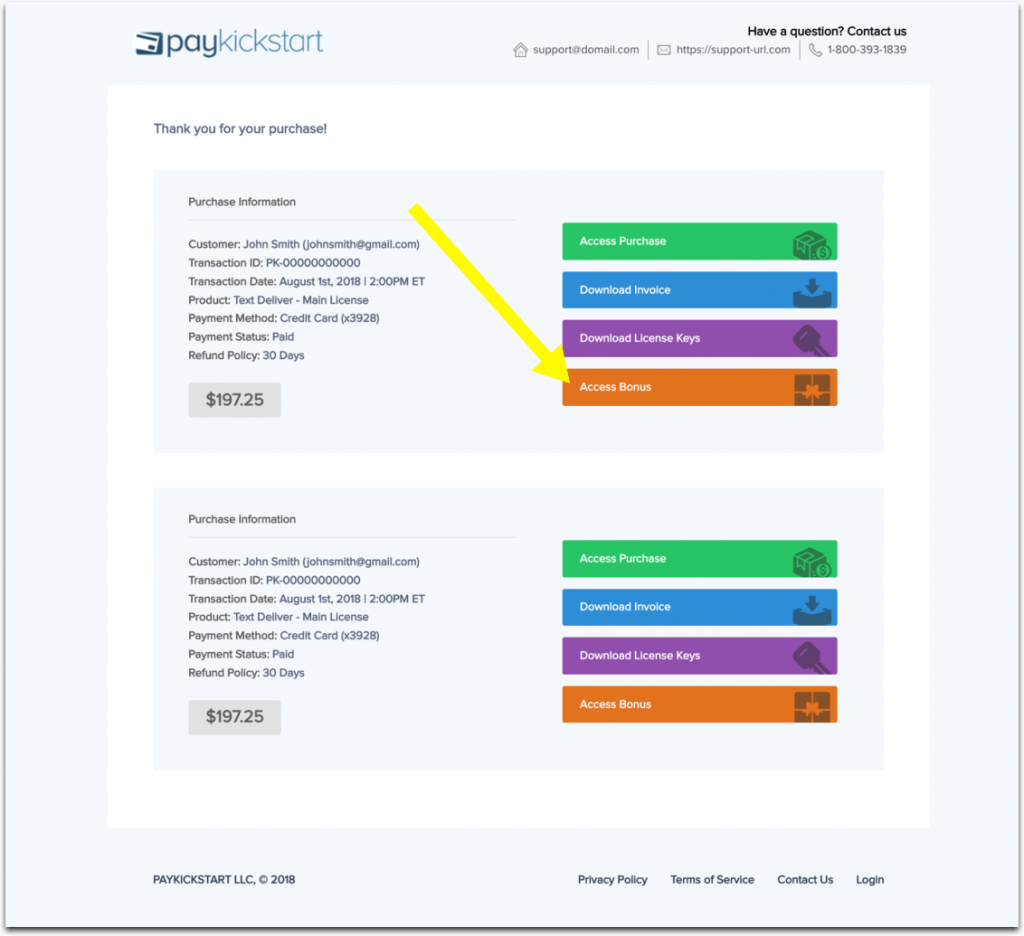 Use your sales teams as content inspiration
In most cases, sales reps never work with content creators to inform them of customers' struggles and questions which should be answered in brand-owned content. This content should ultimately drive targeted leads to the site.
To solve this problem, you can set up an effective communication method (i.e. Slack) to encourage cross-team communication. Slack offers team collaboration features that work perfectly well for both in-house and remote employees.
You can also set up your current CRM solution to alert your content creation teams of certain questions your sales reps think should be covered on your site. Both Ontraport and Infusionsoft can be used for that, and they are both integrated into PayKickstart.

Keep your content fresh
Keeping sales enablement content up-to-date is another problem both content and sales teams are facing. Dealing with outdated content may cause reputation management issues and burn your leads.
According to Forrester, more than half of B2B consumers find the majority of sales content useless and 60% of them find it easier to look for information from other sources instead of relying on sales reps.
To prevent your customers from looking for content elsewhere, keep your brand-owned content always fresh. Make sure your old content updates are included as a weekly recurring task into your team's editorial calendar. This way your team will be forced to update an older asset on a weekly basis.
A well-organized social media marketing strategy is usually what fuels content updates and timeliness. If your social media team is always on top of niche trends, they will inform your content team of what needs to be updated and why. It is all about effective cross-team collaboration which you will need to create.
It is too easy to overlook old content and focus on creating new articles instead of improving and updating your existing assets. So making it a consistent part of the content marketing routine is important.
Conclusion
To make your sales enablement content strategy really effective, involve your sales teams into your content creation process.
Make sure your whole content strategy (including multiple content assets, content distribution tools and tactics, etc.) is managed in one central content management platform. This way different (remote) employees will be able to access content whenever they need (i.e. to update, to refer to or to use in the sales process).
Ann Smarty is the Brand Manager at Internet Marketing Ninjas, as well as co-founder of Viral Content Bee. Ann has been into Internet Marketing for over a decade, she is the former Editor-in-Chief of Search Engine Journal and contributor to prominent search and social blogs including Small Biz Trends and Mashable. Ann is also the frequent speaker at Pubcon and the host of a weekly Twitter chat #vcbuzz