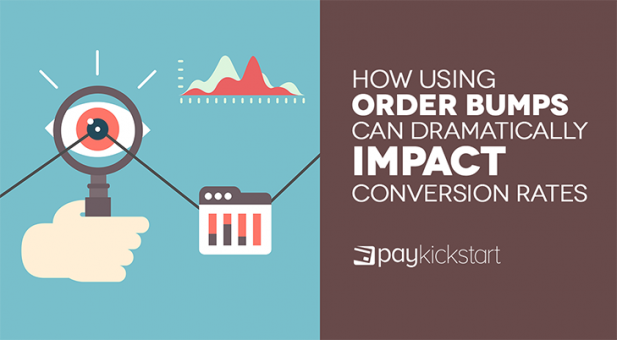 The 1990's are no more. The days of simple shopping carts that allow for little more than checking out are over. If you select a fully featured shopping cart like PayKickstart, your cart can become a powerful sales tool. One of our most powerful and popular features is our order bump tool. This tool can help you increase both your conversion rate and your revenues. This, in turn, will improve your bottom line.
E-commerce, SaaS, and other online business models offer a tremendous opportunity for companies and entrepreneurs. However, the market is more competitive now than ever before. So what do we know about markets? Competitive companies thrive, while uncompetitive companies go out of business.
This means you have to maintain a competitive edge if you want to survive, let alone thrive. If you don't, you can bet that your best competitors are going to race ahead, securing sales that should have been yours.
Order bumps are one powerful tool that can help you gain a competitive advantage. Let's go over how our order bump feature works and then dive into how this feature can increase conversion rates and revenues.
Using Order Bumps to Upsell and Cross-Sell
Our order bump feature allows you to upsell and cross-sell additional goods and services. Upselling and cross-selling are two of the most effective methods for increasing sales and conversions. Both methods can be a bit tricky to implement. Fortunately, PayKickstart makes it easy.
Upselling refers to getting your customers to purchase an upgraded product. For example, if you go to buy PayKickstart's basic plan, we might try to upsell you on our professional plan. Cross-selling refers to selling an additional related product. If you go to buy a book at Amazon, they may try to sell you a sequel.
Colloquially, upselling and cross-selling are both sometimes referred to simply as upselling. For the rest of the article, when I mention "upselling", you can assume I'm referring to both. Whether you're trying to sell your customers on a more expensive product or additional products, you've got a chance to increase your revenues.
Upselling is especially effective because your clients have already been well-qualified. If they are about to commit to a purchase, you already know that they are interested in your products and/or services. You can also comfortably surmise that they have a need for your products and services.
We've found that upselling directly within your shopping cart is especially effective. This is likely because the customer is so far along in the decision making process. They have already evaluated various products and are now very close to pulling the trigger. This makes the shopping cart the perfect place to upsell.
So How Do Order Bumps Affect Conversion Rates?
One thing we've learned over the years is that when it comes to increasing conversion rates, sales, and all your other metrics, it's important to be data driven. PayKickstart regularly conducts experiments to check how our advanced features impact our clients' metrics.
In one case-study, we tested our order bump feature and found that it can increase conversions by 61.53 percent! The book retailer simply added the option for customers to add a digital copy of their books for $7. The results, quite frankly, were phenomenal.
After we implemented order bumps for one of our clients, they saw their metrics rise across the board. Out of 143 front-end customers, 88 ultimately purchased the bumped product. This resulted in a 40 percent increase in revenue.
Think about what a 40 percent increase in revenue would mean for your company.
Order Bumps Can Increase Your Other Metrics As Well
Besides conversion rates, we also used an experiment to measure "earnings per click", one of the most important metrics any e-commerce or SaaS providers can follow. When one of our clients, FunnelSpy, used order bumps to upsell their "outsource" license when customers went to check out with the personal license, they found that their average earnings-per-click increased dramatically.
Before using order bumps, FunnelSpy had a EPC of just $3.45. Once order bumps were implemented, the EPCs surged to $5.98. That means FunnelSpy more than doubled their earnings per click!
In total, order bumps have produced an extra million dollars in revenues for our clients.
Why is the Order Bump Feature So Effective?
So why is the order bump feature specifically so effective at increasing conversion rates, earnings-per-click, and ultimately revenues? The answer is often dependent on the products you're pairing through order bumps.
For FunnelSpy, the order bump gave customers another chance to consider the more premium plan. Since customers are so close to checking out, they may be more likely to listen to a suggestion. They may also be reconsidering their purchase and an upgrade may look more tempting.
You can also use order bumps to run promotions. For example, if you sell laptops online, you can use order bumps to offer people deals. You might offer them a discounted laptop bag or case. Now, the customer is getting a deal, which in turn will make the original purchase more tempting.
Likewise, you can use order bumps to reassure customers. You might offer someone looking to purchase a computer an extended warranty. This helps prove that you're willing to stand behind your products.
Consumer purchasing behavior is complex. For various psychological reasons, order bumps are effective at improving a wide range of metrics. And with PayKickstart, you can enable order bumps in less than a minute. This means you can quickly improve your conversion rates and other metrics.
Conclusion: Everyone Should Be Bumping Orders
By implementing order bumps, you may be able to dramatically increase conversion rates, earnings-per-click, revenues, and ultimately profits. Not only will you be able to keep up with your best competitors but you may be able to over take them!
Order bumps are included in our professional and premium plans. If you already use PayKickstart, click here to learn how you can enable order bumps. Setting up order bumps takes only a few minutes so there's no excuse not to use them!