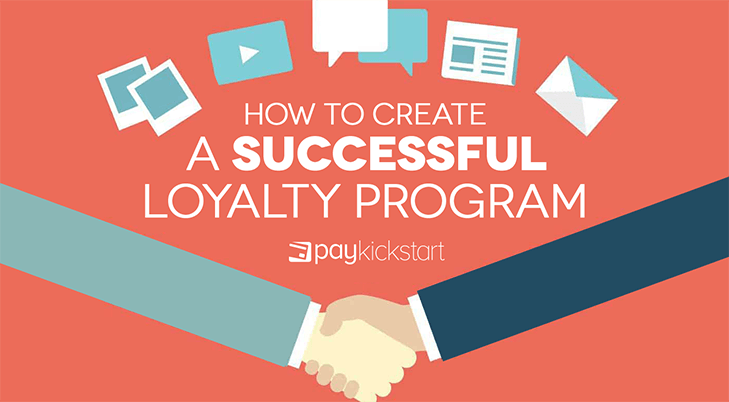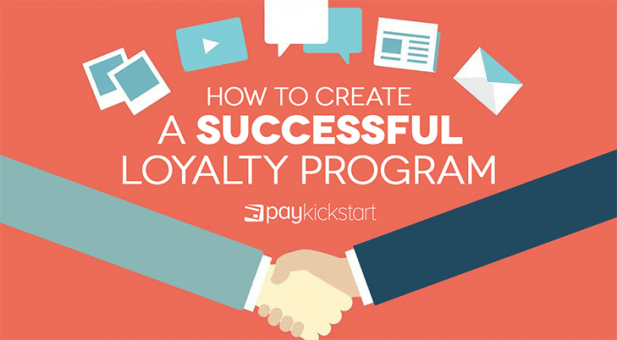 It's a well-known fact that keeping an old customer is cheaper than acquiring a new one. Plus, old customers are likelier to spend more now that they know your product.
Furthermore old customers can also sell: They are likely to recommend your product or service and bring in high-qualified leads:
This means even more revenue without the need to invest into getting new leads (By Guy Nirpaz via Prezi):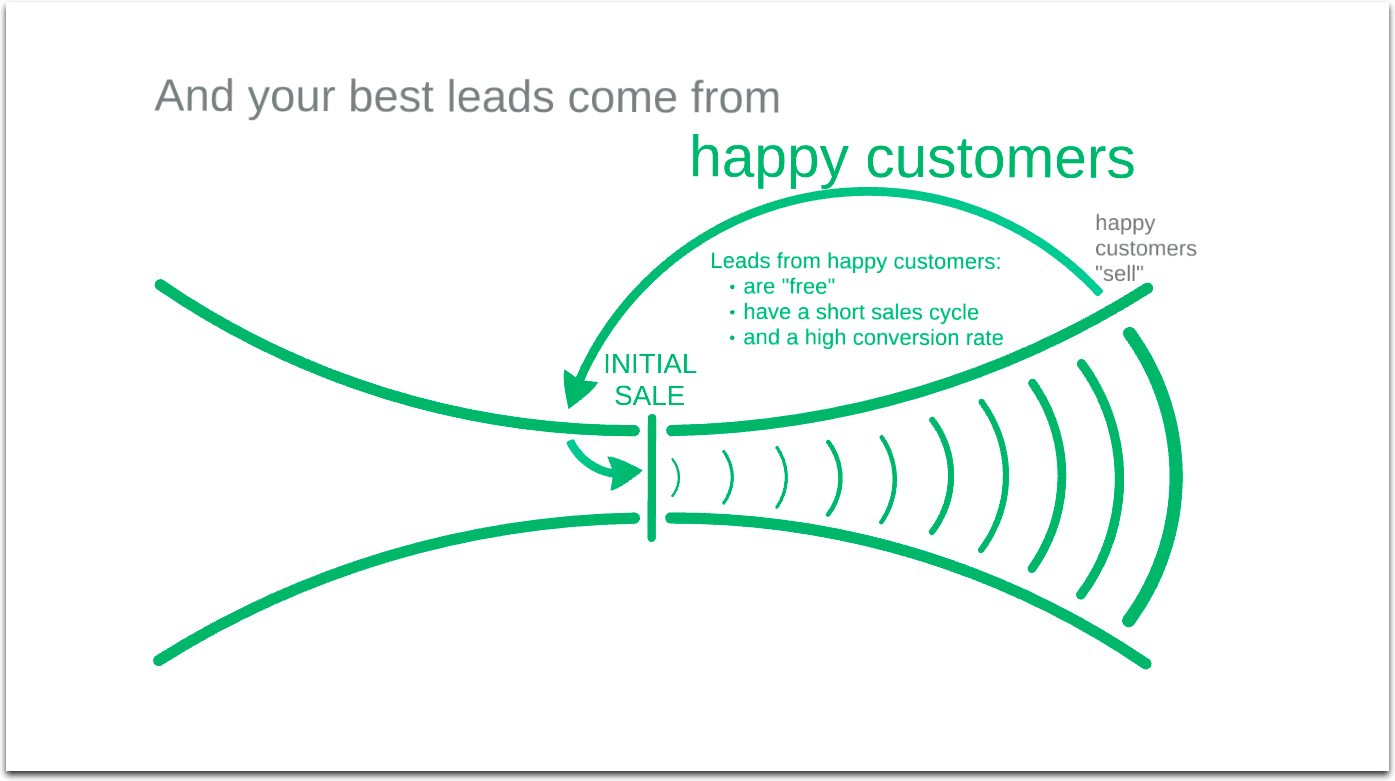 Happy customers don't just buy again: They sell!
One of the most effective ways to keep your existing customers buying and recommending your business is to create a successful loyalty program.
Numerous successful SaaS companies turn to reward and loyalty programs at various stages of their customer lifecycles. Let's see how to set up a sold loyalty program for a SaaS business:
What is a Loyalty Program?
A loyalty program is a marketing system that aims at keeping the current customers using the site, buying more products and referring friends.
Although the main objective of loyalty programs should always be to establish long-term relationships with customers, they should also regularly work on customer satisfaction.
On average, loyal customers are worth up to 10 times as much as their first purchase (White House Office of Consumer Affairs)
How is Loyalty Program Different for SaaS Business?
Loyalty programs for subscription-based SaaS customers are very different from, for example, a customer getting a card stamped whenever they buy coffee at a local outlet. Coffee cards are great because the reward has meaning and it gives customers something they like and is useful.
A SaaS business can instead reward loyalty over a period, by offering discounted pricing, a free month, extra features, or any other rewards that align with the types of people that use the product.
This could be done every year the customer renews their subscription. The basic idea is to offer them something that relates to the service or product. This means you know beforehand that the reward will be of use to them.
Here are a few examples of successful loyalty programs for a SaaS business:
Make it Simple
Some airline frequent flyer programs offer rewards that are subject to lot of conditions for what they can be redeemed for, or are incredibly elusive. This will frustrate most customers and will likely lead to them simply not being interested.
Rewards and loyalty programs will be most effective if the awards are relatively simple to attain and easy to cash in. Program with too many rules surrounding them are simply not worthwhile implementing.
In SaaS sector this means finding the way to clearly demonstrate the benefit of becoming a long-term customer. For example, instead of giving the % customers can save by subscribing for more, show them exactly how much you give for free. PayKickstart uses this technique offering 3 months free to anyone who chooses to pay annually versus monthly: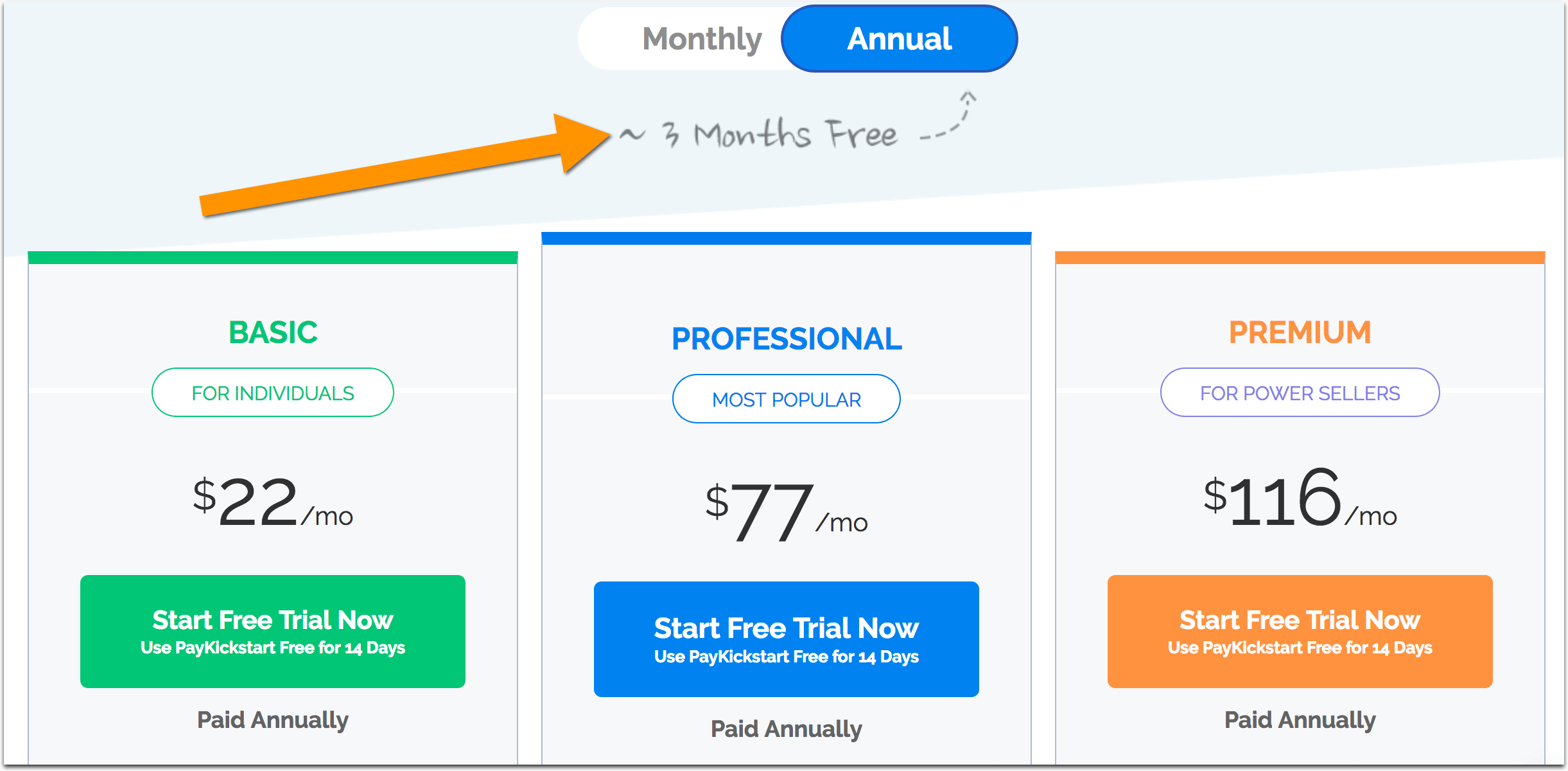 Use Tiers
People tend to get an ego boost if they believe they're part of an exclusive or elite reward program. A tiered loyalty program gives customers that purchase more, more rewards.
To achieve this, multiple levels are used and the system encourages more purchases while rewarding the primary loyalty.
Hence a tiered loyalty program provides both rewards as well as fast customer satisfaction.
Amazon Prime is an excellent example of how you can boost your customer average value by offering extra value to a tier that is more elite. While it is estimated that Amazon makes a substantial loss on the free two-day shipping they offer to Prime customers, this is more than made up for by the amounts Prime members spend versus non-members (source: Amazon statistics).
This could work equally well for SaaS, especially since you probably already have different subscription tiers. It should therefore be relatively easy to tie this into a rewards program.
For example, Unbounce.com calls its most popular plan "Premium" and features it in the center making it obvious this tier is for those who takes their business seriously: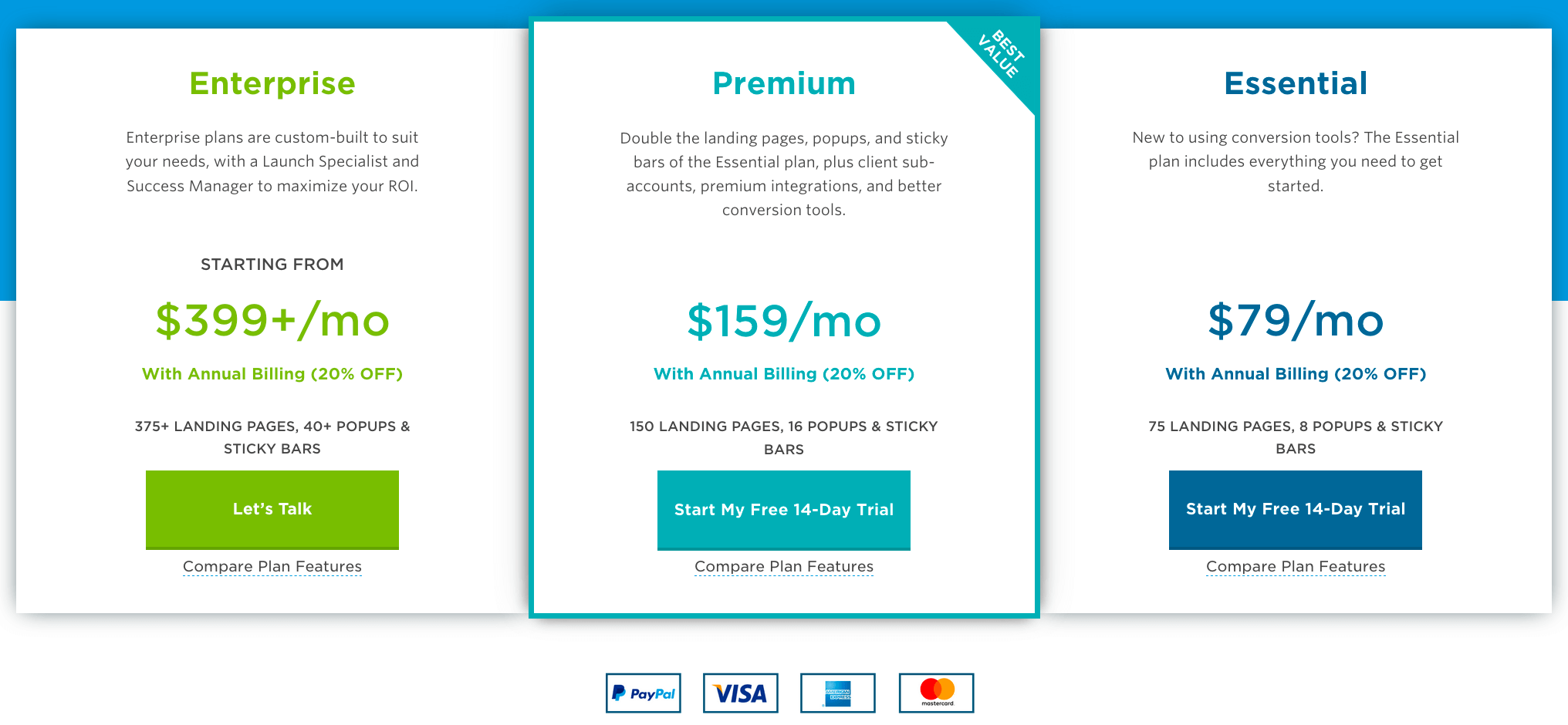 Use Points
A Point Loyalty Program is probably the one that is most frequently used. Points may be earned for various different types of behavior, including downloading an app, visiting stores, or buying.
The program is based on the principle that the more you spend, the more you get. This type of loyalty program is ideally suited to customers that spend a lot.
To easily integrate points-based loyalty program into your SaaS marketing strategy, use email marketing automation. You can set up emails to be sent to your current and/or future customers any time they download your whitepaper, sign up for your webinar or subscribe to a certain plan. At a certain step in a sequence you can give the final reward: A freebie, or a coupon.
To set up your points-system-based loyalty program inside PayKickstart, use any of the available integrations including ConvertKit, Mailchimp, Getresponse and more. Simply add your current automation marketing solution inside your PayKickstart Dashboard -> Integrations -> Email: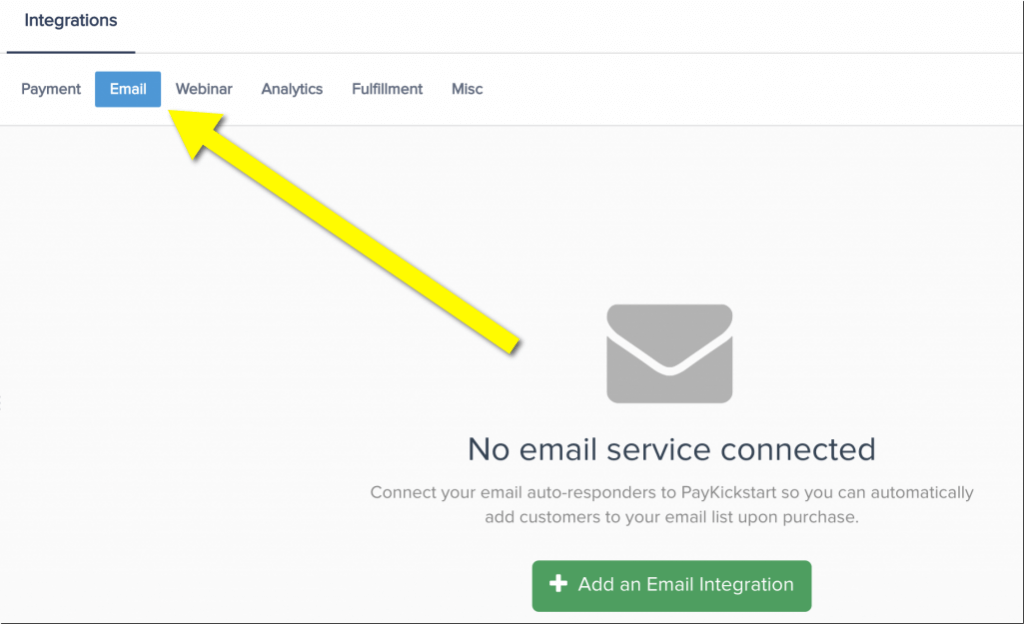 From there you can manage and segment your customers based on their interactions with the site (e.g. signing up for an event), their life events (e.g. give points for their birthdays), payments (e.g. paying a monthly fee), etc.
Which Loyalty Program is Best for You?
The trick here is to figure out which type of a loyalty program will work best for your SaaS business. The only way to really know is to do some testing, but a good starting point would be to get to know your customer profiles really well, and to then take your best shot at what you think would be a good motivator for them.
You could of course always ask them what would motivate them to buy more or to refer friends to you. Use "Surveys" feature inside PayKickstart to set up surveys to help you come up with a successful loyalty program system: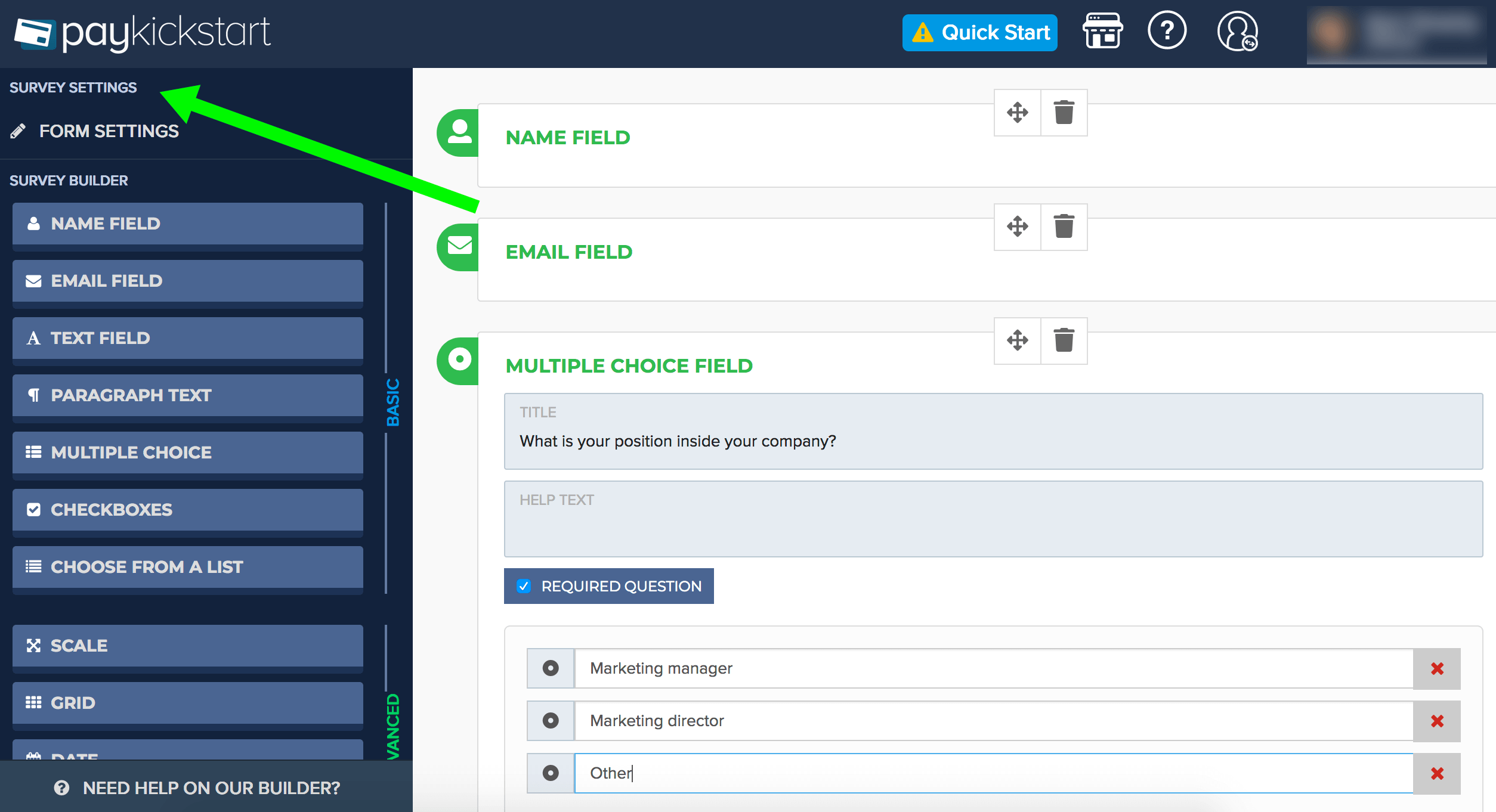 Further reading: Here's a detailed guide on setting up an automated survey with PayKickstart.
Conclusion
When done right, loyalty and rewards programs can really boost your customer retention and acquisition, especially in the long run.
Rewards offered should be meaningful to customers and the system should be simple for them to clearly see the benefits.
Being clear on your core objectives and baseline measurements will help you in determining whether or not the program is successful or needs to be changed. This includes understanding if you are pulling in suitable customers with the reward program, or not.
Customer retention needs to be one of the main priorities when you decide to invest in a loyalty program. You need to be able to keep your customers satisfied and willing to come back for more.
The SaaS market is competitive and your business needs all the advantages it can get to stay ahead. Developing loyalty and reward programs can help you keep the customers you already have and grow your base.
Ann Smarty is the Brand Manager at Internet Marketing Ninjas, as well as co-founder of Viral Content Bee. Ann has been into Internet Marketing for over a decade, she is the former Editor-in-Chief of Search Engine Journal and contributor to prominent search and social blogs including Small Biz Trends and Mashable. Ann is also the frequent speaker at Pubcon and the host of a weekly Twitter chat #vcbuzz