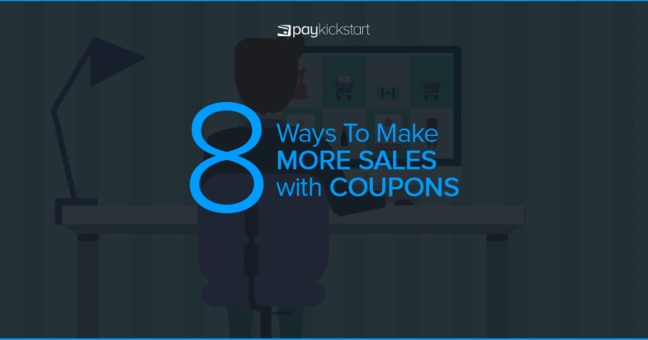 Are you bringing in new customers?  How are you rewarding your most loyal active customers?   Are you able to recover lost visitors and turn them into paying customers?
Everyone loves a deal!  And using coupon codes can be a powerful sales machine for any online business.
We've compiled a list of 8 easy ways to successfully use coupon codes to your marketing plan and help make you more money in the long run!
One of the biggest features requested was the ability to use Coupon Codes for any product you're selling inside your PayKickstart account.
It doesn't matter if it's a One Time priced product or a product with an ongoing subscription fee.  We've got your covered.
8 Sales Boosting Ways to Use Coupons
Attract NEW Customers with Coupon Codes
If you're hungry to make your first sales or you're simply wanting to get access to a new group of buyers, then here's a few ways to go about that…
1.  Advertise on Facebook, Twitter, and Pinterest with coupon deals only for those who see your ads.  You can narrow down your target market and advertise specifically to them, while not detracting from your current customer base.  For example, with Facebook's custom audiences, you can Exclude all of your past customers so that they won't see your coupon.
2.  Post Your Coupon Codes on Public Coupon Sites
There are several sites out there that get tons of traffic from coupon seekers.  If using coupons is part of your strategy for bringing in new customers, then this could be a good option for you.   The drawback is that these websites attract primarily customers looking for the lowest price possible.   And you would rather find someone who is likely to become a long term brand follower out of the gate.
3.  Provide Partners with Private Coupon Codes
Their customers need your solution.  These are new customers to you, but loyal customers to your partner.  By providing a private coupon code to your partner, you can transfer some of their loyalty over to you when the new customer purchases.  I mean, don't you just love when someone shares a great coupon deal with you on a product you were needing?
Reward Loyal Customers
4.  Got a new product you want to roll out?  Before promoting to the general public, create a private 72 hour Email Promotion to your current customer list, thanking them for being loyal to you and give them a coupon code discount!
5.  On your Facebook fan page, you can offer coupons and discounts to your fans right through Facebook, and the only people who see the coupon code are your raving fans who are already a part of your tight-knit community.
Sell More with Retargeting and Cart Abandonment Coupons
6.  One of the great things about PayKickstart is the ability to place any retargeting or tracking code on your custom checkout pages.  Quickly build a custom audience in Facebook, and start retargeting all of your visitors who left your checkout page with a coupon code just for coming back and giving your product a try.
Track Specific Sources of Traffic and Sales
7.  Are you selling a product at an event?  Advertising online or offline?  With PayKickstart you can create an unlimited number of coupons, and quickly track which ones were used per sale so that you can track specifically which sales channels are working the best for you.
The Survey Coupon
8.  Surveys can be one of the best ways to dive into what your customers or potential customers really want and need.  But the problem with surveys is most people don't naturally want to fill them out… UNLESS they're incentivized.  This is the perfect time for a coupon.  As a "thank you" for filling out your survey, give the visitor a BIG coupon discount.  Even as much as 100% on the frontend!   And even if you give your product away for free with the coupon, you can quickly push them through your upsell funnel.
And if you're using PayKickstart, the one-click upsells will automatically be enabled for you on after that frontend purchase.
These are just a few ideas off the top of my head that I know work VERY well, if you know your numbers.
TIP:  Don't offer coupon codes unless you understand the the value it can have on your business.  You need to know the basic economics of your business.  Know your customer lifetime value and whether or not giving away a discounted coupon code will pay off.
How to Set Up Coupon Codes in Seconds w/ PayKickstart
1)  Go to Campaigns > Coupons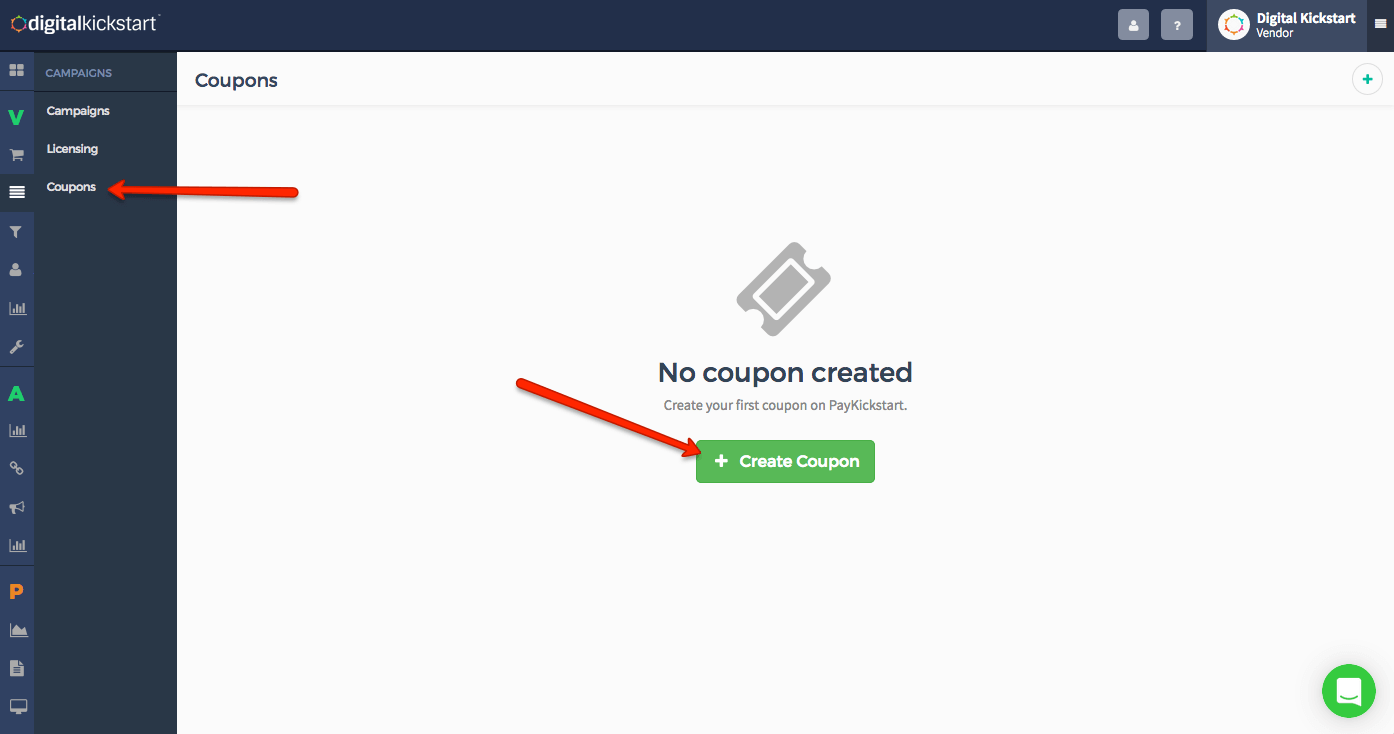 2)  Choose Your Campaign, Product, Discount Amount, Coupon Code, and Coupon Duration.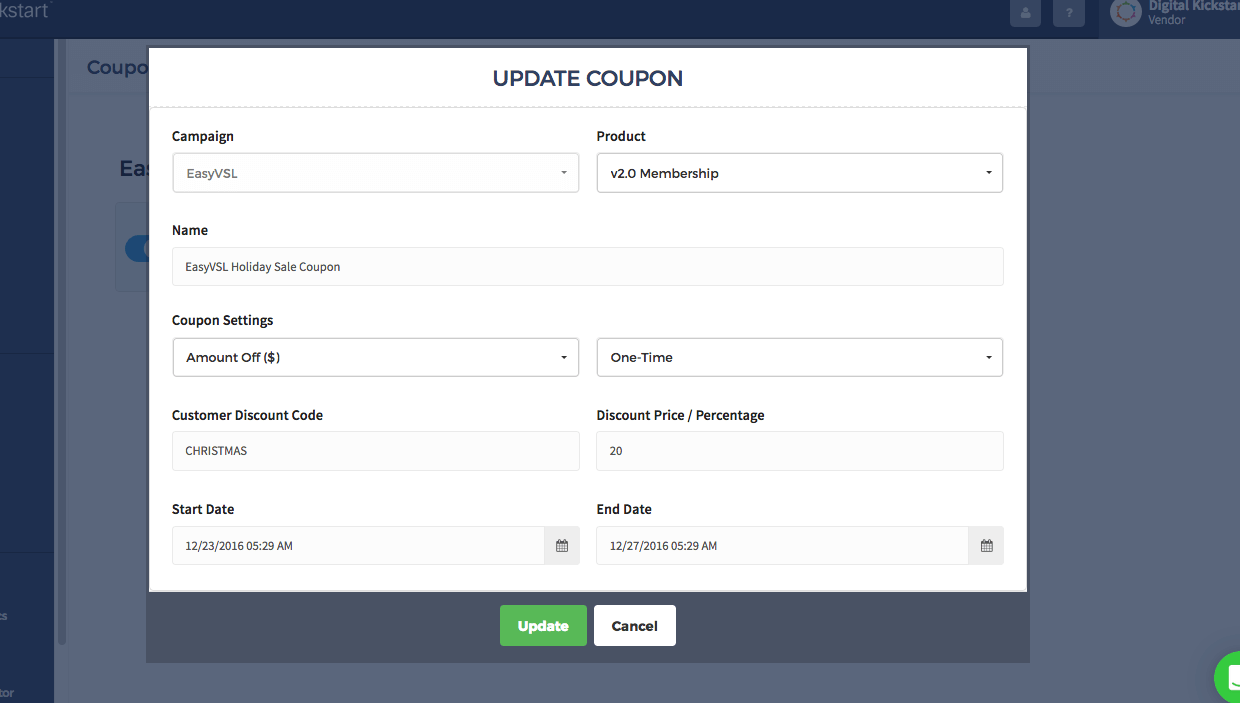 3) Grab Your Coupon Code and Start Promoting!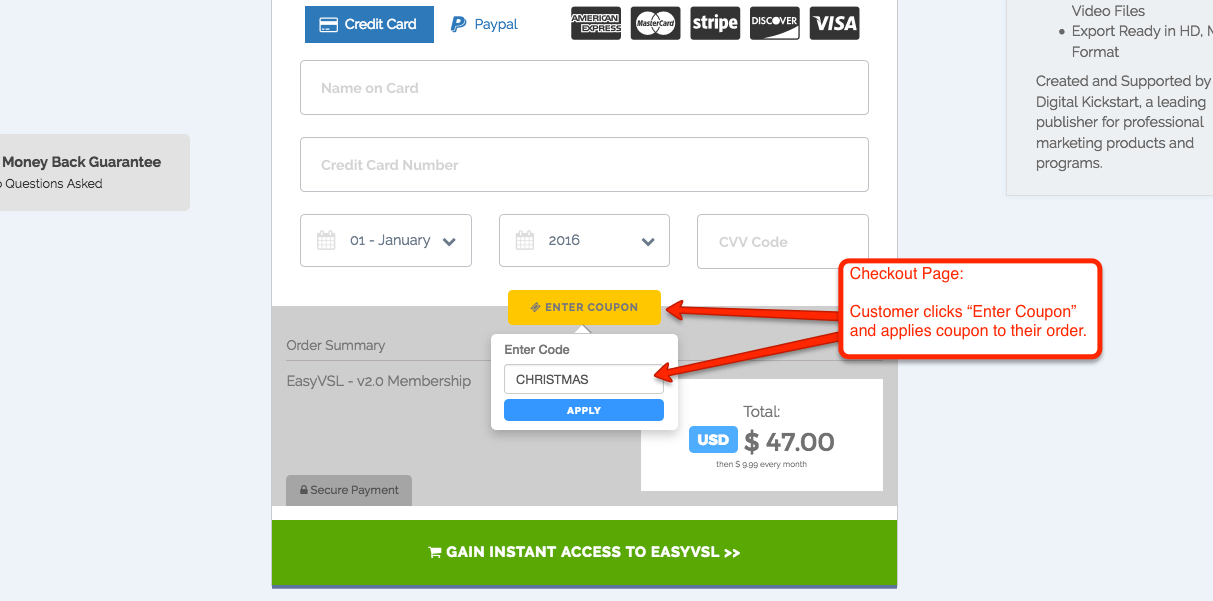 If you're not using PayKickstart to sell your products, what are you waiting for?  It's free to get started today!
Are You Ready to Start Making More Money Online?