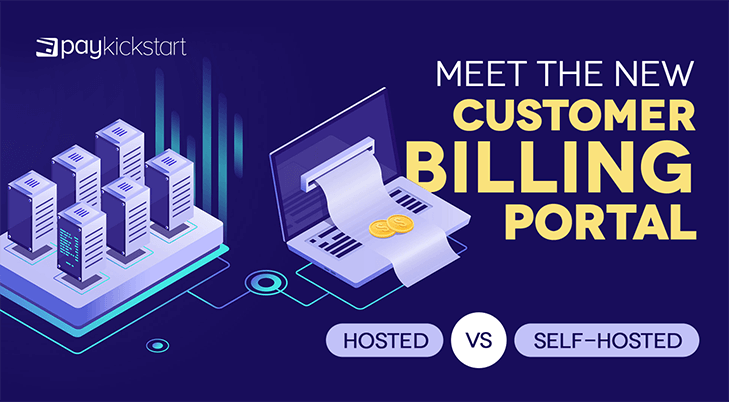 As a vendor, you may have multiple products and services that have different pricing models. For example, you may have a business that sells both a subscription service as well as a per-item billing service. In such a case, your customers will have different billing profiles.
Additionally, once your customer base grows, you may begin to see dozens of different billing configurations as customers sign up and select different account options.
When this happens, you will start to receive account change requests. If you have ten customers, no big deal.
But when you have hundreds, the requests may become overwhelming.
A Customer Billing Portal Is the Solution
A customer billing portal allows your customers to manage their billing profiles. That is, if a customer wants to change a billing cycle from monthly to annually, or if they want to cancel a subscription, they can do this themselves from within the customer billing portal.
Without this portal, your customer support will be overwhelmed with such requests, all of which will take them away from handling more important support matters.
Now that it's clear why you need a customer billing portal, should you use the hosted version or the self-hosted version? Before we answer this question, first some context.
What is a Hosted Customer Billing Portal and What is a Self-Hosted Customer Billing Portal?
Although different platforms define these two types of customer billing platforms differently, here at PayKickstart, this is how we describe each:
Hosted Customer Billing Portal: This is a link to the customer billing platform that gives your customers access to all their billing details, right within the PayKickstart customer billing dashboard. Each customer can only see their details.
Self-hosted Customer Billing Portal: This is a customizable, embeddable widget that can be added to any part of your site so your customers can log in from a familiar location and use a familiarly branded customer billing portal.
In both cases, the customer will be accessing the same information. You could say what is different is the front-end user experience.
So, which implementation should you choose? To help you choose, we look at six distinct features of a customer billing portal and what each looks like in a hosted vs. self-hosted customer billing portal.
1. Design
Hosted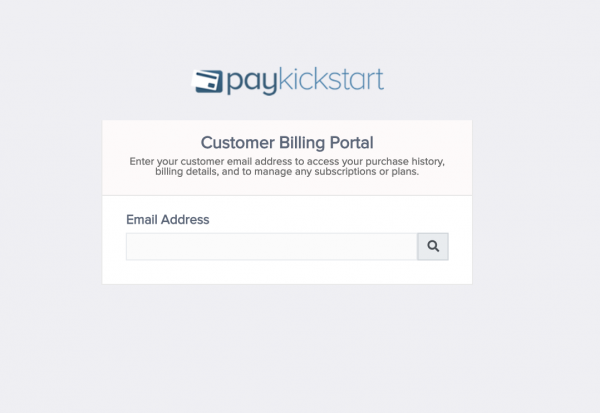 With the hosted customer portal, you have limited design customization options. Because the customers will be accessing the customer portal from the PayKickstart link, they will see the PayKickstart front-end design. After logging in, they will also see design, layout, and styling related to PayKickstart. If you want to customize this look and feel, the self-hosted portal offers more flexibility.
Self-Hosted
The self-hosted customer billing portal allows for some design flexibility. Some of the things you can change are the font selection, whether to show a heading and description, background color and if you have the skills, addition of custom CSS.
2. Content
Hosted
Under the hosted option, your customers will only see content related to their account. Any branding, descriptions, and headings will all be related to PayKickstart. When your customers visit the customer portal, the login page, dashboard, and all other content will be static, meaning you cannot customize it. This also goes for the title and description of the page, as these will also not be customizable.
Self-Hosted
With the self-hosted embeddable widget, you can customize some of the content within the customer billing portal. For instance, you can add a title and description that matches your business. If you do not want to show the heading and description, you can also disable this feature when setting up your customer portal widget.
3. Billing
Hosted
For the hosted portal, your customers will have access to all their billing settings. When they log into the PayKickstart billing portal, your customers will be able to change their billing preferences including their method of payment, update declined or expired cards, and so on. If your products support this, they can also switch their billing cycle from monthly to annually or vice versa.
Self-Hosted

Within the self-hosted customer portal, first, you can choose whether to enable this function for your customers or not. If you choose not to, they will not be able to manage their billing settings. However, if you do, they will be able to complete the tasks outlined above. Although it may seem obvious that you should enable this, there are some instances when you may want to turn this off. In this case, the self-hosted portal will allow you to do this.
4. Subscriptions/ Products
Hosted
If you have multiple products, the hosted billing portal will show your customer all the products and subscriptions they have all in one place. This is because the hosted billing portal ties all customer subscriptions and products to one email address. Therefore, when a customer accesses the hosted portal, they see all their subscriptions and can cancel the subscriptions if they so wish.
Self-Hosted
The self-hosted customer portal gives you the option to toggle the availability of this feature to your customers. For example, if you have multiple products, but you only want customers to manage one, you can restrict access to the other products. This restricts what subscriptions your customers can see, and so what they can manage.
5. Invoices
Hosted
When customers log into the hosted billing portal, they will have access to the invoices area and will be able to download invoices related to their subscriptions/ products. The hosted portal, however, does not allow you to switch this feature off, in case you wish to. If you, therefore, need to restrict access to invoices, you'll need to use the self-hosted version.
Self-Hosted
The self-hosted embeddable widget makes it easy to toggle access to invoices for your customers. If you want to prevent your customers from downloading invoices, simply select the "Disable" button in the "Invoices" toggle feature when configuring your widget. Your customers will now be unable to see or download any invoices.
6. Logging In
Hosted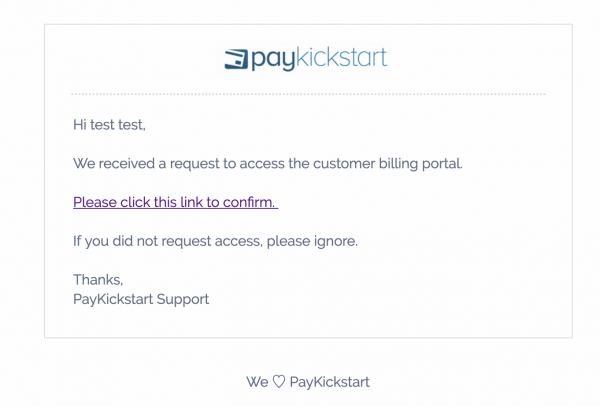 The hosted customer billing portal offers a very straightforward login experience. When your customers click to the portal, they will be asked to input the email associated with their account. After this, they will need to verify the email address. Once confirmed, they will be able to access the customer billing dashboard.
Self-Hosted
The self-hosted portal login sequence is like that of the hosted version with a few notable exceptions. For instance, you can choose whether to require customers to verify their email before logging in. You can also enable auto-login via the PayKickstart API. These two features give you more control over the login sequence.
Finding the Right Solution with PayKickstart
So, should you use the hosted customer billing portal or the self-hosted customer billing portal? The answer depends on your needs and what your priorities are.
For example, if you want a quick solution, you can pick the hosted customer portal. However, if you're going to provide a more customized experience to your customers, the self-hosted customer mortal makes sense.
In either case, if you change your mind, it is easy to switch from one to the other.
To find out more about the PayKickstart customer billing portal, contact us at support@paykickstart.com or sign up for a free trial to try out the customer portal for yourself.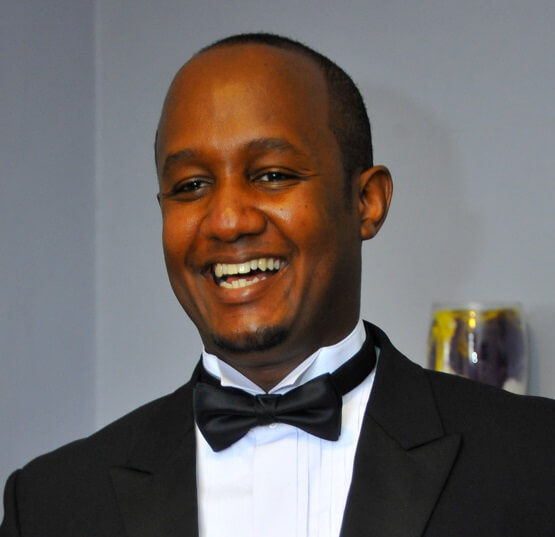 Dan Macharia is an experienced copywriter with over ten years of experience writing for both large and small companies all across the United States. When he is not writing, find him reading a book or outdoors playing lawn tennis, running or just walking and soaking in life.