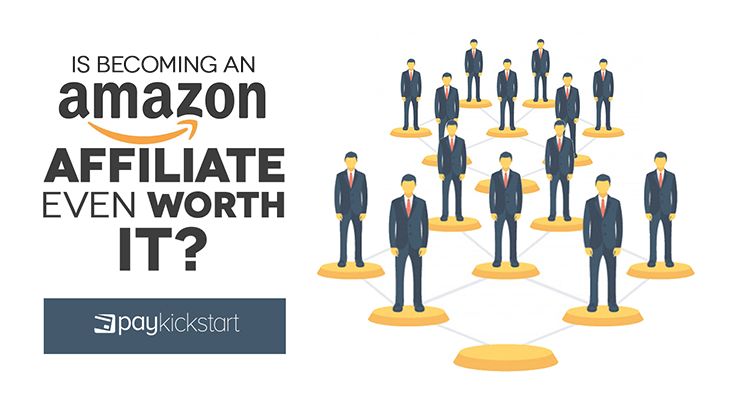 Amazon is one of the largest retailers in the world and dominates the online retail market in the United States. Amazon also has a huge presence in other countries, including Japan, Germany, the United Kingdom, Canada, and more. When it comes to brand recognition, market capitalization, and everything else, Amazon is usually at or near the top of the list.
Amazon is now one of the most dominant online retailers.
You can help Amazon drum up sales and earn money as you do by becoming an affiliate marketer. Some people have reported making hundreds of thousands of dollars per year off of Amazon Affiliate websites.
So could Amazon be the big opportunity you're looking for? Maybe. However, there are some important caveats and it's always risky to put all of your eggs in one basket.
You Can't Underestimate Amazon's Market Penetration
Before jumping into caveats and drawbacks, let's consider why so many affiliates chose to work with Amazon. It largely boils down to market penetration. Roughly 64 percent of American consumers are subscribed to Amazon and over a 100 million people globally use the service. Further, Amazon accounted for $233.2 billion dollars in sales in 2018, up over 30 percent from a year earlier.
Find more statistics at
Statista
If a customer visits your affiliate website and clicks on a link to buy a product, there's a great chance that they are already using Amazon. On the other hand, if the link points to another website, they may not be familiar with it. Even if they want to buy the product, they might choose to do so through Amazon or another familiar website.
Further, with so many customers preferring the affordable and quick shipping provided by Amazon, some are resistant to shopping on other websites. As such, many affiliates turn to Amazon specifically to gain access to the company's large, loyal, and lucrative user base.
However, affiliate marketing is difficult and the rewards can be limited.
Affiliate Marketing Can Be Tough
If you happen to be famous, like say Kim Kardashian, you could make a lot of money off of affiliate marketing with minimal effort. You could simply post up some affiliate links on your social media profiles and wait for the money to roll in. For better or worse, however, most of us aren't that kind of famous.
Kim Kardashian is an example of a successful "influencer."
Instead, you'll probably have to work a lot harder to drum up sales. If you have a passion for something, say cooking, you might set up a blog website for cooking. Through this website, you could provide links to cookbooks and cooking equipment on Amazon. And should anyone use the links and make a purchase, you'll get a cut.
But here's the thing: building an audience can take a lot of resources. There are already countless websites out there that provide information regarding cooking. If you want to build your audience, you're going to have to cut through all that noise.
That might mean running ads, doing search engine optimization, or building a large social media presence. No matter the methods you choose, you're going to have to invest a lot of time and effort in building up your audience. Quite likely, you'll also have to invest a lot of money.
You might need to hire writers and website developers, for example. Or perhaps you'll need to pay for ad space and attention on social media platforms. You'll be investing your own cash with hopes of helping another company, in this case Amazon, gain additional sales.
Meanwhile, You'll Get Only a Small Cut
So becoming an affiliate marketer is going to require a substantial investment on your part. At the same time, you'll only get a small percentage of each sale. For digital music, movies, and the like, you'll make just 5 percent. For pet products, garden supplies, and furniture, you'll pull in 8 percent. Physical video games? Just one percent!
Some of Amazon's fixed fees.
Even 8 percent isn't much at the end of the day. If you manage to send a referral for a pet brush to Amazon and they buy a $10 dollar brush, you'll get just 80 cents. If you sell a physical book for $10 bucks you'll get 45 cents because the referral fee is set at just 4.5 percent.
In other words, you could end up putting in a lot of work for minimal reward. You can also sell goods directly through Amazon, so let's see if that's a better option.
You Can Also Sell Directly On Amazon (But It's Expensive)
Did you know that third party retailers selling through Amazon actually account for the bulk of all sales? That's right, most of the goods Amazon sells aren't actually being sold by Amazon! Instead, third parties retailers are actually drumming up a majority of the sales.
So how about selling through Amazon directly? This is another option but one that can be very expensive. Monthly subscription fees start at $39 per month for their professional plan. Not so bad, right? However, you'll also have to hand over a huge cut of your sales.

These so-called referral fees can cost anywhere between 8 to 51 percent. Typically, however, the fee will cost between 10 to 20 percent. In addition, if you use Fullfillment by Amazon, you'll have to pay additional fees. You'll also have to pay for storage space at an Amazon facility.
As you can see, selling directly through Amazon can get very expensive. You may earn more than what you'd likely earn with affiliate links but your earnings may be far from optimal. Further, some people have found their businesses imperiled when Amazon decided to delist them.
Take Away: Selling On Your Own Might Be More Profitable
There's another option: sell for yourself. Don't be a middle man relying on referrals. And don't rely on Amazon as a middle man to sell and ship your goods. Instead, you can sell directly to customers through your own website. This way, you can keep more of your sales and enjoy higher profits.
You can still sell through Amazon and generate money off of affiliate links if you decide to. However, by having your own website, you can remain in charge of your own success. And with PayKickstart, selling goods and services online has never been easier.