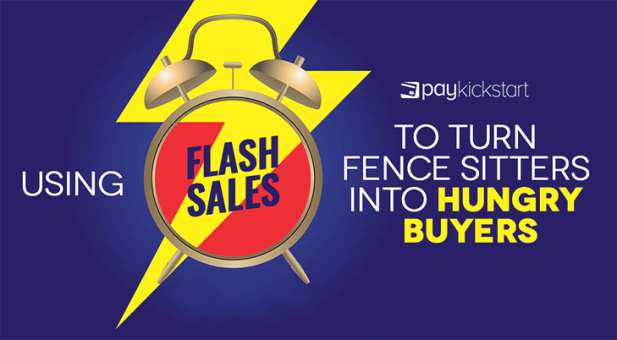 Did you know that shopping cart abandonment rates can reach as high as 80 percent? For whatever reason, people will often fall in love with a product, throw it their shopping cart, and then never act. For online retailers, this presents a major headache. Revenues and profits would improve tremendously if people would simply complete their order.
Amazon's Prime Day features many flash sales.
Likewise, many more people may be considering your product but for whatever reason haven't even put the item in your shopping cart. They might be questioning whether they really need the product, or they may feel the price is too high. If you could convert more of these so-called fence sitters, you could potentially improve your bottom line.
So how do you get these people off the fence? One effective method is a so-called "flash sale." Let's dig in.
So What is a Flash Sale Anyways?
A flash sale is a sale that is limited in time and often quantity. Let's say you're trying to sell portable Bluetooth speakers through your website. Say you have 15 models of the 2019 edition of the Acme Boom speakers and want to make room for the incoming 2020 model. In order to clear out stock, you decide to use a flash sale.
A rather outdated example of a Bluetooth speaker.
In this case, you set up a 35 percent off flash sale for the 2019 Acme Boom speakers. You set a time limit, say just 12 hours. And then you limit the quantity to 15. So now customers can get a steeply discounted product but they have to act quickly, or else time will run out or stock will dry up.
By limiting quantity and time, you're trying to force people to act quickly. Indeed, flash sales try to tap into impulse buying. However, there are some factors you need to consider if you want your flash sale to be successful. Let's take a look.
Holding an Effective Flash Sale
By now, you already know the two distinguishing factors of a flash sale: limited time and (usually) limited quantity. However, simply limiting time and quantity isn't enough to ensure a successful flash sale. There are other factors you have to consider as well.
First, you have to determine what you want to sell. If you try to offer a flash sale on goods that people aren't interested in, you probably won't be able to drum up goods even if you offer a steep discount.
Further, consider how elastic the good is. An elastic good is one that responds to even small price changes. Bags of salt aren't very elastic because people only use small amounts of salt. A bag can last for years, so there's no pressure to buy salt when it's on sale.
A flash sale involving salt probably wouldn't go over too well.
On the other hand, paper towel is always in demand, so people might stock up when it's on sale. Anyways, elastic goods will often perform better during flash sales. Less-elastic goods that people desire will also do well during flash sales (i.e. Bluetooth speakers) .
As for timing, you should experiment to see what works best. However, others have reported that a 3 hour flash sale will increase transaction rates by 14 percent. Generally, you want to keep flash sales short because it encourages impulse buying. Anything over 24 hours and customers might think too much about the purchase.
So do flash sales actually work? Let's take a look.
Done Right, Flash Sales Can Be Effective
The summer edition of Amazon Prime Day recently wrapped up and the online behemoth managed to pull in more than $7 billion dollars over the course of two days. This would top Amazon's combined sales on Black Friday and Cyber Monday. In total, more than 175 million different items were shipped.
Amazon Prime Day is particularly interesting because it's essentially a series of flash sales. Customers can buy items, but they have to do so in a short time frame (often just a few hours) and quantities are usually limited. In other words, if a customer wants a deal, they have to act fast.
Amazon reports that roughly 100 million people opted to do just that, which is good for more than half of all the Amazon Prime members. Outside of Amazon, plenty of other companies have reported success. Elsewhere, research has found that flash sales produce a 35 percent increase in transactions.
There are some limitations, however.
There Are Limitations to Flash Sales
Still, flash sales aren't the end-all-be-all of digital marketing. Quite frankly, the market has become saturated and customers are paying less attention to flash sales than in the past. While flash sales can be effective, you need to take the following considerations into mind.
First, there are hundreds of "flash sale" websites on the web, so customers have plenty of options if they want to find some timed deals. And the more customers are exposed to something, the less effective it will be. This helps explain why flash deal site Groupon saw its value drop from over $13 billion to $2 billion.
Groupon's decline charted.
Deals also have to be enticing. If you run a flash sale but only mark your items 5 percent off, you're probably not going to drum up too many sales. 5 percent simply isn't very compelling. Yet as you offer steep discounts, you cut into your profit margins. Even if revenues are rising, if you don't produce profits you could quickly be in trouble.
Also, steep discounts can hurt brand perceptions. If you throw too many promotions, people will begin to associate your brand with low costs. In a worse case scenario, customers might even become conditioned to buying on-sale items and will only make purchases if you offer steep discounts.
Online learning company Udemy, for example, offers steep discounts (often 90 percent or more) all the time. At first, customers see the $200 course for $20 bucks and think they're getting a good deal. Quickly, however, users learn that the courses really just cost $20.
In the long run, these steep promotions can cheapen your brand.
Conclusion: Use Flash Sales Wisely
Flash sales can be effective for getting people off the fence. However, you have to make sure you're selling the right products at the right price. And you need to time your flash sale to encourage impulse buying. Just keep in mind that if you rely on flash sales too much, it could damage your brand.