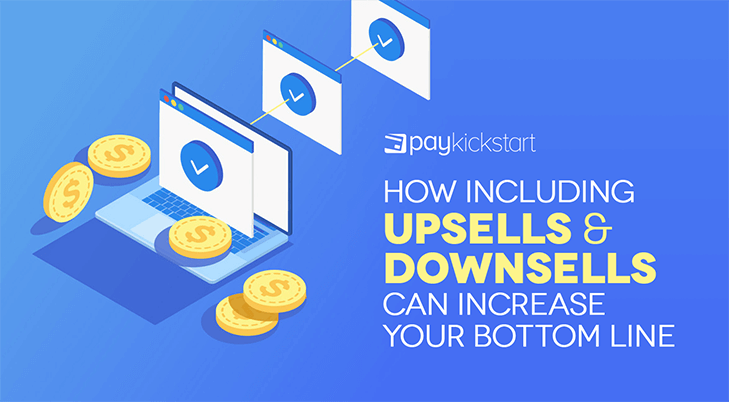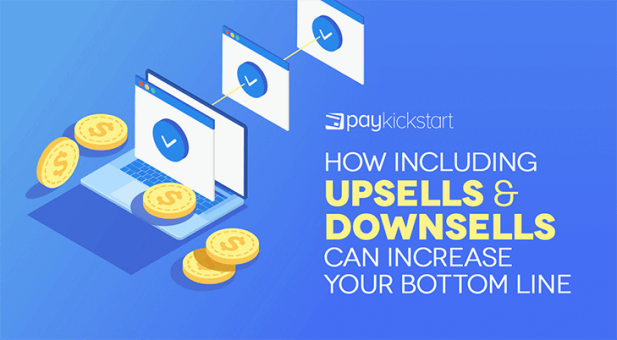 As an online business, there's a ton of data available to help you make better decisions about what you're selling and how you're selling it. With this data, you can make strategic choices about what to sell, when to sell it, and how to sell it.
When used properly, upsells and downsells can have a major positive impact on your revenue. If used incorrectly, they can create a poor user experience because it'll feel like you're shoving offers down the throats of new customers.
That's far from ideal.
In this article, I'll look at how upsells and downsells affect your income as well as a few ways to make the most of them.
What are upsells and downsells
They're used in similar situations but are very different.
An upsell is the process of recommending a more expensive yet complimentary product to someone that has just purchased from you.
A downsell is the process of recommending a product that's less expensive than the original upsell but it's still complementary to someone that has just purchased from you.
Both of them are geared towards suggesting beneficial products to new customers in an effort to increase the current cart value.
Here's a simple diagram illustrating how upsells and downsells work together.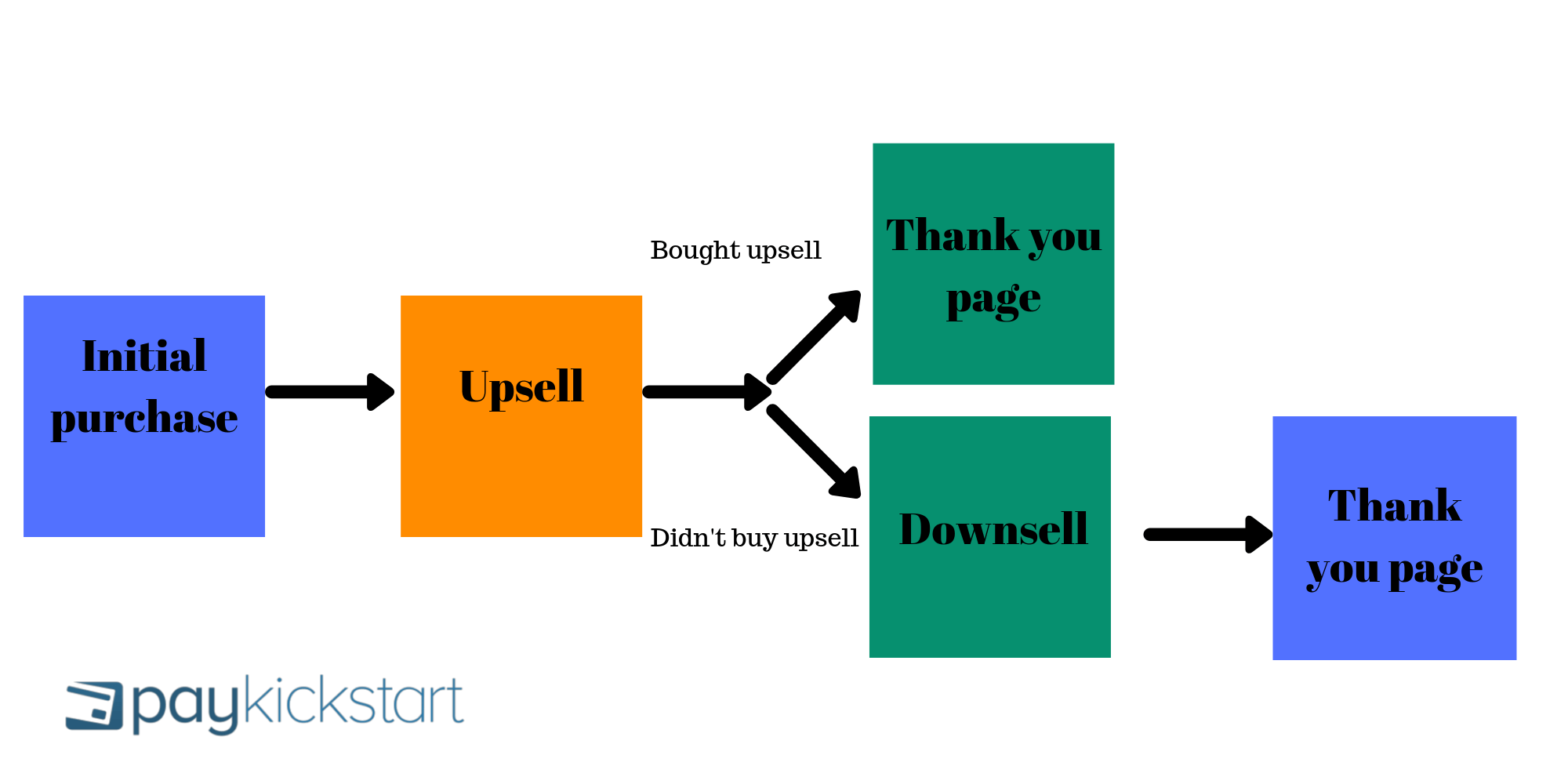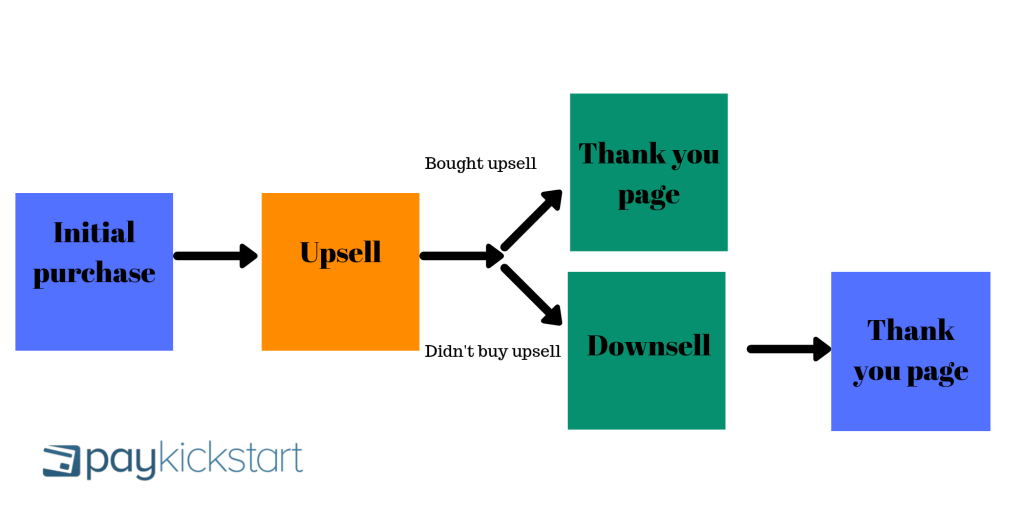 The first step is their purchase. It's important to show upsells and downsells only after someone has completed the initial transaction. If not, they may get annoyed and abandon the cart halfway through the process and you've missed out on the purchase they would've otherwise made.
After someone completes their initial purchase, they'll be shown an upsell page. Here, you explain what the offer is and they can then choose whether or not they'll take advantage of it. If they decide to purchase the upsell, they'll be redirected to the thank you page.
If they didn't purchase the initial upsell offer then they'll be redirected to a downsell page and offered something else.
Whether they buy this one or not, they're redirected to a thank you or confirmation page.
That's an upsell to downsell sequence at a really high level but there are many different permutations which I'll touch on a bit later in this post.
Let's look at how upsells and downsells affect your bottom line.
The revenue impact of using upsells/downsells
The best way to illustrate how powerful this strategy can be for you is with an example.
Acme Inc. is a company that sells fitness related services to its customers. It gets the majority of its revenue from a calculator on its website. People go through the calculator, fill in their information to get their results, and are taken to a results page that contains an offer.
A few people click on the offer and buy it at $50. That's the average order value and the only product that Acme Inc. was selling.
Acme Inc. wasn't happy with the revenue it was getting from this process and decided to implement a few things.
The first step was to add an order bump to the checkout page for a $27 product. It was a complimentary add-on that offered 100 recipes people could use to improve their results. It had a 35% conversion rate.
After the order bump, the average cart value increased from $50 to $59.45. That's not bad but Acme Inc. wasn't satisfied.
It tested two different offers for upsells. The first one was a personalized meal plan and the second one was a personalized workout plan. Both of them were priced at $197. The personalized meal plan offer was more popular and got a 12.5% conversion rate.
After that, the cart value increased to $84.07. That's almost a 70% increase. Acme Inc. still wasn't done. For the people who refused the upsell, it implemented a downsell for a smaller version of the personalized workout plan which cost $97.
5% of people who saw it decided to take advantage of the offer. That bumped the average cart value up to $88.92.
Acme Inc. by presenting a series of offers after the initial transaction was able to increase the value of each order by 77%. Without increasing the traffic to the site, changing its marketing strategy, or any other overhaul to its business, it has almost doubled the value of each customer.
That's the effect a properly implemented upsell sales funnel can have on your bottom line.
How should you structure your upsell sequence
There's no hard answer to this question and before I share an upsell sequence, I recommend you use them as a starting point but test on your own.
First, this post breaks down upsell sequences for different types of products and services. In addition to what's recommended there, here's one to try out that I've not seen used in many places before.
Checkout + order bump -> upsell #1 -> Upsell #2 -> thank you page. That's pretty standard. It's what happens after the first upsell is declined that things get interesting.
Checkout + order bump -> Upsell #1 -> (if it's declined then) -> downsell #1-> (whether you buy or decline) -> upsell #2 -> (if you decline) -> downsell #2 -> (regardless of your choice) thank you page.
This sequence is much more aggressive and can't be used effectively in all markets. It's dependent on how used to upselling and downselling your customers are as well as your ability to create a seamless process.
The funnel I just described was for a training program related to marketing. It started with an Ebook, then went on to a $291 product, then offered different payment terms for the product as the downsell. This was unique because they didn't offer a smaller version of the upsell product or different product which is common. Instead, they offered the same product with a payment plan.
This may be something to try out in your business if you can offer payment plans to customers.
Conclusion
There's no denying the fact that upsells and downsells can work wonders for your business. What's not so clear is the right sequence to use in your particular situation.
Use the examples in this post as well as the resources linked here to get a better idea of how to structure your own campaigns. After that, it's just a matter of testing until you find the combination that works for you.
Let me know what you think in the comments and don't forget to share.
Daniel Ndukwu is a regular contributor to the PayKickstart blog. He has extensive experience with online businesses, conversion optimization, and subscription revenue models. When he's not writing insightful content, he works with other entrepreneurs to help them grow their bottom line.