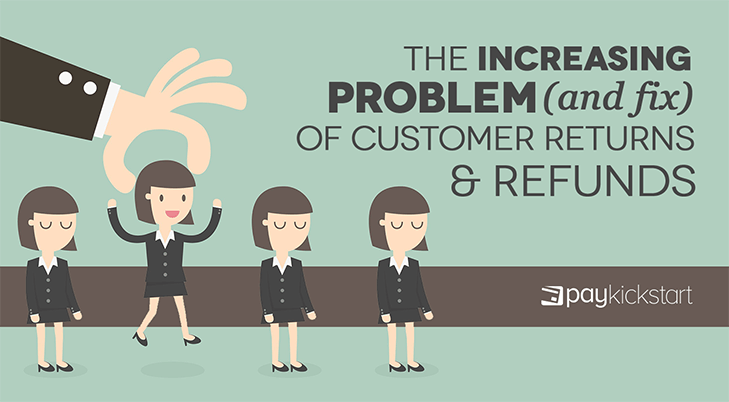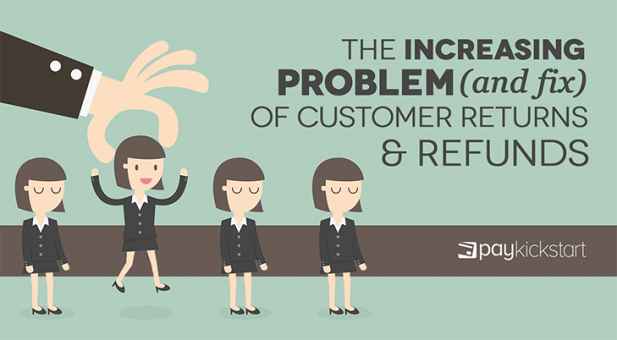 Returns and refunds are the bane of online businesses. Not only do you lose revenues, but you often have to arrange for goods to be shipped back and the refund itself must be processed. This eats up resources and makes inventory harder to manage. Returns will also lower your conversion rates and make it more difficult to maintain healthy margins.
That's why I'm going to go over some tips for reducing return and refund rates. Unfortunately, there's no silver bullet that will eliminate returns completely. However, there are some steps you can take to reduce returns and refunds.
First, let's take a look at just how severe the return rate problem is.
Returns and Refunds Are a Huge Burden for Businesses
Statista estimates that return deliveries are going to cost more than a half trillion dollars by 2020. Unfortunately, return deliveries are on the rise, having grown more than 75 percent from four years prior.
Find more statistics at
Statista
Return rates for ecommerce can be especially high, reaching 30 percent. Return rates for brick and mortar companies are actually much lower, coming in at just above 8 percent. Why should this be the case? Turns out, many customers are buying products already intending to return some or all of their orders!
In fact, 41 percent of customers will buy variations of a product, intending to test them and then return some or all of their order! In total, 89 percent of customers have returned at least one online purchase in the last three years.
This also helps explain why brick and mortar retail stores enjoy lower return rates. A customer can see and perhaps even test a product in-store before they decide to make their purchase. Unfortunately, online retailers can't offer the same convenience.
Don't Refuse Returns (Here's Why)
So how can you reduce return rates? It might be tempting to simply ban returns, to "sell as is, no returns". However, this is usually a bad move. First off, in many jurisdictions, consumers have a right to return products. Second, you'll likely discourage many potential customers from shopping with you if they realize you won't accept returns.
Having a refund and return policy indicates that you stand behind your products and that you have faith in them. A no-return policy indicates just the opposite. Put on your customer hat, who would you rather shop with? The answer is obvious: companies that accept returns.
So then, how can you reduce return rates without banning them? Let's take a look.
Tips For Reducing Your Customer Returns and Refund Rates
Let's take a look at some general tips for reducing your refund and return rates. While it's all but impossible to completely eliminate refunds and returns, by following the tips outlined below, you can greatly improve your metrics. Along the way, some of these tips might even increase your sales and conversion rates!
Give Customers More Days to Make a Return
One mistake many ecommerce stores make when trying to reduce return rates is to create a short timeframe to make the return, say 7 days. This might sound like a good idea but in practice it creates a sense of urgency and may actually encourage more customers to act on their return impulses.
On the other hand, if you offer customers say 60 days to make returns, there is less urgency and they have more time to fall in love with the product. This could actually reduce your return rate.
Understand Your Customers With Segmentation
You can use data to find which customers are most likely to make returns. For example, you might notice that people who click on your ads between 12am and 3am are more likely to make returns. For whatever reason, these night owls seem more prone to sending things back. Maybe they're more likely to be tight on cash or whatever.
Either way, once you know this, you can shift your ad and social media campaigns away so you're not targeting them. Likewise, you might find customers from New York are less likely to make returns. So now you can put more resources into targeting them!
Make Sure Your Product Listings Are High Quality and Accurate
Next, you can work on improving your sales pages. You should include high quality images and great copy that accurately describes your products. Don't misrepresent anything, however, as this will almost certainly increase your return rate.
You should also consider offering honest reviews that note both the pros and cons of each product. Customer reviews can help increase conversions as people are more likely to trust other customers rather than professional review sites or sellers.
You might even list out pros and cons on the page. If you sell multiple similar items, such as Bluetooth speakers, you should offer a comparison tool that allows customers to quickly and easily compare different features. This way, the customer can quickly find the product that most closely meets their needs.
Make Sure Everything is Properly Packed Before
If customers open up their package to find the products inside damaged, you can be all but certain that they'll be making a return (or getting a chargeback). So make sure you get packing down to a science. Every product a customer orders should arrive in mint condition.
Use bubble wrap, peanuts, and whatever else to ensure that the product is properly protected. If products are still being damaged, you might need to switch carriers or try a new type of box.
Listen to Customer Feedback
When customers do make a return, give them space to provide feedback. Try to find out why they are making the returns. If you see common issues, you should address them. For example, if a number of customers are returning your clothing because they say it runs small, you may want to include a note in your description that simply states "this shirt tends to run small."
Make the Customer Pay For Shipping
This is a bit of an extreme measure but you can ask that the customer pay for return shipping (you could also charge a restocking fee but that's usually a bit excessive). If return rates are hurting your business, extreme measures may be warranted. However, you'll likely see your sales and conversion rates drop.
Return Rates Can Be Reduced But Not Eliminated
There's no way to completely eliminate returns (except for banning them, which will lower your sales and conversion rates). However, by following the above steps, you'll be able to reduce your return rates, while also improving (or at least maintaining) your other metrics.