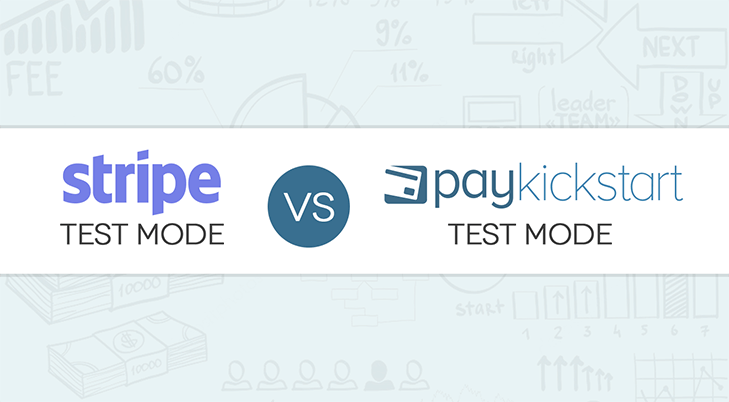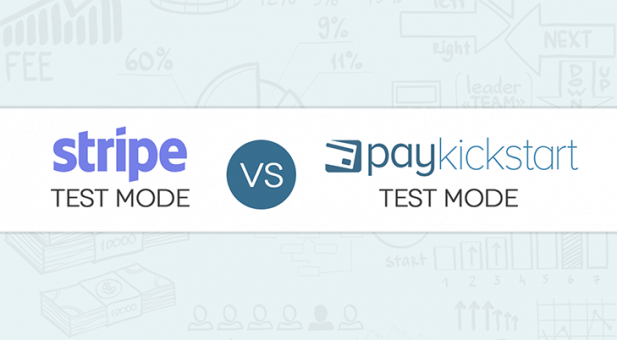 Online funnels are intricate creations that, when used properly, can make you a lot of money while building brand awareness and goodwill.
What may take you days to set up can be completed by your customers in a matter of minutes. If something breaks along the way, they won't tell you, they'll just bounce and not return.
Because funnels are so complex, it's important to test them over and over again to make sure everything is working smoothly. If you were doing that with a live transaction, you'd get billed a lot which would be annoying. Of course, that's not feasible so payment processors developed test mode which enables you to troubleshoot and work out the bugs before going live.
In this article, I'll look at both Stripe's and PayKickstart's test mode to give you a better understanding of which one will work best for you.
Stripe Test Mode
Stripe test mode can be used when you've made a custom integration with the platform or are using a third-party tool that supports it. If you're using a third-party tool then you'll need to grab your test keys instead of your live keys.
Stripe test mode transactions will show up under the test view of your Stripe Dashboard.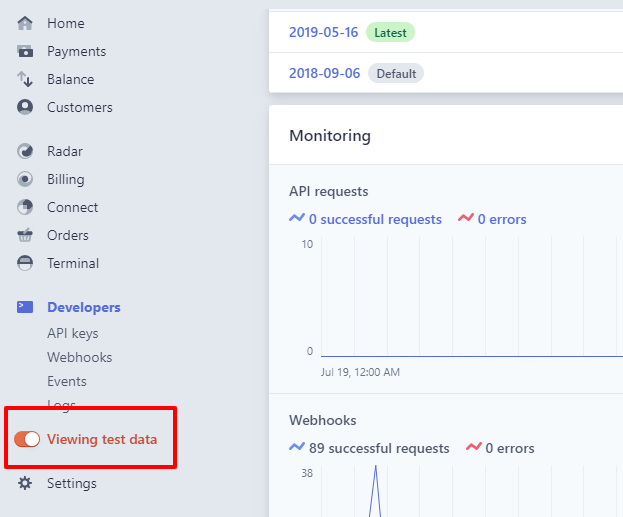 The way transactions are dealt with is slightly different in test mode. For example, failed webhooks are tried multiple times over the course of a few hours while live failed webhooks are tested over the course of 72 hours.
Another difference is the strict policy around using live cards on a test transaction. It's against their terms of service and if they find out you've been doing it intentionally then it can have serious repercussions for your account.
Instead of live cards, they provide specific Stripe test cards for you to use. If you're trying a different type of transaction like an ACH payment then they'll also provide details for that. Taken together, the Stripe test mode works but can be a little complicated if you don't know your way around the platform.
That's far from ideal when you're trying to whip up sales funnels and checkout pages quickly.
PayKickstart Test Mode
PayKickstart has it's own built-in test mode. There are a few key differences between it and the Stripe test mode which I'll get into soon. For now, let me give you a quick rundown of what it is and how it works.
Just like with Stripe, PayKickstart allows you to test your forms, checkout flows, and everything in between before setting it live. After you've created a campaign, it'll be able to collect payments by default.
In order to activate test mode, just go to the campaign options and click test mode.


What this does is hide the card field for transactions and allows you to go through your funnel from beginning to end to make sure everything is working as expected.
There are no restrictions on the type of information you can submit and it's easy to access your data by clicking the payments tab and selecting test transactions.
It's important to note that all the integrations, notification emails, etc. will still work when you have test mode enabled. That means if new customers are meant to get added to your email marketing tool then the email addresses you use to test will also be added to your email marketing service. If an account is supposed to be made in your membership site then that'll still occur.
Really, the only difference between test mode and live mode is the fact that payments aren't processed.
The difference between Stripe and PayKickstart
There are a few key differences between the Stripe and PayKickstart test mode.
Stripe still requires credit card information in order to perform test transactions but you can only use their specific test cards. If you forget you're in test mode and use a real credit card (hopefully that doesn't happen), you'll be violating their terms of service and may get yourself in hot water.
PayKickstart removes the credit card field entirely so you can go through your entire workflow without worrying about whether or not you enter the right card information.
Also, a lot of the integrations you use with Stripe may not work the same. Webhooks will still fire but they'll be tested differently if they fail. With PayKickstart, everything keeps working and your integrations still get your data so plan accordingly to make sure your tools aren't filled up with too much dummy data.
The main difference between the PayKickstart test mode and the Stripe test mode is simplicity and use case.
PayKickstart has taken care of the heaving lifting for you when it comes to integrating with Stripe for payment processing. You can create beautiful checkout forms and sales funnels with much less effort. It's already difficult enough without battling to understand the tech behind it.
Instead of having to use multiple cards for multiple types of transactions, you already know they work when you integrate Stripe to PayKickstart. The aim then becomes testing your funnel to make sure the triggers are working correctly and the payment is being captured the way you want.
Conclusion
Test mode is essential whether you're building a simple checkout page or a five-part funnel that upsells, downsells, cross-sells, and everything in between.
The most important thing with your test mode is the ability to check everything and make sure it's set up properly. Not only that, you want to accomplish it in the shortest amount of time possible or be able to troubleshoot easily.
For that, PayKickstart is ideal. If you want to see how things are working at the level of your Payment gateway because you have custom rules then Stripe is the ideal test mode. The key takeaway is that they can be used together to help you build a more efficient business.
Let me know what you think about the different test modes in the comments and don't forget to share.
Daniel Ndukwu is a regular contributor to the PayKickstart blog. He has extensive experience with online businesses, conversion optimization, and subscription revenue models. When he's not writing insightful content, he works with other entrepreneurs to help them grow their bottom line.