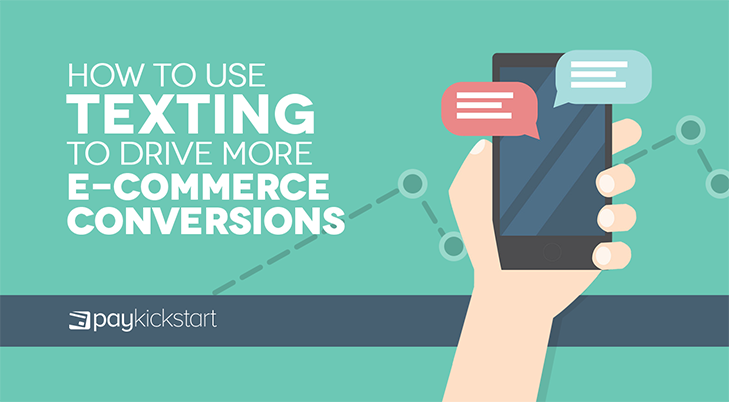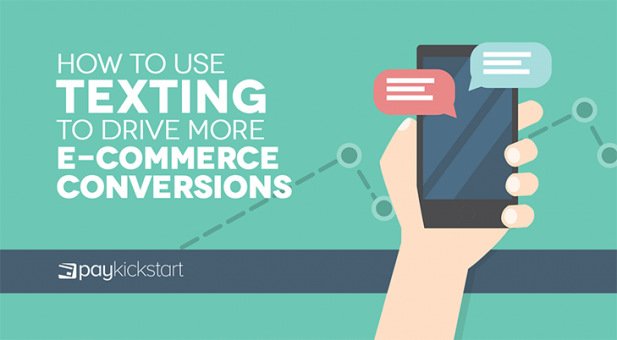 The global spending for online retail in 2019 was an estimated $3.46 trillion according to research from Global Commerce 360. This makes it the only trillion-dollar industry that's reportedly growing at a double-digit percentage each year!
Millions of global shops around the world compete for a piece of this trillion-dollar pie. Converting clicks to currency and trading window displays for websites.
The moral of the story is, the way we look at the traditional sales funnel is changing at the hand of the internet. As such, the way online retailers reach and build relationships with customers is evolving right along with it.
With thousands of digital CRM tools at your disposal, we want to share a little bit more about a tool that's already in your hands and the hands of almost all of your customers.
Your cellphone.
How Do Texting And E-Commerce Work Together?
The modern smartphone has more processing power in it than the computer used to put the first man on the moon. And what's crazier is that nearly every American has one.
Most people keep their cell phones within an arm's length away at all times. And with the hours we spend scrolling and sending on these devices, the number 1 thing most people use their cell phones for is messaging.
So what does all of this mean for e-commerce sales?
For starters, e-commerce marketers need a budget-friendly way to reach large groups of customers at once. Next, they need a way to gain enough attention to beat out their often nearly identical competitors. Finally, they need a way to stand out among the hundreds of marketing messages customers receive every day.
This, is where texting comes into play.
SMS has a nearly 6X higher open rate than email according to the CTIA
The average SMS campaign conversion rate is 45% based of recent Salesforce studies
A study from retail drive showed that SMS produces engagement rates 6-8 times higher than retailers normally achieve via email marketing when used for redemption, data collection, and brand awareness
And finally, according to Marketing Profs, response rates to SMS marketing are 7.5x higher than email (Marketing Profs)
E-commerce marketers are turning to texting to achieve better ROIs, stronger customer relationships, and more active participation in their brand's conversation.
5 Text Templates To Help Your Online Store Drive Sales
When it comes to actually using texts to drive sales, there are several approaches you can take. To demonstrate, we've created five text templates to demonstrate a few different ways you can use text messages to drive sales.
1. Personalized Product Suggestions
It's fairly common for retailers to send out mass text coupons or discounts that drive subscribers to redeem limited time offers. However, texting is distinctly advantaged thanks to how easy it is to personalize your message. Text marketing is permission-based, meaning a subscriber must actively join your list with an opt-in keyword, web form, or other methods.
When a new subscriber initiates contact, it's possible to pepper them with automated follow-up questions regarding product preferences, budgeting, and personal info.
Once this information is gathered, it can be used to send more personalized deals and discounts with a greater chance of redemption. While it requires a little bit of extra work, 88% of U.S. marketers reported measurable improvements due to personalization.
A common format for a promotional product suggestion text is:
Hello [Name], this is [Name] from [Business Name]. We know you love [product A], have you given [product B] a try? We're currently offering [discount] for all purchases this [time period]! [link to site].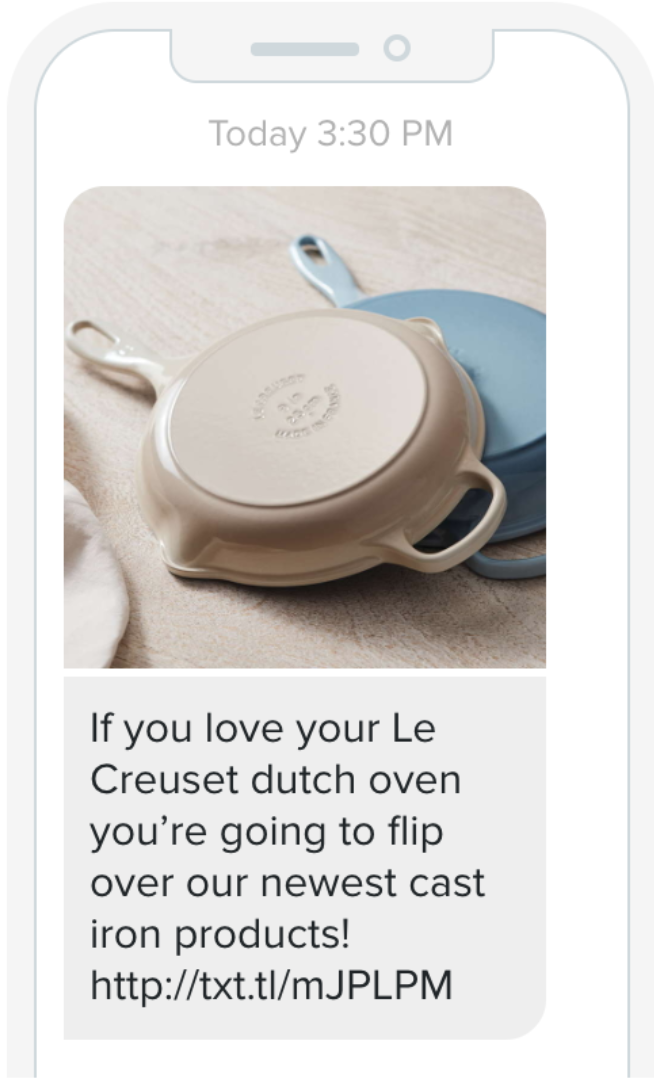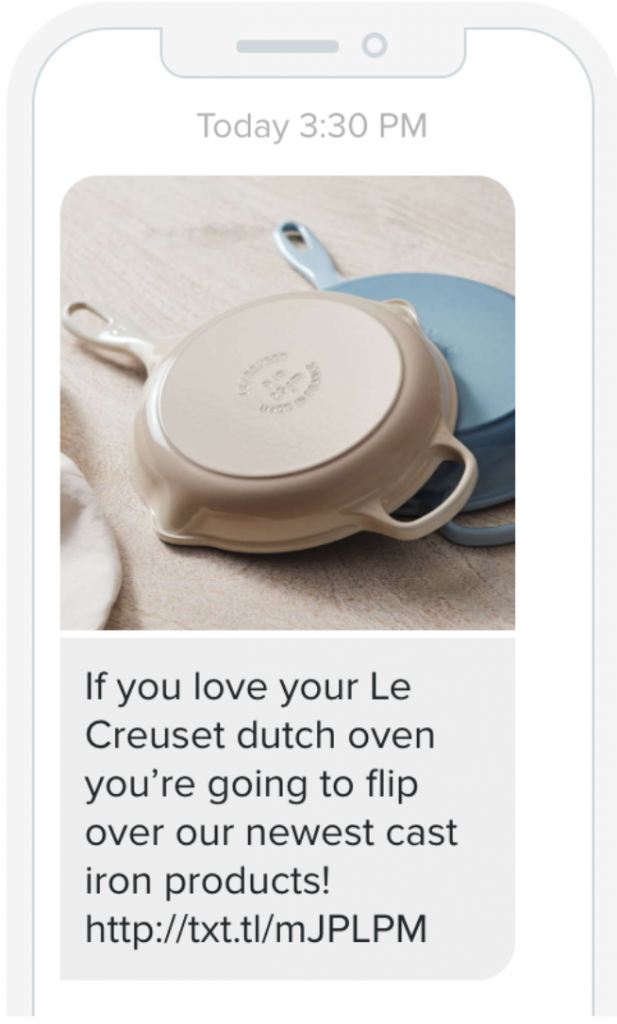 Insert ST Image A Here.
2. Flash Sales
According to Forbes, 95% of texts from businesses are read within 3 minutes of being sent. This makes them the perfect medium for time-sensitive deals and offers. Flash sales can run anywhere from hours to days long, but the urgency from being limited-time-only is what motivates people to buy. If you send an email to a customer about a one-day online flash sale, there's a good chance they may not read it until it's too late. Not only does this deprive you of a sale, but it can frustrate your customers potentially causing them to unsubscribe.
An easy to follow template for a flash sale text is:
[Company Name] flash sale! [Product] as low as [deal]! Act now, this deal will only be live for [time limit]. [Link to site].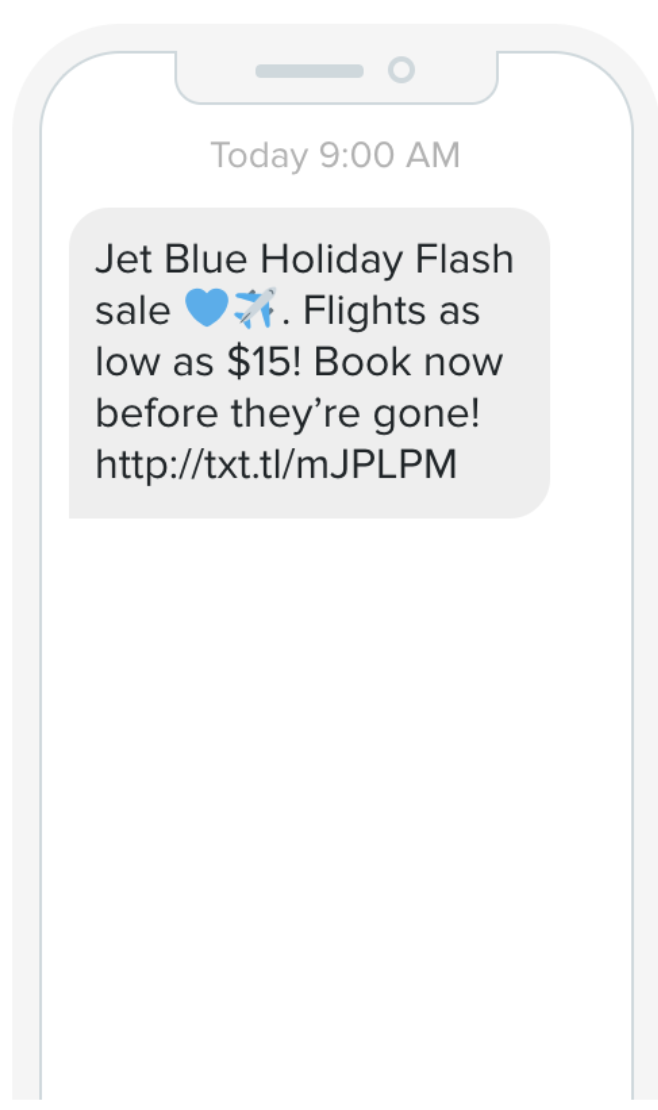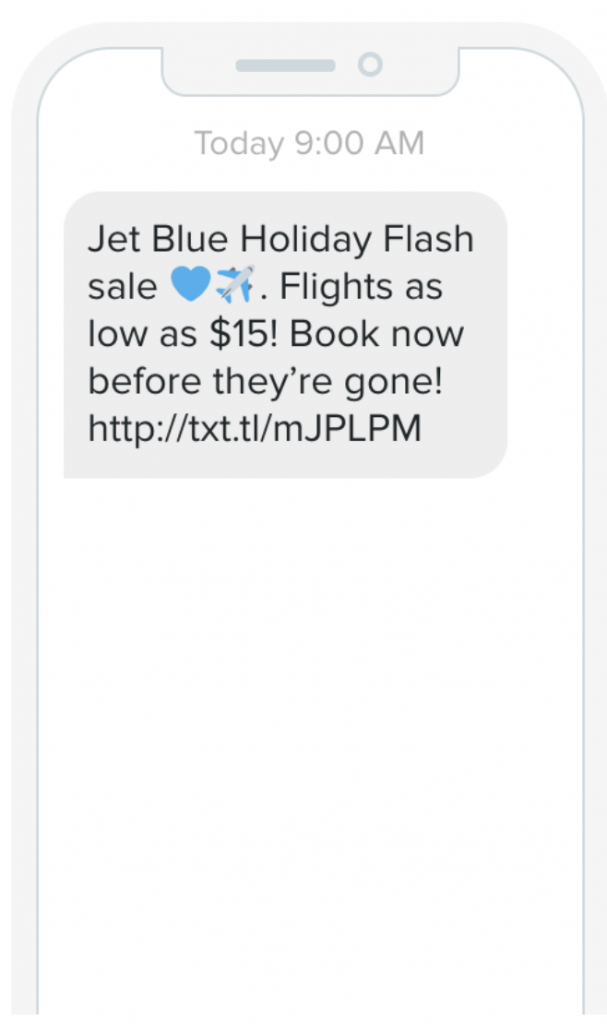 Insert ST Image B Here.
3. Request For Ratings and Reviews
More of an indirect sales strategy, but collecting ratings and reviews is a fantastic way to boost your online store's visibility. In the world of e-commerce, better reviews mean better SEO, and better organic web visibility. This can be especially handy for e-commerce shops that sell on large platforms such as Amazon. Here, search algorithms determine your visibility to customers, so a highly reviewed page can give you a leg up on the competition.
Texts requesting reviews can be scheduled to send automatically a few days post-purchase. They can also be a great follow up to a text-based customer service interaction.
A sample review request text may look like:
[Name], we hope you're enjoying your [product name]. If you have [time] minutes we would love for you to leave us a review so other shoppers can hear your thoughts! [Link to review space].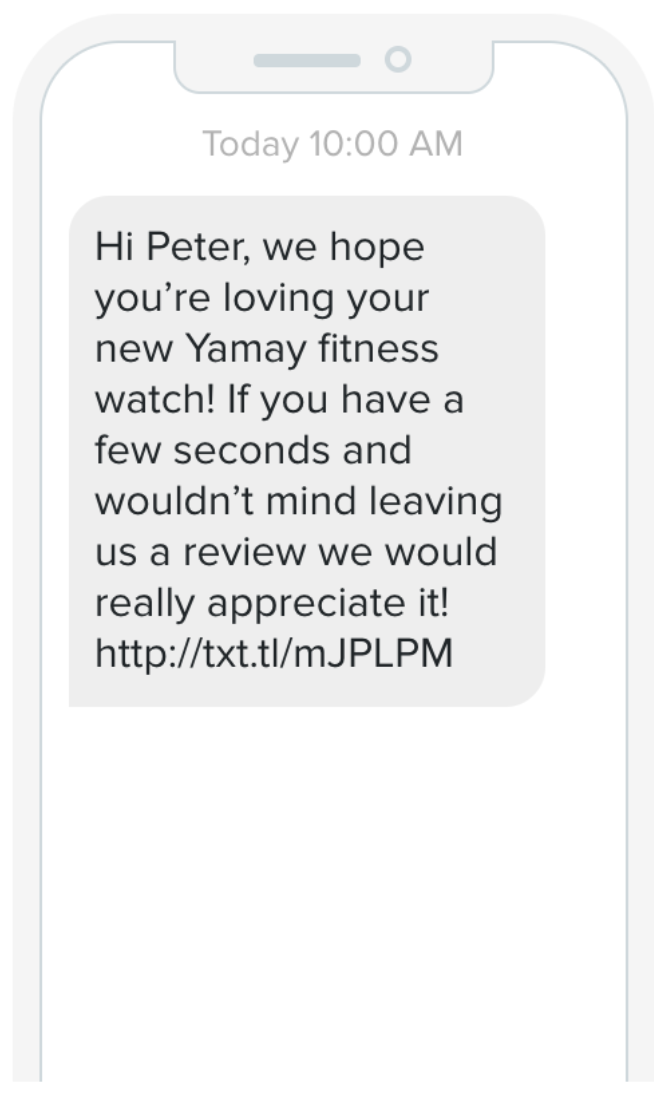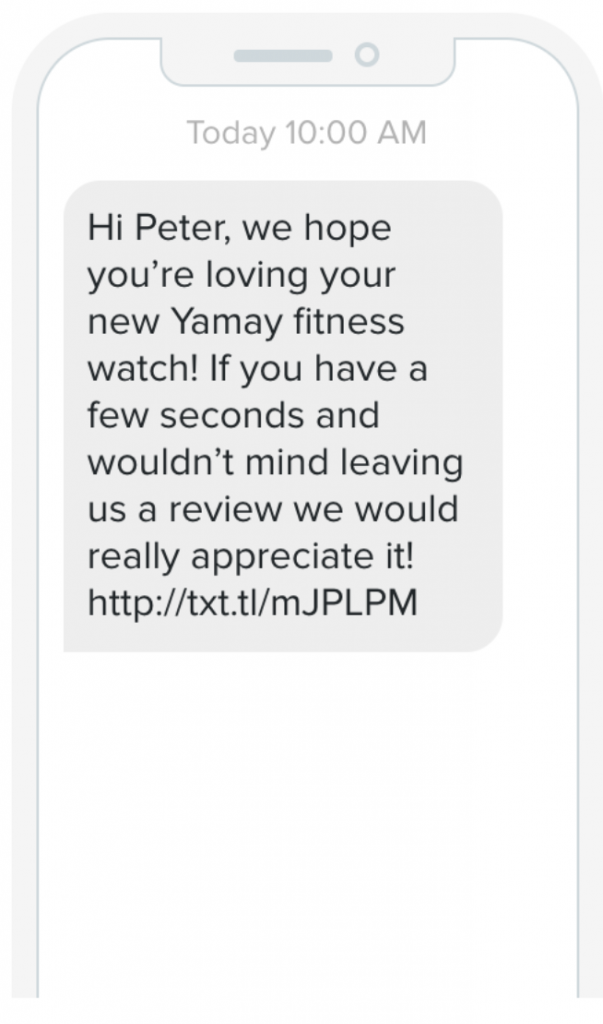 Insert ST Image C Here.
4. Loyalty Program Reward
Customer acquisition can get costly quick. That's why investing in customer experience to ensure repeat business is financially advantageous to any business. A traditional brick-and-mortar strategy for this is the loyalty card. Encourage repeat business by rewarding it. A simple concept that is easily transferred to a digital medium. You can create a text-in loyalty program that shares deals and rewards based off purchase history and time spent as a customer. From something as simple as a birthday text to a Starbucks-level rewards program!
Here's an example of a simple loyalty reward text:
Happy anniversary! Thanks for being a [business] customer for [amount of time]. As a reward, here's a [deal].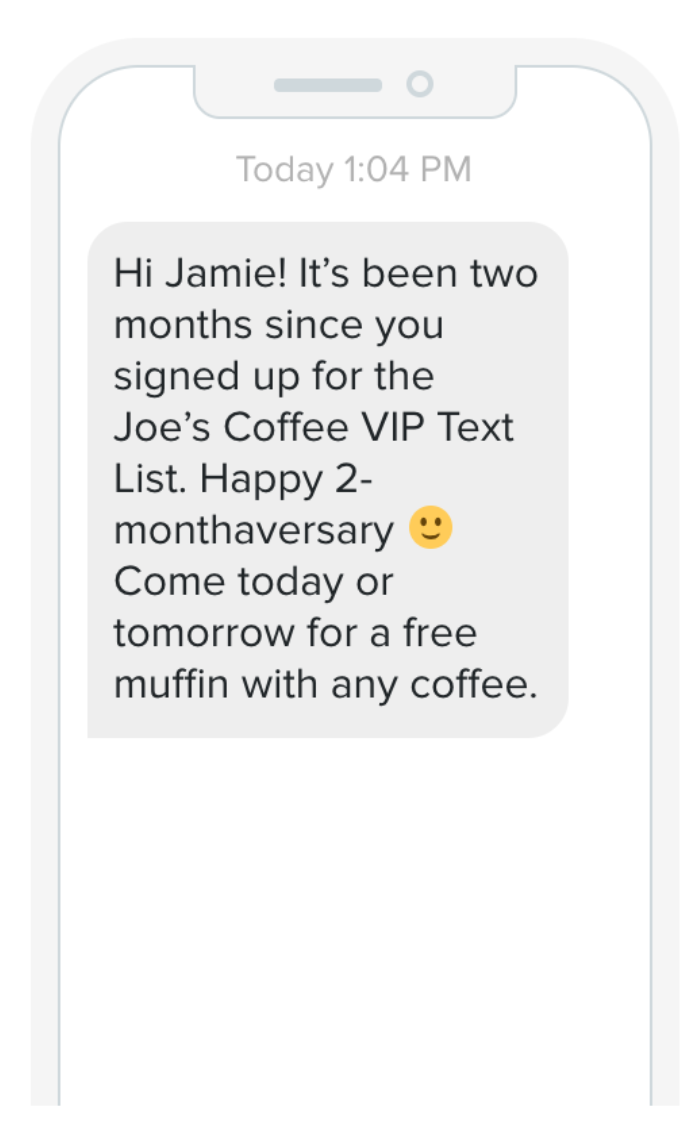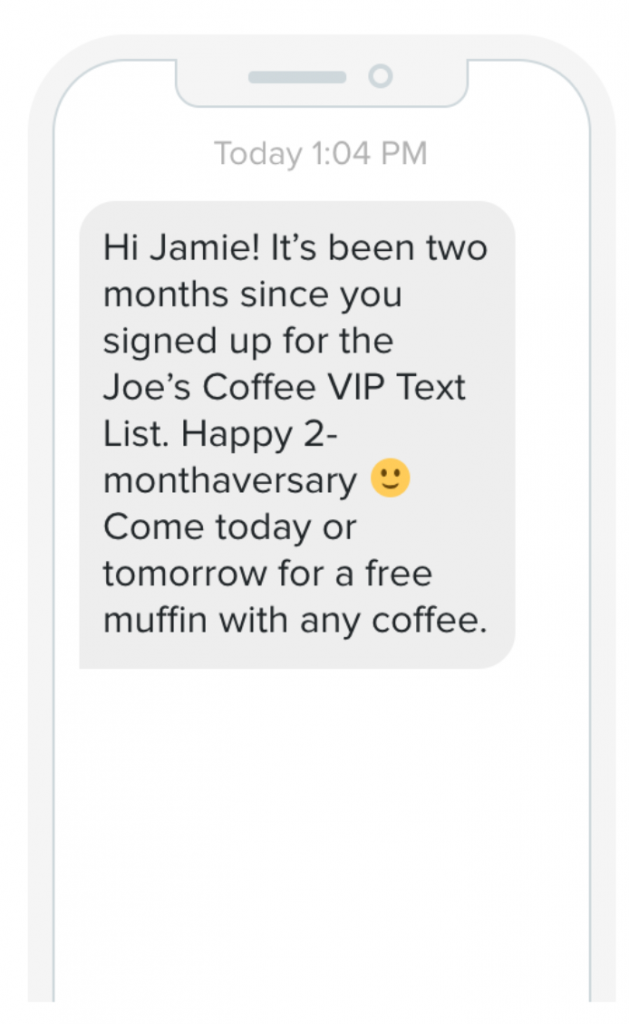 Insert ST Image D Here.
5. Abandoned Cart Offer
Thanks to integrations with e-commerce sales tools such as Shopify, anything can be automated. Even a text triggered by an event on your website, such as an abandoned cart. Data from Barilliance shows that about 50% of the people who click on an abandoned cart link go on to complete their purchase!
Because it's automated, this final sales technique can be completed without any manual intervention. That means it saves you, and your team, precious time.
If you'd like to send an abandoned cart offer, consider sending something like this:
[Name] we noticed you left a few items in your cart! We wouldn't want you to miss out, click here to complete your purchase with an added [discount] off your total! [insert link]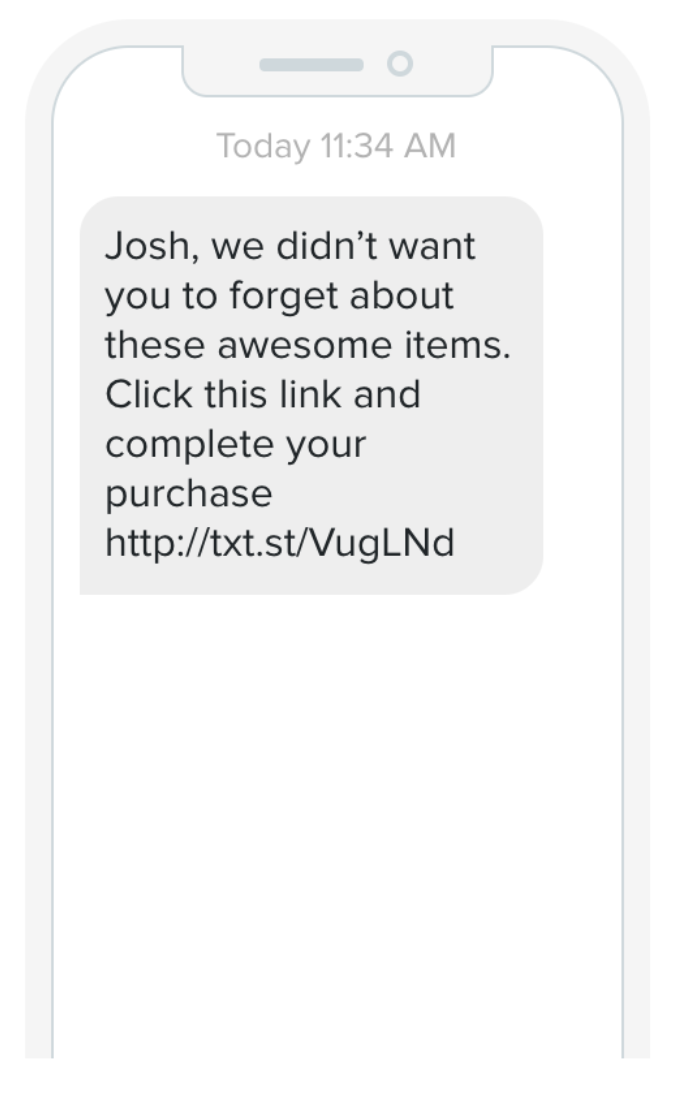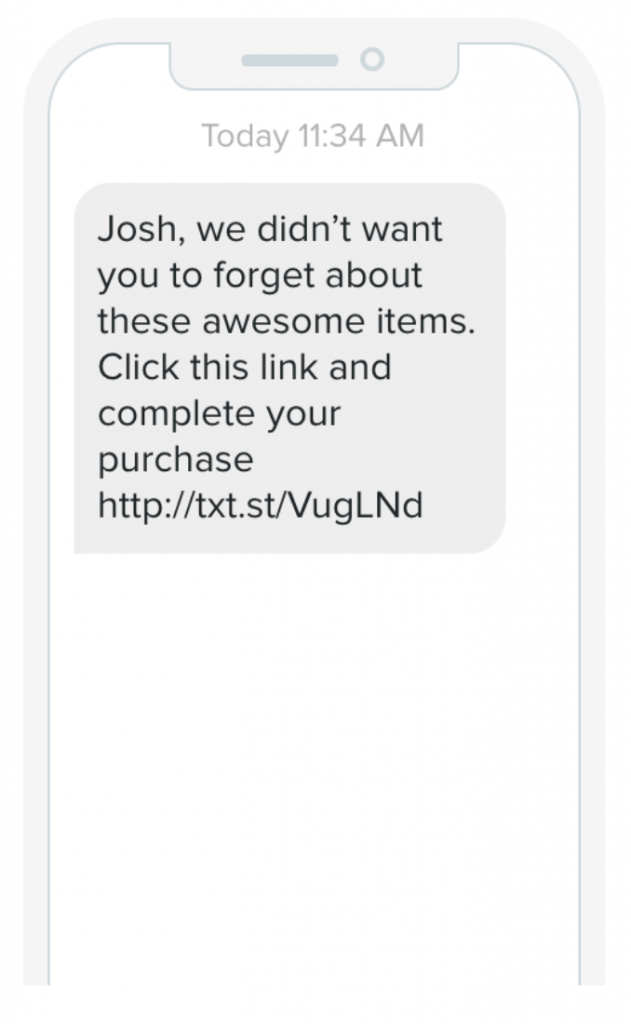 Insert ST Image E Here.
How To Text-Enable Your E-Commerce Store
You know the benefits, you've got your templates—what's next?
Getting your e-commerce store set up with a texting service is easy. There are just a few steps you'll need before you get started.
Pick Your Number Text marketing is made possible by giving your business a new, text-enabled number. This number could be a short, easy to remember short code. At SimpleTexting, all e-commerce customers have the option to apply for use of our short code 900900. Short codes are great if you want to use keywords to help grow your subscriber list because they're easy to remember. Keywords are short words or phrases that, when texted in to your number, sign up a new subscriber to your list. You can also opt to use a toll-free number, or even select a number with a local area code of your choice! This may be the right choice if you want to use texting as a tool to text one-on-one with customers, or build trust within a certain area.
Build Your List Letting your customers know they can text your business is the most important part. Share your short code or 10-digit number far and wide! In addition to keywords, things like web-sign up forms, click-to-text buttons, or web pop-ups are great ways to build your subscriber list.
Measure Success The final thing you'll want to do before you send that first text is to determine your measure of success. Just like any other marketing tool! You can choose to measure things like click-through rates if your goal is to increase customer engagement. If the links you send to your sales page have a specific URL, you can even measure the sales driven from text-based offers.
Closing Thoughts on E-Commerce Sales And Texting
Even before we go to a physical store, it's not uncommon for consumers to look up where to buy something online. And with offers like free shipping, it's almost too enticing to just buy it right from the comfort of your own couch. E-commerce isn't just a thing of the "now", it's the direction commerce is headed in the future. And as mobile technology continues to evolve, texting remains a pivotal part of the equation. For success now, and going forward, the two are a practically perfect pair.

Meghan Tocci is a content strategist at SimpleTexting – the leading web-based platform for SMS marketing and business texting. When she's not writing about SaaS, she's trying to teach her puppy Lou how to code. So far, not so good.