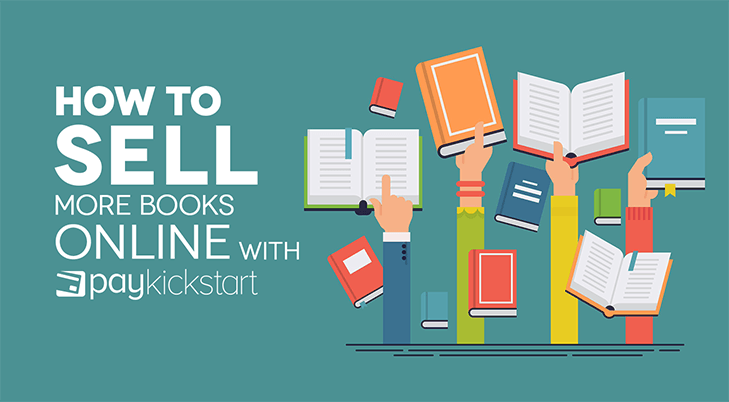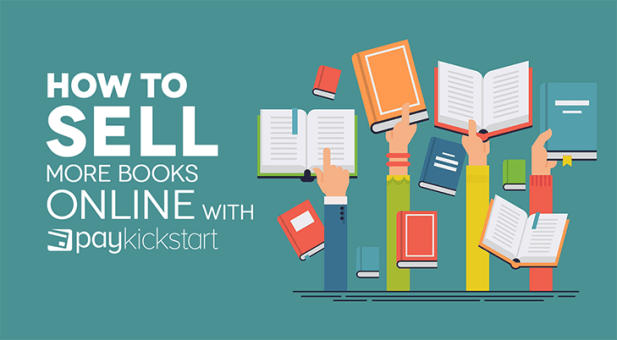 PayKickstart allows you to sell pretty much anything online. Whether you'd like to sell physical products, digital products, or even services, PayKickstart can make it possible. Best of all, when you use PayKickstart, you'll keep more of your revenues for yourself.

You can use PayKickstart to increase book sales.
If you sell books through a platform like Amazon, you'll have to hand over a pretty large cut to Amazon itself. If you sell books on eBay or a similar platform, you'll likewise have to pay quite a lot. Even if you sell digital or physical books through your own online store, you might be expected to pay quite a bit. Many shopping carts charge transaction fees.

That's why an increasing number of people, from authors to bookstore owners, are turning to their own websites and PayKickstart to sell books online. At PayKickstart, we charge an affordable, flat monthly rate, so you get to keep more of your revenues.

We've also built in a variety of features that you can use to increase book sales. Let's go over how you can use PayKickstart to sell more books.

Your Shopping Cart Can Be An Asset
The first thing you need to understand is that your shopping cart isn't simply the end of the customer's journey. You can turn your shopping cart into a conversion tool, drumming up additional sales.

Customers who have reached the checkout page are already closely considering your books. If you're an author, the customers have likely decided that they already like what you've written. They've probably read at least parts of your work and are interested. If you're a bookstore, they've decided that they like your product offering and price.

That doesn't mean they'll convert but it does mean that they are quite close to converting. And that means it's a great time to focus on drumming up more conversions. Fortunately, PayKickstart offers numerous tool you can use to drum up more book sales. Let's look at some of those.

One-Click Upsells
One of our most effective features is our one-click upsell tool. We keep our naming simple and the tool works just as described. With one click, customers can add an additional product to their cart.
So let's say you're an author and you're selling a fiction novel. When customers go to check out, you could offer them the sequel or prequel at a discounted price. Or you might offer them a book from another series you wrote. Or perhaps you offer them a book from another author.

Whatever you think will be most attractive. We've found that one-click upsells can more than double our client's revenues! Few tools have proven to be more effective.

Check Out Our Other Conversion Tools
PayKickstart is packed with other conversion tools, including order bumps, coupon codes, and our shopping cart recovery tool. Each one of these tools can be used to increase book sales. With order bumps, for example, customers can add additional copies of the book to their cart without having to go to the shopping page. So why not encourage them to add a book as a gift.

With our cart recovery tool, you can send customers an email if they have items in their cart that they haven't purchased. Shopping cart abandonment rates can reach as high as 80 percent. But with our cart recovery tool, you may be able to lower your abandonment rate. Should customers return to the checkout page, they'll find the shopping cart already filled out.

Lower shopping cart abandonment rates with PayKickstart.

Affiliate Marketing
Another very effective way to increase book sales is to use affiliate marketing. With affiliate marketing, you offer outside parties, such as review blogs, the opportunity to sell your books. They can simply place links in blog posts and elsewhere and if someone clicks on the link and makes a purchase, you'll give them a percentage of the sale.
Affiliate Marketing can be very effective!
Let's say you're selling a book on business leadership. So you decide to set up an affiliate marketing campaign, reaching out to thought leaders in the field, social media influencers, and the like. You provide them with affiliate links, which will track clicks and sales. Every time your affiliates send a customer your way, they get paid.

Managing affiliate marketing campaigns can be difficult. Fortunately, PayKickstart makes it easy with our affiliate management tools. Whether you want to set up instant or delayed commissions, lead tracking, or even instant contests, you can do it with PayKickstart. We also offer link tracking and right through our platform, you can offer your own marketing materials.

Affiliate marketing is highly effective. Each year affiliate marketers generate over $12 billion dollars in sales. And the industry is expected to grow at 10 percent per year through at least 2021. As a book retailer or author you can tap into this fast growing industry, building an army of affiliate marketers.

Be Data Driven
An increasing number of companies are striving to be data driven. With data, you may be able to increase sales. For example, you might notice that offering discounts on the weekend produces more sales than discounts during the week. Or you might notice that your Linkedin campaign is performing better than your Facebook campaign.

PayKickstart offers a variety of advanced data and reporting tools that are built right into our platform. By using this data, you may be able to glean key insights that will allow you to increase sales!

Conclusion: PayKickstart is Great for Authors and Book Retailers
Whether you're selling your own books or someone else's you'll be able to sell more with PayKickstart. We built our shopping cart with our clients in mind and realized early on that increasing sales is vital. PayKickstart is every bit a conversion and sales tool as it is a shopping cart. So start selling more today and put PayKickstart to good use!