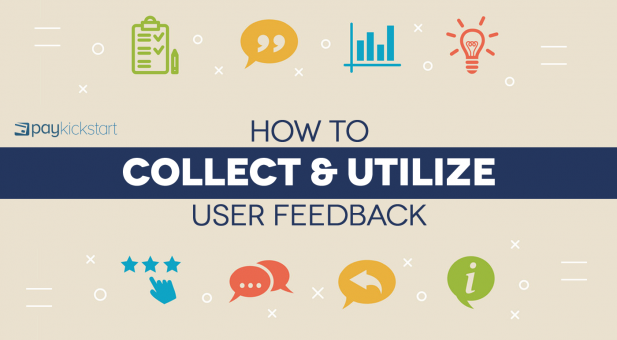 What do your users think about your product or your platform? Does it fit their needs? Is it easy to use?
Why do your customers cancel membership at your platform? Why do they leave your site?
How can you improve your product and / or your site to match it better to your customers' needs and hence improve your customers' experience, increase your customers' average lifetime and ultimately your ROI.
Knowing answers to these questions will help you to always keep ahead of your competition, as well as engage your users better.
Collect Your User Feedback
There's a fine balance between hearing from your customers and doing it smoothly enough not to interrupt your site users' browsing journeys.
In other words, you don't want your feedback sharing calls-to-action to be interruptive but you do want most of your customers to share their experiences with your product for you to be able to collect enough data to make any conclusions.
So how to achieve that balance?
1. Trigger action-driven surveys
There are certain actions you want to know why your customers take, especially those are such actions as purchase, cancellation or refund request.
Timing your request to a certain action also helps personalize it to a level when your customers may rest assured you really are about their experiences.
PayKickstart offers "Surveys" feature allowing you to set up custom surveys based on your customers' actions:
Once your customer asks for a cancellation
Once your user makes a purchase or upgrades
Once your customer asks for a refund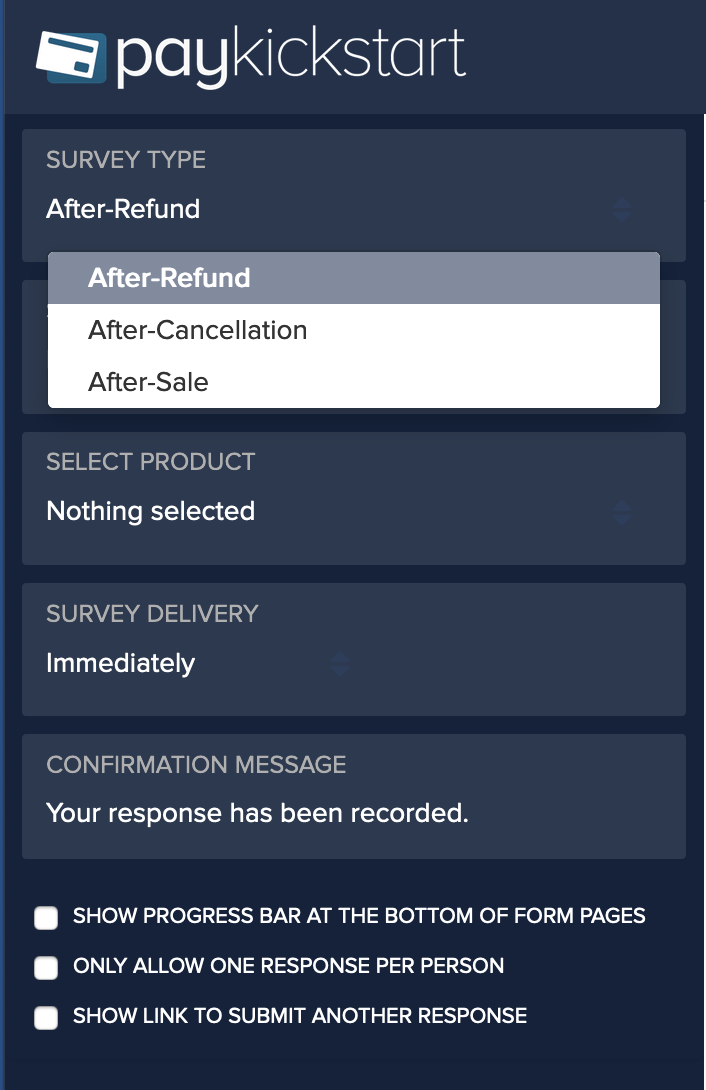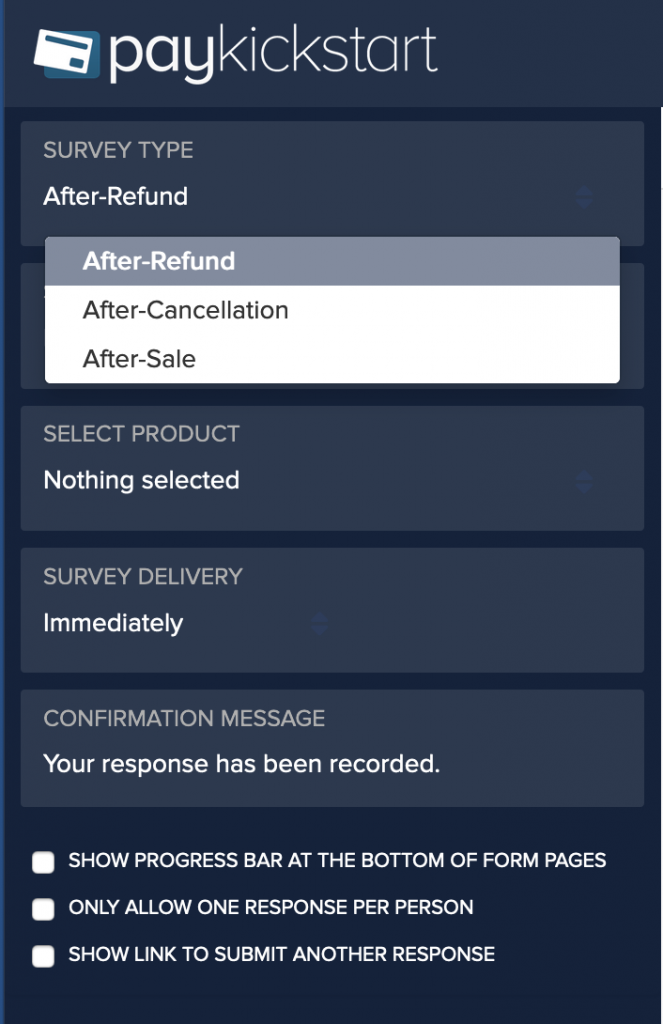 Once your customer performs one of those actions, a survey will be sent to them containing your questions. You can set up various types of questions based on what it is you want to know about your customer base and their experiences with your site:
Paragraph text (let your customers type in an answer to your question)
Multiple choice (let your customers choose one or more of the available options)
Check boxes, etc.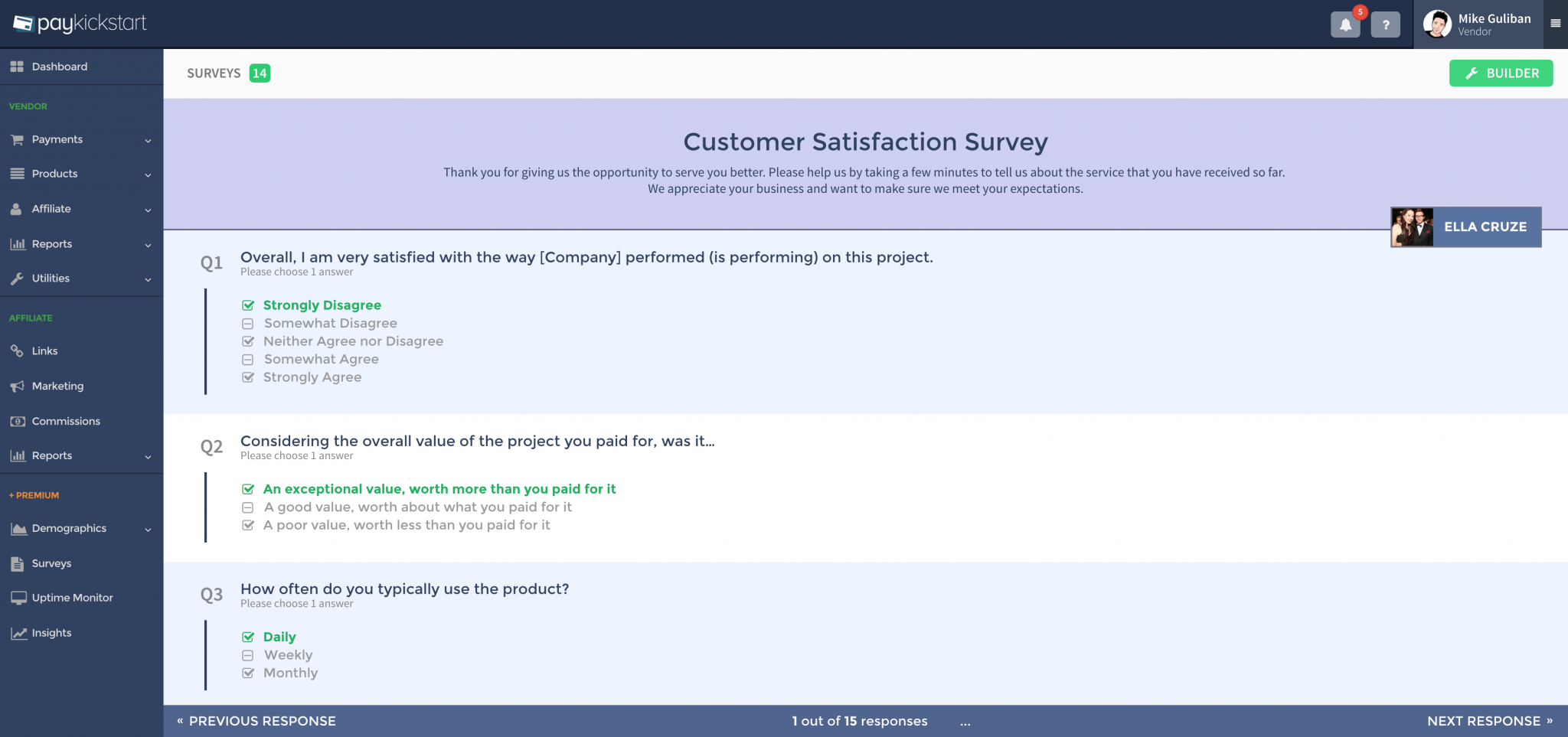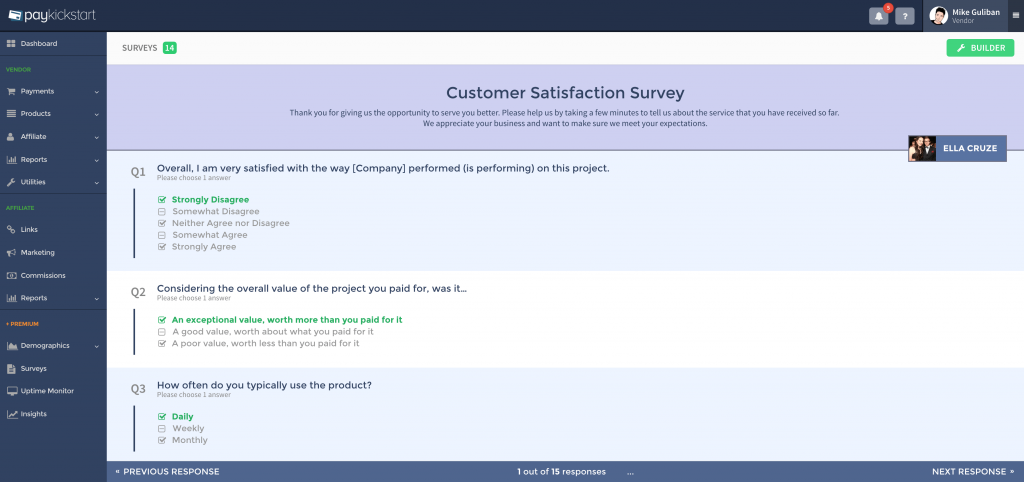 2. Ask for feedback when your customer is canceling their plan
Some surveys may be emailed, some of them may be integrated into your functionality in a most organic way. This is what PayKickstart is doing with its "Cancellation saver" feature.
Whenever your customer asks for a cancellation, the platform will offer them to choose a cancellation feature (and suggest a better alternative solution to canceling).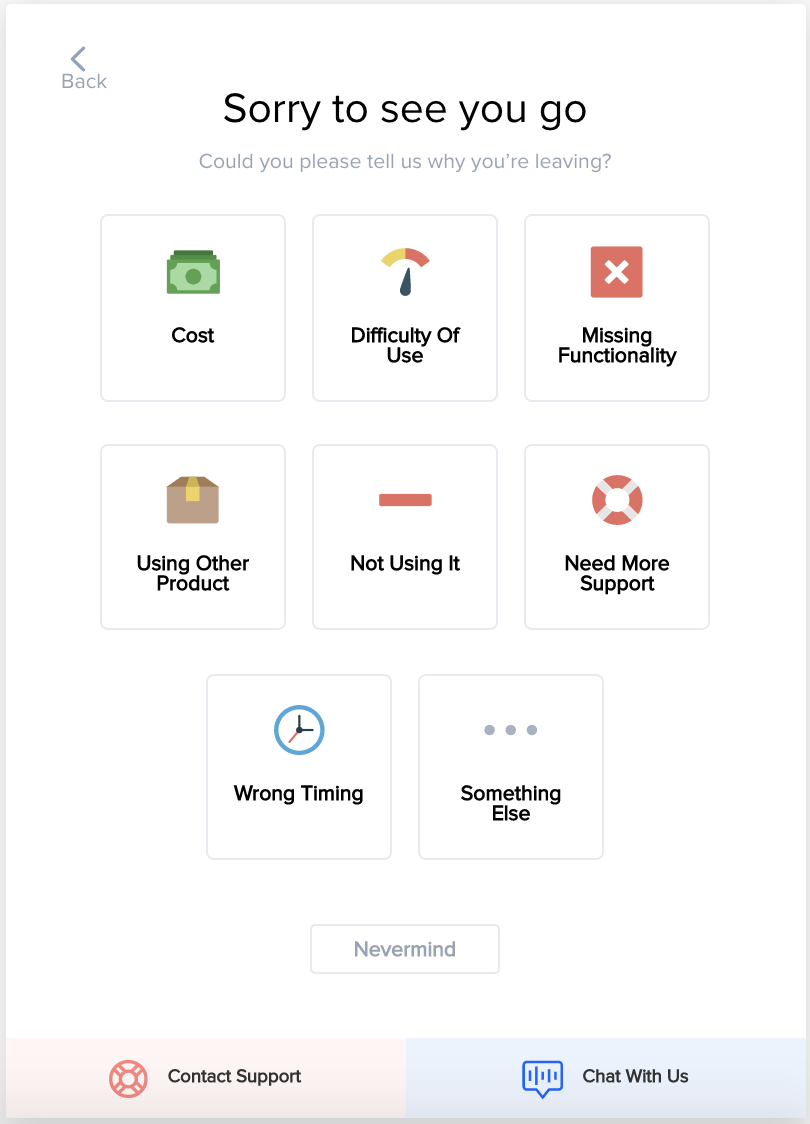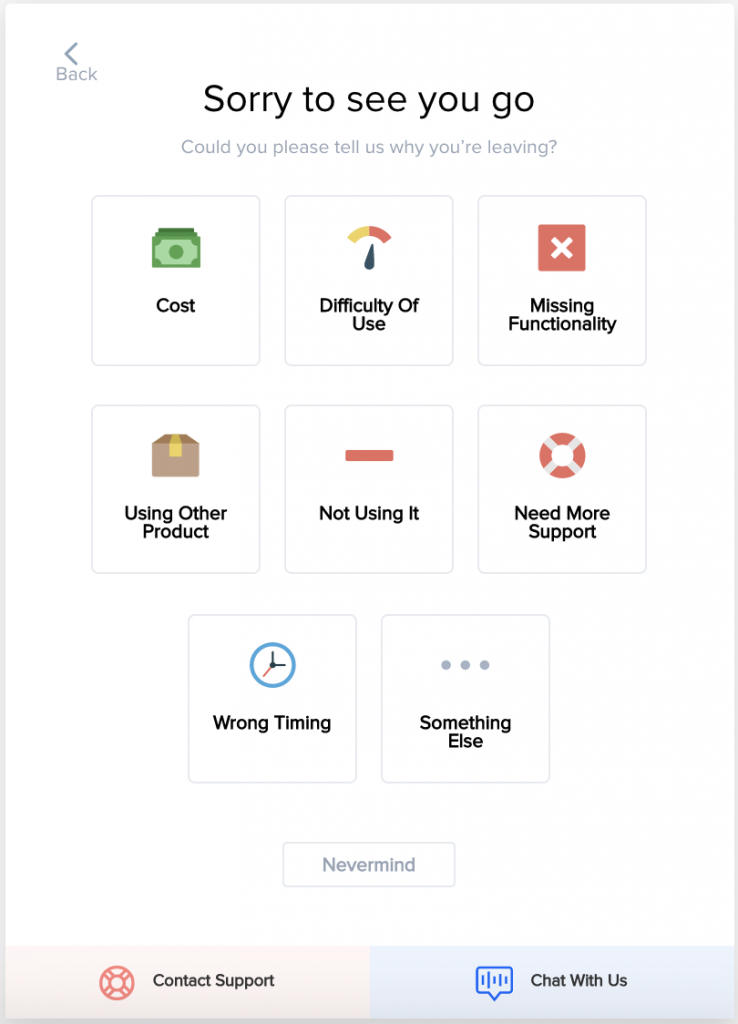 The tool will save all the specified cancellation reasons allowing you to identify the most common reason for your customers to stop their premium subscriptions with you.
3. Adopt a "silent" feedback method: Heatmaps!
In many cases seeing how your site users are interacting with a specific page will be enough for you to understand what kind of challenges they are facing.
Is your main button hard to locate? Do the customers seem lost or confused? Are there any distractions on the page that prevent them from performing a desired action?
You can find answers to all of those questions by using heatmapping technology that can record all your users' clicks, browser movements and even how far they scroll through your page.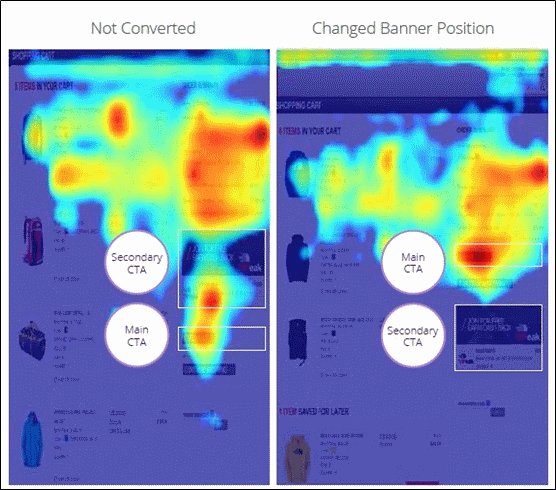 4. Ask for feedback in all of your customer support interactions
You are likely to send all kinds of emails to your customers – both automated and manual updates. All you need is to add a line to all of them inviting your subscribers to share their feedback.
It's easy and won't irritate your users as they are used to receiving these kinds of meaningful updates. If you utilize conversational forms, collecting user feedback will be even easier.
Ask your customer support team to encourage feedback sharing via the phone. If you make it easy to call, a lot of people will do so and explain which problems they faced when using your product. Adding a toll-free number will reflect well on your brand and generate more voice-driven feedback.
5. Embrace social media listening
Your customers may not share their feedback with you but they are likely to discuss your platforms on social media. Many of them will talk to your brand on social media expecting to hear back and get their questions answered.
You want to know about both of these mentions.
Agorapulse offers a powerful social media listening feature which collects your brand mentions, prioritizes them and allows you to assign any of them to your team members. For example, you can assign any brand mention to your customer support team for them to quickly solve the issue:
Utilize Your User Feedback
When it comes to negative feedback, your further actions are pretty clear: You want to collect it, analyze it and then use it to brainstorm new product features or figure out how to eliminate (usability, pricing, etc) issues that result in cancellations or poor conversion rate.
It is also a smart idea to use those comments to enhance your on-site FAQ section by covering common questions there. This would decrease the amount of customer support emails and help some of your site users to quickly find a solution.
For positive mentions, your further actions shouldn't be limited to "thanking" your customers. You should strive to do your best to let more of your current or future users know about those positive experiences of your happy customers.
Ask for your customers' permission to publicise that feedback on your social media account
Publish that feedback on your "Testimonials" page
Turn those testimonials into visuals or videos to publicize them in even more social media channels
Conclusion
Don't be disheartened by negative feedback. The more popular your platform is going to become, the more nay-sayers (should I say "trolls") you will have to deal with. Get used to that now.
That is not to say that you need to completely ignore critique. Knowing your users' struggles will help you create a better platform and adjust usability to make your platform easier to navigate. Collect and act upon your customers' feedback on a continuous basis. This is key to ever-growing business.
Ann Smarty is the Brand Manager at Internet Marketing Ninjas, as well as co-founder of Viral Content Bee. Ann has been into Internet Marketing for over a decade, she is the former Editor-in-Chief of Search Engine Journal and contributor to prominent search and social blogs including Small Biz Trends and Mashable. Ann is also the frequent speaker at Pubcon and the host of a weekly Twitter chat #vcbuzz