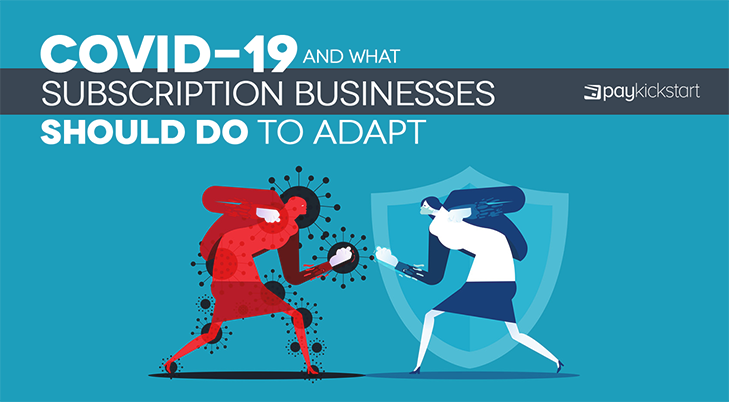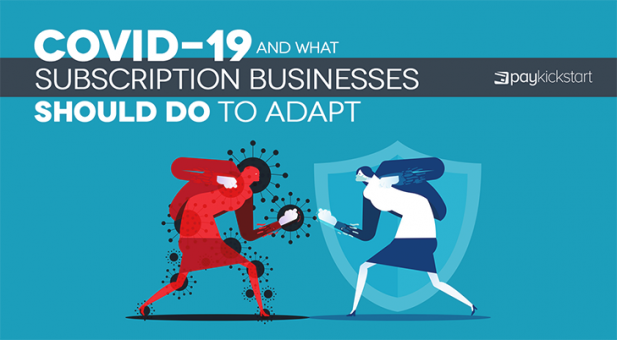 No one saw it coming but 2020 has turned out to be a year of a major economic disruption.
The coronavirus pandemic left millions of people unemployed and changed the lives of just about anyone on the planet.
But how exactly did it change the SaaS sector?
With people moving to work from home without ever going out, you'd think 100% digital subscription services will not suffer.
Yet, the COVID-19 quarantine has negatively impacted just about any business sector, even SaaS industry.
The thing is, people's priorities have shifted dramatically. Stress and uncertainty have discouraged many consumers from investing into anything except for essential products.
In the B2B sector businesses are either struggling to survive or moving whatever they have into charities trying to help local hospitals and essential workers.
Both of these factors couldn't help influencing the SaaS businesses, even those that didn't see an immediate impact.
1. Customer Retention is More Important Than Ever
In these uncertain times when many of your potential target customers have something else on their minds ("What is tomorrow going to bring?"), it is going to be extremely hard to attract new users. In fact, Nick Mehta put it best:
So focusing on customer retention is more important than ever.
1.1. Keep an Eye on Inactivity
With priorities shifting, many of your subscription customers may have lost track of your platform.
Get them back to your site through smart email automation.
1.2. Include Customer Retention into Your Success Measuring Tactics
You cannot improve what you are not measuring, so always take an extra effort to evaluate your customer retention efforts.
Measuring your customer success should now involve customer retention rate as well as CLV (Customer Lifetime Value), number of support tickets, and referrals.
1.3. Start Building a Loyalty Program
Think about this: loyal customers have been estimated to be worth up to 10 times as much as their first purchase.
There are various ways to start a loyalty program to consider, including using points and creating an exclusive tier to reward loyal customers.
1.4. Allow More Flexibility with Your Platform Tiers
Now that it is getting harder to attract paying customers, it is a good idea to start focusing on generating leads, i.e. trial users or free plan users. When the citation stabilizes, you will be able to reach out to them and convert them into paying customers.
With that in mind, here are a few ideas:
Extend trial period: There have been quite a few SaaS platforms graciously extending their trials to 3-6 months allowing companies to keep operating after their teams have moved to work from homs. This has not only generated leads, it has also resulted in all kinds of positive press!
Allow pausing: When you see clients leaving, give them an option to pause their membership instead of cancelling. Audible has been doing that for months: They would first ask for your reason for leaving and then give you 2-3 options based on your reason, like pausing or paying every other month, instead of monthly.
Switch to a freemium model: If you are not yet offering a free plan, consider adding it now. This would save you some users who are ready to cancel and generate more leads you will be able to nurture relationships with.
2. Subscription Relationship Building is Crucial
An effective subscription relationship management strategy plays an important role in your recurring revenue growth.
2.1. Go an Extra Mile to Revive Failed Payments
PayKickstart Subscription Saver feature helps you recover your customers' failed payments by automatically sending three email notifications to the customer before canceling the payment:
Immediately after the failed rebill attempt,
Three days after,
Five days after
The feature has been found to revive about 22% of failed payments, which in this case study has translated in $197,749 of saved revenue: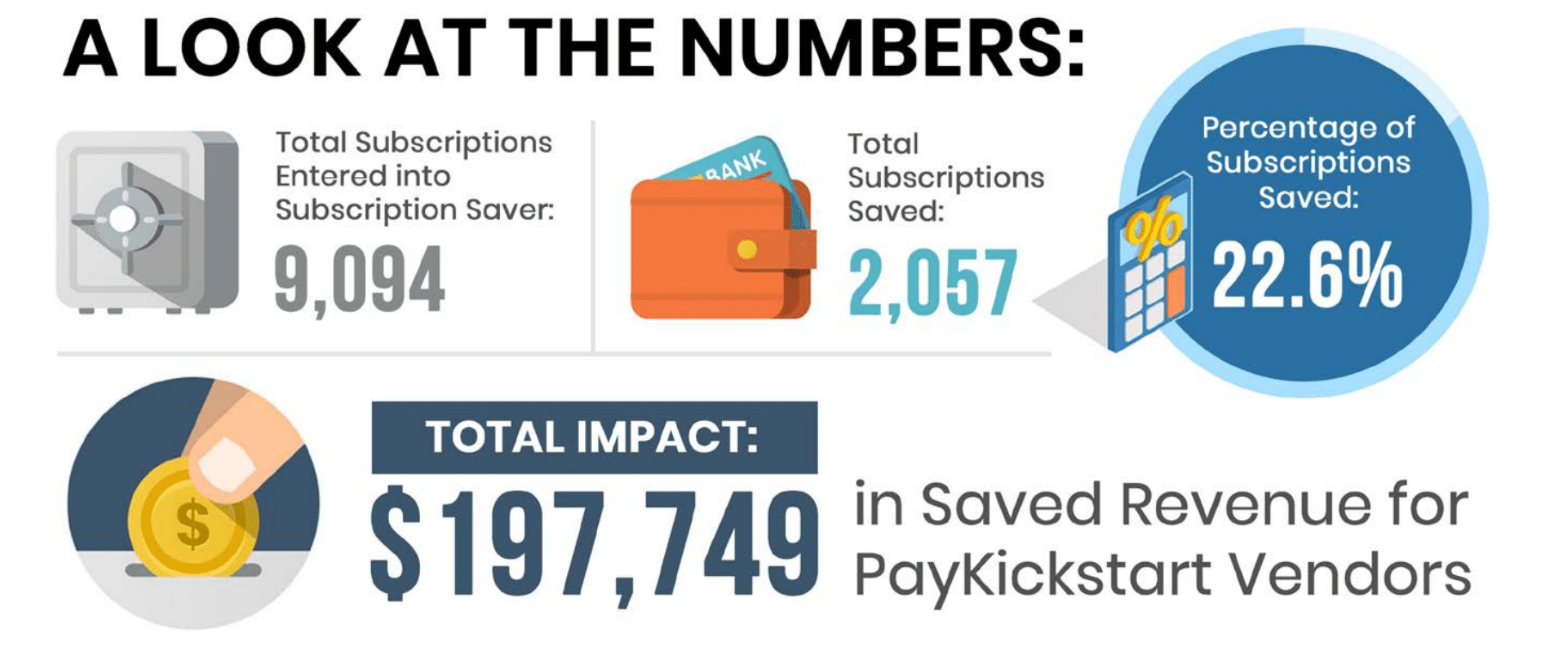 2.2. Set up Billing Reminders
Furthermore, to avoid refunds and chargebacks, consider setting PayKickstart to send a friendly "billing reminder" to your customers, notifying them that their next payment is coming soon.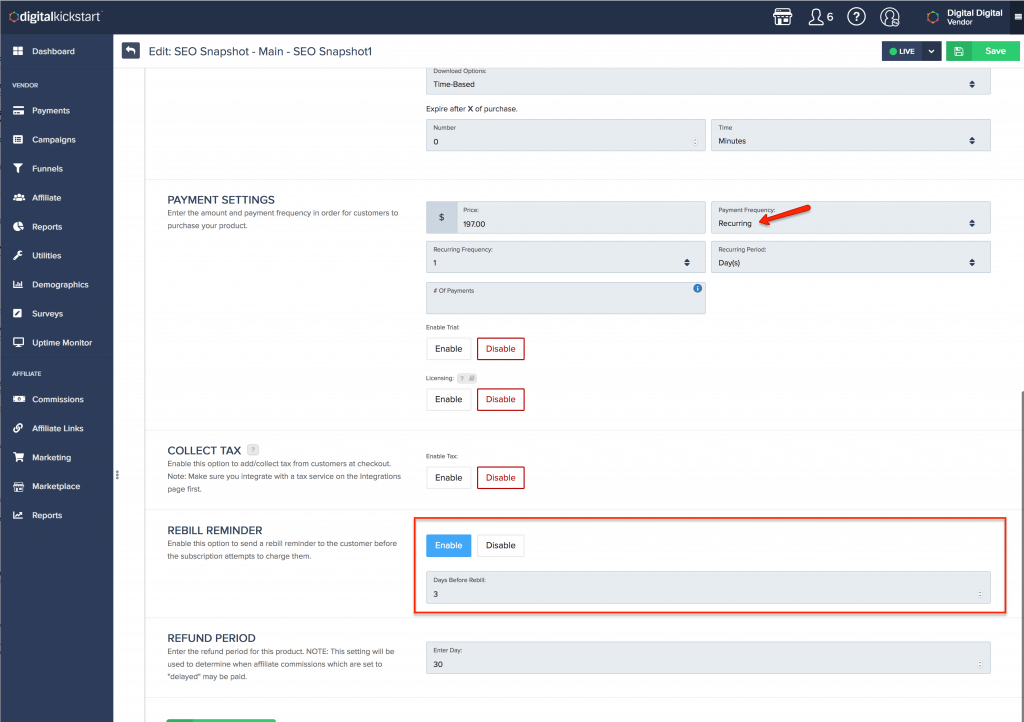 2.3. Up Your Customer Support Game
When customer retention is more important than ever, an effective and professional customer support team can make or break a business. But it is not easy, especially in this day and age.
This year, when most SaaS teams are moving to work from home due to Covid spread, managing work is more challenging than it ever was.
If you haven't yet started creating your team management toolkit yet, you are already behind. Online employee scheduling tools as well as business management software is a good place to start.
3. Priorities Are Shifting and So Does The Value Proposition
As the global economy is taking an unprecedented hit, it can be really hard – if not impossible – to tell where it is going. In these times of uncertainty, your customers' priorities may be shifting.
For example, instead of being eager to invest into long-term marketing, they may prefer to invest into quick gains to make up for lost revenue now.
Survey your customers to better understand what they are up to and adjust your value proposition accordingly.
PayKickstart helps you scale customer surveying with the "Automated Surveys" feature allowing you to set up custom questionnaires based on the performed action. For example, you can prompt customers to fill in a quick survey once they purchase something on your site or request a cancellation.
You can also set when you want that survey to be emailed, as well as add questions and customize its look and feel.
Conclusion
There's no single answer as to how much SaaS and subscription businesses have been affected by COVID-19 pandemic. After all, all SaaS businesses are different and they are feeling it in different ways. In fact, we've seen a few SaaS platforms really winning it (let's not forget about Zoom and Slack, to name the few).
And yet, this crisis has forever changed the world's economy in general – and the SaaS sector in particular. So if you were waiting for this critical situation to be over, don't get your hopes too high! The world and the SaaS business will never be the same, so it is time to innovate. Good luck!
Ann Smarty is the Brand Manager at Internet Marketing Ninjas, as well as co-founder of Viral Content Bee. Ann has been into Internet Marketing for over a decade, she is the former Editor-in-Chief of Search Engine Journal and contributor to prominent search and social blogs including Small Biz Trends and Mashable. Ann is also the frequent speaker at Pubcon and the host of a weekly Twitter chat #vcbuzz