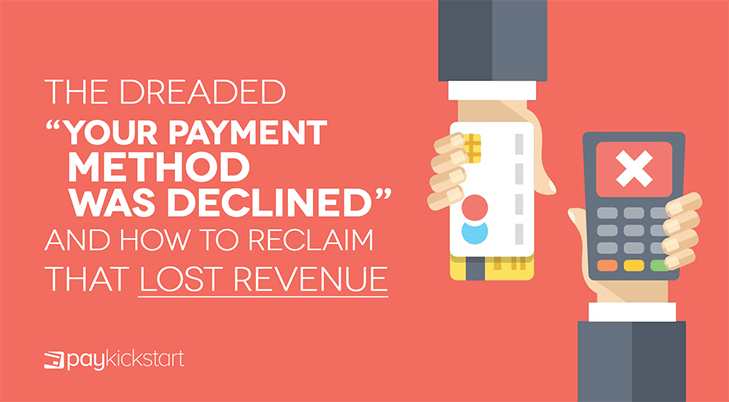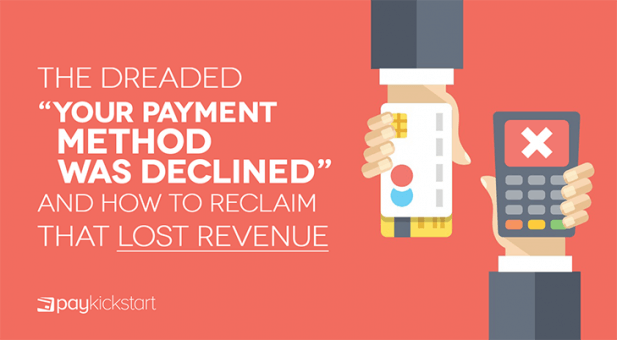 No one dreads "your payment is decline" more than a customer… except perhaps the business itself. If you run an ecommerce store, declined payments are just as big a problem for you as they are for the customer. Every time a payment is declined, you may end up losing a sale, and thus revenues.
More processed payments means higher revenues!
Fortunately, there are some steps you can take to reduce the risk of declined payments. And if you use the PayKickstart shopping cart, there are some tools you can use to recover lost sales as well. Let's take a look at both how you can avoid declined payments and how you can recover them.
First, Make Sure You Accept Multiple Types of Payments
As soon as a customer's payment method is declined, they should have quick access to other types of payment. Maybe a customer's credit card has been hacked and the customer's bank has turned their card off. Or maybe something's wrong on the bank's end? By giving customers other payment options, you can encourage them to complete the order.
Accept multiple types of payments!
If a customer can use Paypal, for example, they may still be able to check out. So long as the customer has money on their Paypal account, they should be fine. Even if they don't have a Paypal credit card, if they have enough money in their balance, they'll be able to complete their purchase.
Make sure you accept multiple types of credit cards/debit cards, as well as alternative payment options. Square, Stripe, PayPal, and other payment options will help you diversify and retain customers.
You can also retry the card. Sometimes, a credit card company simply had a temporary hold on the card. Simply by retrying the same card, you may be able to process the payment and thus complete the order.
Make Sure You Use an Automatic Updater
Another way to recover lost revenue is to sign up for an automatic updater service through Visa, Mastercard, or Discover. Many customers change their credit card number each year. Maybe they lost their card or perhaps it expired or whatever. Traditionally, they'd have to plug in their new number to each platform they're paying on.
Visa and Mastercard both offer automatic updaters.
However, with automatic updater programs offered by some credit card companies, all of this will happen automatically. For companies and customers alike, automatic updaters prevent problems with completing orders.
If you notice a card on file is about to expire, you can also be proactive and send the customer a message, letting them know that they'll need to update their number. This is called a "pre-dunning" message. If they're already signed up for automatic updates, neither you nor the customer will have to worry about it.
Send a "Dunning" Message
Let's assume that you already have an automatic updater in place and the payment is still declined. At this point, something is probably wrong with the payment method. If you followed the above advice and offer alternatives, the customer may be able to complete the purchase with another payment method. Let's assume, however, that the order is not completed.
So what's next? You can send a "dunning" message to the customer, letting them know that the purchase is not completed. With a good shopping cart, the items they wanted to purchase will still be waiting for them and they can simply complete the order.
An example of a dunning message.
By sending a message through email or text, you may be able to nudge the customer to complete the purchase. In many cases, payment processors themselves will send a dunning email, letting the customer know that their purchase hasn't been completed. As a business owner, you can simply sit back and hope that the purchase is completed. If so, the payment will no longer be declined!
If that doesn't work and the order is still going uncompleted, you can craft your own dunning email to nudge the customer. Make sure you put together a clear subject line letting them know that their order hasn't been completed and that they will need to enter a new payment method to complete it. Be very polite, if you're rude you'll likely chase the customer away.
When and how often should you send dunning emails? You'll want to test to see what works best. However, sending one email within a few hours of the declined payment is smart. This way, the order will still be fresh on their mind. You can send another email a few days later in case they forget, and then perhaps another one 10 days after the payment was initially declined.
Use PayKickstart's Subscription Saver
We've found payment issues to be a particular threat to SaaS companies. If you lose an order on a one-off purchase, you may not be losing much. However, if you lose a subscription due to payment issues, you could miss out on hundreds or even thousands of dollars in revenues! That's why we've built a dunning program into our shopping cart specifically for SaaS companies.
Our subscription saver can be set up to automatically message customers who have subscribed to your services and who have their payment declined. The automatic dunning program is highly customizable, so you'll be able to craft messages that match your brand.
Rebill payments often fail to process not because the client wants to unsubscribe but instead because the card has expired, corporate spending limits have been reached, or other issues. Often, a simple reminder is enough to get the customer to update their payment details and complete the order.
During one two month period, our subscription saver helped customers save nearly $200,000 dollars! During this period, over 22 percent of subscriptions were saved, with just over 2,000 of 9,094 subscriptions ultimately being renewed.
Conclusion: Save Orders and Increase Revenues
So what's the take away from all of this? Declined payments are a big issue for customers and businesses alike. However, by following the above steps, you should be able to get many customers to complete their orders. This way, they get the desired products and services, and you increase your revenues.