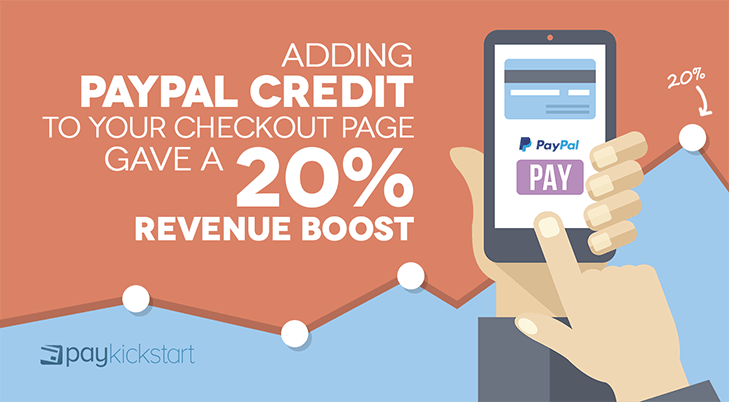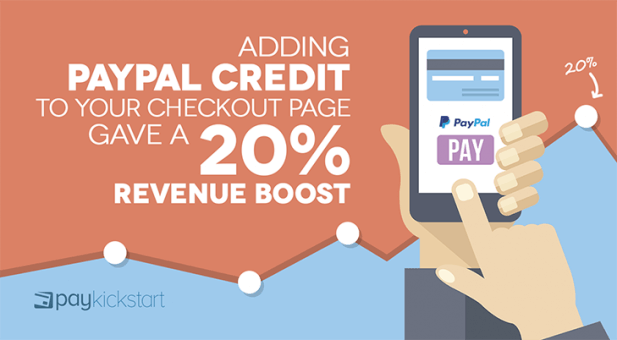 PayPal is one the most popular online payment methods in the world, and for ecommerce stores, is becoming quite ubiquitous. Customers can use PayPal credit or an account balance to make payments.

If your ecommerce store doesn't support PayPal, you may be losing out on sales and customers. That's why we're going to go over how PayPal works and how you can enable PayPal credit and balance payments on your checkout page.

Before jumping into PayPal, I want to stress how important it is to provide multiple payment options and to make the entire checkout process as easy as possible. You don't want your customers to have to jump through hoops simply to make a payment. Instead, you want to make checkout as quick and hassle-free as possible.

Multiple payment options will make the check out process more accessible for more customers. If a customer's credit card is declined but they have PayPal credit or an account balance, they'll still be able to checkout. Further, many customers will simply prefer to use PayPal because it's very easy to use.

In fact, PayPal is the third most preferred payment method, with 12 percent of customers identifying it as their top choice. 48 percent prefer credit cards, while 28 percent prefer debit cards. Still 12 percent of potential customers is nothing to snuff at, so make sure you keep them in mind.

PayPal is a popular payment method.

https://www.tsys.com/Assets/TSYS/downloads/rs_2017-us-consumer-payment-study.pdf (Page 20)

PayPal is especially important if you target younger purchasers. 32 percent of millennials use PayPal and 25 percent of them prefer to use it over other methods. So how do PayPal credit and balance payments actually work? Let's dig in.

How Does PayPal Work?
PayPal is an online payment processor and in some ways acts like a bank. Customers can set up a PayPal account where they can store funds. However, PayPal does not pay interest whereas most banks do.

While this particle is about PayPal credit, PayPal is perhaps most well known for balance payments. Customers can keep a balance of funds in their account. Then, when they go to check out, they will transfer part of that balance to the retailer. The money is sent instantly.

Customers can also set up PayPal credit. If they do so, PayPal will give the user a revolving line of credit that they can use to make purchases. In practice, PayPal credit works like a credit card, but users can manage their account right through PayPal.

PaPal Credit offers easy payment over time for customers.
Customers can also opt to use PayPal to conduct a transfer from their bank account to the seller. Or they can apply for and use a PayPal credit card offered by Mastercard. PayPal can also process other credit cards and debit cards.

There Are Some Downsides to PayPal
Given the plethora of payment options, you might wonder why you don't simply accept PayPal and PayPal only? If you wanted to do so, you could install a PayPal payment button directly onto your website.

However, there are some drawbacks. First, only about 277 million people globally are registered for PayPal. Remember, even among millennials, only 32 percent use PayPal. So by limiting yourself to PayPal, you're limiting yourself to a much smaller number of potential customers.

Find more statistics at
Statista
Second, PayPal's fees can be relatively expensive. PayPal usually takes 2.9 percent plus 30 cents for each transaction. Some payment processors, such as Easy Pay Direct, offer lower fees. PayKickstart offers an Easy Pay Direct integration.

Still, PayPal is a popular online payment method and while you shouldn't limit yourself to PayPal, you should offer it as an option. Let's look at how you can quickly enable PayPal payments.

Adding PayPal Credit to Your Shopping Cart
If you want to add PayPal, including PayPal credit, to your checkout page you can use a compatible shopping cart. Some shopping carts, such as PayKickstart, work with PayPal. However, some shopping carts may not accept PayPal. Make sure you do your research.

Once you find a shopping cart that integrates with PayPal, you need to follow the procedures for the individual cart to enable PayPal credit and balance payments. At least with PayKickstart, doing so is relatively straightforward.

– First, log in to your PayKickstart account. Then, click on the hamburger menu and find the "integrations" link:

– Next, find the payment integrations tab and then click on the "add a payment gateway" button.

– Now, a popup menu will appear. Selection "PayPal" from the list. There will be two PayPal options. We recommend PayPal (Beta) as it's the more advanced integration.

From here, you will setup your PayPal account. You will choose a display name and base currency, and then be taken to PayPal to finish the integration. Once you're done on PayPal's end, you'll be redirected to PayKickstart.

Then from inside your product settings, you simply enable the PayPal Credit option and select the design of the button that will display on your checkout page.
Adding PayPal Credit in a Few Clicks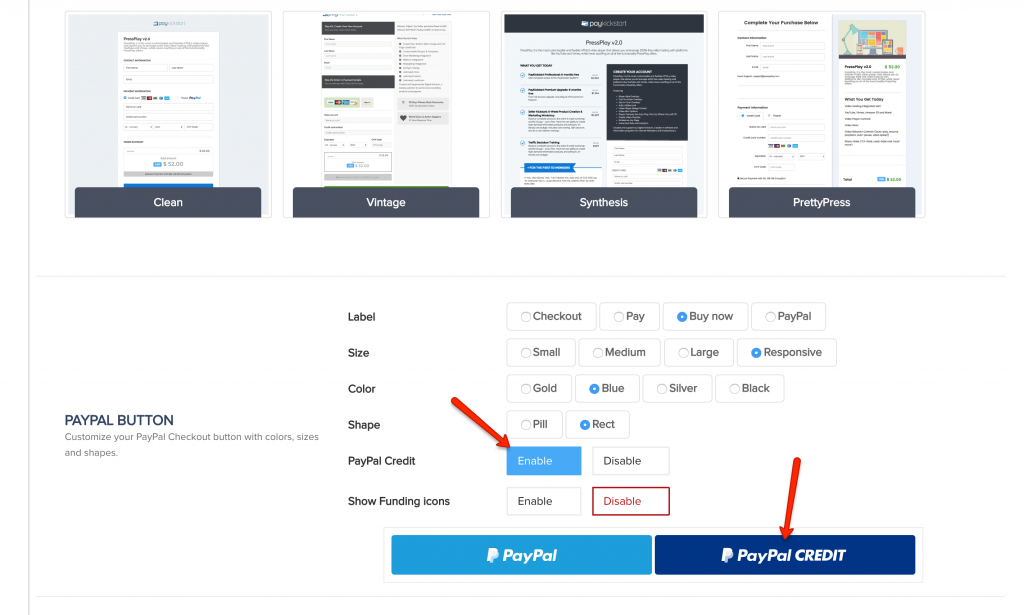 It would look something like this and allow the customer to checkout using their PayPal Credit.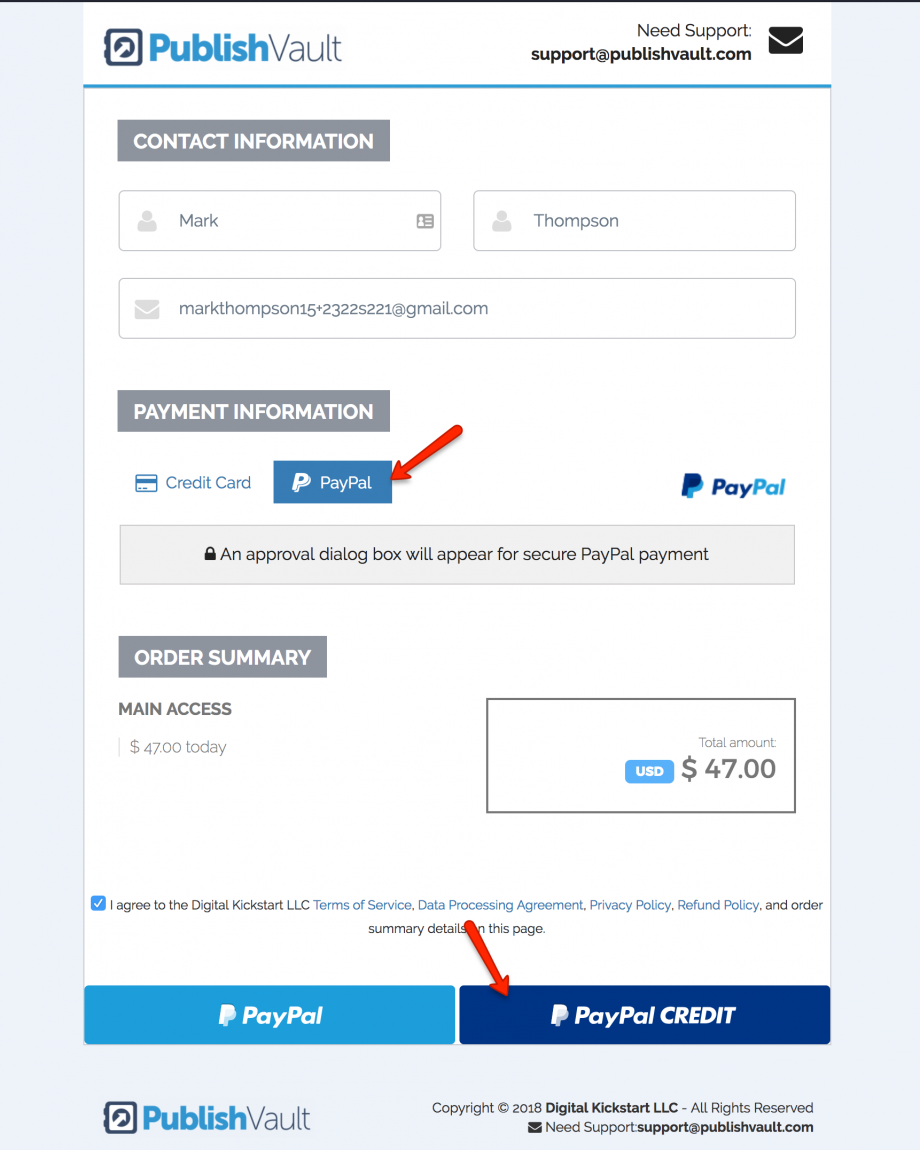 If you're using a different shopping cart, you will have to figure out how to integrate PayPal. Also, PayPal does offer HTML integrations through which you can directly add a PayPal button to your site. Once users click on this button, they'll be taken to PayPal's website to complete the purchase.

Keep in mind, however, that this adds more steps to the checkout process. At PayKickstart, we've found that the more steps you add, the more likely users are to abandon the shopping cart. With shopping cart abandonment rates reaching as high as 80 percent, it's important to reduce abandonment. You can do that with a simple, easy to use shopping cart.

20% Revenue Bump or More?
If you are selling high-ticket, like a $2,000 software license or $5000/mo coaching services, PayPal Credit can be a fantastic way to get that percentage of customers who want your product or service, however need financial assistance.
That's why PayPal Credit is so important!
Our sister company, Digital Kickstart has an offer that they sell on webinars for a one-time payment of $997. During the webinar, there was only the normal PayPal option at checkout. However during the 48 hour webinar replay sequence, they opened up a PayPal Credit option, essentially allowing the customer to receive the product immediately (and the vendor receiving their money instantly), with no-interest for a full 12 months – providing an instead 20% revenue boost from that one offer.

Take-Away: PayPal is Great and With PayKickstart It's Easy to Integrate
PayPal is a popular payment method preferred by many. Both PayPal credit and balance payments offer customers a second option should their other credit or debit cards be declined. As such, we recommend integrating PayPal directly into your shopping cart.

Fortunately, with PayKickstart, enabling PayPal credit payments and balance payments is easy. If you have any further questions regarding how to enable PayPal with PayKickstart, feel free to reach out to us or to check out our knowledge base!