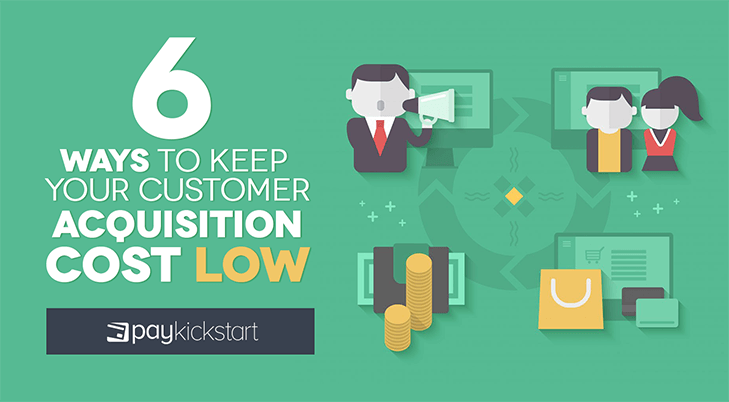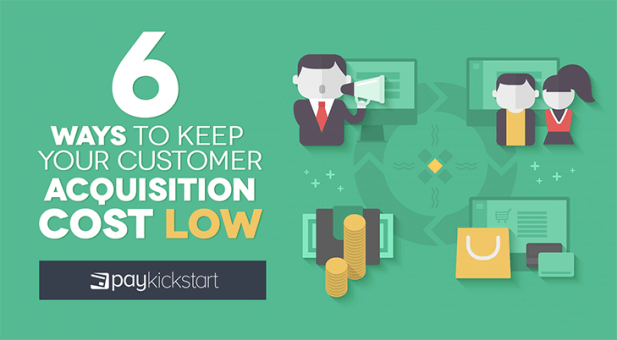 Customer acquisition cost is the amount you spend to attract new customers into your business. This number is so important because it determines if your business is profitable or not.
When it's too high, there isn't enough money left over from your acquisition to support all the other things that are important in your business.
Whether you're paying $10 or $10,000, you'll positively impact your business and profit by reducing your CAC. Even if you're happy with it right now, things may change in the future so it's important to constantly work towards a lower CAC.
In this article, I'll go through 6 strategic ways of lowering your CAC so you can take home more profit from every customer you acquire.
Improve conversion rates on key pages
There are tons of ways to improve your conversion rates and going through all of them would require a 500-page book.
Instead of that, there are a few high-impact areas which you should focus on at first.
Your presell flow. What kind of content does your potential customer interact with before they get to your sales page? If there's a mismatch between what you say there and what they experience on the page, your conversion rates will be negatively impacted.
Powerful risk reversal. This is especially important online. There are tons of risks when anyone makes a purchase so let them know they're protected. Money back guarantees, a generous return policy, and trust/security signs help reduce the risk associated with buying from you.
Urgency. If your products lend themselves to urgency then don't be afraid to use it. There are different types of urgency which can be combined with scarcity.
Here's an example of scarcity (which also creates urgency) from Walmart.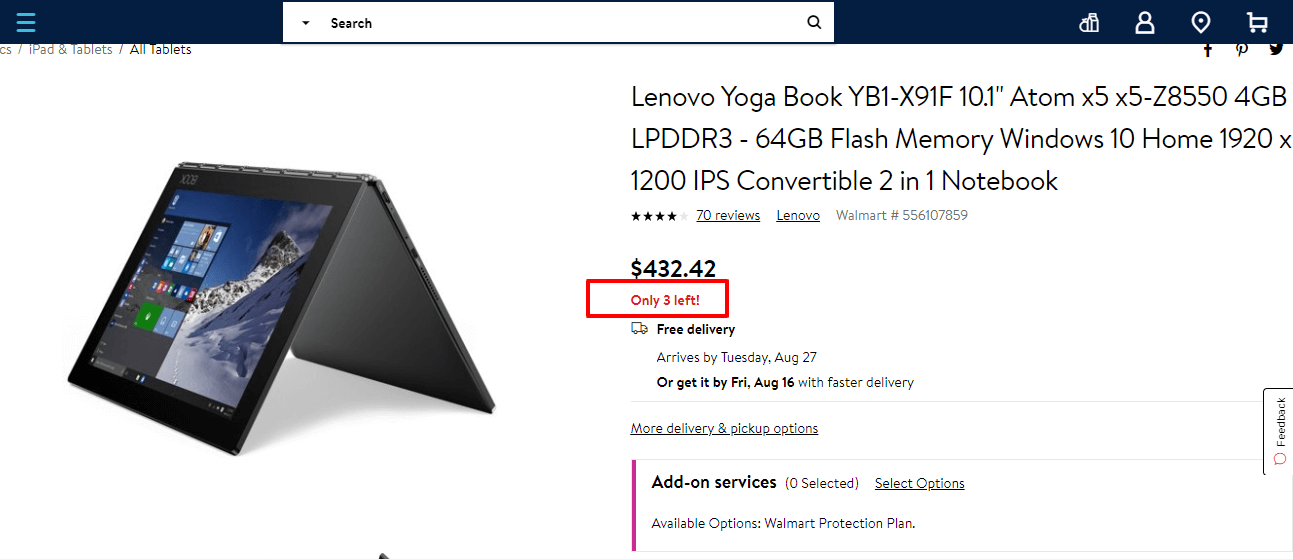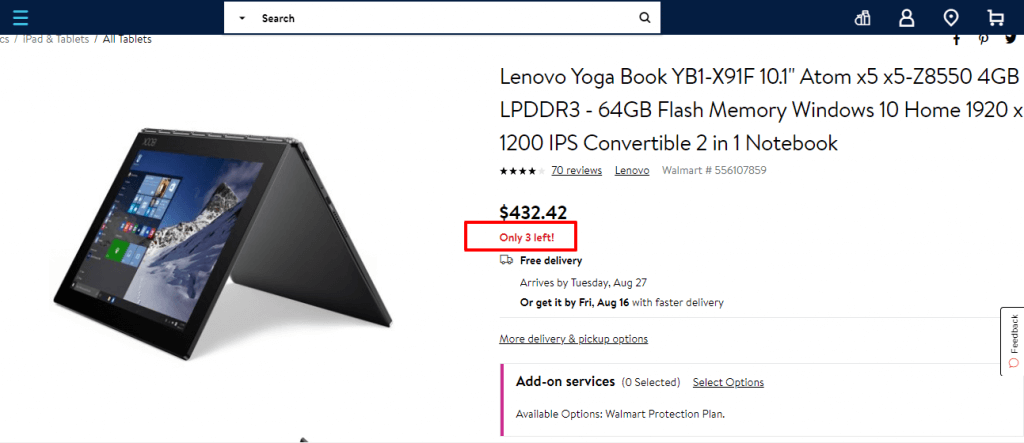 Promote better offers
Many entrepreneurs have no idea how important the offer itself is. Apart from targeting the right people, the offer you present can have the biggest impact on your sales conversions which in turn will reduce your CAC.
You don't have to change your marketing, your advertising budget, or your branding to improve your results. All you need is a better offer.
I'm not talking about the price alone because that's just part of what makes up your offer. Other things to consider are your payment terms, the bonuses, features, risk reversal, etc.
Look around your market. What's the length of the money back guarantee? Can you make yours better? What kind of payment terms is everyone else offering? If they spread it out over six months can you spread it out over 12 months?
Retarget people who visited key pages
There are countless ways to retarget the people who visited your website. You can show offers to people who read your blog. You can push for the email of people who visited specific landing pages and more.
Once they've signed up, you can then send a tailored follow-up email sequence. There, you can present offers in line with what they initially looked at or interacted with.
The highest impact thing you can do with your retargeting campaigns is to focus on the people who visited your checkout page or added items to the cart. This usually shows high intent but they may have run into one of the common cart abandonment reasons like unexpected shipping costs.
Create retargeting ads that show the product they were about to purchase and give them an incentive to come back and complete the purchase.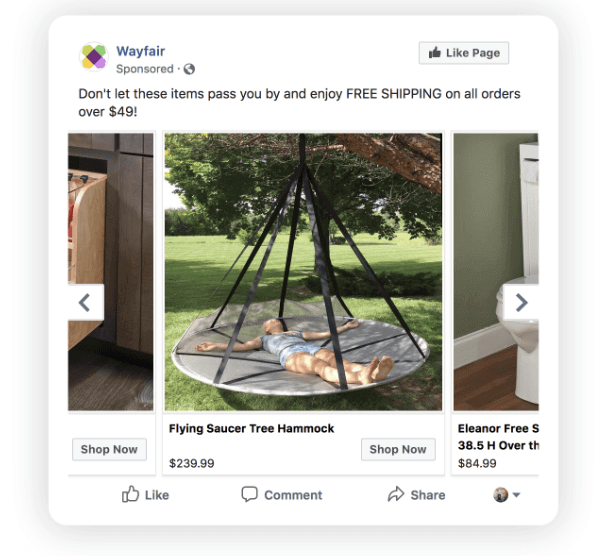 This example from Wayfair reinforces the ability to get free shipping and shows its products in action. A certain percentage of people will click through so all your effort spent getting people to your page in the first place won't be wasted.
Clarify your customer avatar
Your target customer is everything.
Your products should speak to your customers and no one else. When you're not speaking to them clearly then they can get confused about whether or not your products are for them.
This results in a lower conversion rate and increased CAC.
There's a simple way to further refine your customer avatar. It may not be the easiest thing but it's worth it.
I'm talking about performing customer interviews to better understand who your customers are and the problem they're using your products to solve.
A great book for this methodology is When Coffee And Kale Compete by Alan Klement. There's a free ebook available on the web.
Conversely, if interviews aren't possible based on your situation, you can also focus on running surveys. You'll need to collect more responses because surveys lack an interactive element and many people will give short answers.
You should focus on both open-ended, closed-ended, and scaled measurement answers to get a holistic view of your respondents. When you're done, use the data you gain to further refine your customer avatar.
Referral and affiliate programs
What better way to improve your CAC than to get other people to do the work for you. Both affiliates and referral partners are a tried and tested way to get more customers through the door without direct spending.
With that being said, it's important to understand the numbers in your business such as CLTV (customer lifetime value) so you can give a commission that's competitive but still makes sense for you.
Another thing to consider is whether or not the commission you give is recurring or a one-off fee. With the PayKickstart affiliate features, you can take advantage of both recurring, one-off, and product-specific commissions for your affiliates and referral partners.
If you have a longer sales cycle that may not be attractive to affiliates, it may be a good idea to pay them for every qualified lead they generate. Whatever route you choose, it can go a long way towards reducing your customer acquisition costs.
Articulate a differentiation device
This is a much more difficult way to reduce CAC but it's also one of the most powerful. Not only will it help you reduce your customer acquisition costs, but it can also help you stand out in very competitive markets.
A differentiation device, like the name implies, is something that helps you position yourself as unique in a crowded market. More than that, it makes your prospects pay attention and gives them hope that your solution will be different.
An example of this concept is the home workout program called P90X. In the early 2000's it was launched in a crowded market and their prospects ignored them. The company struggled to gain traction and lost money on 14 infomercials.
It then came up with a differentiation device known as muscle confusion (you can read more about muscle confusion here). In essence, it gave people hope that this workout program was different and they could see results.
Over the course of the next decade, P90X amassed 23,000,000 customers and the parent company cracked a billion dollars in sales.
Conclusion
Your customer acquisition cost is one of the most important metrics in your business. It determines how much you can expect to profit when you acquire a new customer and which channels will work for you.
The lower this number is, the better.
This article has gone through 6 effective ways to reduce your CAC and, in turn, create a more profitable business. Choose one to focus on first and see how it works in your business. 'Once you have implemented it successfully, move on to the next one until you've worked your way through the list.
Let me know how you're reducing customer acquisition costs in the comments and don't forget to share.
Daniel Ndukwu is a regular contributor to the PayKickstart blog. He has extensive experience with online businesses, conversion optimization, and subscription revenue models. When he's not writing insightful content, he works with other entrepreneurs to help them grow their bottom line.