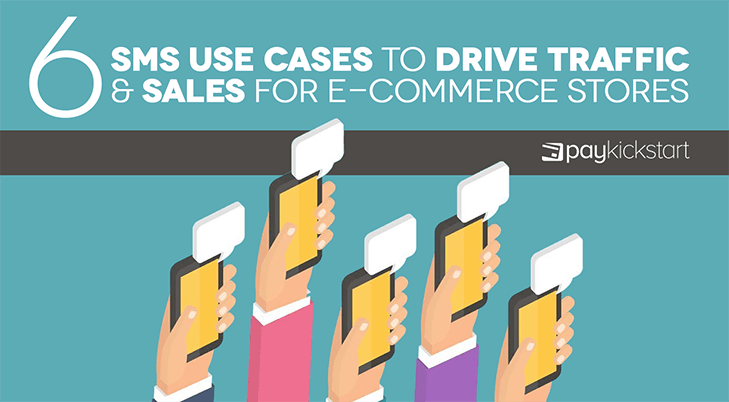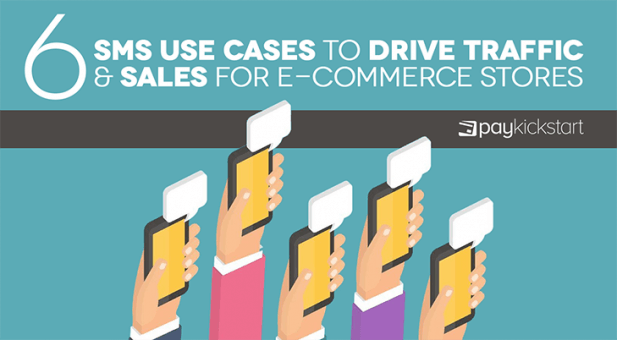 Text messaging is one of the most effective and often overlooked methods of driving traffic to your e-commerce store. A study by Hubspot found that 61% of businesses struggled with generating and leads in 2018. But only 39% of used some form of texting to talk to their customers.
One of the biggest benefits of using text messaging is its very high open rate. Research has shown that text messages have a 98% open rate. That makes it more likely to be read than any other form of marketing message. This makes SMS a very effective method of keeping existing customers engaged with your business and offering additional convenience over your competition.
If you want to increase traffic to your store, you can't afford to ignore the numerous applications of SMS marketing. These 6 uses of text messaging will help bring more customers to your store, and increase your sales.
1. Send notifications and reminders
One of the most obvious applications of SMS marketing involves sending notifications and reminders to customers. For this to work smoothly, make sure your SMS app offers easy integrations with your other marketing and sales tools. There are many potential uses for this to drive your traffic and sales, so here are a few examples:
Order and delivery confirmation
The wait for a new purchase to arrive is more frustrating for customers when they don't know how their order is progressing. Sending automated order updates via SMS is an added convenience for busy customers, who no longer need to log in and navigate your site to check their order status, and also give the customer a last chance to spot any mistakes on their order or delivery information.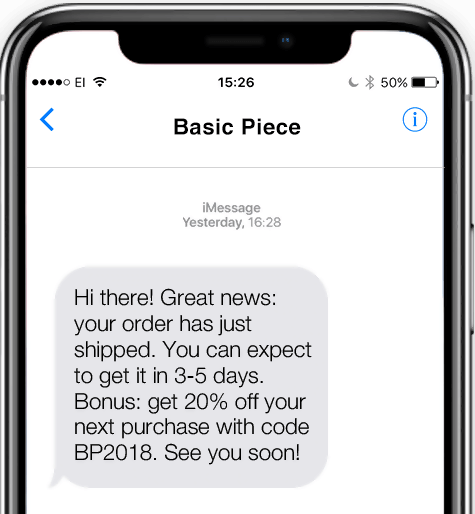 Wishlist updates
Is an item on your customer's wishlist currently on sale, about to run out of stock, or back in stock again? Send them a text before it's too late! The average text message is opened within just a few minutes of being sent, making it the best way to ensure your customers don't miss out on a deal.
Repeat purchase reminders
If your customer has bought something they will need to repurchase on a regular basis, you can use SMS to remind them each month to order again before their product runs out. For example, let's say you're the owner of an online pet store. You know your customers will always need to buy food for their pet. You could send a reminder every month when they're almost out of pet food with a link to their preferred brand. Your customers will be more than happy to receive this reminder because it will save them time, and you will also benefit from increased recurring sales and traffic to your store.
2. Purchase Follow-Up Messages
In addition to notifying customers that their order has been confirmed or shipped, there are also benefits to texting your customers after they have purchased and received your product. This shows customers you care by proactively approaching them to make sure they are happy with their purchase. By sending follow-up texts, you can quickly identify and address any issues or disappointments they might be having before they decide not to use your business again.
Besides their value in customer service, follow-up texts can also help you spot opportunities to sell customers related products, upgrades or recurring orders. For example, if a customer buys a bicycle from your online store, a text with links reminding them they can also buy spare parts and repair kits from you will increase your chance of an additional sale when a customer decides they need those extras. This also adds convenience for your customers, since they can rely on your expertise to recommend the right products to support their original purchase.
3. Deliver time-sensitive promotions
Want a quick boost in traffic and sales? Flash sales are the way to go. Studies show flash sales can generate a 35% lift in sales over a very short period. Text messaging is an especially effective way to announce a flash sale, as its rapid response rate means you can use very brief flash sales and your customers will still read your text before the sale is over. On average, it takes just 90 seconds to get a response from a text message.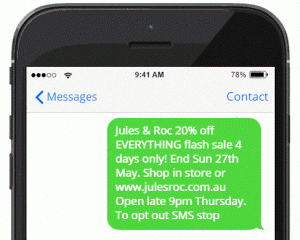 Another benefit of running a flash sale is that it can lead to more sales down the line. A customer may visit your store to claim their discount, but end up buying extra items that aren't on sale. This can help increase your sales volumes and profits during slow periods. After introducing an SMS campaign offering discounts to existing customers, Seattle Sun Tan found that the customers who opted into the marketing were spending an average of 500% more than other customers!
Here are some tips for running successful flash sales:
Offer significant savings and discounts to make your flash sales stand out
Keep your messages and instructions simple so customers can take advantage of your deals with ease
Make sure your flash sales are relevant to your target market.
Keep the time frame as short as possible. This will create a sense of urgency.
Use several channels such as social media, and SEO to promote your flash sales.
4. Cart Recovery
Even if you have a great website and offer, there will still be a percentage of customers who won't buy anything. For every 100 potential buyers on your site, almost 70 will leave before making a purchase. Improving the convenience and functionality of shopping carts should be a top priority for ecommerce stores.
Often, this is simply due to your user getting distracted and forgetting to complete the purchase. Cart recovery messages can easily win back your customers before their interest in the purchase diminishes. And it can also be a powerful tool for improving customer retention and traffic to your site.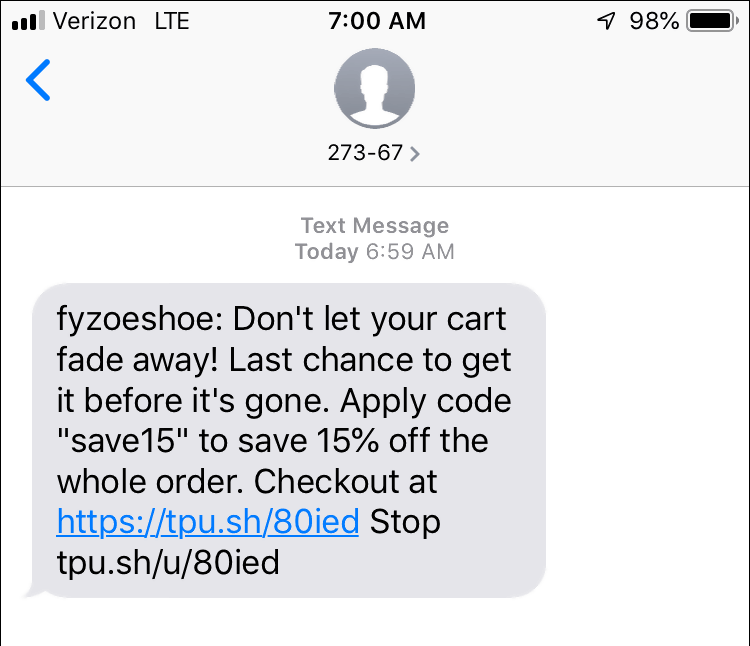 Health and beauty store Noc Solutions was able to make 485 additional sales in a 6-month period thanks to their cart recovery texts, generating $38,800 in revenue that would otherwise have been lost.
Keep in mind that SMS recovery messages won't work in every situation. They are best suited for low price, commodity products with few options. If you're selling a high ticket item, you will see better results by following up with a phone call or email.
5. Customer Referrals
SMS marketing in ecommerce is not just a matter of businesses messaging your customers to generate sales. It can also generate sales by enabling customers to text each other referral links and promotions.
By giving customers discounts to share with their friends and offering incentives for bringing new customers to your business through SMS referral links, you can significantly increase sales via word of mouth marketing. The average consumer is more than four times as likely to buy when they are referred by a friend.
6. Collect User Feedback
Text messages are also great for collecting user feedback from customers. User feedback is valuable for any business because it lets you know what you're doing right or wrong. Here are a few other reasons why you should always be collecting feedback:
Create better products. When you collect feedback, you can know which products to keep or remove from your store. This can help you save costs and improve your profits in the long run. Additionally, it can provide invaluable information to redesign or update your product, making it appeal to more customers.
Improve customer satisfaction. Collecting feedback will help you keep your customers happy. Customers often don't complain about all but the biggest issues. That means unless you proactively request feedback, minor annoyances might never be brought to your attention. By asking the right questions, you can improve your customer service and NPS metric.

Let customers know you care. Customers always appreciate it when you ask about their opinions. It shows that you value them and it can also help increase word-of-mouth marketing. Bohemian Guitars increased their sales by 98% simply by enabling customer service interactions via SMS.
In a competitive industry like e-commerce, there's no room for guesses. That's why the most successful companies gather as much feedback as they can. It helps them develop better business and marketing strategies and adapt to customer needs.
While there are many ways to collect user feedback, text messaging is one of the most effective. You can set up a text campaign to ask your first-time buyers about their shopping experience. Or create another campaign to ask shoppers to rate your customer service.
The key to creating a successful user feedback campaign is to keep your questions short. Simple multiple choice questions are more likely to get a response, and can generate easily quantifiable data from a large number of customers quickly. Finally, make sure you take action on the feedback. Doing so will not only lead to happier customers, but it will also increase your site's traffic.
Final Thoughts on Text Messaging
As you can see, text messaging has the ability to transform your site if you know how to use it. Many ecommerce brands have found success using the strategies covered in this article. There's no reason why you can't be the next.
Alexa Lemzy is responsible for content creation and promotion at TextMagic – a mass text messaging service. When she's not working on a new piece of content, you can find her buying the latest science-fiction novel at the nearest bookstore.