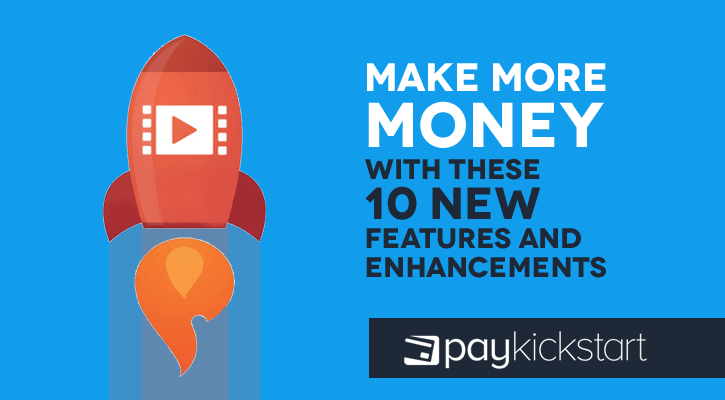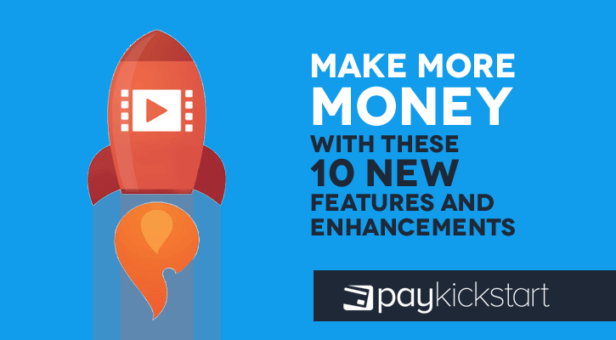 We launched just 1 month ago, and PayKickstart is quickly growing and scaling, not only the number of new people using PK to sell their products online, but more importantly the new features and updates we're making available to YOU to help you sell even MORE products!
Our main goal is to make PayKickstart the fastest, easiest, and best shopping cart online for you.
The more we listen to and implement the features that our members are requesting, the better it will be for all.  And that's EXACTLY what we're doing.
Our mission is to make YOUR business more money.  And our members are LOVING IT!
So when You ask.  We deliver!
Over the past month, we've put out some amazing new features and enhanced several already-existing ones.
Here are 9+ new features and enhancements we recently rolled out …
1)  New In-Line Checkout Page Editor to Completely Customize the Checkout Process to Match Your Brand.
We've greatly improved the checkout editor, which now allows you to:
Show or Hide nearly ANY element on your checkout page
Change ANY text directly on the preview with our in-line editor
View real-time instant background color changes
Real-Time Buy Button edits including color enhancements and customization
Quick Logo updating
and MORE!
We know how important it is for conversions to have a seamless checkout process that matches the brand of your company or product line.  With deeper customization options for your checkout pages, you'll start to see an INSTANT increase in checkout conversions compared to other outdated platforms.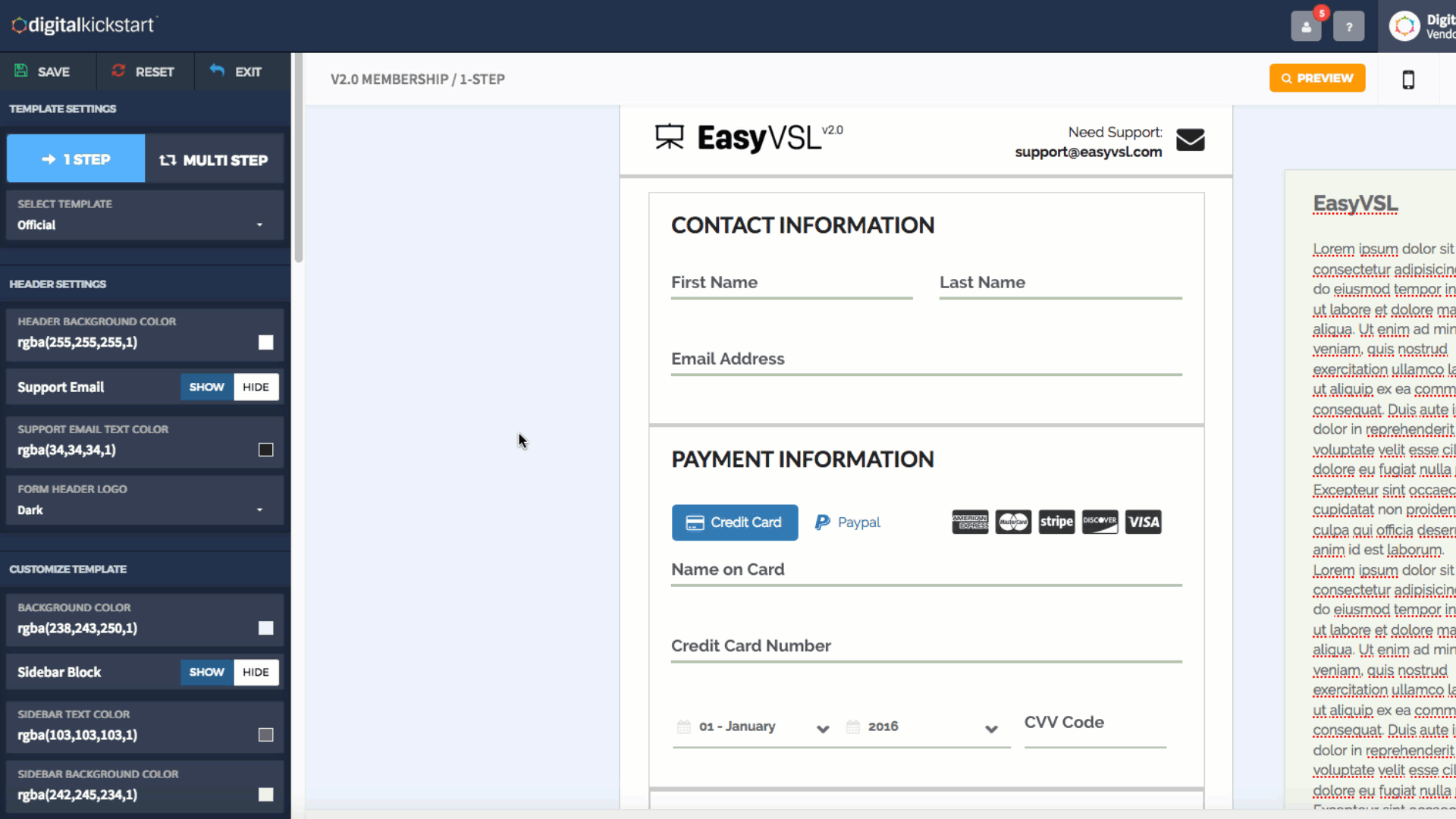 2)  New Customizable Checkout Page Templates
With the enhancement of the checkout editor, we're also pushing out multiple high-converting new checkout pages which include 1-step and 2-step checkout pages.
These work flawlessly with any type of product or price that you're selling.
One Time Payments
Recurring Subscription Payments (with or without trials)
Split Payments (i.e. payment plans like 3 payments of $97)
With or without Setup Fees
Moving forward, we plan to push out at least 3-4 new templates each week, over the next few weeks.  We should have around 16 new templates (or more!) to choose from within the next month.
If there's a specific style of checkout design you would like to see, please let us know here:  http://support.paykickstart.com/requests/
Below are just a few of the most recent checkout page designs… MORE TO COME!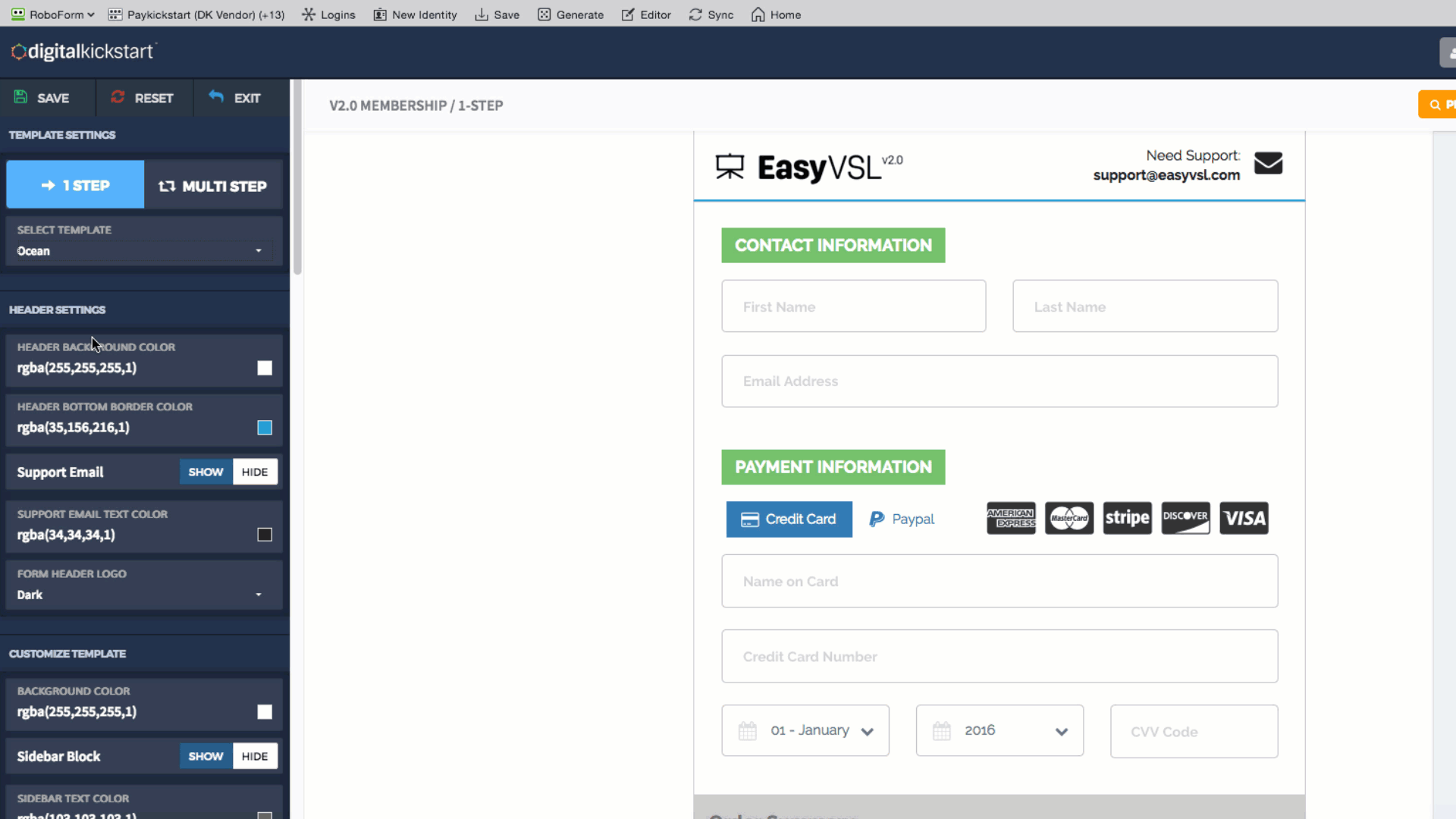 3)  DOUBLE Your Profit Per Customer with Upsells Using Our Enhanced Funnel Builder
Upsells, Downsells, and more…
One of the quickest and EASIEST ways to make more money online is to offer upsells and downfalls in your sales funnel.  Put simply – if you're not using them, you're leaving soooo much money on the table.
In our experience of selling millions of dollars of product online, the single biggest increase in sales for us happened when we started to use upsells.  If you're not using them yet – It's never too late to Start!
Since we know how important funnels are, we have made it dead simple to create them!  With our new funnel builder you can choose multiple products PER offer (frontend, upsell, or downsell).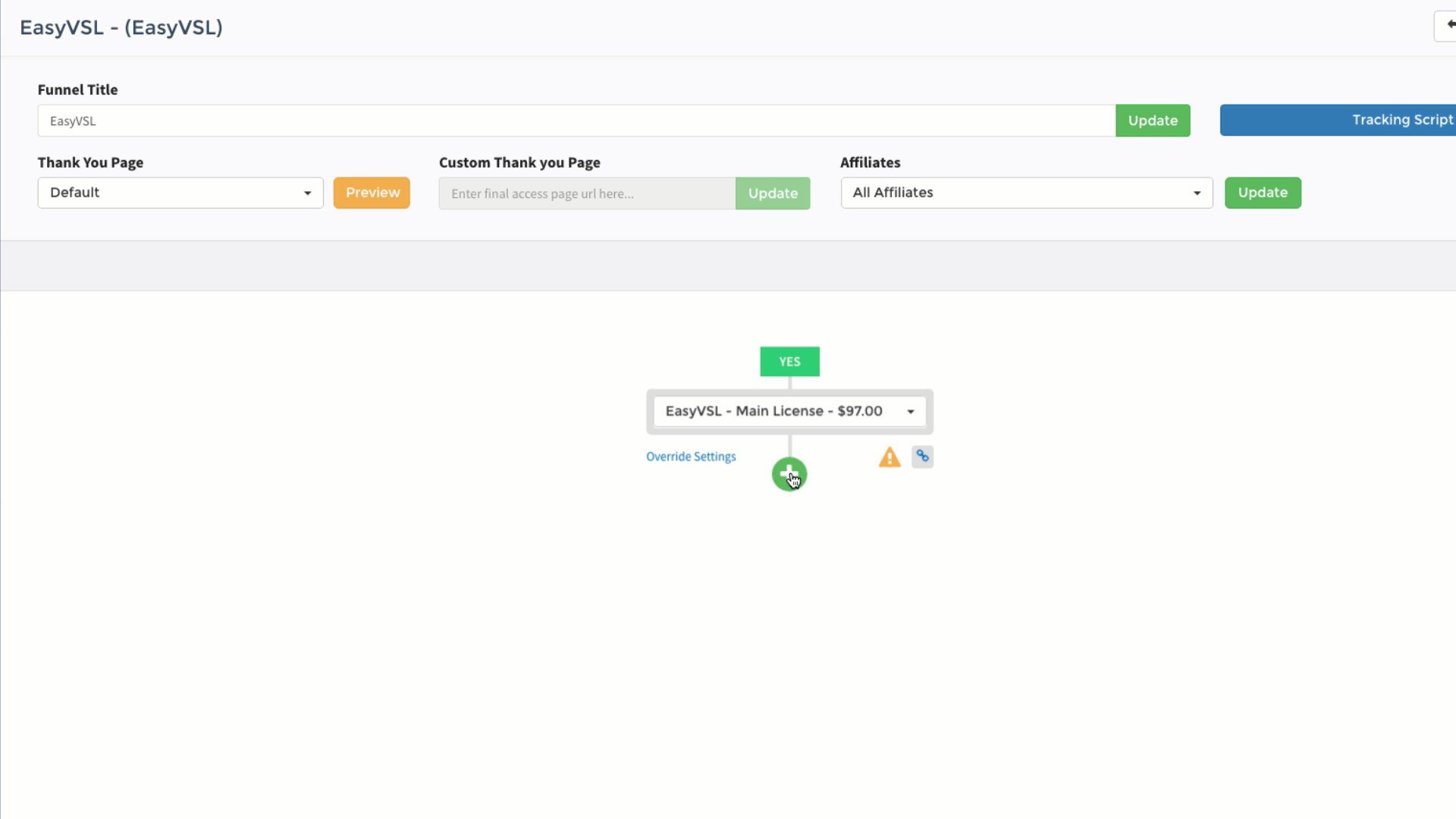 When a customer purchases, we automatically send them to the next offer in your funnel.
The Visual Funnel builder makes it super easy to visualize your entire sales flow no matter how many upsells/downsells you offer!
Want to Create a Private Funnel for a Specific Affiliate (or No Affiliates)?
IT'S EASY with PayKickstart's new funnel builder.
Create a Funnel > Choose All Affiliates, a Specific Affiliate, or even No Affiliates in less than 10 seconds.  🙂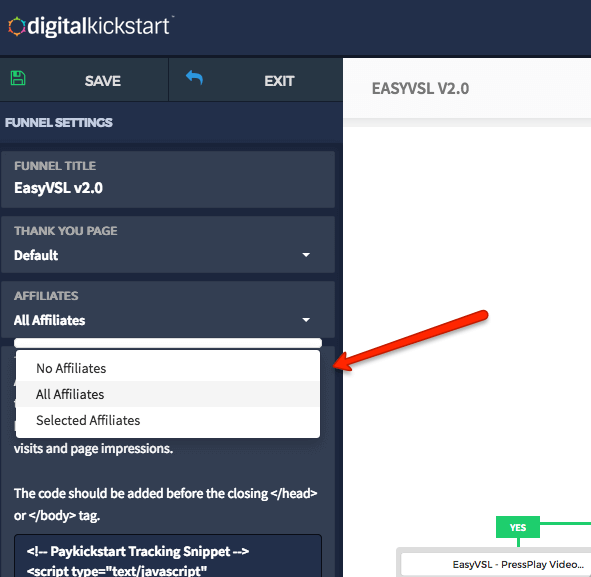 4)  New Checkout Popup Widgets
This one one of our core features in the initial release of PayKickstart for one simple reason…
THEY CONVERT!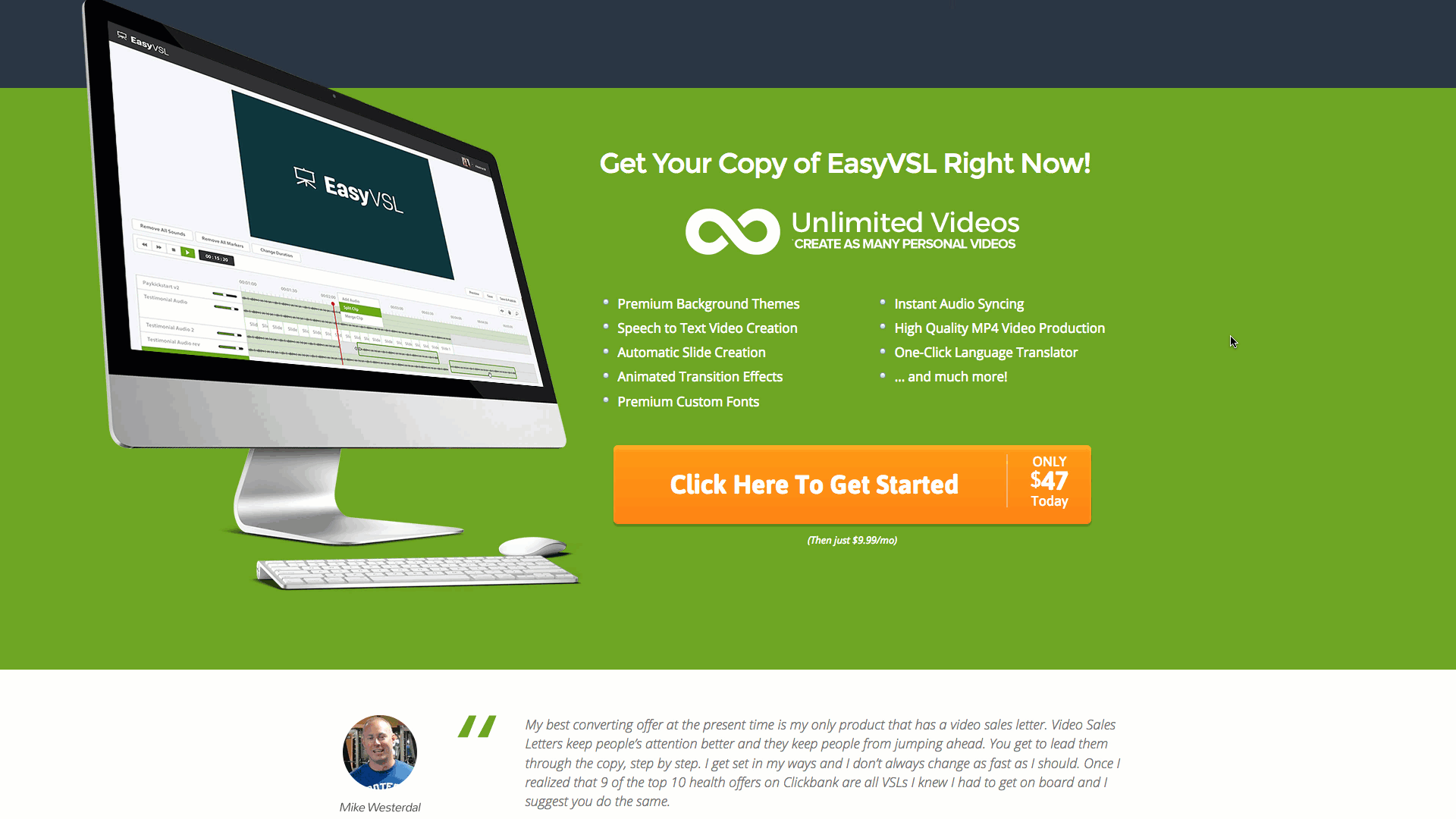 With our last few release updates, we have updated the design templates and made it dead simple to select and embed these on ANY link, button, or image … on ANY website!
It doesn't matter how you build your webpage, if your page builder is "integrated" with PayKickstart or not… you can embed these checkout popup widgets on any webpage.
When someone clicks to buy, a sleek popup will appear for instant purchasing without ever having to leave the sales page.
5)  FreshMember Membership Integration + 9 More Membership Services
You can now seamlessly connect our best-selling FreshMember membership platform with PayKickstart.   When a new customer purchases from you, instantly create their membership, send them login details, and control the membership level right inside your PayKickstart account.
Don't use FreshMember but use a different membership platform?   No problem!  We currently integrate with (as I write this) 9 membership platforms including Wishlist, Freshmen, aMember, Digital Access Pass, Kajabi, Memberful, Member Mouse, Optimize Member, and S2 Member.

6)  New Email Integrations – Now Up to 15 Email Autoresponder Services!
With the addition of Drip to our email integrations, we're closing in on having all major autoresponder services added to PayKickstart.
Use Aweber or GetResponse?  Added.
Active Campaign or Sendlane?  Added.
Ontraport or Infusionsoft?  Done.
And many others!  So now when a customer purchases your product through PayKickstart, you can instantly add them to any autoresponder list.  PLUS, for most of the services, you can also Tag your customer with any custom tag that your autoresponder permits.
This is perfect for segmenting your customers automatically depending on what products they purchased from you!
7)  GoToWebinar and Webinar Jam integration
Now, you can connect your GoToWebinar or Webinar Jam account directly inside of PayKickstart to instantly register a customer to one of your existing webinars.
Want to add a customer to a backend webinar after completing purchase?  Easy enough!  Just connect your Webinar Jam OR GoToWebinar account to PayKickstart, choose the webinar to register them to, and we'll take care of the rest!
8)  Conversion Tracking for Facebook Ads, Google Analytics, and more…
Want to let Facebook, Google Analytics, or any advertising network know when a sale is made so that you can adjust your campaign accordingly?
Or do you want to track conversions externally with any analytics tracking software?
EASY PEEZY!
Now, as a PayKickstart Seller you can drop any tracking scripts immediately following a successful product purchase.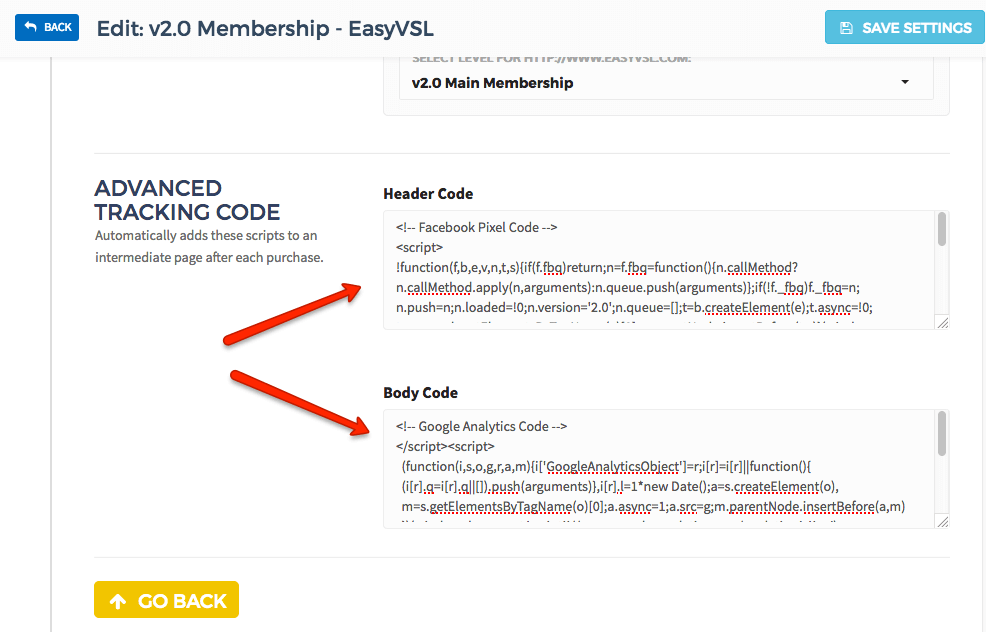 9)  New Ability to Pass Custom Variables to Your Checkout Pages
This isn't necessarily a "sexy" new feature, but it's a very powerful one!
If you don't know what custom variables are – you can probably skim right over this one.  But for those who know – you understand how beneficial this feature update is.
There are an endless number of use-cases for custom variables.
For example, if you're a vendor who sells "Upgrades" or other products from within your members area, we'll pass back the custom variable (or identifier) through our checkout process which will also be sent via our IPN (which will also contain your new custom field).  You can use that to identify which customer purchase that "upgrade" and then credit them immediately.
In short, if you need any custom variables sent back to your scripts following a purchase, you can now do just that!
10)   Custom Thank You Pages and POST Data now available
We give you the option to use our default PayKickstart thank you pages OR choose your own Custom Thank You page.   If you choose a custom thank you page, you can still receive the customer purchase information because we now POST transaction details directly to your thank you pages.
This is extremely important and powerful for product delivery and customization when using a Custom Thank You Page.
Just another user request that PayKickstart has delivered on!  😉
SNEAK PEEK of New Updates COMING VERY SOON!
Coupon Codes
VAT Tax Integration
Checkout Page Automatic Translation
Order Bumps
Are You Ready to Start Making More Money Online?