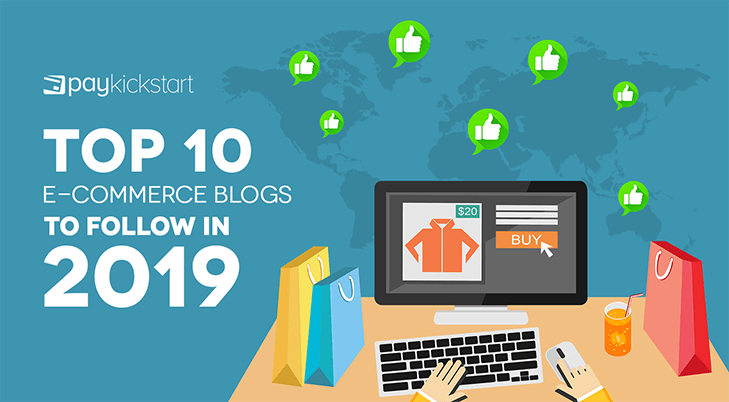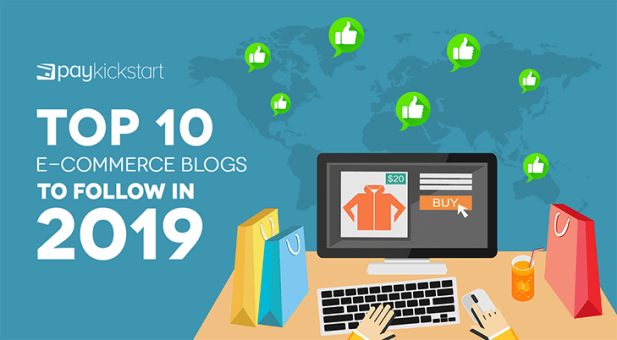 At PayKickstart, we're building one of the best blogs for ecommerce and online shopping, period. Our list of articles is already quite extensive and growing. In the not-so-distant future, you'll be able to check out our blog to learn about a huge range of ecommerce related topics. Whether you want to learn about upselling, user experience, the history of online shopping, or whatever else, we plan to be a one-stop shop for all your ecom needs.

We follow ecommerce news closely ourselves. Doing so has allowed us to better understand our customers giving us all the information we needed to build a shopping cart with many features that our clients love. Among other things, our shopping cart offers upselling tools, secured payment processing, sales funnel support, and more.

There are a ton of great websites that cover ecommerce. From current events to evergreen education, you have a lot of options. We're modeling the PayKickstart blog on some of the best websites out there, so we thought we'd share ten of our favorites.

The National Retail Federation
The National Retail Federation offers a variety of resources, including a regularly updated blog, a weekly Podcast, and various research reports. All of these make for fantastic sources of information. We particularly love digging into their data-driven reports.

While the National Retail Federation focuses on retail in general, not just ecommerce, the organization does provide ecommerce specific insights. Anyone involved in retail should check out the NRF's website from time-to-time in order to stay abreast of the latest developments.

The National Retail Federation notes in its February-March Monthly Economic Review, for example, that retail sales growth fell quite a bit in December, even in spite of a strong labor market and other positive data. Still, there's no need to panic just yet, the report notes, spending still grew by 2.3 percent, year-over-year and consumer sentiments improved in February.

Get Elastic
Get Elastic is an award winning blog that covers a wide range of ecommerce topics. Most of their articles are short and to the point but are packed with information and practical insights. This means you can soak up a lot of information even if you're short on time.

Some interesting articles include "Is Artificial Intelligence (AI) enough for ecommerce fraud management?" and "How to stop wasting resources to improve the customer experience". Even if these don't suit your fancy, you'll likely find other articles that do.

Many of the topics are evergreen, so you can scroll past the latest articles and still learn a ton. If you're new to ecommerce, are struggling, or have specific questions or concerns, you should check out the Get Elastic blog and see if there are relevant articles.

By the way, if you're an ecommerce expert yourself and have some unique insights to share, you can even submit a guest post.

The E-Commerce Times
E-Business means business, as the E-Commerce Times is quick to tell you. There might not be a better free industry journal than the E-Commerce Times, which covers everything from general business topics to security and social media. What makes the E-Commerce Times truly special, however, is that they cover current events, but from the perspective of E-Commerce experts.
We follow the E-Commerce Times so we can stay abreast of the latest industry developments. Doing so helps us understand our customers and their situation better. In turn, we're able to offer a shopping cart solution that matches their needs.

As for E-Commerce entrepreneurs, you'll be able to keep up with the latest developments and can adjust your strategies to tap into trends and to identify gaps in the market. For example, Amazon is having trouble with counterfeit goods, an issue it's trying to address. Smaller ecommerce retailers, however, might be able to tap into the market by offering guaranteed genuine goods.

Neil Patel's Blog
Neil Patel is perhaps the world's foremost digital marketing expert. Patel covers a variety of ecommerce topics on his blog, ranging from how to take the right product photos, to managing social media.

Patel's bread and butter, however, is search engine optimization. If you want to learn about SEO, which is vital for ecommerce retailers, you should listen to what Patel has to say.

By reading through Patel's blog, you'll learn exactly how important SEO is. As Patel will tell you, 75 percent of people will never make it past the first page. That's important, he notes because 93 percent of online experiences start with a search engine.

We love Neil Patel because he recognizes the importance of data. Patel is an advocate of data-driven strategies. At PayKickstart, we've integrated a powerful data analytics platform into our shopping cart because we realize how important data is for ecommerce.

On Patel's blog, you can learn about a huge range of data-related topics, and we recommend you do so.

PayKickstart
Yes, the PayKickstart blog really is one of the best! We have to give props to the websites listed above, as we've been modeling our content and approach based on their strategies. Either way, 0ur blog is still growing, so we expect to move up the list!

While PayKickstart focuses on offering a world-class shopping cart solution, we also want to help our customers craft effective, profitable ecommerce strategies. And since we regularly track the ecommerce industry to stay informed, we love sharing what we learn with our customers.

Even if you don't use the PayKickstart shopping cart, you should make sure to check out our blog regularly.

The Wall Street Journal
Retail is so important that the Wall Street Journal, one of the most prominent news organizations in the world, has an entire section dedicated to retail. We encourage anyone in retail to check out the retail section. It's also smart to keep a close eye on economic indicators, tech news, and other related topics. Fortunately, you can do all of the above at WSJ.com.
The Wall Street Journal follows various general news developments, but more from the perspective of an investor or economist. This helps business decision makers understand the big picture.

Compared to the other websites on this list, the Wall Street Journal doesn't dive as deeply into ecommerce specifically. However, we've found that being aware of larger trends and developments can be immensely helpful.

PracticalEcommerce
PracticalEcommerce focuses primarily on issues that are relevant to smaller ecommerce websites. Not so coincidentally, PayKickstart also focuses on helping SMEs with our shopping cart solution. The articles on PracticalCommerce are great for our clients, so we recommend you check them out.

Consider that conversions are vital for any ecommerce company. One article we particularly like is "8 Micro Conversions to Instill Trust, Obtain Customers". As the article points, building trust is vital for conversions as customers only want to buy from companies they trust.

That's why we make it easy for our clients to integrate security badges and reviews into our shopping cart solution.

A Better Lemonade Stand
No, they don't sell lemonade. However, if you want to sell lemonade (or anything else) online, A Better Lemonade Stand is a great place to start. They offer a wide range of articles, tutorials, checklists, and other resources for aspiring ecommerce entrepreneurs.

For example, if you're looking to launch your new ecommerce website, you should check out A Better Lemonade Stand's Ecommerce Launch Checklist. Looking to start a clothing line and want to sell online? Their website has a tutorial covering the entire process of setting up a clothing line, from production to sales.

They offer a whole lot more. No matter what you're looking to accomplish, A Better Lemonade Stand can likely provide insights.

Ecommerce Nation
Ecommerce Nation labels itself a community rather than a news site or blog. And the members of the Ecommerce Nation community are producing a ton of content. While articles are their primary type of content, Ecommerce Nation also offers webinars and infographics.

Another great resource they offer are interviews. Hearing advice from tried and true experts can go a long way. This is especially true if you're new to the ecommerce field. So check out Ecommerce Nation and consider joining yourself!
Entrepreneur's Ecommerce Section
Entrepreneur is one of the biggest business news websites in the world. They also have a section dedicated to ecommerce. They're a great resource to keep an eye on because only the most established experts are usually invited to publish on their website. In other words, you can learn from the best of the best.

Their article What Business Owners Need to Know About Protecting Their Data is a must read for any ecommerce entrepreneur. At PayKickstart, ensuring that customer data is protected when using our shopping cart is a top priority.

We only work with trusted third parties to store sensitive data. Data security is a huge issue, so make sure you stay informed of security issues and threats!.

In E-Commerce, Knowledge Really is Power
Few markets are as competitive as retail. And when it comes to competing, you need to be informed. You need to know about changing consumer habits, economic trends, and technological developments, among other things, as they can have a big impact on your business.

You also need to know your craft. By following industry best practices, you'll be able to compete in competitive markets. Self-education is vital for anyone who works in fast-changing industries, like ecommerce.

At PayKickstart, we pay attention to all of the above ourselves. In order to build the best shopping cart, we need to be aware of the latest technologies and changing consumer habits. By being informed, we can offer a cutting edge shopping cart that shoppers love.