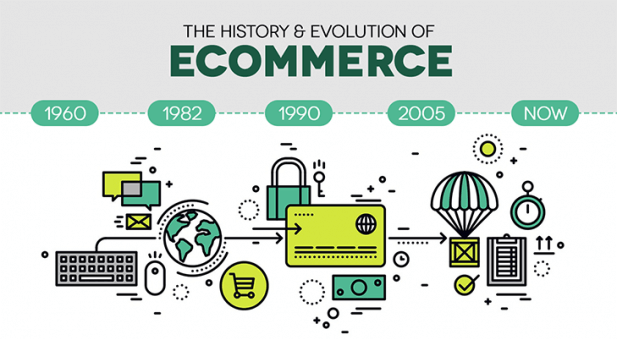 The history of commerce stretches back thousands of years. In fact, by studying commerce and trade from a historical perspective, you can develop a considerable understanding of human civilization. Trade routes, wars over access to resources, and the advance of shipping technologies, among other things, have all had a great impact on human society.

The history of e-commerce is quite a bit shorter but it's every bit as important for understanding our modern society. The Internet has changed not just the retail industry, but the world at large. And while e-commerce is a relatively new phenomenon in the historical context, it's probably a bit older than you think.

In fact, the first e-commerce trade occurred all the way back in 1972 when students at MIT used the Arpanet (a predecessor to the Internet) to purchase some reefer from their counterparts at Stanford. This illicit deal is widely considered to be the first e-commerce transaction.

By 2017, the e-commerce industry had grown to over $2.3 trillion dollars. By 2021, the e-commerce market is expected to be worth nearly $5 trillion. E-commerce has come a long way from its humble beginnings. So let's take a look at the history of e-commerce.
Find more statistics at
Statista
The Early Years of E-Commerce
Well before Amazon came along, Michael Aldrich was laying the groundwork for e-commerce as we know it. Based out of the United Kingdom, Aldrich modified a TV and used a telephone line to connect it to a multi-user transaction processing computer.

[ There are some interesting photographs here. I believe the terms of use allows for you to use them for informational purposes, so long as you don't monetize the images themselves.
http://www.aldricharchive.com/videotex.html
]
By 1980, Aldrich was selling his Teleputer. Using phone lines, the Teleputer enabled simple e-commerce transactions. However, the Internet still hadn't evolved into the ubiquitous service it is today and most transactions were business-to-business.

In 1982, the Boston Computer Exchange was founded. Some argue that the Boston Computer Exchange was the world's first e-commerce company. Using online databases, buyers and sellers were able to purchase and sell computers, parts, and like.

The Boston Computer Exchange would eventually expand its platform to support other types of sales and even set up auction software. Regardless, throughout the 1980s, e-commerce remained a small, niche service. Big changes, however, were on the horizon.

The Emergence of the World Wide Web
1991 will go down as one of the most important years in history, being the year that the Internet went public. While research centers and governments had been tinkering with various Internet-like infrastructures, it wasn't until 1991 when everyday citizens could begin accessing the web through the WorldWideWeb browser.

In 1991 the National Science Foundation lifted restrictions on commercial use of the "net" and allowed for commercial use. This sparked rapid growth. By 1995, there'd be over 120,000 registered domain names and by 1998 there were over 2 million. As more people logged onto the Internet, more entrepreneurs began looking for ways to make money, including through e-commerce.

Amazon Destined to Be the King of the Jungle
In terms of revenue and marketing capitalization, Amazon is now the largest e-commerce company in the world. The tech behemoth was founded in 1994 by Jeff Bezos and initially focused on selling books. While Amazon now dominates much of downtown Seattle, it was first based out of Bezo's garage in Bellevue.

Amazon quickly grew and expanded its product lineup to include videos, CDs, and other products. By 1999, Time Magazine had named Jeffrey Bezos their "person of the year" for popularizing e-commerce.

These days, Amazon is an "A to Z" retailer, offering a huge range of physical and digital products. Amazon Web Services (AWS) is also one of the largest cloud server companies in the world.

eBay Made E-Commerce Easy
Amazon wasn't the only e-commerce giant to emerge in the mid-1990s. In 1995, Pierre Omidyar founded eBay in his living room. Rather than selling goods directly, Omidyar built a bidding platform that would allow people to sell and buy products from one another.
eBay and similar websites made it easy for people who didn't have tech/web development skills to sell goods online. Even small businesses and individuals could quickly sell goods through eBay. Soon, countless people were making a living through e-commerce.

The E-Commerce Services Industry Takes Root
By the late '90s, some entrepreneurs were starting to focus on developing services and applications for e-commerce stores. Rather than selling goods directly, these companies focused on helping e-commerce businesses grow.

In 1998, Cofinity was founded and in 1999 Elon Musk set up x.com. These two companies would later merge and form PayPal, which has since grown into one of the largest online payment processors in the world.

While PayPal is still one of the biggest names in e-commerce, other payment providers, e-commerce platforms, and other e-commerce service companies began offering products and services.

The Dot-Come Bubble Pops
By the late 1990s, e-commerce was booming. Emerging companies were selling pretty much everything you could think of. And investors assumed that the Internet was the next big thing. This led to a sort of "gold rush" with investors pouring huge amounts of money into web-based companies.

In turn, this created a bubble as investors became highly speculative, pushing the value of web companies up to unsustainable levels. In 2000, the dot-com bubble burst.
Numerous companies quickly folded and the industry went through a period of consolidation. Amazon, eBay, and others survived. However, many smaller companies were either bought out or failed.

Payment Card Industry Data Security Standards Are Released
The dotcom bubble slowed but didn't stop the growth of e-commerce. In 2004, major credit card processors teamed up and released the Payment Card Industry Data Security Standards (PCI DSS). These standards outlined obligations and procedures for processing online payments and storing data. The PCI DSS was set up in response to rampant cyber attacks.

Secured payments are a must for e-commerce stores. That's why PayKickstart works with trusted 3rd parties, like Paypal and Square, to safely process payments. Websites and companies that fail to properly take care of data could find themselves on the hook for serious liabilities.

Mobile Phones Shake the E-Commerce Industry Up
In 2007, Steve Jobs unveiled the iPhone to the world. With smartphones, people suddenly had computers in their pocket. They could surf the web and make purchases from pretty much anywhere. This would have a huge impact on e-commerce.

Now, mobile devices actually account for roughly half of all web traffic. E-Commerce sites have focused on developing mobile-friendly websites and apps. At PayKickstart, we spent a lot of time making our shopping cart mobile friendly as well.
Going forward, apps and mobile traffic are expected to play an increasingly important role in e-commerce. Mobile accounts for nearly 35 percent of e-commerce sales in 2017 and is projected to rise to 54 percent by 2021.

Conclusion: Amazon Rules the Web But Opportunities Abound
Amazon has emerged as the largest e-commerce company in the world. Now, Amazon allows smaller companies and individuals to sell on their marketplace. This has helped Amazon grab an even larger share of the market.

Still, niche and specialty sites have been emerging as a popular alternative to Amazon and other big names. Sites like thegadgetflow.com offer "curated" product lineups, for example. Going forward, e-commerce sites will have to stress their own unique advantages and products.

Having unique products, a mobile-friendly interface, and a world-class shopping cart will help you stand out in even crowded markets. Who knows, maybe you can even make history.