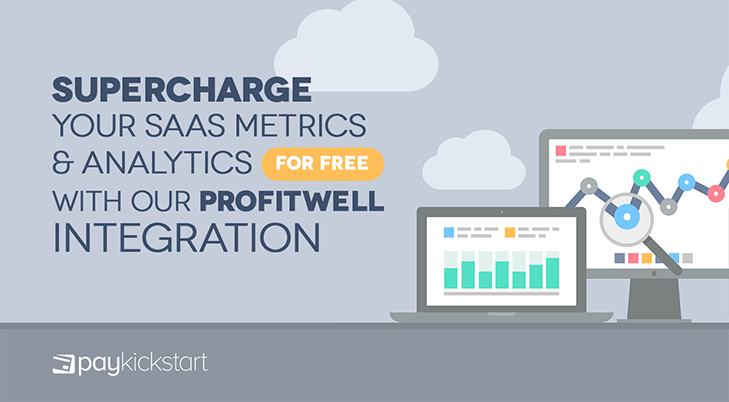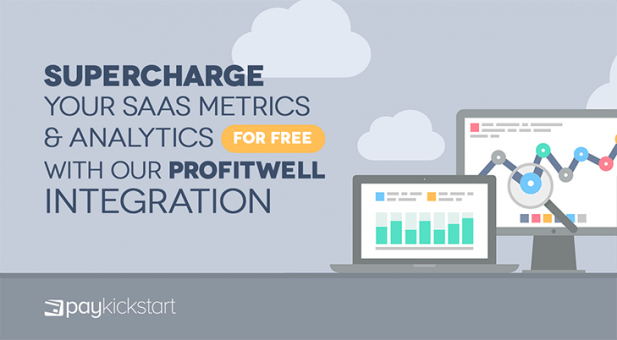 While PayKickstart provides a wide variety of reporting, metrics and analytics – we realize that many online businesses want to dive into the nitty, gritty details. We realize that there are companies out there that focus solely on metrics and can deliver advanced reports for those who love numbers.
It's why we added a new integration with ProfitWell.
ProfitWell offers some of the best analytical tools and services available for Software-as-a-Service (SaaS) providers. At PayKickstart, we use ProfitWell tools all the time. Best of all, ProfitWell offers 100% free metrics tools. At PayKickstart, we're constantly adding new features and tools, and are now proud to offer free integration with ProfitWell's analytical tools.
In other words, you can use many of ProfitWell's tools right alongside the PayKickstart shopping cart.
Data is important for essentially every undertaking but is especially important for SaaS companies. If you can reduce churn by even a few percent or increase signups by a few per month, it could have a dramatic impact on your company and its financial health. And you can use ProfitWell's free metrics to optimise your efforts and improve your KPIs.
Let's take a look at some of the ways you can use PayKickstart's integration with ProfitWell to supercharge your analytics and metrics.
Real Time Metrics
Unlike some metrics platforms, ProfitWell provides data in real-time. You don't have to try to dig out actionable data from past performance. Instead, you can measure how your SaaS business is performing right now.
So if someone's looking to cancel or a potential customer is thinking about pulling the trigger, you may be able to nudge them. Likewise, if the signup button is broken and people are abandoning your site, you can rectify the problem today rather than tomorrow.
SaaS-Specific, Results Driven Metrics
ProfitWell offers arguably the best SaaS metrics platform available. There are tons of general analytic platforms out there, but few of them are optimized specifically for the needs of SaaS companies. ProfitWell makes a huge range of metrics available. Let's take a look at some of the most common ones.
Segment
You can segment your audience with 107 different pre-built segmentations. You can narrow down customers by age, geography, usage, gender, and a huge variety of pre-built segments.
Acquisition
Few metrics are as important as your acquisition data. How are you acquiring customers? How do they advance through their customer journey? By understanding your acquisition data and the customer's journey, you can optimize your sales funnel.
Retention
Acquiring customers isn't enough, especially when it comes to SaaS. By retaining customers, you can greatly increase their overall lifetime value. ProfitWell will help you measure all of your various churn rates (MRR & delinquent churn, for example) and improve retention.
Engagement
This metric allows you to develop a deeper understanding of your relationship with a specific customer. By using segmentation and other tools, you can uncover which visitors are likely to convert into paying customers.
Revenues
Many platforms offer revenue reporting. However, the intricacies of subscription-based models make revenues difficult to accurately determine. Since ProfitWell focuses on servicing SaaS and subscription-based models, they're able to provide more accurate revenue reports.

Set the Right Goals With ProfitWell's Benchmarks
ProfitWell allows you to not only measure your own metrics but also to compare your performance against other similar companies. So not only can you use ProfitWell to measure churn, growth rates, lifetime value, and more, you can compare your performance against others. You can even build custom cohorts and segment the competition by size, segment, type and more.
Markets are competitive and if you're behind the competition, you're going to struggle to secure success. At the same time, if you're outperforming similar companies, evidence suggests that you're heading in the right direction. If you're underperforming, you'll know that you need to step up your game or risk falling behind the competition.
Some companies measure their current performance against last month's performance. This is important. However, you also need to know where you stand in regards to your peers. With ProfitWell, you can do just that, and you'll gain access to one of the largest performance metric databases in the world while doing so.
Get All of the Above… For Free!
ProfitWell offers its metrics for free. I'm not talking about a trial by the way, but instead 100 percent free, all of the time. You're not even required to put a credit card on file. And with PayKickstart, the ProfitWell integration is likewise 100 percent free. So you can access all of the above data at no charge.
This means essentially every SaaS company should at least try ProfitWell's data platform. It's one of the most accurate and responsive metric platforms available, and given that it's free, you're not risking much by trying it out.
Of course, every company has to make money. So how does ProfitWell produce revenues after giving its metrics platform away? The company offers a few premium products, which could also offer SaaS companies tremendous benefits.
First, there's ProfitWell's Retain software. This software helps you reduce churn caused by delinquent credit cards, which may be resulting in up to 40 percent of your churn. Pricing varies but you're guaranteed a 100 percent ROI, making Retain low risk.
Profitwell also offers its "Recognized" books software that make accounting for SaaS companies far easier. SaaS revenues can be very complicated to compile accurately, leading to GAAP issues and other problems. Fortunately, Recognize will allow you to accurately compile books at the end of every month. This service costs $1,000 a month.
And Don't Forget About PayKickstart's Tools Either
ProfitWell offers some of the best SaaS solutions available. Their free metrics, Retain Software, and Recognized Books are all very worthy products and products that many companies would benefit from using. That's why we made integrating our shopping cart with ProfitWell both easy and free. You can get started in just a matter of minutes.
PayKickstart also provides tools that SaaS companies will benefit from, including a metrics and reporting platform. Order bumps, order recovery, and affiliate marketing management tools are just some of the features PayKickstart offers. By using both ProfitWell's metrics and PayKickstart's many features, you'll be able to supercharge your metrics, analytics, and ultimately profits.