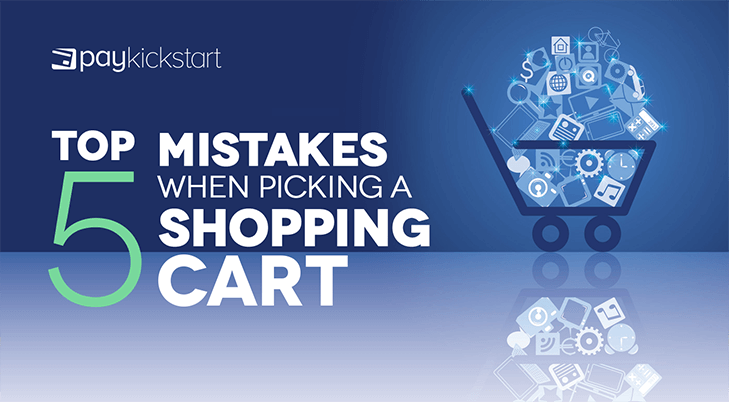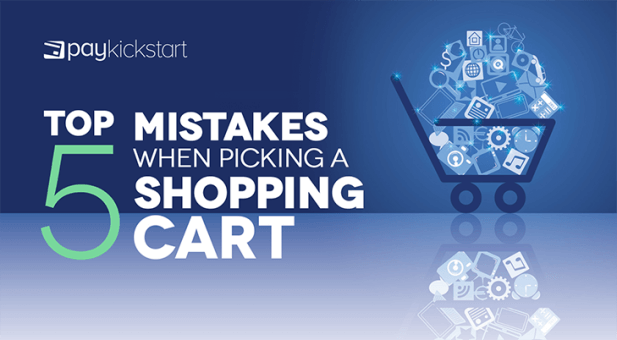 One of the most important decisions you can make when setting up your ecommerce store is selecting a shopping cart solution. Your shopping cart is going to have a huge impact on conversions, which in turn will affect revenues and sales. Likewise, your shopping cart can impact security, user experience, and even perceptions of your brand.

Unfortunately, many people make mistakes when selecting their shopping cart. It's easy to assume that every shopping cart solution is the same and so your choice won't have a big impact on your business. This is flat out wrong! The right shopping cart could go a long way towards ensuring your success, while the wrong shopping cart could result in lower sales and ultimately lower profits.

Choosing the Biggest Brands "Just Because"
Some people choose BigCommerce and Shopify simply because they've only heard of those platforms. However, these shopping carts may not be the right choice for you. Often, you'll have to pay extra just for the brand name. And sometimes, you'll discover that key features are missing or cost extra.

You should do your homework and shop around. With a bit of research, you can find shopping carts that are both feature-rich and affordable. PayKickstart is one such shopping cart.

#1. Looking At Only the Upfront Costs
One of the biggest mistakes many ecommerce stores make when selecting a shopping cart is focusing only on monthly or annual subscription costs. However, you need to read the fine print.

Many shopping cart solutions charge transaction fees. Take Shopify. While unlimited plans start at just $29.99, you also have to pay fees equal to 2.9 percent of your transactions and an additional 30 cents for online credit card payments.

These costs can quickly add up and you could find yourself shelling out hundreds or even thousands of dollars per month. At PayKickstart, we don't want a cut of your sales. After all, you earned those sales, it's your money. That's why we charge a competitive, flat monthly or annual rate.

#2. Focusing Only on Front End Features
It's easy and tempting to focus on user experience and the front end features offered by a shopping cart. All of these features are extremely important. However, back end features -such as data analytics tools- are also extremely important.

Ecommerce is data-driven and any insights you can glean from your data could help you boost your bottom line. For example, you might find that certain products sell well on the weekend, while other products sell better during the week. You could then adjust your promotions and ad campaigns to reflect this.

At PayKickstart, we built a powerful data analytics platform right into our shopping cart. You can quickly access data covering sales, conversions, traffic and more. You can also gain a quick overview of your campaigns with our conversion reports.

#3. Selecting a Shopping Cart With Too Many Pages
You want to make the checkout process as easy as possible. Ideally, customers should be able to fill in all of their information, such as their credit card number and shipping address, on a single page. The more clicks a customer has to undertake before making a purchase, the more likely they are to abandon your cart.

Some shopping carts require users to navigate through multiple pages. On the first page, they might provide a shipping address. On the second page, they could be asked for their credit card information. Then on the third page, they have to put in their payment address.

It's better to put everything on one page. So select a shopping cart that allows you to do so.

$4. Ignoring Details, Like Security Badges
The devil is in the details. When it comes to ecommerce seemingly small details and features can have a big impact on conversions. We found that including the following five items can greatly increase conversion rates:

Security badges
Payment options
Testimonials
Product Description
Guarantee
By including the above elements, you may be able to increase trust. And when it comes to closing a sale, trust is one of the most important factors. We've found that by including the above elements within the shopping cart itself, you can reduce shopping cart abandonment from 80 percent to 60 percent.

So make sure the shopping cart you select allows you to easily add the above elements.

#5. Selecting a Shopping Cart That Isn't Mobile-Friendly
Thankfully, most websites and shopping cart solutions are getting with the times and offering mobile-friendly shopping carts. However, we still occasionally see websites that don't offer mobile-friendly shopping carts. This is unacceptable.

Over half of all traffic now comes from mobile devices. Take Cyber Monday sales in 2018. 54 percent of traffic came from mobile devices and ultimately 28 percent of purchases were made through a mobile device. While many people still prefer to use their desktop when it comes time to make a purchase, mobile is becoming more popular.

At PayKickstart, we've spent a lot of time optimizing our mobile shopping cart.

Conclusion: Choose Your Shopping Cart Wisely
As you can see, choosing a shopping cart is no small matter. If you choose the wrong shopping cart, you might end up paying both literally and figuratively as you are forced to pay higher fees for lower performance. That's why you need to do your homework and choose the right shopping cart.

We believe that PayKickstart is the right shopping cart for most ecommerce stores. We don't charge transaction fees and offer a ton of powerful features. And just like the most competitive ecommerce stores, we obsess over increasing conversion rates.

We offer a variety of features that have been designed to increase conversions, including upselling tools, analytics, and an affiliate management platform. At the same time, we offer an affordable flat rate subscription plan. We believe this combination of features and affordability makes PayKickstart the best shopping cart out there.