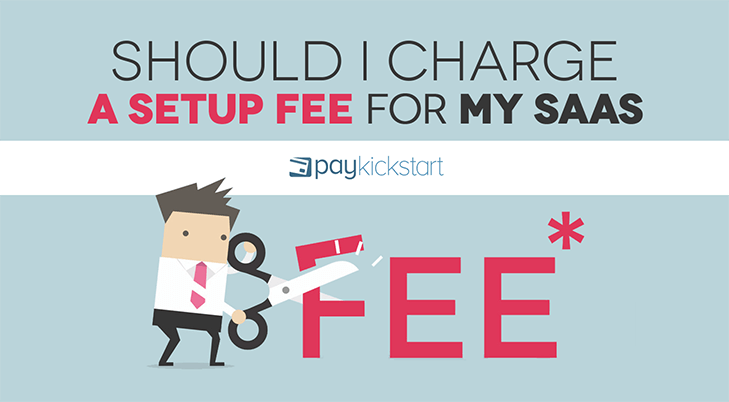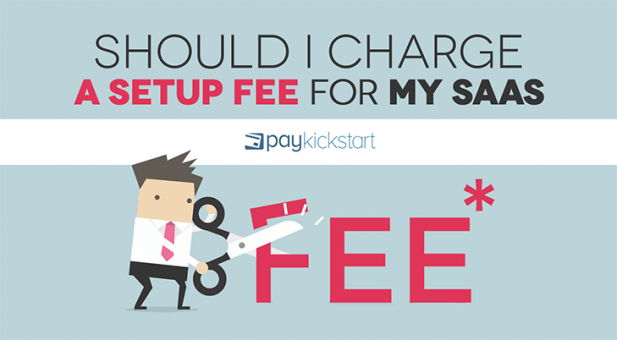 Most Software-as-a-Service (SaaS) providers don't charge setups fees, at least not for basic setup. The reason is simple: setup is often quite easy. Customers can often simply login to a SaaS and start using it.

In some cases, the SaaS may need to be integrated. PayKickstart's customers, for example, will have to integrate our shopping cart solution into their ecommerce store or other website. Often, our customers are able to install PayKickstart on their own, no help from our end needed. Occasionally, customers will reach out to our support team for help, which we will gladly provide for free.

You can always reach out to our customer support team!
So why do we provide free customer support? And why do many SaaS companies skip setup fees? Afterall, these are potential opportunities to increase revenues. At the end of the day, maximizing revenues is still the central driving factor but sometimes it makes sense to charge less in certain situations.

Setup Fees Create a Barrier
PayKickstart and many other SaaS providers don't charge basic setup fees because, among other things, doing so creates a barrier. Most SaaS providers rely on monthly recurring revenues, such as subscription fees. As such, the lifetime value of a customer can be quite high. A setup fee could lower signups, which in turn could hit your bottom line.

Let's say you charge $19.99 per month for your SaaS. Over the course of a year, your customer will be paying just shy of $240. Over the course of five years, they'll be paying nearly $1,200. Obviously, these sums are quite substantial and you want to attract as many customers as possible.

This is also why you don't want to charge a set up fee. Many customers are happy to pay monthly or annual subscription fees. However, once you tack on a setup fee you're making the initial acquisition cost very high. If you charge say $30 to set up your SaaS, customers are suddenly looking at an upfront cost of $49.99 simply to use your service.

That's much less attractive for customers than $19.99. Rather than charging setup fees, many SaaS providers, PayKickstart included, actually offer free trials. This way, customers can try your SaaS out and if they like it they can subscribe.

Most SaaS providers rightly try to make it as easy and affordable to sign up for their SaaS as possible. This usually means skipping installation fees. There may be some instances, however, when a separate setup fee could and should be charged. Let's look at one such scenario.

Heavily Customized Enterprise SaaS
Most SaaS programs work right out of the box. The customer can simply log in and start using the software. Sometimes, however, the customer will have very specific needs and will want a lot of customization. Take the popular Salesforce.com customer relationship management platform, for example.

You can setup Salesforce.com on your own, for free. Many customers do just that. However, Salesforce can be a bit complicated and as a powerful, flexible platform, it can be hard for companies to shift all of their data on to Salesforce.com.

Further, there are also so many features that it can be hard to use. In fact, Salesforce.com has over 1,700 apps available for use. For large companies that want to get the full use out of Salesforce and all of the relevant apps for their business, they can hire Salesforce.com specialists to assist with the setup process.

Salesforce.com offers a variety of implementation services and you can contract "architects" to handle advanced implementations.. A Salesforce setup specialist on Quora claimed that Salesforce implementation can cost an additional $5,000 to $80,000, which seems about right.

Salesforce.com claims that their architects add a lot of value.
Why so much? A full, complete Salesforce.com integration could take hundreds of labor hours. That's assuming, of course, that you're trained and know how to do it. Salesforce.com has so many apps and features that if you wanted to do a complete, complicated setup, you may need to hire a professional.

Salesforce.com obviously can't provide such services to their customers for free given that they charge just $5 per month per user. If Salesforce.com simply "ate" every multi-thousand dollar setup process, they'd never be able to break even, at least not without dramatically raising monthly subscription costs.

Don't Think of Customization as a Setup Fee
Arguably, the most important takeaway from the above example is differentiating between custom implementation and simple installation. Anyone can do a basic Salesforce.com setup for free, on their own. In this case, Salesforce.com doesn't need to charge a setup fee because their costs for a simple installation are minimal.

When it comes time to do a custom setup, importing data and setting up apps, Salesforce.com has to charge fees because it takes so many labor hours. Salesforce.com and its contractors aren't really charging a setup fee in this case, but instead implementation services.

Similarly, if you decide to offer customized implementation services, you should consider and position these services separately from your basic setup. Custom implementation adds extra value (and also extra costs for providers) so you can justify charging extra fees.

Reducing the Need for Setup Assistance
If setting up your SaaS is difficult, you're going to have a lot of customers reaching out to you for help. This will add costs and could hit your bottom line. Obviously, the best solution is to make setup a cinch. However, in some cases this may not be possible.

For example, Salesforce.com can be difficult to setup because there are so many apps and features. The more powerful and flexible the SaaS the harder it is to set up, generally speaking. However, you can help your customers help themselves by building a knowledge base.

Check out our knowledge base if you have any questions!

At PayKickstart, we have put a lot of effort into setting up a knowledge base and community support. This way, our customers can find solutions on their own to the challenges they are facing.

Conclusion: Be Careful When Considering Setup Fees
As a SaaS, your first priority should be generating sign ups. Since customers will be paying monthly or annual fees, you should be able to recoup moderate customer service and setup costs. However, if a customer does need an advanced, custom implementation, you can offer this as a separate paid service.