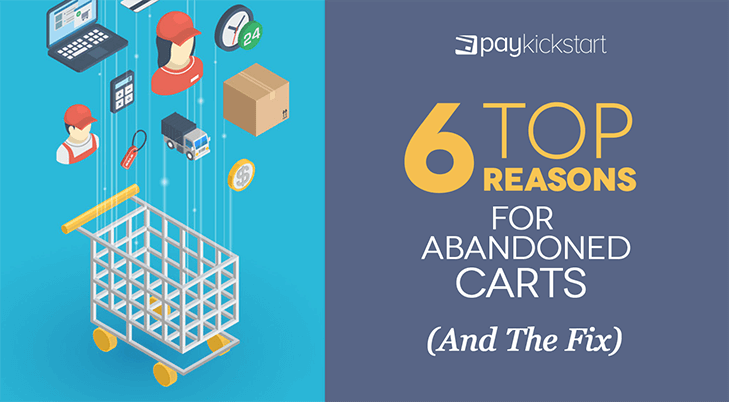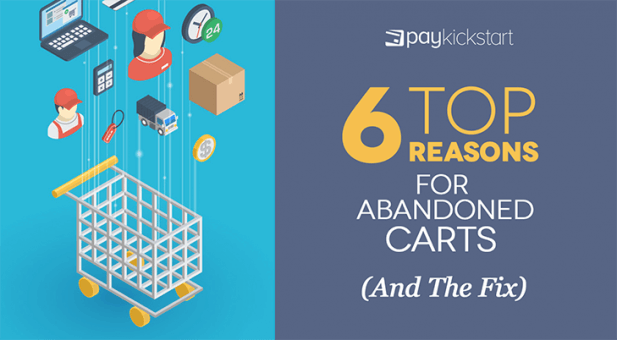 One of the most frustrating aspects of an online business is the number of people who abandon the cart. Depending on the source you look at, the abandonment rate ranges from 60% to 80%.
No matter where you fall on the range, more than half the people who start the checkout process are leaving it halfway. No matter how you look at it, that's a subpar situation.
There will always be people who abandon your cart online but that doesn't mean you're helpless. This article looks at the major reasons for abandoned carts so you can do something about it.
Forced to create an account
I've been on many websites where I only had a single goal – I wanted to buy a particular item. That could be a pair of shoes, a training program, electronics, or whatever.
In my mind, I was sure that I wasn't going to buy anything else down the line. It was a one-off thing for me and I didn't see the need to create an account. I've abandoned carts because of that one reason alone.
Many of your prospects may be experiencing the same feelings. They simply don't want to create an account. Even though account creation may be better for you because it makes it easier for them to check out next time, you have to consider your customers. This is an added step that can cause unneeded friction.
Let them be the ones to decide whether or not they'll create an account. A quick fix for this particular issue is making account creation optional. If they want to create an account then fine. If not, that's also fine.
Secure the first transaction then go from there.
Unexpected shipping charges
This is a big deal and is the single most common reason people abandon carts online.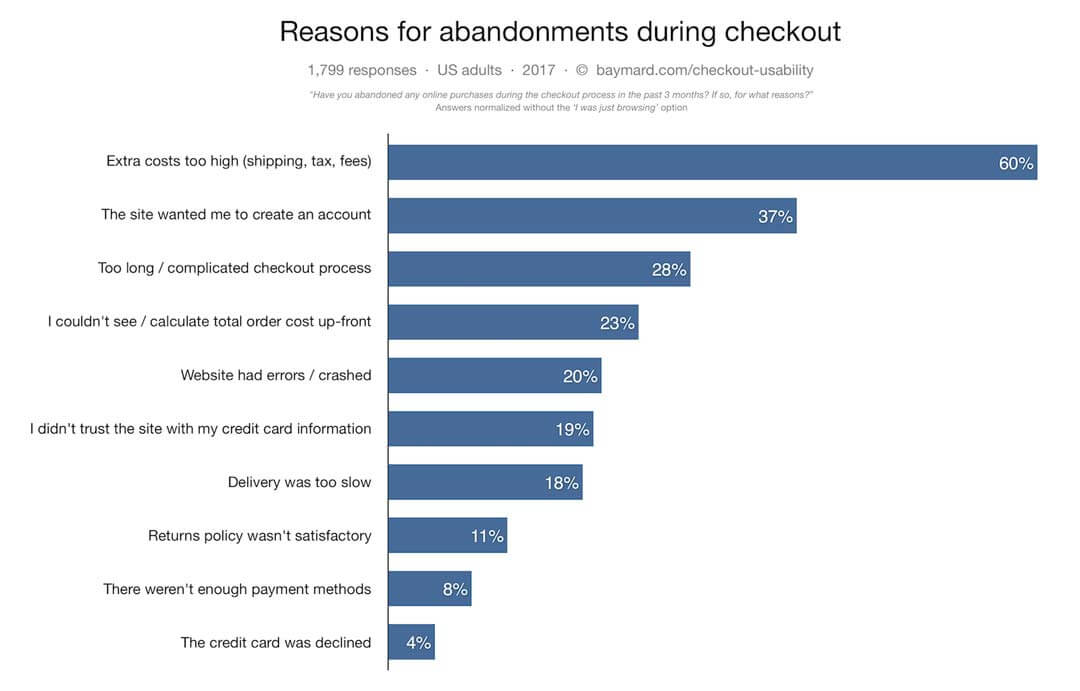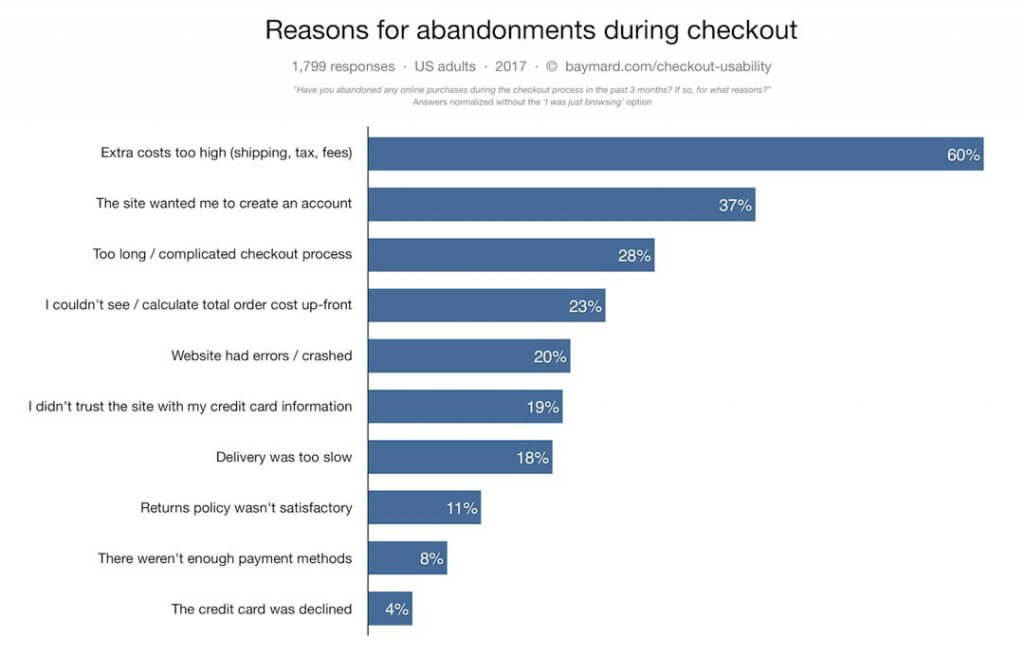 According to the Baynard Institute, it accounts for 60% of abandoned carts. If you can control this one thing alone then you'll be able to reduce the number of abandoned carts drastically.
It's true that you can't always tell people the exact amount they'll pay for shipping, but it is possible to give them an idea beforehand.
It's definitely worth it.
For example, if you get a 70% cart abandonment rate on 100 transactions, you can reduce that number from 70 abandoned carts to 53 abandoned carts with a single tweak.
A simple tooltip or statement on the page will be enough to help your customers out. You can display the lowest possible cost for shipping which works well when you use flat rate shipping. You can also use the users IP address to get a more accurate estimate of the shipping costs.
Another method is to use the customer's former shipping address (if they've ordered from you in the past) to create a shipping estimate.
Whichever method you choose, it'll help you reduce the number of people who leave the checkout process because they were surprised by shipping costs.
Difficult checkout process
The internet has been around for decades but this is still a problem for many vendors. The checkout process is unnecessarily difficult to get through. Forcing people to create user account adds to this but it a distinct issue on its own.
When you're creating your checkout flow, scrutinize every piece of information you collect from your users and ask yourself is it truly necessary?
For example, if you're selling a digital product, is it necessary to collect their phone number? Any way to reduce friction will see an uptick in people who complete the order process.
Too many upsells, downsells, cross-sells, etc.
This issue is contentious because upsells, downsells, and cross-sells work. If you set them up once, it' possible to double the revenue your sales funnel produces. After being optimized, it's a whole new ball game.
Many people have taken note. Even Amazon uses cross-sells which account for 35% of the $220 billion it made last year.
PayKickstart makes this process painless for vendors but there's a fine line between maximizing profit and creating a poor user experience. Not everyone understands this or cares about the consequences.
As a result, many customers who may have bought down the line are turned off about the entire process and leave the cart halfway.
On a side note, PayKickstart allows you to implement one-click upsells after the customer has completed the initial purchase.
The solution to this one is simple, don't use so many upsells on the same transaction or make them less obtrusive. Many upsell pages don't let the user click away until the sales video is done playing or until a certain amount of time has elapsed. Avoid creating pages like that as much as possible.
Slow website
There's almost no reason to have a slow website in this day and age. Everything from optimized web hosts to CDNs and caching help you speed up your website and ensure a great experience for website visitors.
Unfortunately, some websites just aren't able to adopt the necessary changes while others don't realize their website is slow in the first place. Here are a few ways to quickly speed up your website:
Change to a better host. This matters more than most people realize. You can do all the optimizations in the world but if your host is slow then your website will still be slow.
Use .jpg files whenever possible and scale them to fit the container they're in.
Remove resource-intensive plugins or add-ons and replace them with versions that don't require so much processing.
Enable caching.
These simple tweaks can take you far but it's not a one and done thing. Speed optimization is a constant process.
Security concerns
This may come as a surprise because you and I are so used to working and buying online. Many people aren't used to it and have serious reservations about inserting their card details into a new website.
They need to feel secure before they'll complete the transaction. This starts with the design of your website, whether it's SSL or not, and trust seals. For trust seals, it's important to make sure your visitors know exactly what the trust seal means. If they don't then it won't have any effect.
Many times, a padlock is enough.
Conclusion
There are many reasons for cart abandonment and it's not possible to get it to zero percent. Instead, all we can do is optimize it over time.
This article has gone through multiple strategies you can use to ensure your checkout process is seamless for your customers and reduces abandoned carts over time.
Let me know how you're getting cart abandonment to the bare minimum and don't forget to share.
Daniel Ndukwu is a regular contributor to the PayKickstart blog. He has extensive experience with online businesses, conversion optimization, and subscription revenue models. When he's not writing insightful content, he works with other entrepreneurs to help them grow their bottom line.