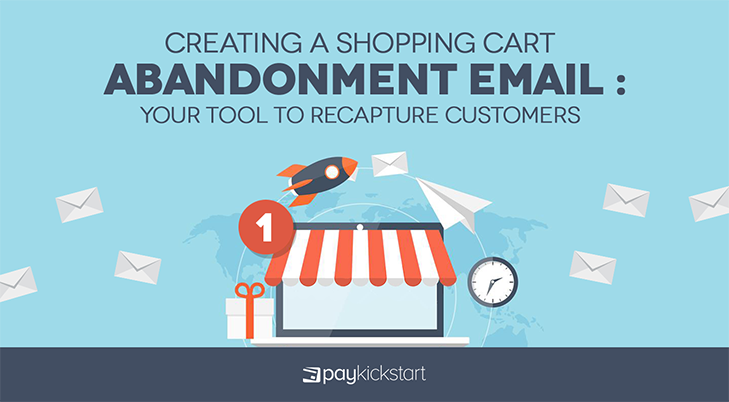 We, as consumers, are indecisive. While there might be plenty of reasons to make a purchase, there are always going to be doubts working against them.
This rocking chair would look perfect on my front porch! (But I don't have enough room for it out there, and I would have to rearrange the whole furniture setup.)
I have so many blouses that would complement these pants well! (But they are a bit expensive for just one pair of pants, don't you think?)
This battle between buying a product and putting it back on the shelf (literally or figuratively) is an everyday occurrence that leaves businesses in limbo.
When consumers add products to their shopping carts, there are some techniques businesses can deploy to make it seem like buying is in their best interest. Whether it be a promo code for a discount, or emphasis on their free shipping policy, these methods work in the favor of both parties – the business makes a sale, and the customer gets a good deal on a product they're interested in buying.
But what if they decide to leave their shopping cart without making a purchase? Some sites might think it's too late to take action, but there is a last-ditch effort you can make to save the sale. And considering abandoned shopping carts costs eCommerce businesses $18 billion a year, it's worth implementing a shopping cart abandonment email strategy.
What is a shopping cart abandonment email?
A shopping cart abandonment email is a follow up email sent to a prospect who was in the process of checking out, however they did not complete their purchase. The abandonment email is designed to show customers what they left behind, and hopefully entice them enough to rethink their decision of leaving the site without buying.
Email is a powerful tool in your marketing arsenal, but it's often limited to attracting new customers. Crafting a shopping cart abandonment email strategy and template not only makes the most out of the channel, but it also works to recapture customers that are about to walk away.
Shopping cart abandonment email strategies
It would be simple to set up an automated email that says, "Hey! Wait! Come back!" However, that won't do the trick. To successfully recapture the interest of customers that have abandoned their shopping carts, you're going to have to be a bit more thoughtful.
Here are some strategies you can implement to make your shopping cart abandonment email as captivating as possible.
Show them what they left behind
Just because someone abandoned their shopping cart, it doesn't mean they have completely lost interest in the products they came close to buying. Maybe they thought the timing wasn't right, the grand total was a hard pill to swallow, or maybe they were just about to buy and the website timed out. To remind them what they're missing, show them exactly what they left behind in your shopping cart abandonment email. You should also provide a link to their cart, so they can immediately revisit it if they wish.
While you should make the entire shopping cart readily accessible again, your email could also shine the spotlight on one product in particular. A lot of online shoppers treat shopping carts as a place to save products they like – the intent to buy is not likely to be equal for each item. Use your shopping cart abandonment email as a sales pitch for one single product in their cart. Instead of using general copy, focus on the benefits of that one product, and really sell it with a full value demonstration.
Even if the customer returns to their once-abandoned shopping cart for that one item, it's better than nothing!
Use attention-grabbing copy
Think about the way you approach your marketing materials. The purpose of any marketing message is to grab the attention of the customer, show them the benefits your business' solution can provide, and offer the appropriate channels for them to access and buy it.
Your shopping cart abandonment emails need to follow the same structure and fit in with your overall ecommerce theme. They don't only act as a second chance, but also as an extra email marketing tool. The inboxes of your consumers are flooded with marketing attempts all day, every day. Anything that you can do to stand out and send a compelling email, do it. What makes a marketing email great, you ask? The copy.
Give extra care to the subject line, copy within the email, and any images you decide to include. Create a sense of urgency by using language that will create the idea that if they don't buy now, it might be too late. Test, test, and test some more and look at what worked in your marketing analytics tool. You might be surprised by the results and the best decisions are made with data behind them.
Use reviews
The marketplace has never been more full of options – some of your own products might even be competing against each other. It's obvious that you're going to preach the benefits of your products until the cows come home – your customers are expecting that. Sharp email marketing skills can really only make a dent in your customer's desire to return to their shopping cart. Eventually, there might come a time when they don't really want to hear from you anymore.
Instead, they will look to their peers. It's possible that your customers with abandoned shopping carts are first time buyers, and therefore, skeptical of your business' credibility. The best way to earn their trust is by letting your existing customers do the work. Leverage the reviews your business has generated as free marketing from a third-party, also known as social proof.
Remind the people that abandon their shopping carts that they left behind a highly-rated product, and that reconsideration is worth it (according to their peers). Along with the benefits of a deserted product, provide positive reviews from customers that have actually used it in your shopping cart abandonment email.
Leverage your loyalty programs
When tackling the issue of shopping cart abandonment, a common thought is to offer a coupon for a discount. Everybody loves saving money, and it might be the secret ingredient in convincing shopping cart discarders to come back and make the purchase.
However, giving a discount to every shopper that abandons their cart will hurt your profit margins, lessen the value of your product, and create a consumer base that expects to be rewarded for being wishy washy with their wallets.
Instead of using discounts to win back customers, take advantage of your loyalty programs. However it works, whether it be with a point system or based on the amount the customer spends, create a separate shopping cart abandonment email for those loyal shoppers. It's possible that they have some unused reward from being a repeat customer that they forgot about. Showing them what they can save by applying it might be the extra push they need to place their order.
With this tactic, you won't lose any money by offering a discount. But instead, will remind customers of what they've earned by being loyal to your business. A win-win.
Focus on the relationship
While having as large a customer base as possible seems like the way to go, bigger isn't always better in business. Having a lot of customers is great, but what matters more is their level of engagement and the value of the relationship you create with them.
There are plenty of ways to kill a relationship with a potential customer, and in the realm of email marketing, blasting an inbox with emails is one of them. When a person creates and abandons a shopping cart on your website, that calls for reason to reach out with a shopping cart abandonment email series. However, unless they consent to it, the emails should end there. It's possible that the shopper just needed to save up a bit more before buying, or that the timing wasn't right for them. If this is the case, you don't want to ruin your relationship by sending email after unwarranted email.
One way to convert someone who once had a shopping cart into a subscriber to your email list is by asking them to sign up in the last email of your shopping cart abandonment sequence. This way, you can stay relevant to them and nudge them in the right direction of making a purchase.
Shopping cart abandonment email examples
Looking for some inspiration? Here are a couple of examples of businesses that have nailed their shopping cart abandonment emails.
Dyson
If you aren't familiar with Dyson, famous for its vacuum cleaners and hair dryers, then this shopping cart abandonment email will make it happen.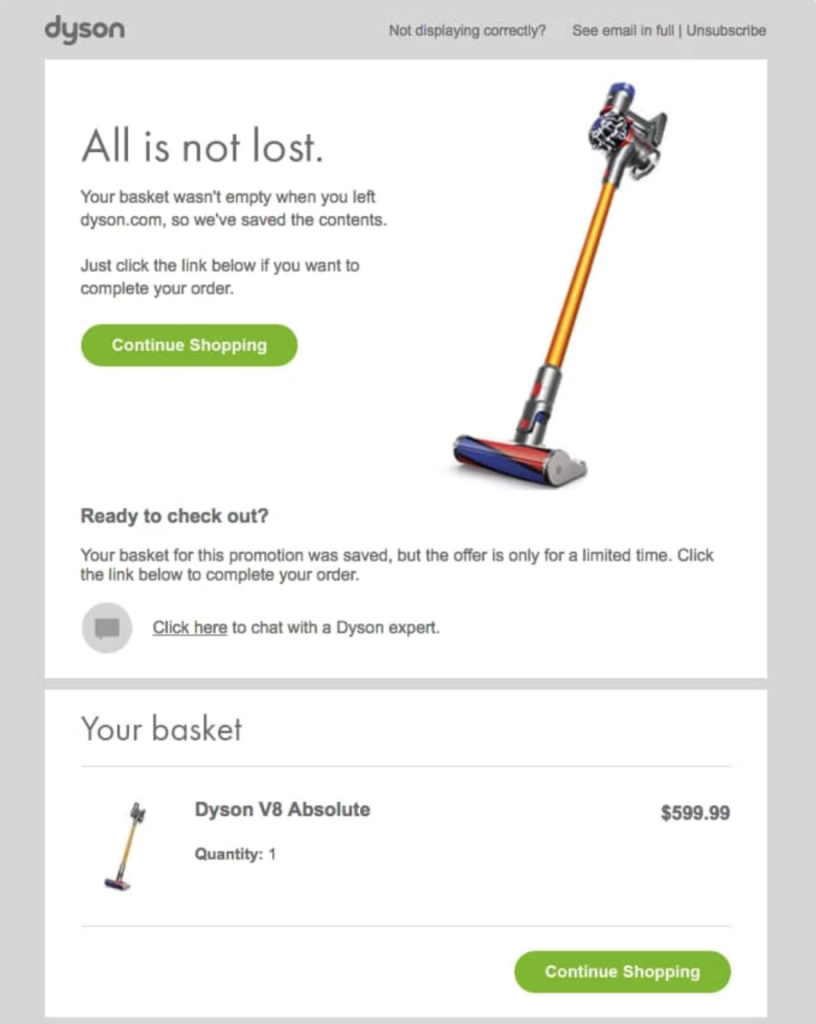 Dyson checks a lot of the boxes of a successful, engaging, and convincing shopping cart abandonment email. Catchy copy, a highlight of the product left behind, and the opportunity to return to your shopping cart with just one click of the mouse.
Casper
Casper, a mattress company, uses one of the most inviting activities in its shopping cart abandonment email: sleep. We could all use a bit more of it, and it's incredibly tempting to invest in a product that will make it all the more enjoyable.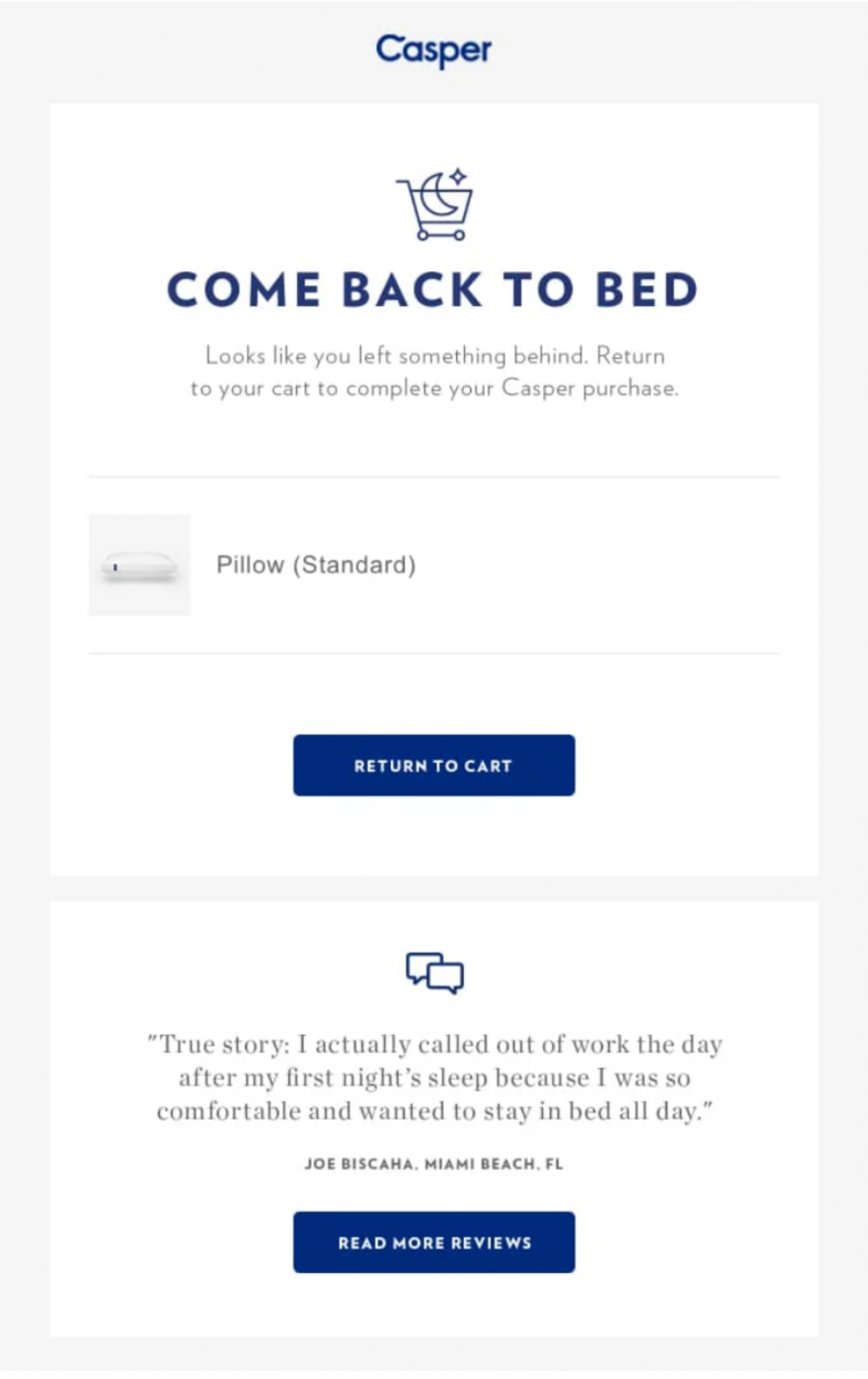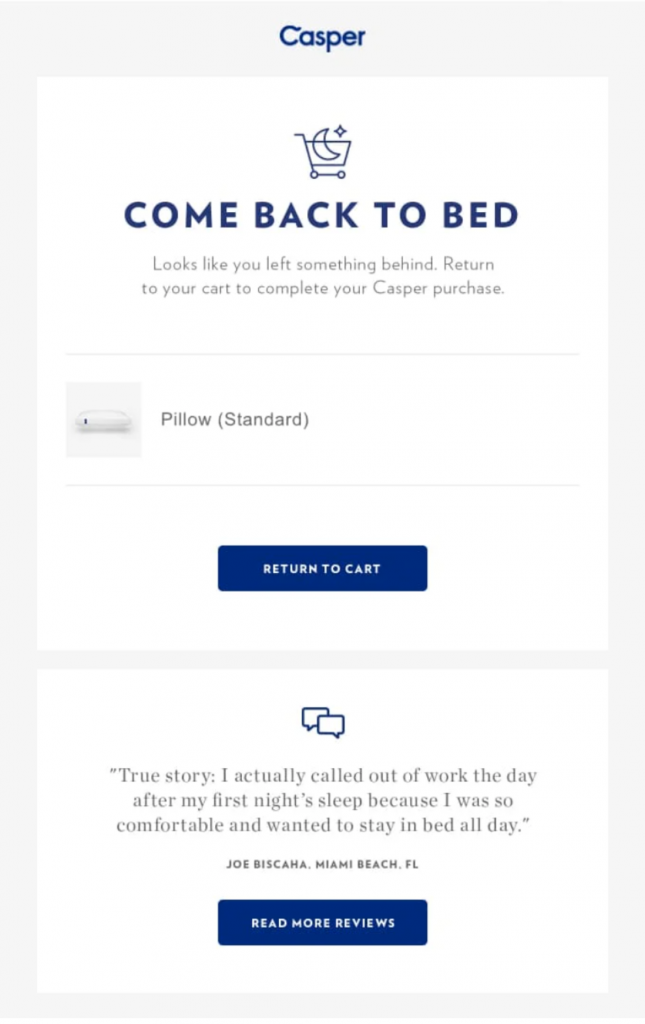 A simple yet persuasive phrase, an option to return to the cart that will literally make all of your wildest dreams happen (dreaming while you sleep, get it?), and to top it all off, a review from a customer that claimed they had to take the day off of work because they were too busy enjoying the product. A+ work here.
Bombas
Bombas plays an interesting card in their shopping cart abandonment email – a little sense of guilt. As potential customers desert their shopping carts, Bombas, a comfort focused sock and apparel brand, will remind shoppers of their mission – for every pair of socks purchased, they donate a pair to a person in need. Hard to say no to that, isn't it?
Recover those customers
Every customer is valuable. While it might be misleading to see potential buyers abandon cart after cart full of valuable products, it feels even more rewarding to earn their business back after a shopping cart abandonment email. Implement the strategies listed above, take note of the examples, and recover those customers.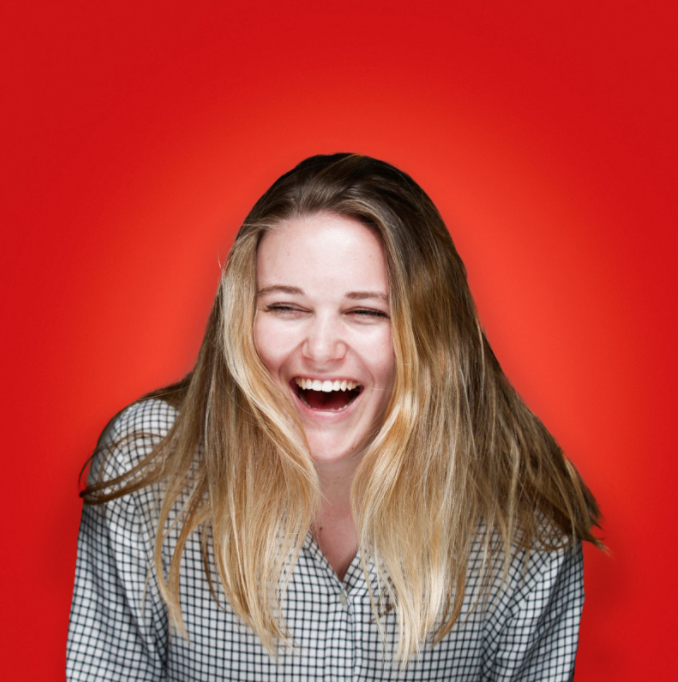 Mary Clare Novak is a Content Marketing Specialist at G2 in Chicago, where she is currently exploring topics related to sales and customer relationship management. In her free time, you can find her doing a crossword puzzle, listening to cover bands, or eating fish tacos.