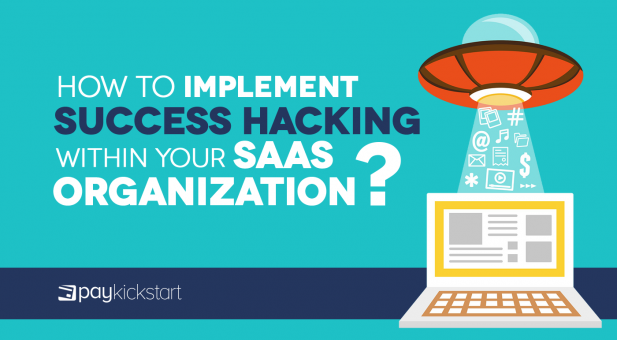 Let's face it. If you move around a lot in the startup circles, you must have heard about disruptive growth hackers transforming the business – from small-scale businesses to multi-million dollar entities.
And if you're looking for ingenious ways to boost growth and revenues, it's time to understand what success hacking entails.
In simpler terms, success hacking combines the concepts of 'growth hacking' and 'customer success' – two crucial and mutually-inclusive events for a SaaS company. Typically, the term 'growth' encompasses a wide umbrella of customer-centric end-goals for a SaaS company, which includes higher customer retention and acquisition, lower conversion rate, increased Customer Lifetime Value (CLV), etc. Most SaaS organizations would look at employing a heady mix of tools, intuitive technologies (think: live chat software, chatbots, etc.), and strategies to achieve customer success at scale and with cost-efficient means. In this blog, we will look at the top-6 strategies that you employ for growth hacking Customer Success. Let's jump right into it.
6 Ingenious Ways to Implement Success Hacking in Your SaaS Organization
1. Ensure a Seamless User Onboarding Experience
To kickstart the journey from a trial user to an active user in SaaS means laying a rock-solid foundation right at the beginning. This means only one thing: Significant investment in onboarding. Luckily, there are numerous strategies such as email drip series, assets such as knowledge base and tutorial materials, and resources such as webinars, videos, etc. that ensure that your onboarding experience is customer-centric, proactive, and responsive. That said, care must be taken to ensure that no matter what strategy, tool, or tactic you apply, the learning curve shouldn't be steep or else you run the risk of annoying new users who may decide to jump ship earlier than usual. All in all, as long your onboarding journey offers something truly valuable to the customer, you're good to go.
So what are the key characteristics of a 'worthy' onboarding experience? Think of your onboarding experience as the 'first impression' or the 'aha!' moment you're going to create in your customer's mind. Providing a seamless onboarding experience is important in order for your customer to realize the full value of your product early on in their customer journey with the company. This allows the user to convert quickly and stay with the brand as they genuinely see real value in your product and wish to engage with it for longer. Here's an excellent example of a signup flow that's seamless and 'sticks':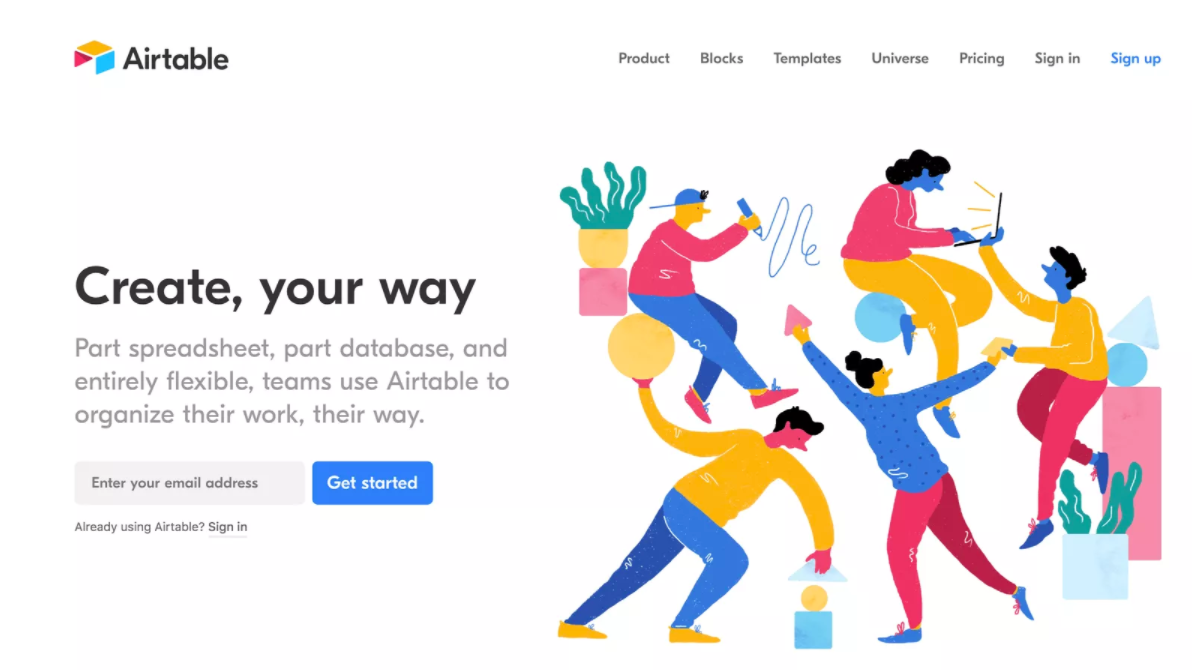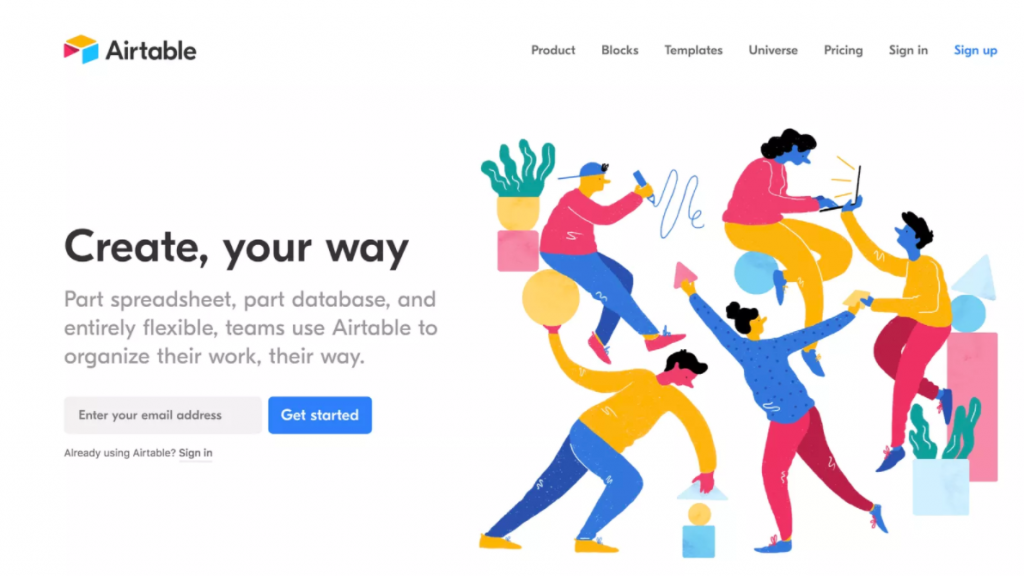 Notice how the Call-to-Action button – "Get Started" – jumps right off the home page and grabs the user's attention. The page design, as well as the content description, is sleek, useful, and aesthetically-pleasing:
Image Source
On clicking the Get Started button, users are redirected to a video that demonstrates value for the user and encourages them to use the product first-hand:
Image Source
More importantly, Airtable's user onboarding flow focuses on creating an accurate user persona and extract relevant use cases so that it can target the customers in a personalized, more intimate capacity:
Image Source
Finally, users get to visit the UI, which boasts of a helpful "Learning and Resources" section detailing all the self-help topics that users may find useful. It also comprises a live chat section which users can use to get in touch with the company immediately should they need any assistance. One of the best aspects of Airtable's onboarding flow is that its UI is simple and easy-to-use.
2. Leverage CX Tools for Real-Time Support
Let's face it. Delivering an exceptional customer experience lays the foundation for organic growth and positive word-of-mouth publicity for your SaaS company. And one of the most effective ways to enhance your customer experience (CX) is by making use of impactful artificial intelligence tools that offer real-time support. These tools address customer queries instantly, boost customer happiness, and drive revenue in the process. Let's look at a few real-life examples to understand this better.
Live chat software technology can help reduce customer churn by offering proactive support in real-time as Pollfish does:
CX tools such as chatbots are increasingly evolving in terms of capabilities and functionalities. If trained well, a chatbot can be used to analyze the customer information it captures and extract actionable insights. This data can then be used to create upsell opportunities or offer account upgrades based on where your customer stands in the sales funnel:
Image Source
Notice how the brand encourages users to integrate live chat services and offers a free "14-day trial" so that users get better acquainted with the product. Another brand that offers the same incentive is PayKickstart.
The brand also empowers customers to connect with the team in real-time – with the "talk to Us" option – should they have any queries about the pricing models displayed on the page.
While most CX tools are used to interact with existing and new users round-the-clock, using it to upsell can also boost your company's bottom line in the process:
Image Source
You can also use CX tools such as live chat to re-engage customers with auto messaging, integrate live chat services into your SaaS app, and gather customer feedback to track customer satisfaction rates.
3. Develop Customized Retention Strategies
There's no doubt that retaining customers is more profitable than acquiring customers. That said, you need to focus on retaining customers from day one of contact, or possibly, even before (for instance, before the free trial ends). This is precisely why chalking out useful customer retention strategies is a 24×7 job. Luckily, there are innumerable tactics, hacks, and strategies you can employ. We are listing our top-3 favorite ones that have worked like a charm:
Lead the way with a strong referral program as PayPal did. Initially, the financial SaaS company gave $10 to the user if they referred a friend.
Offer a killer freemium software model, as Evernote does. The company allows you to sign up for free and leverage the product's basic features at no cost. If users start liking the product (and get used to it, which they eventually do), they can upgrade to other plans:
Image Source
Request customers for testimonials and feedback to build positive word-of-mouth and drive brand loyalty. Here's a useful tip by Tom Krackeler, who suggests that you notice when and how customers are seeing real value by using your product and then drive proactive interactions accordingly to boost user engagement.
4. Establish a Strong Social Presence of Your Brand
The use of social media to share your customer's successes is exploding, especially for SaaS companies. This is why your need to adopt a Customer Success Manager on professional platforms like LinkedIn and popular platforms like Twitter, and the right time to do so was yesterday.
Since SaaS products don't have a physical presence, social media marketing efforts typically include monitoring customer feedback and answering customer queries. In addition to this, you can promote your free trial model on social media platforms to gain traction and acquire new customers.
You can introduce new features or remarket existing in a new light:
You can promote a host of free content (think: eBooks, video tutorials, infographics, guest blogs, etc.) to build a solid and dedicated user base:
5. Connect with Your Customers on Social Media Platforms
Tying back to the previous point, social media listening is all the rage now. And for good reason. Social media platforms such as Facebook and Twitter are great sources of information about your customers. You can engage with customers in a more informal manner and drive conversations relating to just-about-everything as Asana and Grammarly do:
At this point, it makes sense to note that talking about current issues makes your brand more relevant to the user's mind. Plus, if your company is always seen pushing its products and features, it can run the risk of looking aggressive or, worse, annoying.
You can drive conversations about the company's work culture (as shown below):
You can drive traffic to your blog posts by inserting links:
You can create a culture of feedback early and often while asking the right questions to gain insightful user feedback:
Image Source
All in all, there's no one-size-fits-all approach to SaaS social media marketing. All you need to do is get started and work according to a strategic social media plan that's consistent and user-driven.
6. Invest in a Rock-Solid Customer Loyalty and Reward Program
The mother of all SaaS success hacks, at the end of the day, creating a customer loyalty program truly pays. Look at Dropbox's example, which gave customers tons of extra storage space for every friend they referred.
More importantly, the brand marketed this hack across all its marketing channels and sales platforms, driving great publicity, increasing customer acquisition, and boosting user engagement. Customers, especially the loyal ones, should be periodically rewarded. This could be done by way of incentives, deals, offers, upgrades – you name it. The idea is to ensure that the customers continue to engage with the brand and stay loyal from start to finish.
Closing Thoughts: Saas Customer Success & Growth Are Two Sides of the Same Coin
Long story short, SaaS growth is predicated on customer success. To wrap up, you can try these time-tested strategies to gain an upper hand in your SaaS marketing and sales efforts:
Ensure a seamless user onboarding experience
Leverage CX tools for real-time support
Develop customized retention strategies
Establish a strong social presence of your brand
Connect with your customers on social media platforms
Invest in a rock-solid customer loyalty and reward program
Think we've missed out on a few success hacks? What's your experience been like? We're all ears.