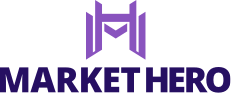 Email Automation
MarketHero is a revenue-centric email/lead autoresponder that makes it simple for entrepreneurs to get clear, actionable revenue metrics from their email marketing campaigns. MarketHero provides powerful growth-oriented and revenue-driven email marketing presented in a sleek simple app.
How it works with PayKickstart:
Connect MarketHero with your PayKickstart account to communicate more effectively by automatically adding and segmenting leads and customers to a MarketHero list and/or tags. Add customers to a MarketHero list/tag at purchase, cancellation, refund, cart abandonment, and more.
Visit The Knowledgebase Article