Congrats on Joining Provely!
You should receive an email with your login information very soon… I know you're going to love the app and what it can do for your business! Before you get to the members area, I have a one time only, special offer for you that I've never made available… Until Now.
How Would You Like to Make Thousands of Dollars Selling The Provely Service To Your Clients?
Upgrade Your Provely Account To PROVELY AGENCY Today To Use For UNLIMITED Personal and Client Websites, with unlimited number of users and campaigns.
The Perfect Opportunity to Provide Your Clients w/ a Guaranteed Way of Increasing Their Sales, Leading to MORE Clients for YOU!
SELL TO JUST 1 CLIENT AND YOU MADE
YOUR INVESTMENT BACK!
THIS IS YOUR ONLY OPPORTUNITY TO GET THIS ONE TIME AGENCY SPECIAL OFFER! ENDING SOON…
Provely Agency

with Branding
$17
Unlimited Personal and Client Projects
Use on Unlimited Websites
Streamlined User Management
"Powered by Provely" Branding on Popups
Guaranteed Increase in Conversions
Provely Agency

BRANDING REMOVED*
$27
ZERO Provely Branding on Popups
Unlimited Personal and Client Projects
Use on Unlimited Websites
Streamlined User Management
Guaranteed Increase in Conversions
How I earned THOUSANDS of dollars selling Traffic, Lead Generation, and Marketing services to Clients... Now It's YOUR Turn!
The online world is ever-evolving. And every single day, new websites pop up, selling the next big thing. For every website online, that's a new potential client to land!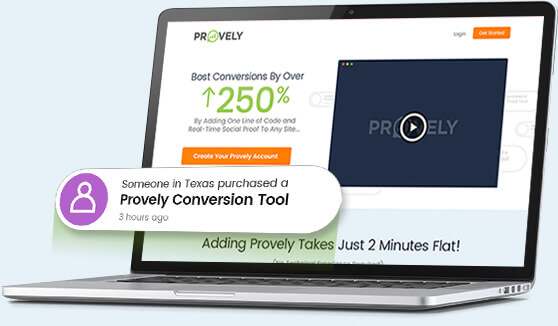 The best part … FOR YOU … is Provely "sells itself". All you need to do is show the proof and results that Provely accomplishes for literally EVERY site that it is installed on.
NOW, with Provely Agency, YOU can be the one to manage this for companies, big and small, who NEED this service on their sites.
...and YOU can charge any price you want!
Little do they know, it only takes you a couple of minutes
to set up a new Provely popup for them. 😉
Make Instant Money from a Provely Popup
that you could create in 3 minutes!
Marketers want things DONE FOR THEM!
ESPECIALLY When It Has a Direct Increase on Their Sales!
Businesses and marketers hate trying to figure things out themselves. Now you can start charging clients simply by spending a few minutes in Provely Agency for them... for an unlimited number of clients. What I have kept a secret is that I have been selling similar "agency" services to clients for HUNDREDS of dollars each, where we do the work FOR our clients!
Clients absolutely love it, as it instantly helps their business so they continue to pay me month after month!
Just Check Out Some of These Checks Clients Wrote to Me….
The DEMAND for this service (i.e. conversion marketing, increasing a businesses' Return On Investment) is ENDLESS!
Every business (small, medium, and large) in every niche strives to get more signups, more downloads, and more sales if they want to continue doing business online. Clients are begging for marketers to come in and help them manage this for them, so they don't have to ….NOW YOU CAN with Provely Agency!
Take advantage of this special discount offer before we remove it or start selling it for hundreds per month!
Increase your investment by
from just ONE client!
It's just that simple.
SELL TO JUST 1 CLIENT AND YOU MADE
YOUR INVESTMENT BACK!
THIS IS YOUR ONLY OPPORTUNITY TO GET THIS ONE TIME AGENCY SPECIAL OFFER! ENDING SOON…
Provely Agency

with Branding
$17
Unlimited Personal and Client Projects
Use on Unlimited Websites
Streamlined User Management
"Powered by Provely" Branding on Popups
Guaranteed Increase in Conversions
Provely Agency

BRANDING REMOVED*
$27
ZERO Provely Branding on Popups
Unlimited Personal and Client Projects
Use on Unlimited Websites
Streamlined User Management
Guaranteed Increase in Conversions